Right now, if you sign up for Airbnb through my referral link, you'll get $39 off your first stay, and I'll get money towards my next stay. Feel free to leave your referral link in the comments.
I've booked myself many stays on Airbnb, a website that lets you rent rooms, apartment, and houses from locals around the world. And using the three tips in this post, I've saved thousands.

I prefer Airbnb to hotels because it is almost always cheaper, you have more options for neighborhood on Airbnb, and apartments have more space and amenities than hotels (like kitchens.)
My brother and I loved our Airbnb apartments in Hong Kong and Seoul a few years ago. We averaged about $100 per night to stay in two of the most happening neighborhoods, far away from the sterile locations of the business hotels. Plus we had our own bedrooms, and the use of kitchens.
For people into the miles game, you can redeem Barclaycard Arrival miles for free Airbnb stays. My brother knocked $500 off the price of our Airbnb stay with his Barclaycard Arrival Plus World Elite MasterCard.
Credit card links have been removed from posts and added to the menu bar at the top of every page of MileValue under the heading Top Travel Credit Cards.
What three tips have saved me over $3,000 on Airbnb?
1. Counter-offer
You do not have to accept the price offered on Airbnb. You can send the host a counter-offer and start a negotiation. The longer your intended stay, the bigger per-night discount you should request.
Here's an example in Buenos Aires. This looks like a very nice studio in Palermo, one of the hipper neighborhoods, with a listed price of $98 per night.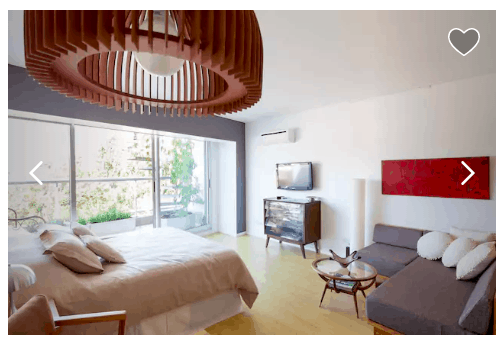 If I were interested in the apartment, I would NOT click the red Book button on the right side of the page. Doing so would require me to input my credit card information, and I'd be on my way to paying the list price.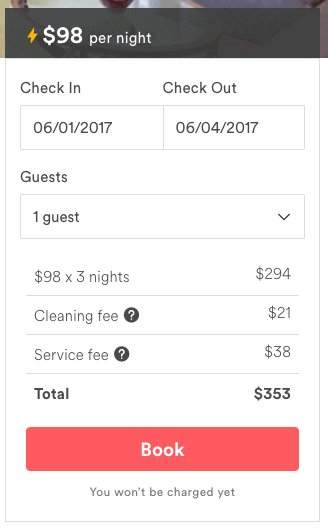 Instead, I would scroll to the bottom of the listing and click Contact Host.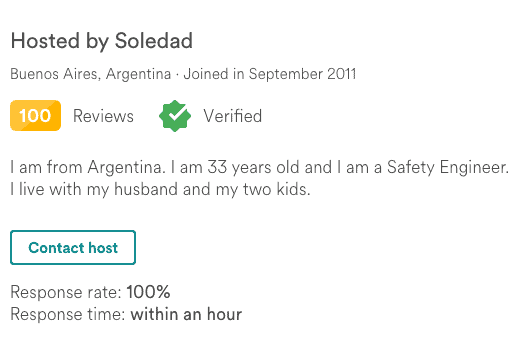 I send a quick message emphasizing how good of a guest I am (reference any positive reviews you have on the site), how much I like the place, how long I am staying, and then I request to pay a certain amount total for my stay.
Here's a message I once sent to a host in Bogota, Colombia:
Hola Martha,
I'm a Hawaiian guy [Scott: people like people from Hawaii and other places they've heard of, so I always include it] coming to Bogota for 15 days to meet up with a friend, and I want to stay in your apartment because it looks like a really comfortable and secure place.
I'm contacting you about a discount since I am coming for 15 days. I would like to pay $700 total. Maybe you'd be interested in such a deal because of the length of my stay and my positive reviews on Airbnb.
Another owner offered me this price, but I prefer your apartment. [Scott: consider including whether true or not.]
Looking forward to hearing from you.
Gracias,
Scott
The place was listed for about $1,050 for 15 nights, and I offered $700. The host countered with an offer of $750, which shows up in your message history with a red Book It button. I accepted, knocking $300 off the price of my stay.

The One Killer Message to get Big Discounts
If you're not worried about getting a specific apartment and your number one priority is value, then the best time to negotiate is close in the dates of your stay. I think 1-3 days before arrival is a sweet spot when the host is getting very nervous his apartment will be unoccupied (earning $0), but you still have time to get responses and make a decision.
Here's exactly what I sent to a prioir host of mine in Dubrovnik whose apartment was listed at 798 euros ($882) for a week.
Aloha,
I am a Hawaiian guy who is traveling for four months po bivšoj Jugoslaviji to learn hrvatski.
I will be in Dubrovnik one week, starting tomorrow (5 July) when my bus arrives around 18:30. Your place caught my eye since it's in the old town.
Would you be willing to go 450 euros from 5 to 12 July since it's last minute? If so, send me an offer, so I can accept it. ? I'm a good guest: quiet, no smoking, clean.
Scott
Let's break down why I wrote what I wrote:
First, it's short and to the point. As someone who gets a lot of emails, I appreciate that, and I know she will.
Second, I state the exact reason I'm asking for a discount: it's the last minute and her place is vacant.
Third, I tried to appear likable. Airbnb owners are people, and they are more likely to give you a discount if you seem likable, especially if they have to interact with you at check in. Again, people like Hawaii, and everyone likes someone trying to learn their language, so I played that up in one sentence:
Aloha,
I am a Hawaiian guy who is traveling for four months po bivšoj Jugoslaviji [Scott: through ex-Yugoslavia] to learn hrvatski [Scott: Croatian].
Fourth, I gave the exact dates and even the time I'd arrive, to minimize follow up emails and make accepting me seem easy. I'm offering her an easy 450 euros, which might feel very different to her than having to offer me a 40% discount while going through huge hassles, even though both are the same amount of money.
Fifth, I play up that I'm a good and easy guest ("quiet, no smoking, clean"). Sometimes I point to my good feedback from hosts instead.
Sixth, I offer an exact amount. I usually offer about 60% of the quoted price.
Finally, I tell them what action to take: "send me an offer." An offer is a price that is immediately bookable and valid for 24 hours. My goal is to collect several of these and then look through them.
For specifics about my tactics negotiating on Airbnb days before arrival for deep discounts, read The One Killer Message to Get Big Discounts on Airbnb.
2. Slip the host your contact info
Even with the $750 offer from the host, I still paid $832 all in after the "service fees" that Airbnb tacks on. That's about 11% Airbnb got from me, and I hear that hosts get about 3% less than the headline number ($750.)
That's a big amount of fees that excluding Airbnb from the transaction can save. There are reasons NOT to exclude Airbnb:
Protections: Airbnb has host and renter protections. I am not sure exactly what they are honestly. If I am renting a place with tons of positive reviews (scroll down to the bottom of the page), I am not too worried about these protections. Certainly they aren't worth 14% to me.
Ethics: Airbnb provided a service by aggregating many places for you to see or by showing your place to many potential renters, so cutting them out of their fees is unethical.
But if you want to exclude Airbnb from the transaction, you can pass your contact details to a host.
Airbnb tries to stop you. Its computer can detect phone numbers, email addresses, and websites, and it will block them from messages between people on the site.
If you're clever, you can get around the block by adding your phone number, WhatsApp number, Skype, or email address to a message to a potential host. Here's what I added to the end of my message when contacting someone on Airbnb in Buenos Aires about a five-month rental:
You +18 can 08 contact 26 me 22 here 1 or 44 on WhatsApp. (My number is in that sentence.)
Now if they prefer to contact me and negotiate a fee-free deal, they can. In the end, an apartment that was listed at $1,800 per month, we got for $1,200 per month, which saved us $3,000 over the course of the stay.
3. Search for the Host's Contact Info Online
Similarly you can search for your host's contact info online on sites other than Airbnb that might allow you to negotiate a deal without fees.
On my same Bogota search, I saw an apartment with the listed owner as "Colombia Cool Apartments" or something similar instead of a person. I googled that company name, and found they had listings on other sites that listed a phone number. I called up and negotiated a few hundred dollars off the price of their Airbnb listing.
Even more useful is a tip that reader Brian gave me at the Chicago Seminars a few years ago. Google image search one of the images on any listing. (Here's how.) This will show you if the photo is anywhere else on line, likely on another rental site or on a craigslist post with contact info.
Bottom Line
Airbnb is amazing and a big part of my cheapskate lodging strategy. I plan to use it many times over the next 6-9 months for rentals ranging from a few weeks to a few months across the world.
But I don't plan on paying full price.
And remember, when you sign up for Airbnb through my referral link, you'll get at least $39 off your first stay, and I'll get money off my next stay. You can also leave your referral links in the comments.
Earn 80,000 Chase Ultimate Rewards Points after you spend $4,000 spend in 3 months
Just getting started in the world of points and miles? The Chase Sapphire Preferred is the best card for you to start with.
With a bonus of 80,000 points after $4,000 spend in the first 3 months and 2x points earned on dining and travel spend, this card truly cannot be beat for getting started!
Learn More
Editorial Disclaimer: The editorial content is not provided or commissioned by the credit card issuers. Opinions expressed here are the author's alone, not those of the credit card issuers, and have not been reviewed, approved or otherwise endorsed by the credit card issuers.
The comments section below is not provided or commissioned by the bank advertiser. Responses have not been reviewed, approved, or otherwise endorsed by the bank advertiser. It is not the bank advertiser's responsibility to ensure all questions are answered.