MileValue is part of an affiliate sales network and receives compensation for sending traffic to partner sites, such as CreditCards.com. This compensation may impact how and where links appear on this site. This site does not include all financial companies or all available financial offers. Terms apply to American Express benefits and offers. Enrollment may be required for select American Express benefits and offers. Visit americanexpress.com to learn more.
Note: Some of the offers mentioned below may have changed or are no longer be available. You can view current offers here.
---
I just arrived in Los Angeles after 10 hours flying Asiana First Class on its brand new A380. I booked my seat last month for 70,000 United miles (at pre-devaluation prices using this trick.)
This is a really important trip report because Asiana First Class is a true luxury product that is extremely easy to book with miles!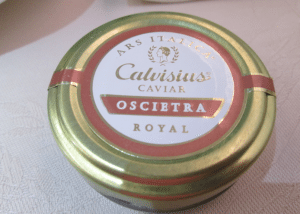 Award space on the Asiana A380 is wide open in Business Class and First Class between Los Angeles and Seoul, especially at the last minute. Here's a search for 4 passengers between Seoul and Los Angeles for the next two months. The blue and green days all have award space in Business or First Class or both for 4 passengers on the same flight.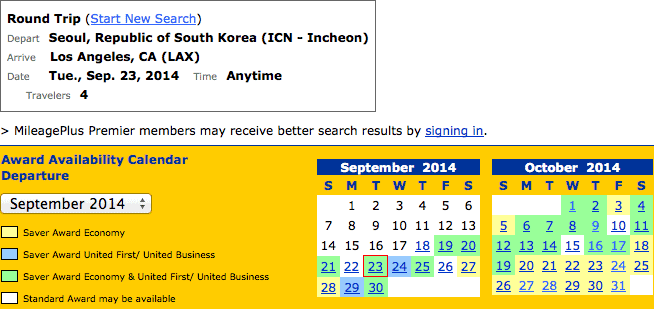 This flight has 4+ Business Class and 4+ First Class award seats on the same Asiana A380.

I very much enjoyed my Asiana First Class experience, though there are some things the airline can improve.
How was the seat, bed, food, service, lounge, and airport experience?
I arrived at Seoul Incheon at about noon for my 2:50 PM flight. Incheon is an extremely long, over one hour, train ride from the city, though at least the price of the ticket is great at about $4.
I arrived so early because I wanted to review the lounge, shave, and shower.
Check In
Check in was clearly marked and there were three desks ready to accommodate First Class passengers with no line.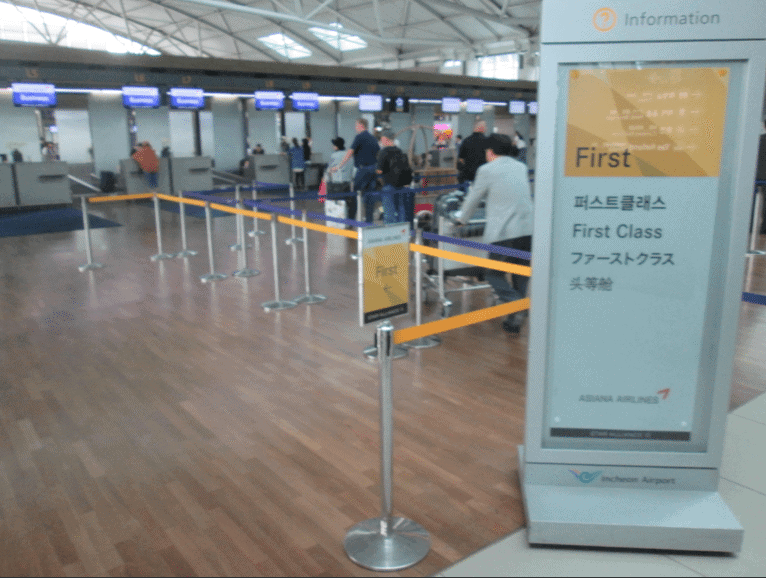 I walked up to the only agent, who was looking down at her computer, clearly completing an important task. She didn't acknowledge me.
I don't think First Class check in is the most important thing in the world, but I do think that an agent who is too busy to help, should at least look up and say, "I'll be right with you." This would be such an easy fix that would have started me off with a great impression of Asiana.
In a minute, another agent showed up and checked me in. I selected seat 3K.. Asiana First Class on the A380 is three rows of 1-2-1 seating. A and K are the windows.
After she printed my boarding pass, she escorted me to a dedicated First Class security line.
While the rest of the terminal funneled through a long line, I had no wait at all. That's a really nice touch.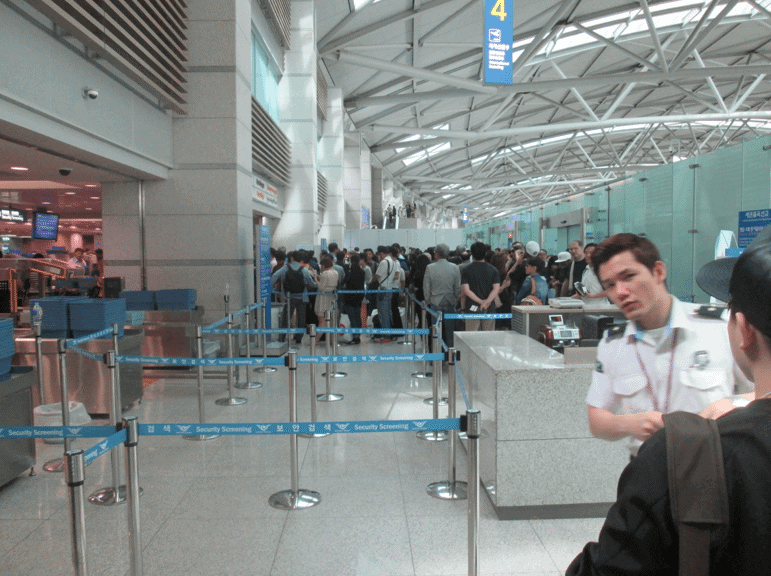 In under 10 minutes from entering the airport, I was through security and immigration and heading to the lounge, which my check in agent had given me directions to.
Lounge
The Asiana First Class lounge is just a few steps to the right of immigration and up one floor.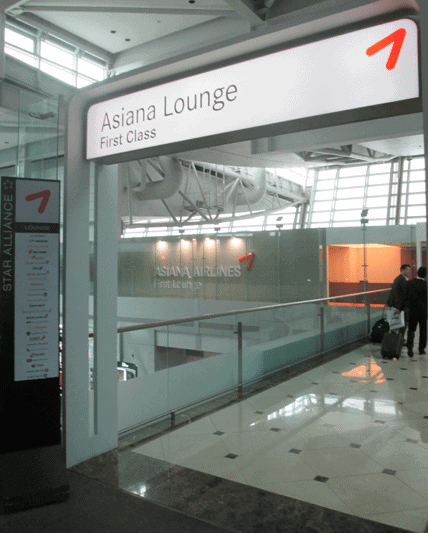 It is a very large space for the very few people with access. The lounge reminds me of an elegant study, and I felt very comfortable inside. There are a number of different seating areas.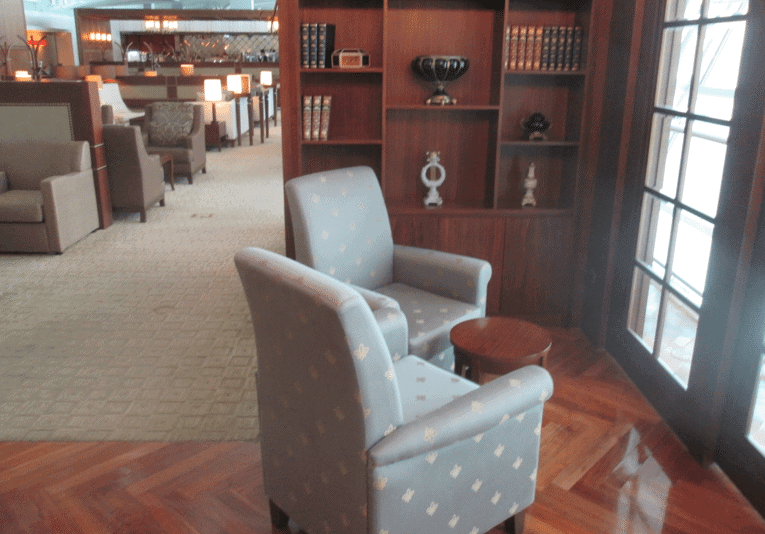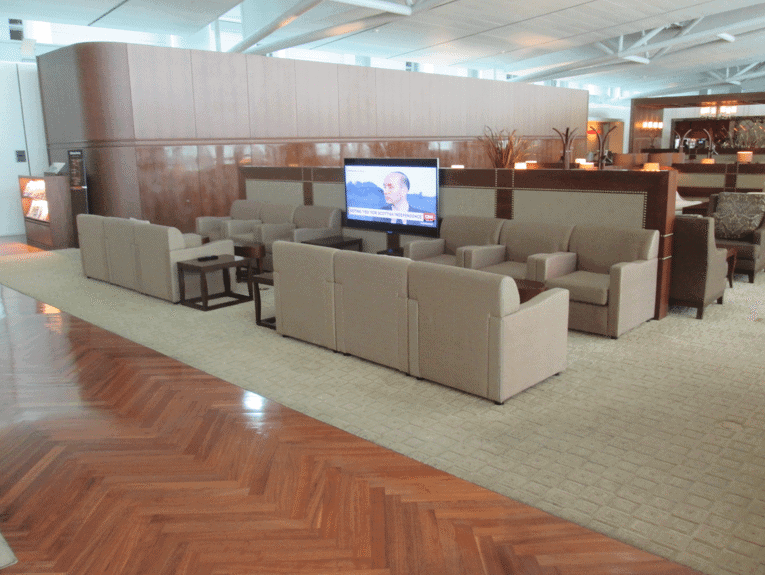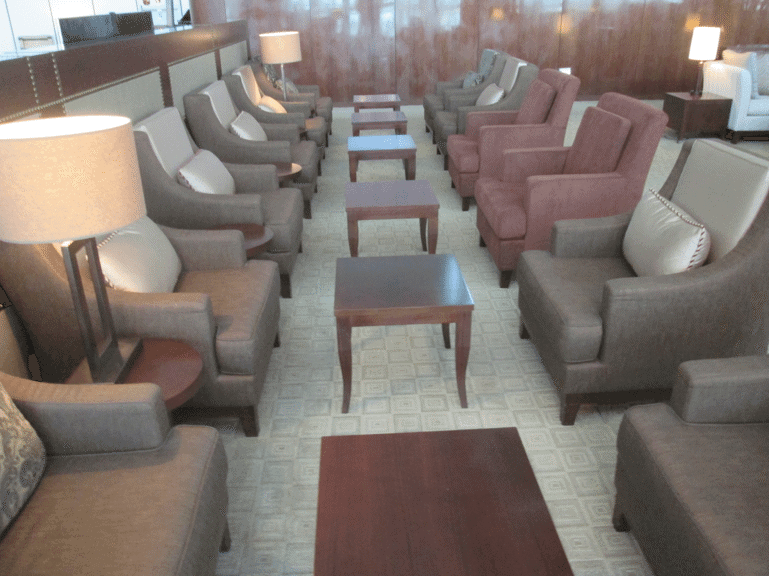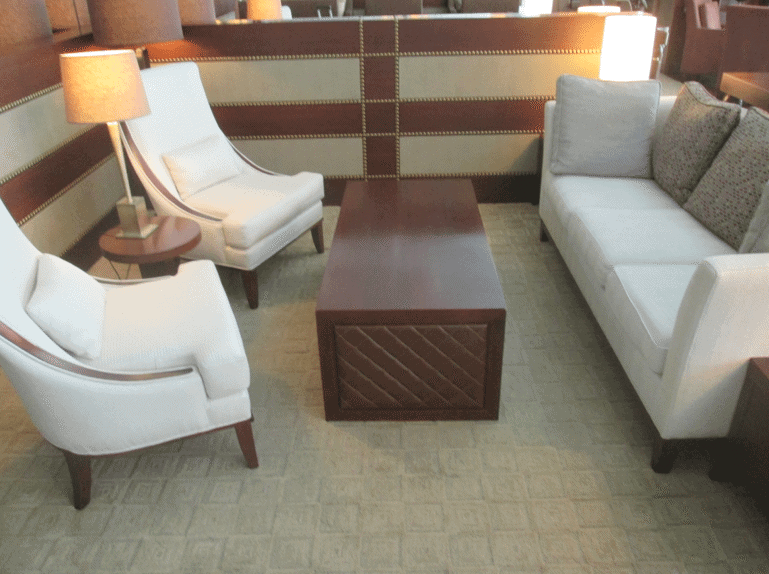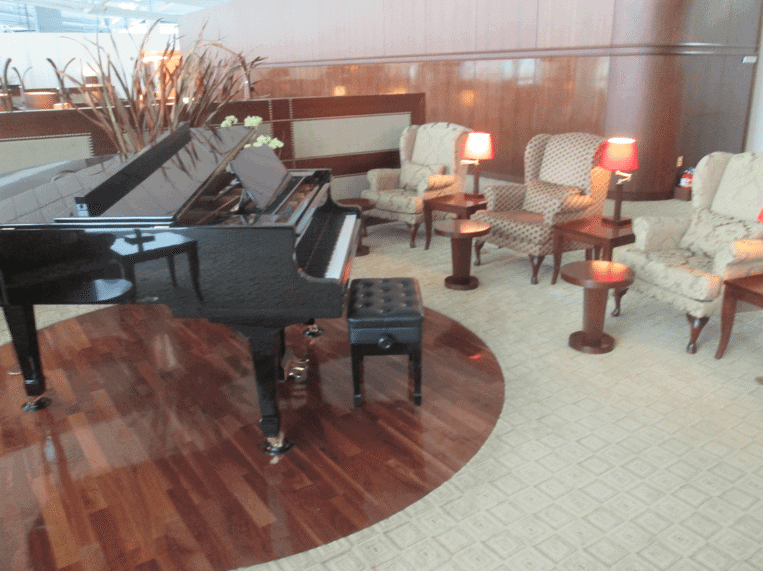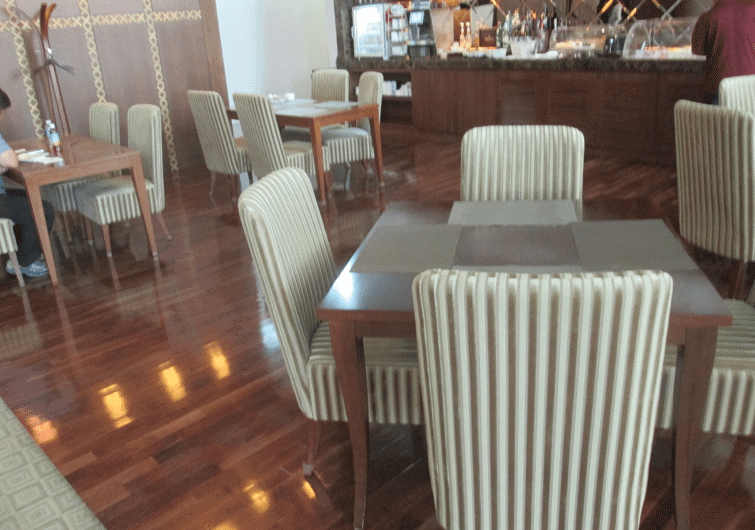 I hadn't eaten yet, so I sat in the dining area and checked out the buffet options. Unlike many First Class lounges, there is no a la carte menu, only a buffet, and a small one at that.
The main hot buffet consisted of three dishes, dim sum, and chicken porridge. I had the chicken and the broccoli casserole.
The chicken was delicious, especially when I got some of the spicy peppers in my bite. The broccoli casserole tasted like potatoes au gratin with a few veggies mixed in. I love potatoes au gratin, so this was a hit also.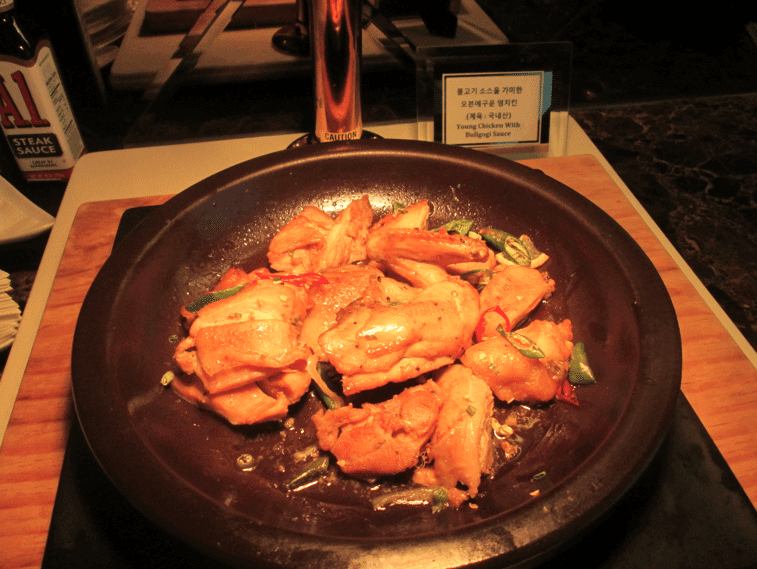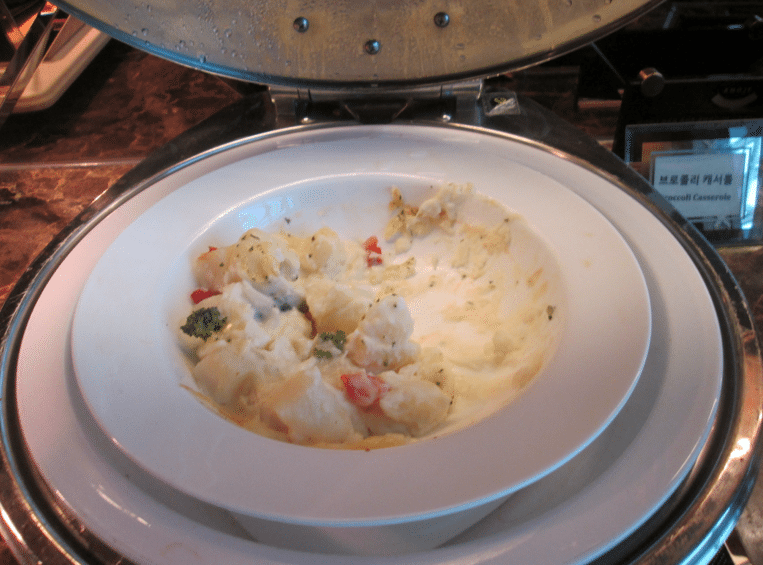 The other dishes were shrimp with vegetables, dim sum, and chicken porridge. I passed on these.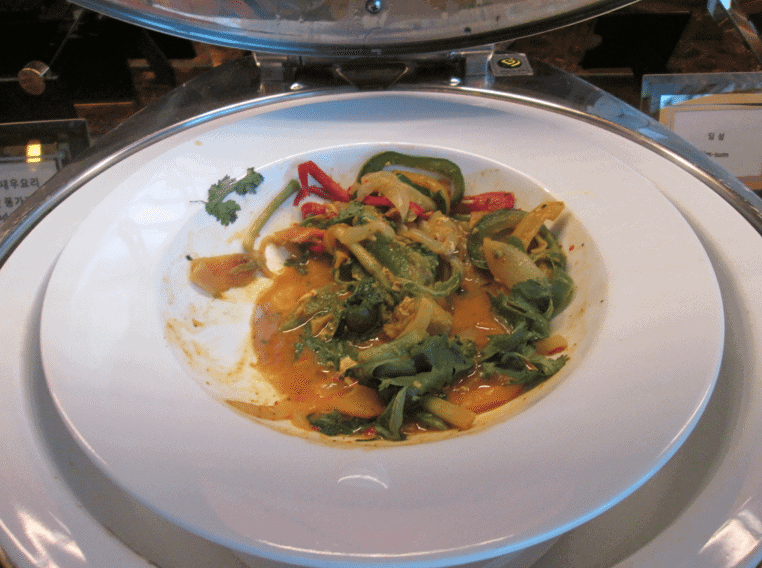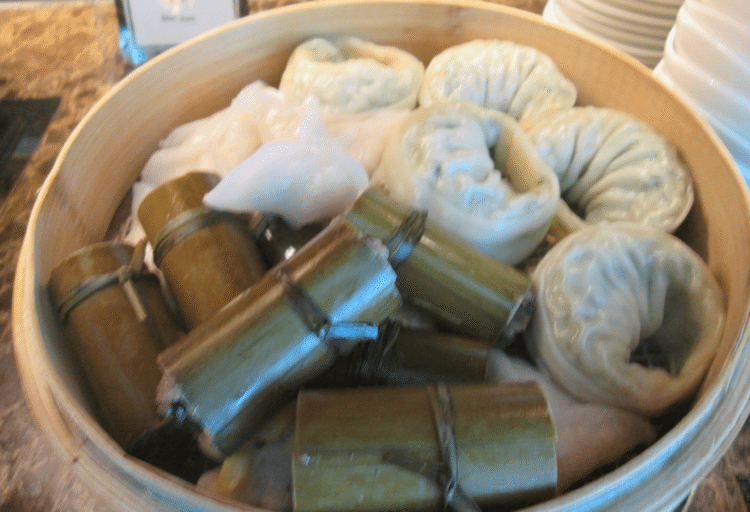 I was satisfied by the buffet because I found a delicious meat dish and side, but it is a much smaller selection than most First Class Lounge buffets. Even the serving dishes themselves were small, though that's good because that meant they were relatively fresh.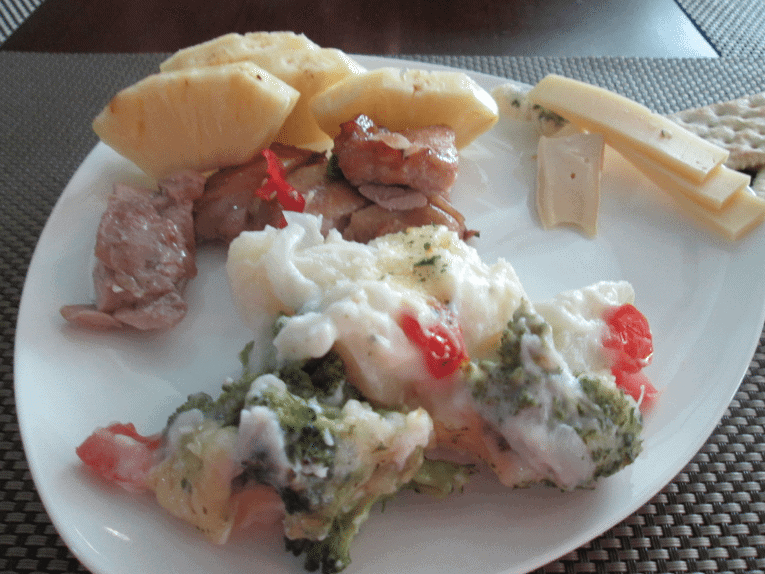 The buffet also had some cold options like salmon, cheese, fruits, desserts, and ice cream. Most people will be satisfied with the buffet, but it's not world class.
The lounge also featured a relaxation room with a recliner and three showers.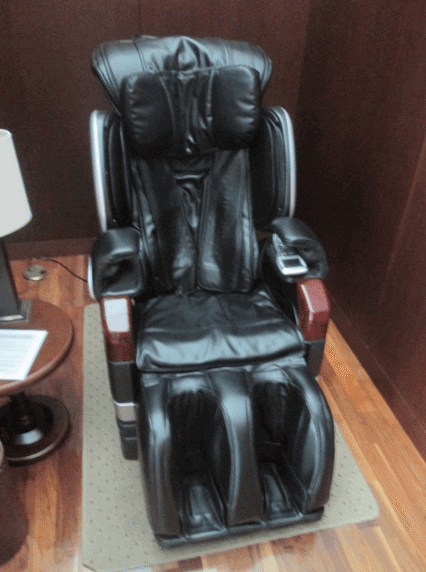 After eating, I worked for a bit, took a shower, shaved, and was ready to go.
Boarding time was listed as 2:10 PM for my 2:50 PM flight. At about 2:20 PM, I started to leave the lounge when the desk agent let me know that my escort was ready. I was escorted to the boarding gate. I snapped a picture of the beautiful behemoth just before going around the extremely long line for economy boarding.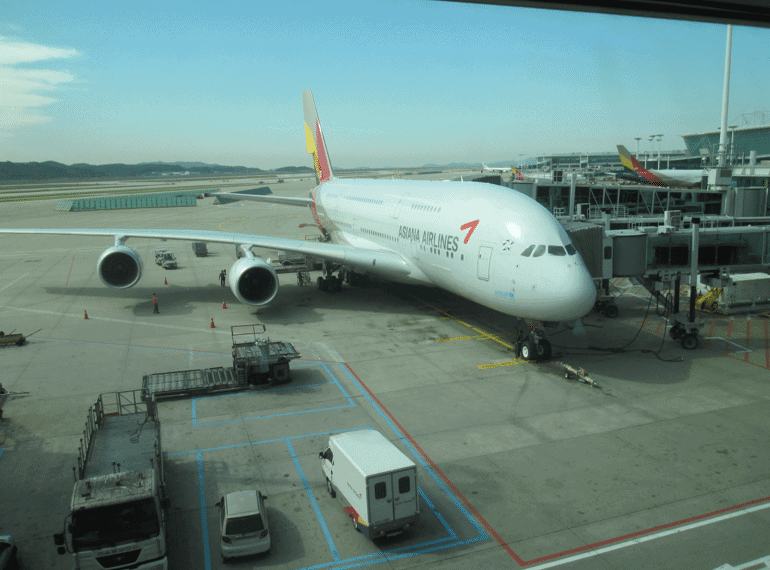 Asiana 202
Seoul (ICN) – Los Angeles (LAX)
Depart: 2:50 PM on Thursday, September 18, 2014
Arrive: 9:50 AM on Thursday, September 18, 2014
Duration: 11 hours
Aircraft: Airbus A380
Seat: 3K (First Class)
My escort took me all the way to the plane's door where she said goodbye, and three flight attendants greeted me. One escorted me to my throne.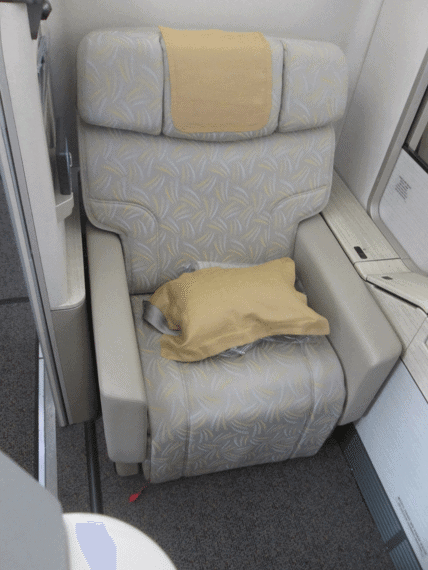 I took a look at the solo seats and the middle pairs.
Unlike the Singapore A380, the middle seats cannot be combined into one bed. Sitting next to each other is still the way to go if you're traveling with a companion, but don't expect to be able to snuggle.
Within my suite, the first thing I noticed was the television, it's a massive 32 inch HD behemoth right in front of you. Thirty-two inches isn't much in your living room, but at a distance of just a few feet, this is an awesomely big screen.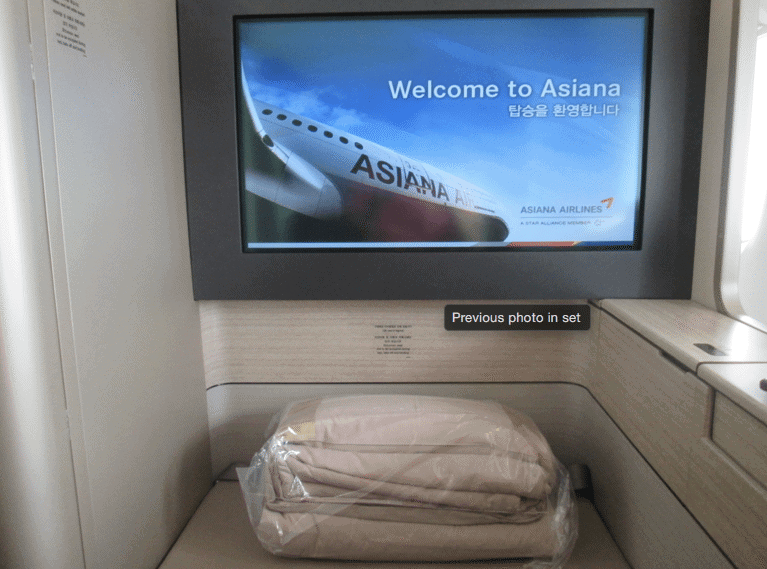 The ottoman was just reachable with my long legs while the seat is in take off mode, so I put my feet up.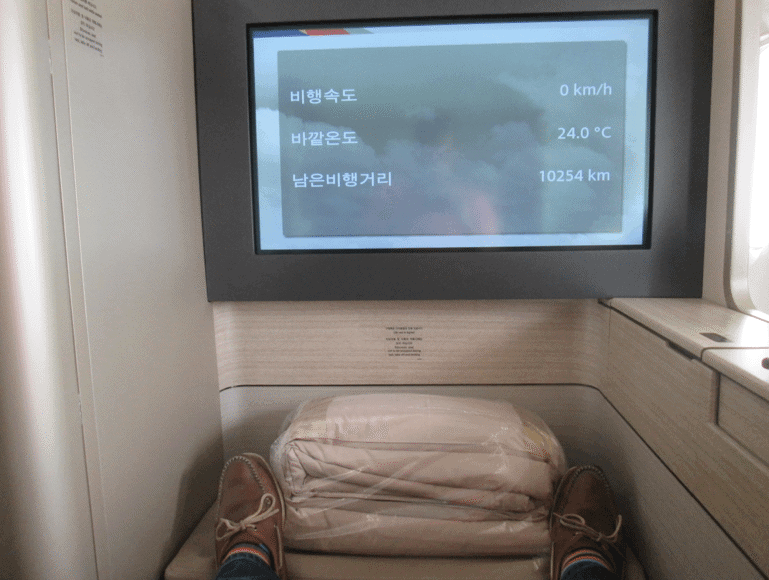 Along the window side of the suite is wood paneling that conceals controls, plugs, and storage. I put my laptop shoulder bag on the other side of the paneling and my big backpack under the ottoman for the flight. It's nice to have everything at hand without having to get up and open an overhead bin.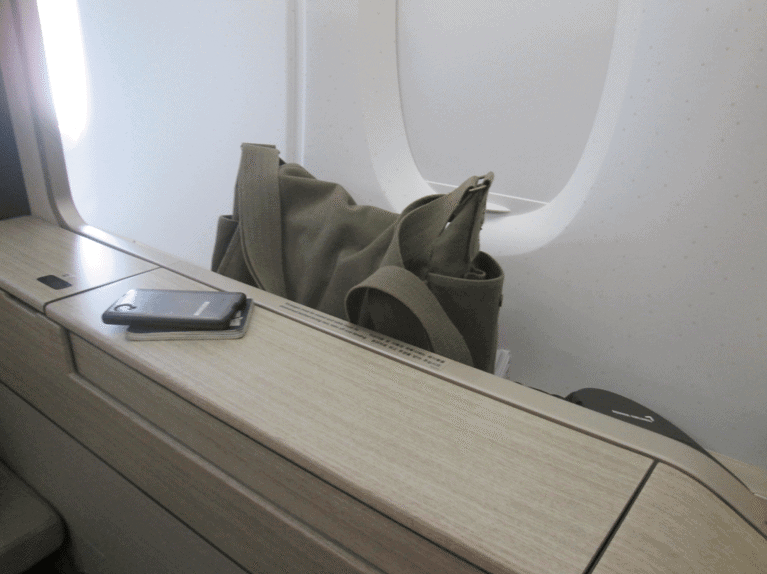 There were a number of goodies to explore at my seat. There were the XL pajamas brought by a flight attendant. They were comfortable, if a bit warm, and I wore them most of the flight.
There were the Bose headphones most airlines offer to premium cabin passengers.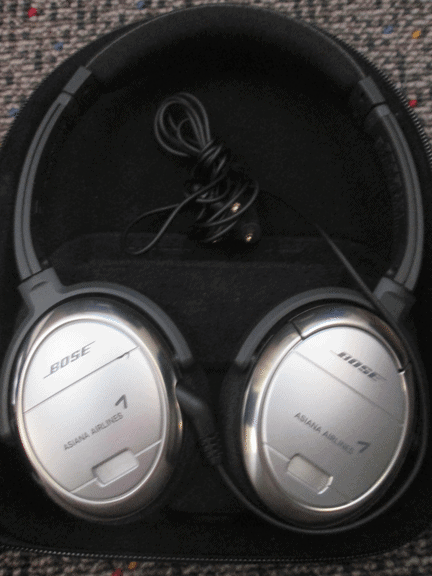 There was the mountain of bedding, though a different pillow is provided if you request turn down service.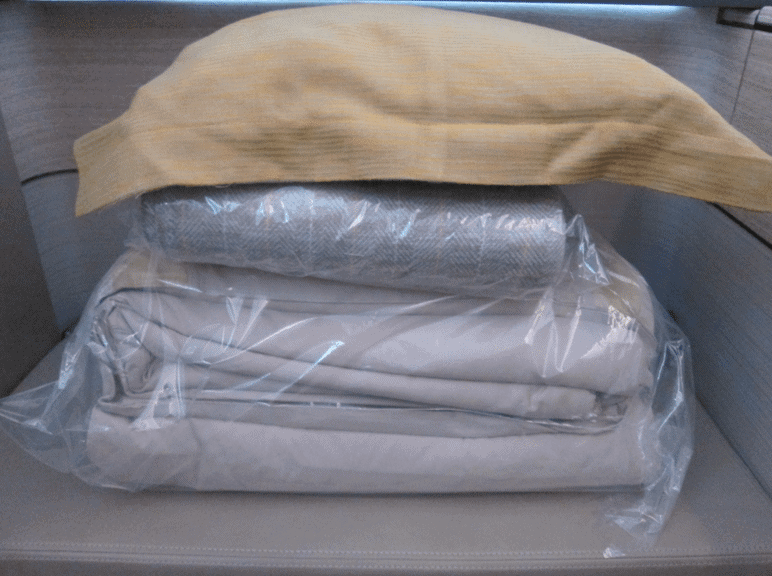 There was a Salvatore Ferragamo branded amenity kit, which included all the essentials plus a few lotions.
The Entertainment
After settling into my seat, I opened my arm rest to use the handheld touch screen television remote.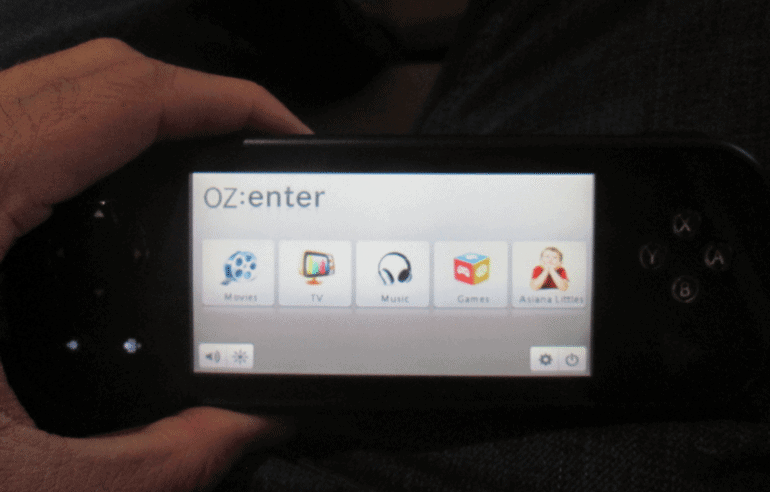 Unfortunately, the television entertainment is not available until after take off. Since many airlines offer entertainment from the moment you board, I consider this outrageously poor planning by Asiana.
We didn't take off until about 40 minutes after our scheduled departure, so I was in my seat over an hour before I could use the entertainment options, which seems senseless.
Luckily while I boarded, there was a cart of newspapers available, and I had selected two. I read them until after take off.
When the television did come on, I found the worst entertainment selection I've ever encountered in First Class.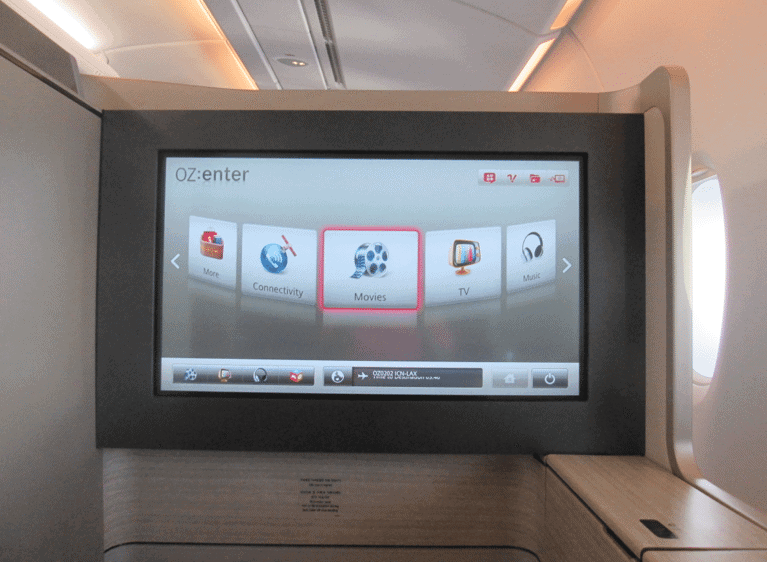 There were maybe two dozen movies in English and one television show. I assume a lot of space is taken up by the Korean, Chinese, and Japanese language programming, but the space allotted to English still could have been used much better.
There's no sense in having 12 episodes of Elementary as the only television programming available. No one can even watch that on one flight. Splitting that 12 hours of space up among 6-12 shows would have been much better to offer a broader range of options.
Another annoyance is that about 30 minutes before landing, Asiana cuts the entertainment to show a UNICEF commercial and a video on inflight exercise and massage. Afterwards, headphones are collected, so even though the entertainment system stays on, you don't have the three-pronged headphones anymore. That makes over 1.5 hours I sat in the seat with no entertainment options on the TV.
I ended up watching The Butler and Frozen on the flight, which were two of the only three movies that even looked decent. It wasn't a total disaster, but neither movie was on my short list to see.
Asiana needs to step up its entertainment seclections. Cathay Pacific, another carrier that has to load Chinese language programming, has the best offerings in the sky, so I know improvements can be made.
I had never considered entertainment particularly important because most airlines do it well enough. Unfortunately Asiana doesn't do it well enough, and I see that when entertainment options are poor, flight quality suffers.
The Service
The service was the best part of the flight by far.
After being seated, I had ordered champagne, which was served with hot nuts.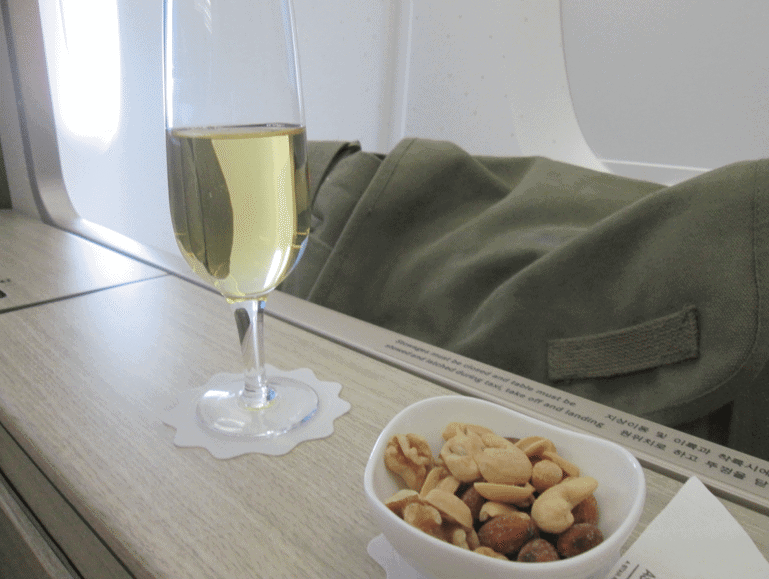 Every time I pushed the call button, a flight attendant appeared instantly and cheerfully.
Even the ground crew was friendly.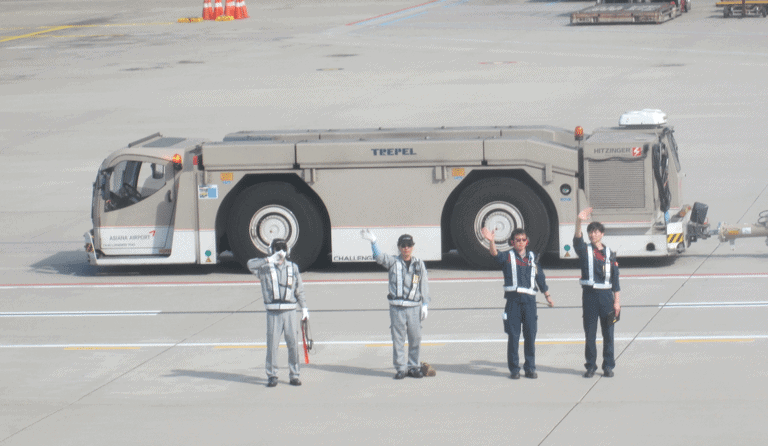 Every pour was done in the most respectful Korean way possible, by touching the left hand to the right elbow during the pour. Every presentation was with two hands, followed by a bow.
The flight attendants were extremely friendly and cheerful, and two, Ms. Song and Mr. Choi, came by to thank me for flying Asiana.
When I didn't know which champagne to select between the Pol Roger Cuvee Sir Winston Churchill 2000 and the Charles Heidsieck Blanc des Millenaire 1995, the flight attendant started to suggest one but then caught herself. She didn't even want to appear presumptuous enough to suggest anything to me. I practically had to beg her to suggest one based on what other people had preferred. Even when she suggested the Charles Heidsieck Blanc des Millenaire 1995, she ended the recommendation with, "but whichever you prefer."
There was a small language barrier, so I had to repeat or rephrase a request once or twice, but that was no big deal.
Food
The food was delicious, and I appreciated being able to order what I wanted when I wanted. Here was the menu.
Right after takeoff, I had my first meal service. I ordered the wagyu tenderloin.
The very large table was set for me.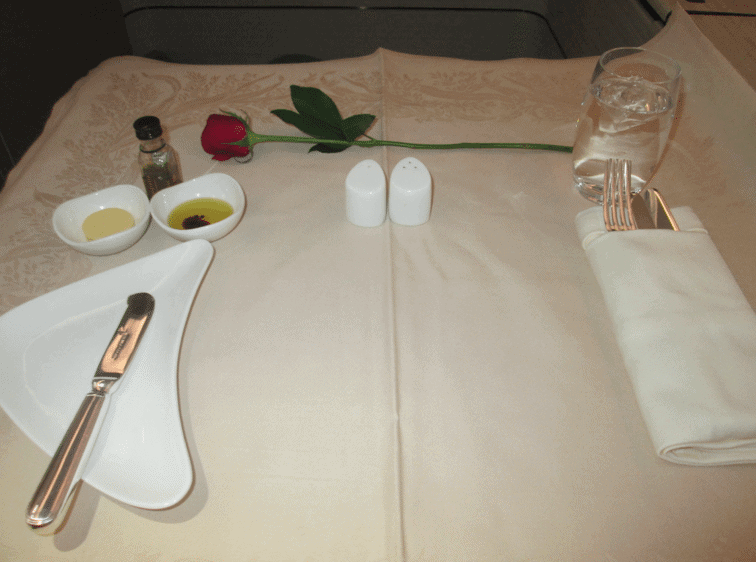 The table is big enough for two people to dine together, which is possible if one sits on the ottoman, which has its own seat belt.
The first course was a room temperature beef bar. It tasted like room temperature ground beef.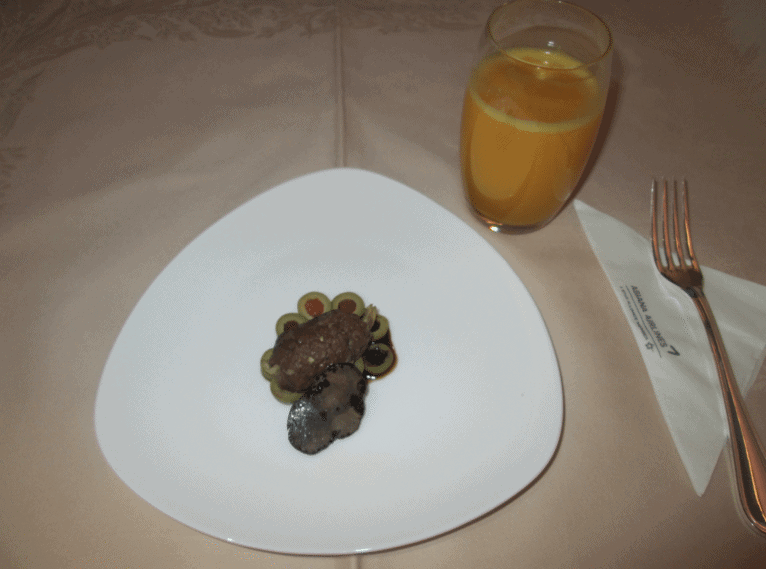 The next course was considerably fancier and more delicious–caviar.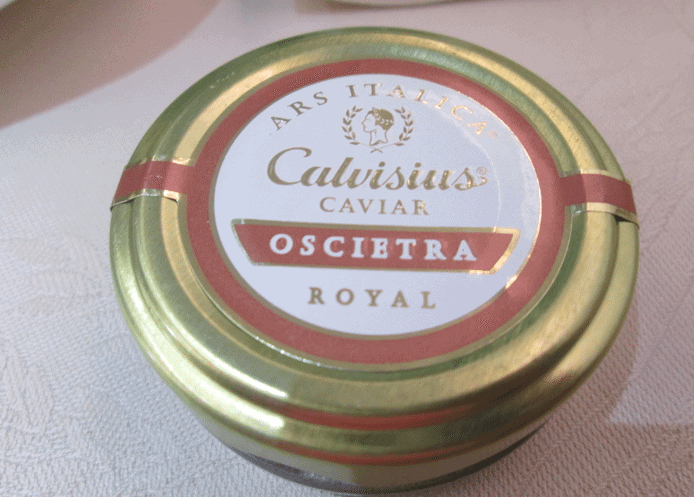 I was given an individual tin and served the caviar with the customary sides. Hot bread and olive oil were also brought.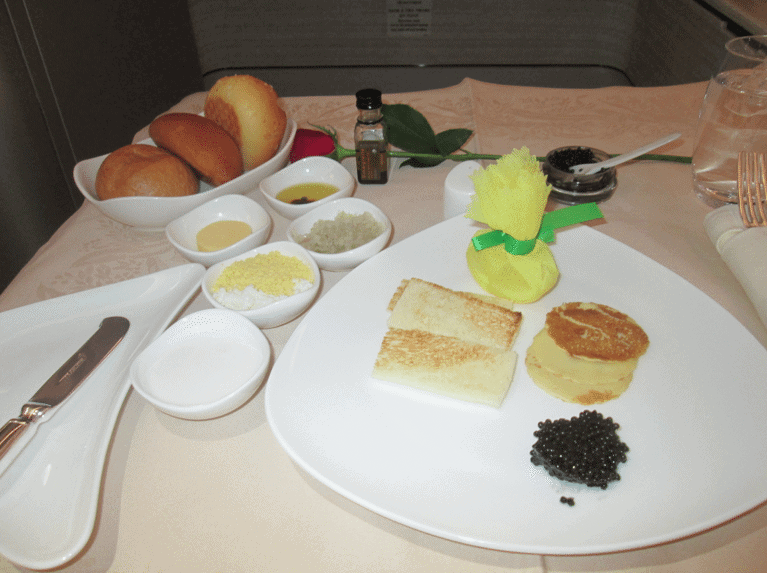 I had more than half the tin. Caviar, which I've only ever had in First Class, is really growing on me. It's a treat I now look forward to.
After the caviar came crab and scallops. I had reached my seafood limit for the day, so I just had one bite.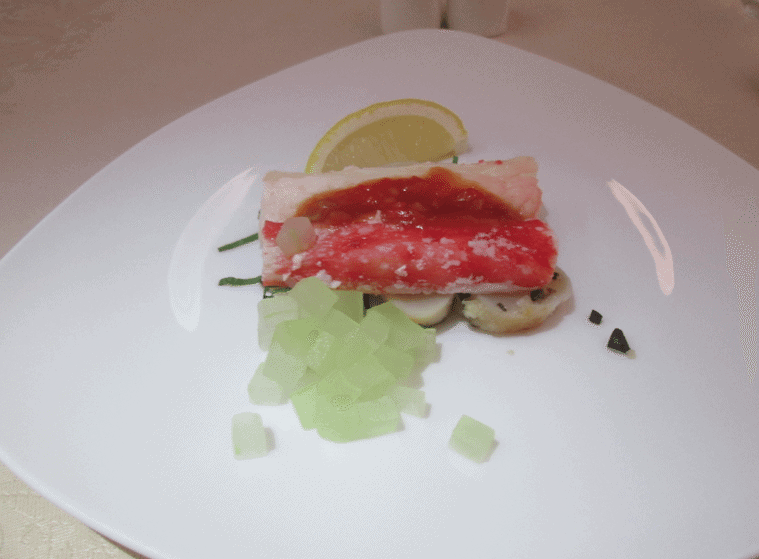 Next came soup. I had chosen the pumpkin carrot soup over the clear onion soup. Soups don't photograph well, but they are one thing that I consistently enjoy while flying. This one was creamy and delicious.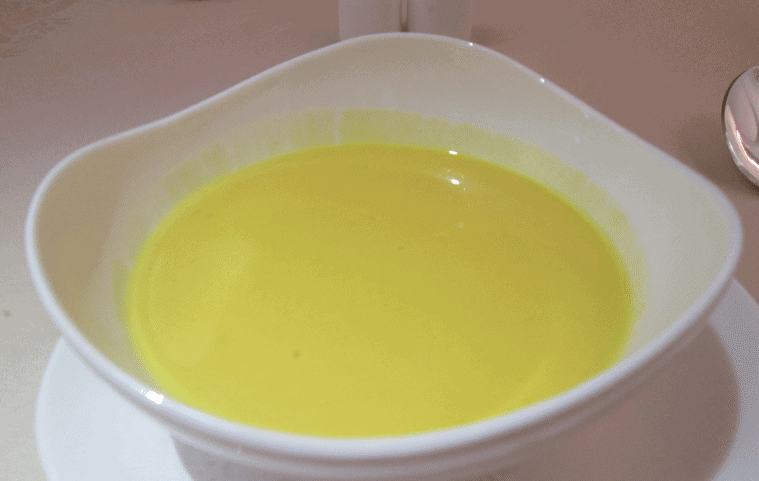 The fifth appetizer was Caesar salad with the dressing on the side. I could have done without the olives, but the croutons were crunchy and the Parmesan cheese was delicious.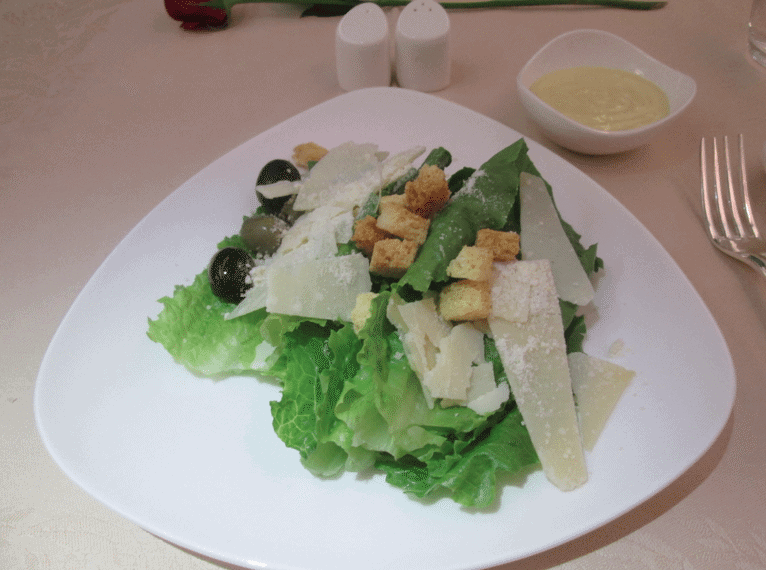 The sixth and final appetizer was raspberry sherbert, which was in a delicious, three-bite-sized ball.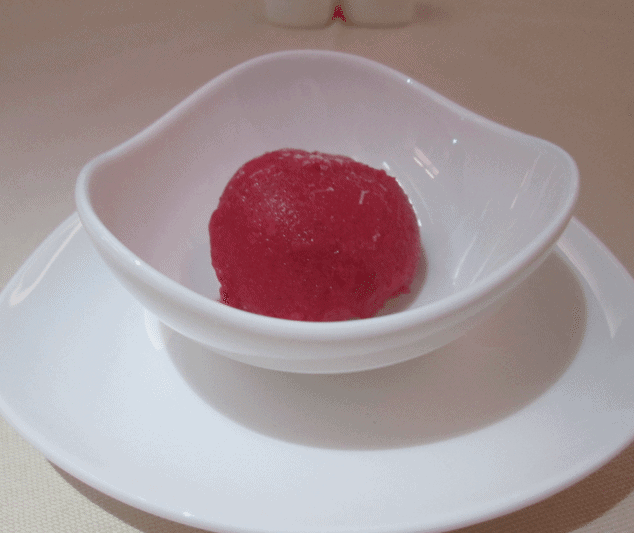 Finally the main course arrived. I ordered the tenderloin medium, because I like my steaks medium well and I find most airlines overcook them. This one was actually a bit undercooked, more like rare or medium rare.
The steak itself was good, but not great. I'm still searching for that great plane steak. Its peppercorn sauce was delicious, and brought back memories of my favorite steak dinners in Lima, Peru. After bringing the steak, the flight attendant brought six sauces from ketchup to steak sauces to offer me. I declined them all.
The black risotto and vegetables were what one would expect, and overall I'd rate the main course a solid B.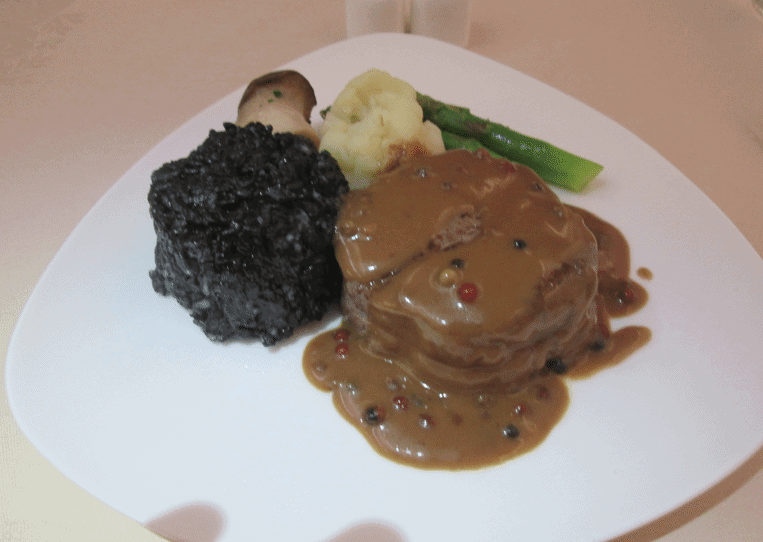 Dessert 1 was presented as a cheese plate and fruit plate. You can never go wrong finishing a meal this way.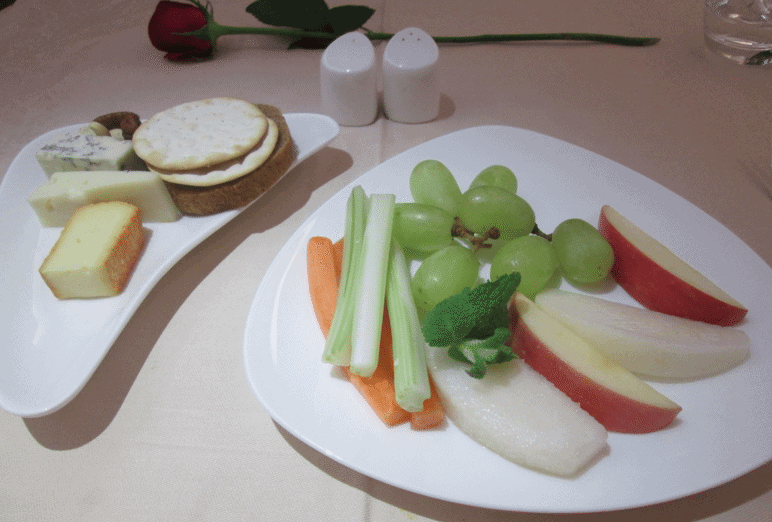 Dessert 2 was a delicious chocolate cake with whipped cream and raspberry sauce on the side.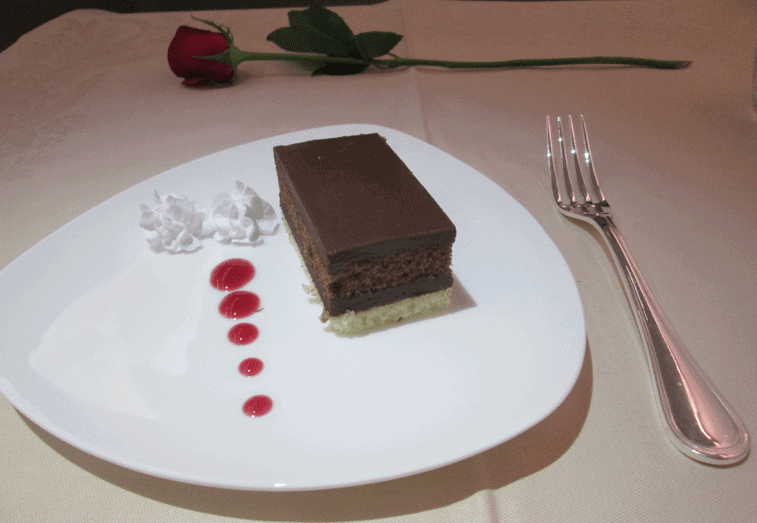 While I ate the cake, the flight attendant brought around a plate of chocolates and I selected one. I think it had peanut butter inside, and it was yummy.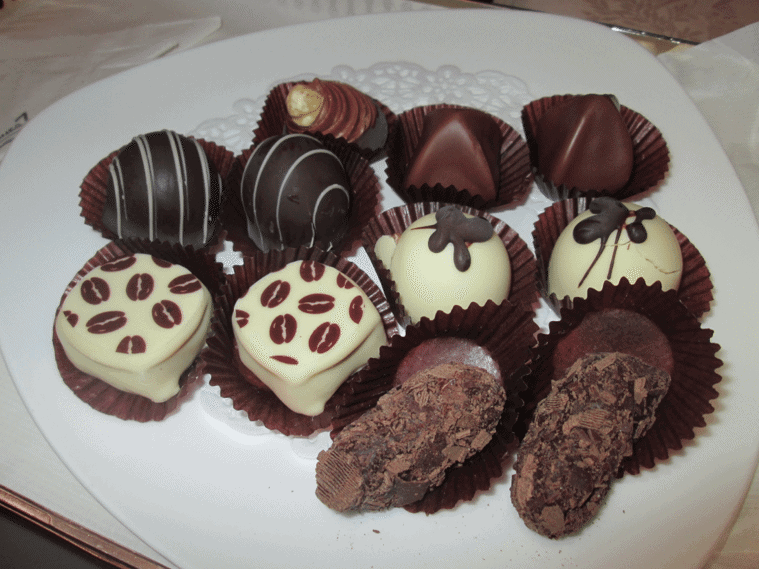 I'd give the overall meal an A-. I wish my steak had been cooked a bit longer, but that's really my only complaint. Service was extremely quick between plates, but with 10 different courses the service took an hour twenty minutes from my order to the removal of the last plate.
During that time, my drink was freshened every time it got low.
Bed
About four hours into the flight, I decided to try to get some sleep. I was very tired from intentionally not sleeping much the night before.
I asked for a turndown service, which was delivered precisely and immediately.
The bedding consists of a thin mattress pad and thick blanket. A new pillow is brought. Unfortunately it's travel sized, not full sized.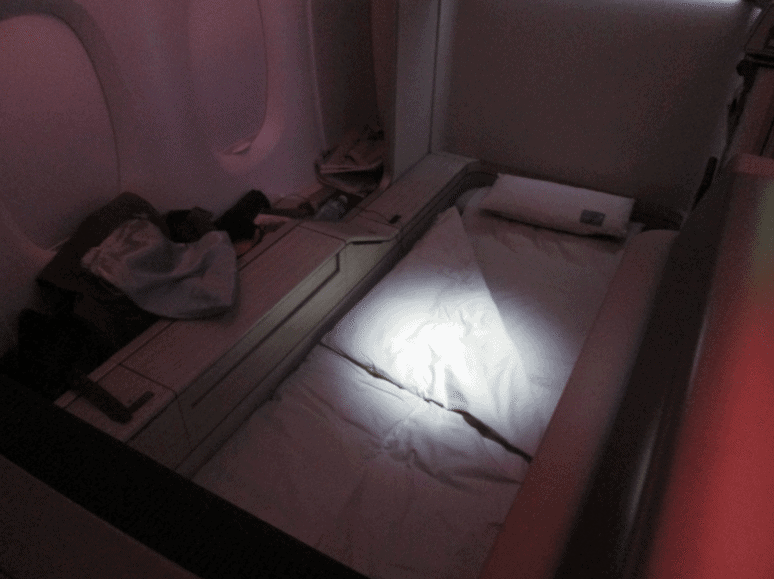 I tried to turn off my television to sleep, but it couldn't be turned off. Two flight attendants also tried to no avail. The humungous 32″ screen was too bright for my eye mask to block, so I switched to an empty bed. I got a solid five hours sleep in, and woke up about one hour outside of Los Angeles.

I was groggy, and I requested my second meal service.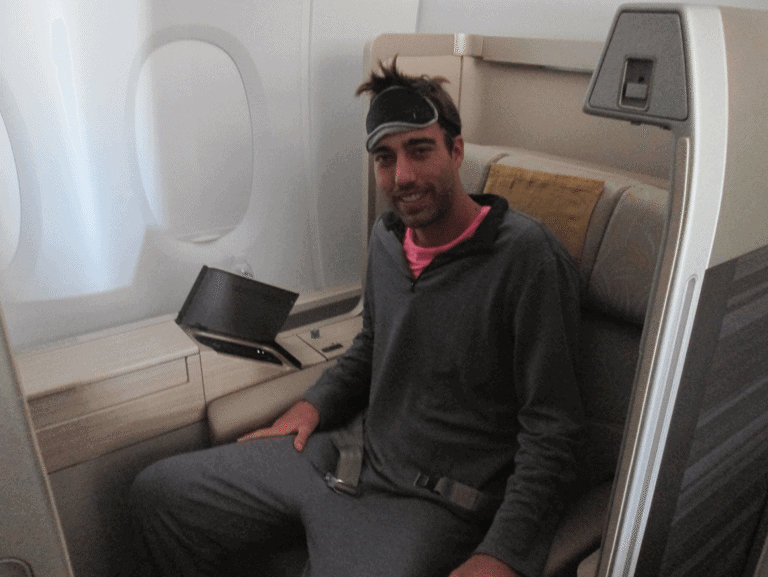 The bed is very comfortable. The pillow is small, so I requested a second one. The cabin is kept a bit hot for my taste, especially considering the thick blanket and long sleeved pajamas. I rolled up my sleeves and slept partly outside the blanket.
I wish the flight time were longer or it took off later to maximize sleep, but I was happy with the comfortable five hours I got.
Second Meal Service
The flight attendants nailed the second meal service. They had taken my order for it at the same time as the first service and asked when I wanted the food. I had said one hour before landing but not to wake me up for the food.
I woke up on my own about one hour before landing, and they had the food to me very quickly.
This was a simple two-course affair. Asiana expects you to order breakfast as the second meal, so the appetizer is breakfast-y: fruit and warm rolls. The warm rolls I got with both meals were incredible.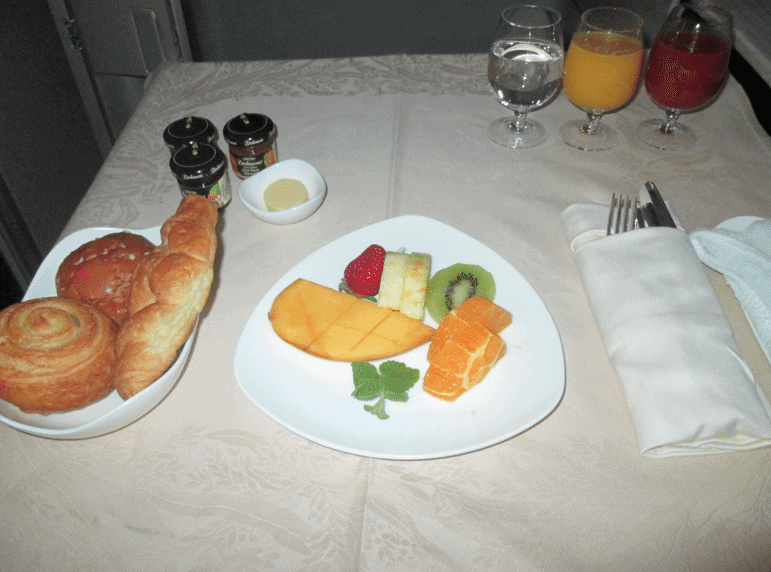 My main course was the chicken stuffed with cheese and vegetables in a champagne rose sauce.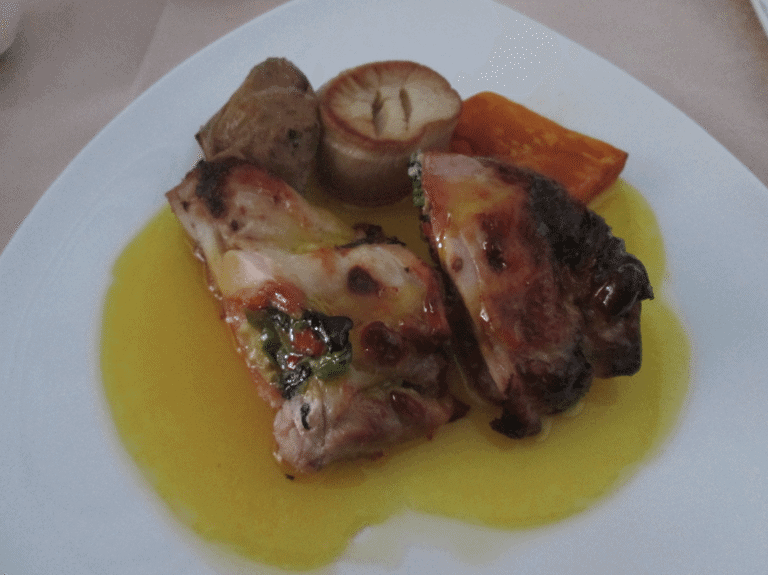 I liked this quite a bit more than my steak. The sauce was remarkable, and I was very happy with my choice to skip the breakfast and Korean menus.
Other Plane Features
Your suite has a small closet.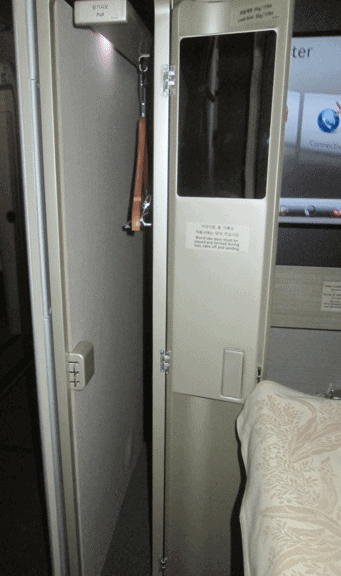 The farthest forward compartment is supposed to be some type of mini bar, but it was never explained or used. There's really no need with four passengers and three flight attendants. Anything can be brought to you in a matter of seconds.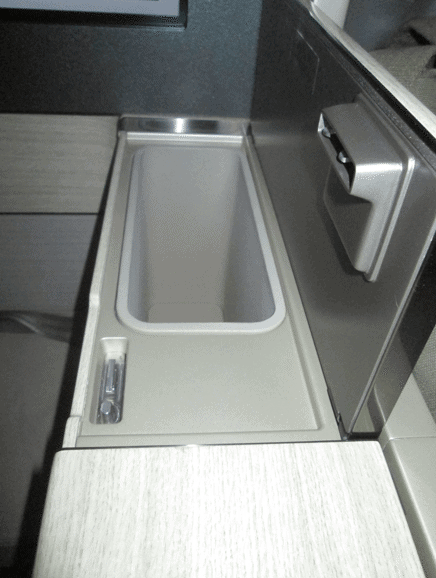 The bathroom is larger than a typical bathroom and features a bench for sitting.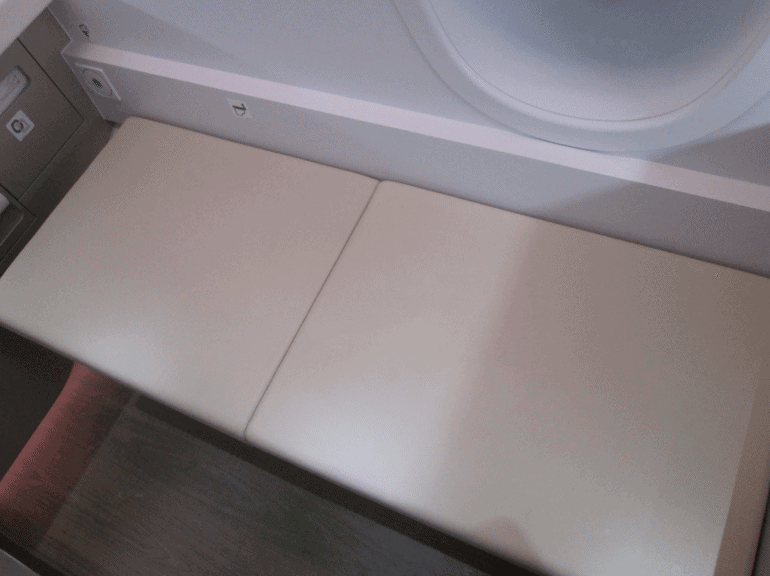 The toilet hides under the bench.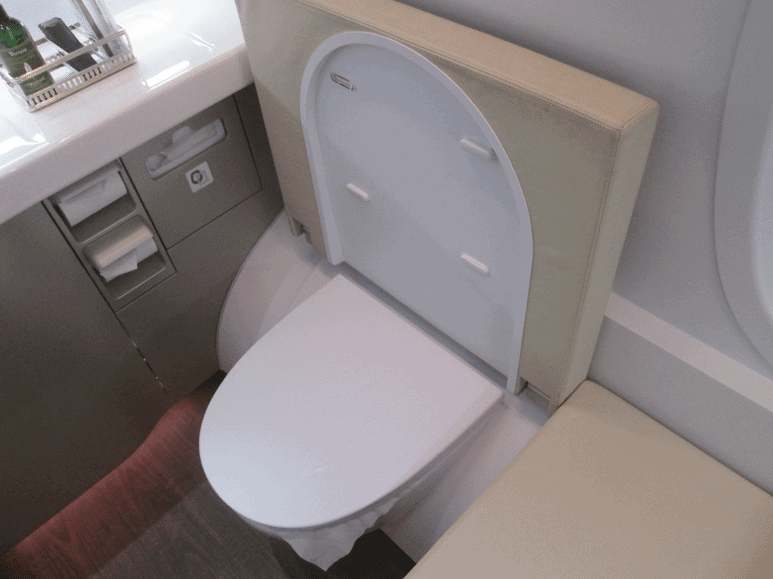 There is a large window in the bathroom. After waking up, I sat on the bench, looked out at the California mountains, and brushed my teeth with the disposable brushes in the bathroom.
Upstairs is apparently a bar for Business and First Class passengers. I didn't check it out.
Bottom Line
The lounge was OK.
The service was incredible.
The food was very good.
The bed was comfortable.
The suite was large and well-designed.
The entertainment was terrible.
With Global Entry, I went from plane door to curb in seven minutes!
————————————————————————————————————
Follow MileValue on Twitter and Facebook. And sign up to receive one free daily email every morning with all of the day's posts!
Earn 60,000 bonus points after you spend $4,000 on purchases in the first 3 months from account opening.
Just getting started in the world of points and miles? The Chase Sapphire Preferred is the best card for you to start with.
With a bonus of 60,000 points after $4,000 spend in the first 3 months, 5x points on travel booked through the Chase Travel Portal and 3x points on restaurants, streaming services, and online groceries (excluding Target, Walmart, and wholesale clubs), this card truly cannot be beat for getting started!
Editorial Disclaimer: The editorial content is not provided or commissioned by the credit card issuers. Opinions expressed here are the author's alone, not those of the credit card issuers, and have not been reviewed, approved or otherwise endorsed by the credit card issuers.
The comments section below is not provided or commissioned by the bank advertiser. Responses have not been reviewed, approved, or otherwise endorsed by the bank advertiser. It is not the bank advertiser's responsibility to ensure all questions are answered.