Looking at my travel plans for 2014, I realized I needed a flight from Los Angeles to Honolulu in September.
I ended up booking myself a oneway flight on Allegiant Airlines instead of using traditional miles for the ticket.

I paid for the ticket with my Barclaycard Arrival(TM) World MasterCard® – Earn 2x on All Purchases, and I plan to remove part or all of the flight charge from my credit card statement by redeeming Arrival miles for the flight. (Here's how.)
Why didn't I use Avios for the flight?

Why did I choose Allegiant?

Won't Allegiant nickel-and-dime me with hidden fees?

Why did I book with my Arrival card?
I have a one or two day window in September when I need to fly from Los Angeles to Honolulu. I first searched aa.com for award space on the route, thinking maybe I should book an American Airlines flight for 12,500 British Airways Avios + $2.50.
My first search showed a calendar with award space on my preferred date. Unfortunately the space was on Hawaiian Airlines flights, so I couldn't book it with British Airways Avios.
I re-ran the search asking aa.com to display only flights on American Airlines planes, and the results were worse. There was no award space that I could use.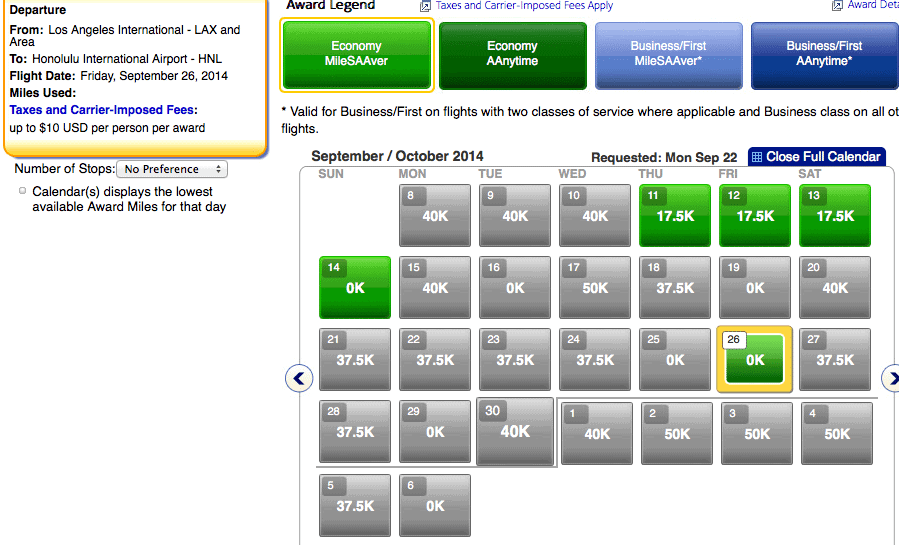 Next I headed to kayak.com to check prices on paid flights. I ran a seven-day search, and three of the days stood out as half the price of the other four.

The reason was that those three days had an Allegiant Air flight for $150 to $160 while legacy carrier prices started at $300+.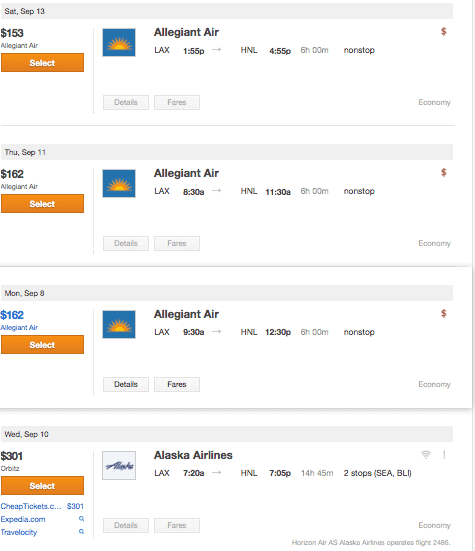 Allegiant Air is a Las-Vegas-based low-cost carrier that survives by selling bundled hotel-air-entertainment packages, charging a fee for almost everything, and keeping its costs low.
It has no frequent flyer program, and I've heard plenty of complaints from friends.
But I knew I had to at least investigate these half price fares.
I performed a search on allegiantair.com and a seven-day calendar came up showing three flights in the $150-$170 range. While American and United both operate more than 20 flights from LAX-HNL each week, Allegiant has three.
This is one of the big source of Allegiant complaints. If there is a delay, it can be a long one since there are no other flights you can catch on Allegiant to your destination, and a replacement plane is probably not at hand.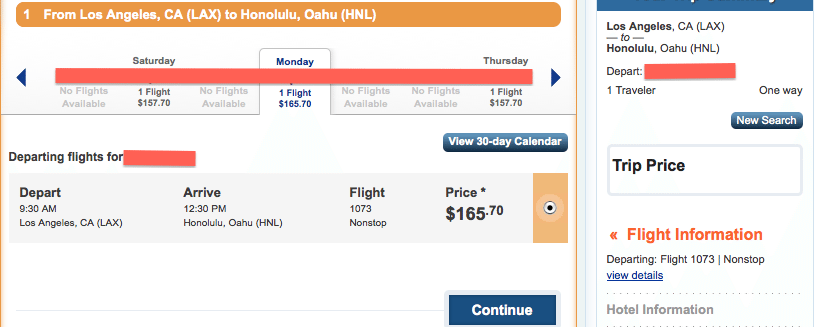 I picked my date, but I was far from done. Here's the side bar that tracked my progress.

As you can see, Allegiant misses no opportunity to get more than the $165.70 base fare.
I couldn't skip any sales pitches, so for each one, I had to scroll down and click the option that I didn't need the hotel, car, or seat assignment.

Speaking of seat assignments, every seat assignment cost money. The very best "Giant Seats" cost $90, an aisle seat with extra legroom was $28, and even a back row middle seat was $15.
When I selected the option to skip seat selection to avoid those seat fees, I got this confirmation screen.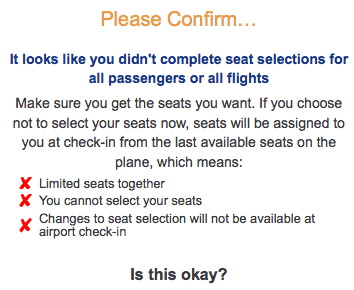 Allegiant really wants you to pay $15 to $90 to select a seat (less on shorter flights), so it lets you know that if you skip seat assignment, you'll be assigned a left over seat. And you can not change your left over seat at the airport to sit by a companion. If you are flying with a companion on an Allegiant flight, you need to pony up the cash to sit together.
The baggage options are where Allegiant almost guarantees itself extra revenue. Your only free baggage allowance is a personal item the size of a laptop bag or purse.
Even a regular carry on costs $10 to $30 depending on flight length. Checked bags cost $15 to $35.
For Los Angeles to Honolulu, a carry on is $25 and a checked bag is $35. I needed a carry on, so I added one to my ticket. Paying for it at check in or at the gate, Allegiant's site warned, would be much more expensive.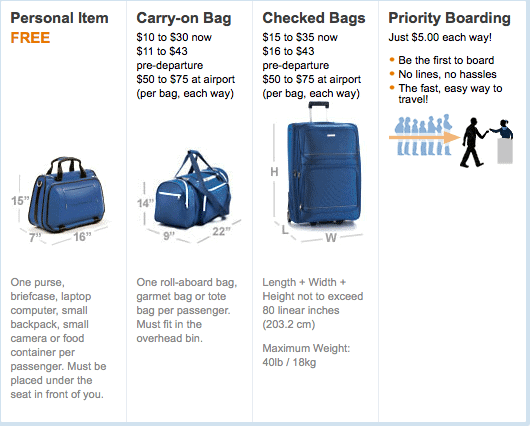 Next a pop up let me know that flight changes were $75 and no changes or cancellations were possible within 7 days of departure.
But if I just paid $12.50, I could get unlimited changes up to 1 hour before departure.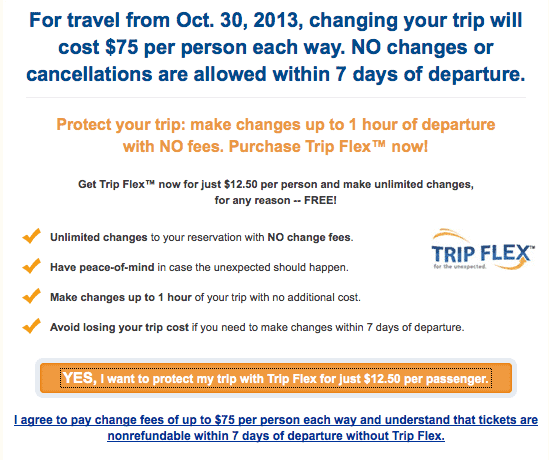 I declined this insurance, and my final cost was $190.70 with a debit card or $194.70 with a credit card.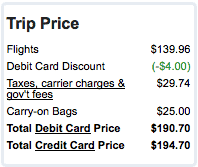 At this point, I decided that the Allegiant fare was the best deal since my next best option would have been paying at least 17,500 Hawaiian miles for a one way flight which would have been only a little more than 1 cent of value per mile.
Sometimes the best deal is to pay cash and save your miles for a better, later use.
But before booking I decided to go back and treat myself to a nice seat seat for the six hour flight.
(Note, sticklers, that with a Hawaiian award, I would have been able to select an aisle seat with 31 inches of pitch, which I value about $10 more than a back of the plane 30-inch-pitch seat on Allegiant, so I am not cheating the analysis for laying it out as I have or by getting a premium seat now.)
The front Giant Seats are apparently brand new. This LA Times article says that "the six Giant Seats on the carrier's Boeing 757 offer more than 36 inches of legroom and a width of 25 inches." Those dimensions mean that the seats have a lot more width than United First Class and an amount of leg room between United Economy Plus and United First.
The Giant Seat cost $90 extra.
In the row behind, I could have a window or aisle seat with normal width and 34″ of pitch for $28 in the "Legroom +" section.
I decided to treat myself and pay the $90 for a Giant Seat since $90 is a small price to pay for the best seat on the plane for six hours. I value the leg room and elbow room at my size and expect to nap and work very well on the long flight.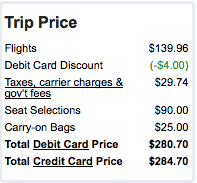 My new total was $284.70 with a credit card or $280.70 with a debit card. At that price, paying with a credit card is smarter. The $284.70 purchase will earn me 569 Arrival miles, which are worth almost $7, more than wiping out the disparity in price.
I pulled out my Barclaycard Arrival(TM) World MasterCard® – Earn 2x on All Purchases to pay. Right now I don't have many miles in the account because I already spent the $500 worth that you get from opening the card and meeting its minimum spending requirement. (See Three Steps to Get $500 in Free Flights, Hotels, and Car Rentals from the Arrival Card.)
But I have 90 days to earn more Arrival miles and redeem them for full or partial removal of the $284.70 charge.
Bottom Line
I've never flown Allegiant, though I have flown plenty of low cost carriers in Europe and Asia. I anticipate the flight will be safe, but without entertainment or refreshments. That's fine. I can use the money I saved to feed and entertain myself.
Allegiant doesn't spring hidden fees on you. It has a slightly annoying booking process because it spells out all the fees in detail for seats and bags (as well as trying to get you to bundle transportation and lodging.)
For me, and for all but the snootiest travelers, on routes that Allegiant flies, Allegiant offers a great alternative to traditional awards or paid tickets on legacy carriers. And if you do fly Allegiant, you can still get the ticket (as well as seat and baggage fees) for free by paying for the flight with your Barclaycard Arrival(TM) World MasterCard® – Earn 2x on All Purchases, which offers over $500 in free Allegiant flights or flights on any other airline with no blackouts after spending $3,000 on the card in the first three months.
————————————————————————————————————
Never miss a post again! Follow MileValue on Twitter and Facebook. And sign up to receive one free daily email every morning with all of the day's posts!