Reader question:
I've got to book a one way flight from Los Angeles to Newark with American miles next month. Is there any way to get extra value from the award?
Answer:
Sure. How about adding a one way flight to anywhere in Europe for 7,500 miles!
It's all about perspective, and this question gave me a new perspective on free oneways. Hopefully everyone reading this has already read about adding Free Oneways to American Airlines awards. It's a great way to add value to American Airlines international awards, and I'm using the trick to visit my mom for free next month for her birthday.
Normally I look at free oneways on American awards like this:
I've got an international trip coming up. Can I add a free oneway domestically?
But this reader has the opposite trip:
I've got a domestic trip coming up. Can I add anything to it?
And the rules–The Five Cardinal Rules of American Airlines Awards–are the same either way you think about your trip. If the reader adds an international flight from New York, he can take a free stopover in Newark and Los Angeles to Newark becomes free. Or if the reader thinks about Los Angeles to Newark costing 12,500 miles, then New York to Europe costs 7,500 miles more.
Let's give some specific cities to make it clear. Imagine if the reader wanted to join me at Oktoberfest in Munich.
To do a multicity award search on aa.com, select Flights under Plan Travel on the front page.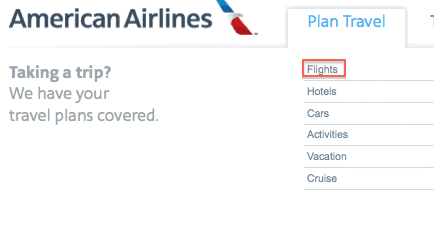 To search for Los Angeles to Newark next month on a Sunday, then New York to Munich in September, first go to the AAdvantage Award tab, then select Milti-City.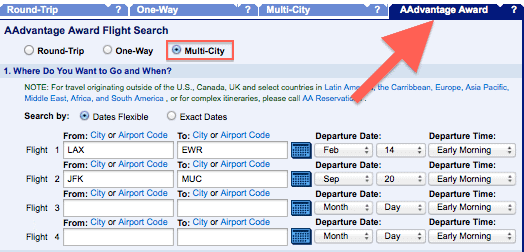 It's important to note that flying into Newark and out of JFK is not an open jaw. Newark, LaGuardia, and JFK are considered co-terminal airports by American and the its competitors. That means flying into one and out of another is allowed on award tickets and paid tickets if you don't mind the ground transport. Of course, on this itinerary, the reader would fly into Newark seven months before flying out of JFK, so there is no ground transport issue.
(In fact, a oneway award can never have an open jaw. If you think it can, you are confused about what an open jaw is. Don't worry; it's the most common confusion I get by email. See What is an Open Jaw? How Can an Itinerary Have Two Open Jaws?)
The search results look like this: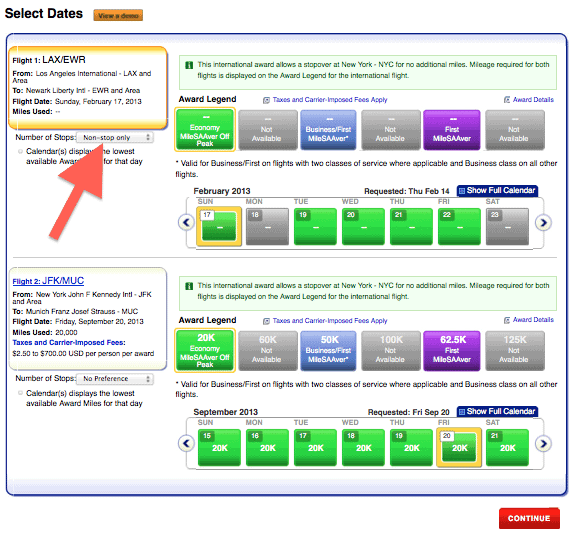 I've selected "Non-stop only" for LAX-EWR because American has a direct flight on that route. American and its partners don't fly directly from New York to Munich, so I left that dropdown as is. Note that the top half doesn't have prices because American's computer knows to price LAX-EWR on this itinerary as a free oneway.
Note also that JFK to Munich is displaying as 20k miles. You would probably expect it to cost 30k miles, since that is the oneway price to Europe with American miles during peak times. But I uncovered last month that you can fly to Europe all year round for 20k American miles by using one simple trick that this itinerary naturally uses.
There is plenty of space on the LAX-EWR direct flight next month in economy. And there is plenty of space from JFK to Munich flying airberlin and connecting in Dusseldorf or Berlin. (This shouldn't surprise you at all if you read Book Now to Europe for Next Summer: Economy.)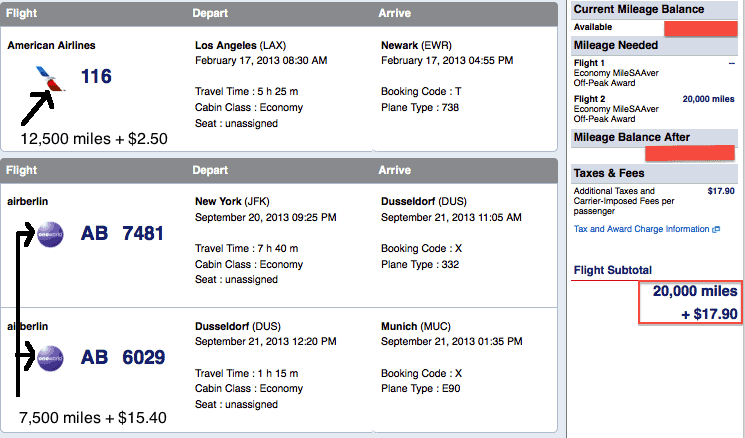 My hand drawn notes are there to draw attention to the fact that LAX-EWR would be 12,500 miles and $2.50 if booked separately. Adding on the flights to have a separate trip to Oktoberfest only adds 7,500 miles and $15.40 to the price!
This itinerary:
Los Angeles to Newark
New York to Munich
will always cost 20,000 American miles as long as Los Angeles to Newark is flown between October 15 and May 15. If you're going to book New York to Munich either way, LAX to Newark is a free oneway. If you're going to book LAX to Newark either way–like my reader way–New York to Munich is only 7,500 miles more.
Other Applications
Any time you want to fly an award from somewhere in the US (including Alaska and Hawaii) or Canada to your home airport, and your home airport is a North American International Gateway City, you can add on a steeply discounted international trip for after your domestic trip. Equivalently if you want to fly an award from your home airport to somewhere in the US and Canada, and your home airport is a North American International Gateway City, you can add on a steeply discounted international award to your home airport before the domestic trip.
Examples:
Los Angeles to Newark in first for 25k. You can add on New York to Istanbul in business for 25k more.
San Francisco to Washington in first for 25k. You can add Hong Kong to San Francisco in Cathay business for 30k more.
Miami to Chicago in economy for 12.5k. You can add Chicago to Shanghai for 12.5k more.
And my personal favorite:
Honolulu to New York is 37.5k one way in business class. You can add New York to Lima for -7.5k. Yes, that's negative 7,500 miles to add on a flight from New York to Lima, which brings the total award down to 30,000 miles.
This also works to other cities with direct service to Lima on American or LAN: New York, Miami, Dallas, Los Angeles, San Francisco.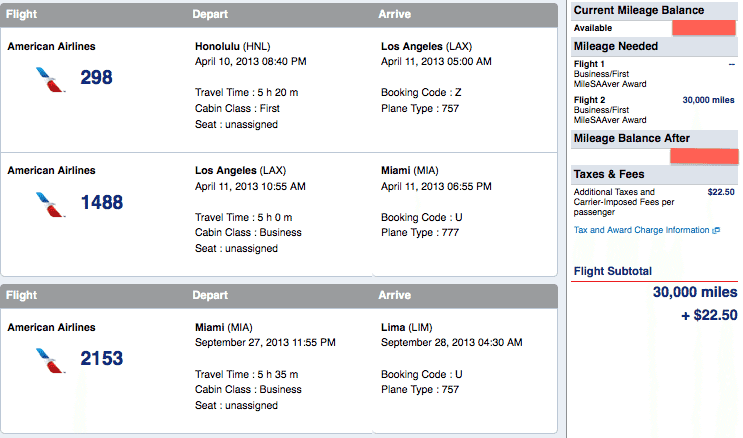 This also works in economy, but the discount is from 22,500 miles to 17,500 miles. That means it's "only" negative 5,000 miles to Lima in economy.
(This leads to the odd scenario that if you live in one of the cities that serves Central America or Northern South America, and you want a first class return from Hawaii, you're better off adding on a leg to Central America to decrease the price even if you'll never fly it. It's kind of like how I saved 200k US Airways miles by adding dummy legs I won't be flying to this award.)
Getting American Miles
The best current offer for American Airlines credit cards is to get two at the same time for 100k total miles. You can apply for the Citi American Airlines Visa and Citi American Airlines American Express within minutes with different browsers. In my experience, my brother's experience, my girlfriend's experience, and the experience of hundreds of FlyerTalkers, you can get approved for both.
Application Link: Citi American Airlines Visa
Application Link: Citi American Airlines American Express
The offer on both the cards linked is the same. Spend $2,500 within 4 months and receive 50k miles and two Admirals Club passes. So that's $5,000 total spending in 4 months for 100k total bonus AA miles and four Admirals Club passes–an incredible haul.
There's one hiccup. The offer page doesn't mention that deal, and the offer page may be expired. But if you can pull up the page, the deal is probably still on–certainly the deal has worked for hundreds before you. But your mileage may vary.
Here's the FlyerTalk thread bible on Citi AA offers, including information on the two-browser trick, new offers as they appear, and recent data points about whether offers are still working.
For even more AA miles, check out the Starwood Preferred Guest American Express card that comes with 25k Starpoints after $5,000 in spending in the first 6 months. Starpoints can be transferred 1:1 to AA miles with a 5,000 mile bonus for every 20k points transferred. Or you might get even more value (2.5+ cents) from Starwood Cash & Points stays.
Application Link: Starwood Preferred Guest American Express
Recap
We're all familiar with free oneways on American Airlines awards. Looking at the exact same type of award from the perspective of booking a domestic award, leads to some incredibly cheap international add ons like 7,500 miles to Europe or negative 7,500 miles to Peru!
For more great posts like this, follow me on Twitter or Facebook. If you're in Los Angeles, Tampa, or Baltimore, let's grab dinner.