MileValue is part of an affiliate sales network and receives compensation for sending traffic to partner sites, such as CreditCards.com. This compensation may impact how and where links appear on this site. This site does not include all financial companies or all available financial offers. Terms apply to American Express benefits and offers. Enrollment may be required for select American Express benefits and offers. Visit americanexpress.com to learn more.
Note: Some of the offers mentioned below may have changed or are no longer be available. You can view current offers here.
---
The purpose of this post is not to tell you whether or not you should be traveling. Rather, I'd like to share my experience and my impressions of what it's like to travel right now. I'll share my experience with booking flights, what it's like to fly and stay at hotels during the pandemic and my overall impressions of the precautions taken by hotels, airlines and tourist attractions.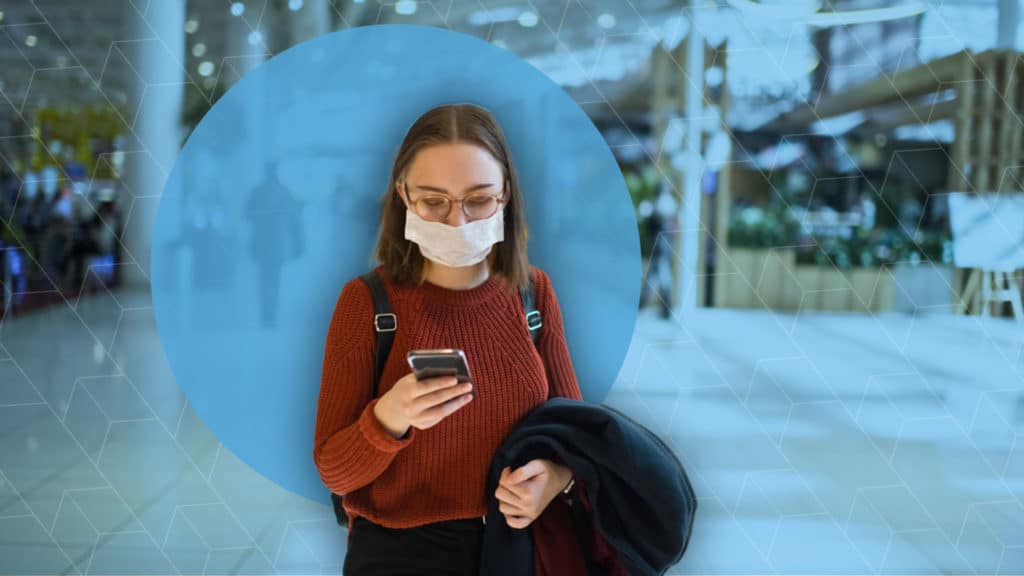 Planning the Trip and Finding Award Space
At the beginning of September, my friends and I felt safe enough to travel abroad and decided to take a trip to Turkey. Why Turkey? Right now it's one of the few countries open to the U.S. citizens with no restrictions. U.S. citizens don't need to take a Covid test before visiting, there's no quarantine and Turkey doesn't require visitors to have health insurance. In fact, Turkey is completely open for tourism for all nationalities.
I easily found award space so close to departure for 77,000 United miles one way in business class. For the outbound flight, I had a choice of flying Lufthansa or Turkish Airlines. Normally, Turkish is my favorite airline, but they've significantly cut the inflight service using Covid as a reason for not serving any hot food or hot drinks.
My outbound itinerary included a combination of United, Lufthansa and Turkish Airlines with two connections, one in Chicago ORD and one in Frankfurt. On the way back home I had no choice but to book Turkish Airlines.
Airport Experience
My home airport of Cleveland is never really crowded, but this time it felt eerily empty. There was not a single person in line at the TSA Precheck and it took less than five minutes to check in and go through security.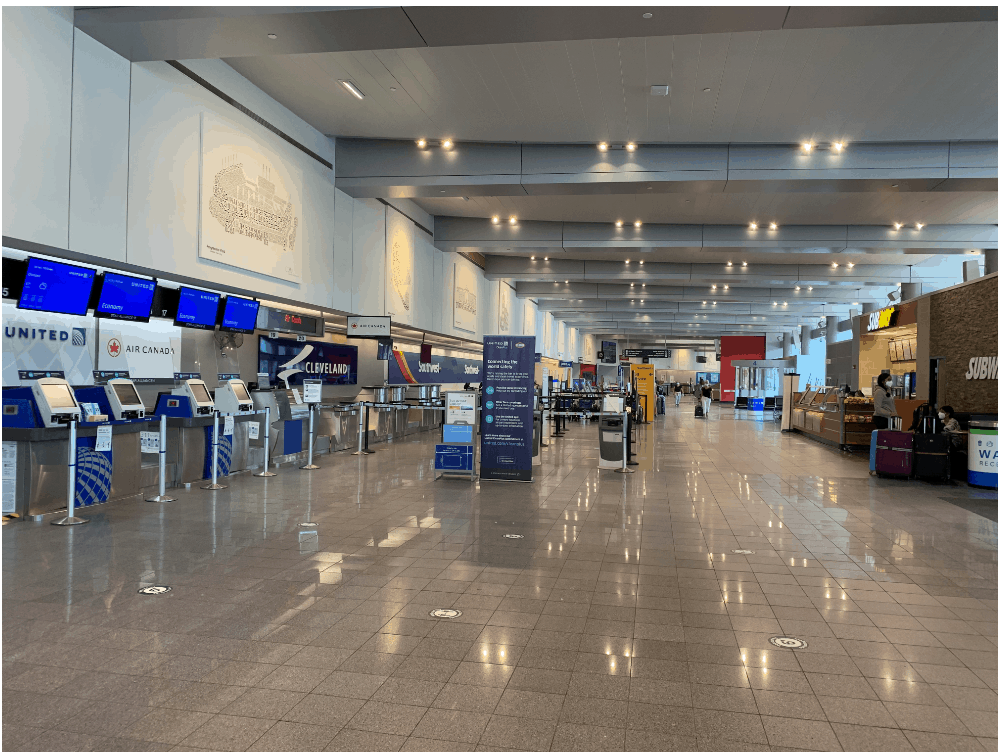 I flew out on a Saturday morning, so maybe there is more passenger traffic on a weekday, but it was sad to see the airport so empty and the departure board with so few flights.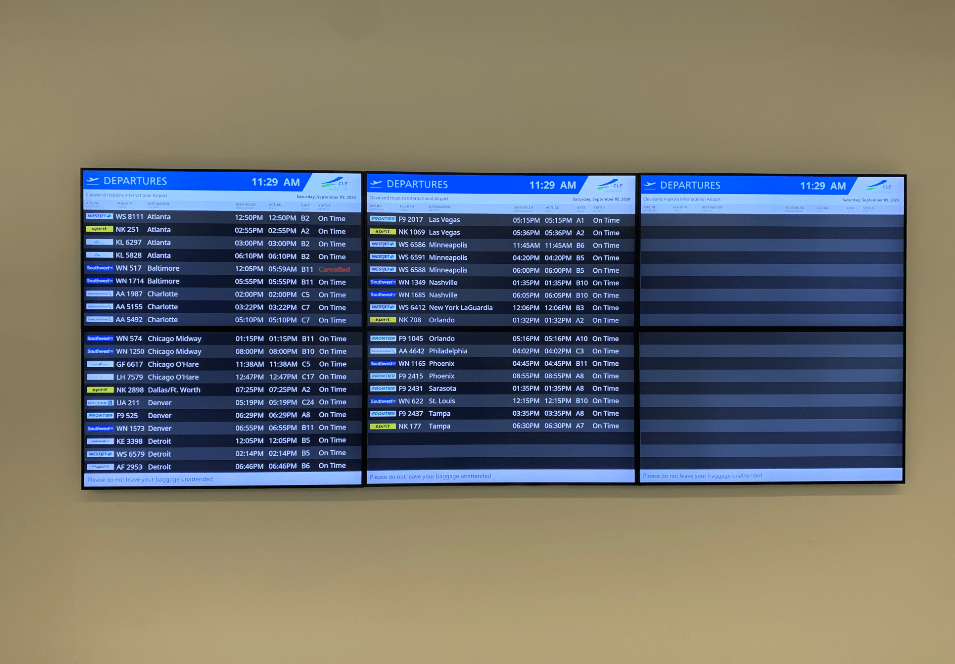 My flight from Cleveland to Chicago was completely full. It was a small aircraft with a 2-2 seating configuration and every seat was occupied.
When I landed in Chicago around 1:30 P.M., concourse B looked busy, like in the good old times. It was lunch time, so there were long lines at the few open eateries. Unfortunately, a lot of places are closed, so the remaining restaurants that are still open get all the business.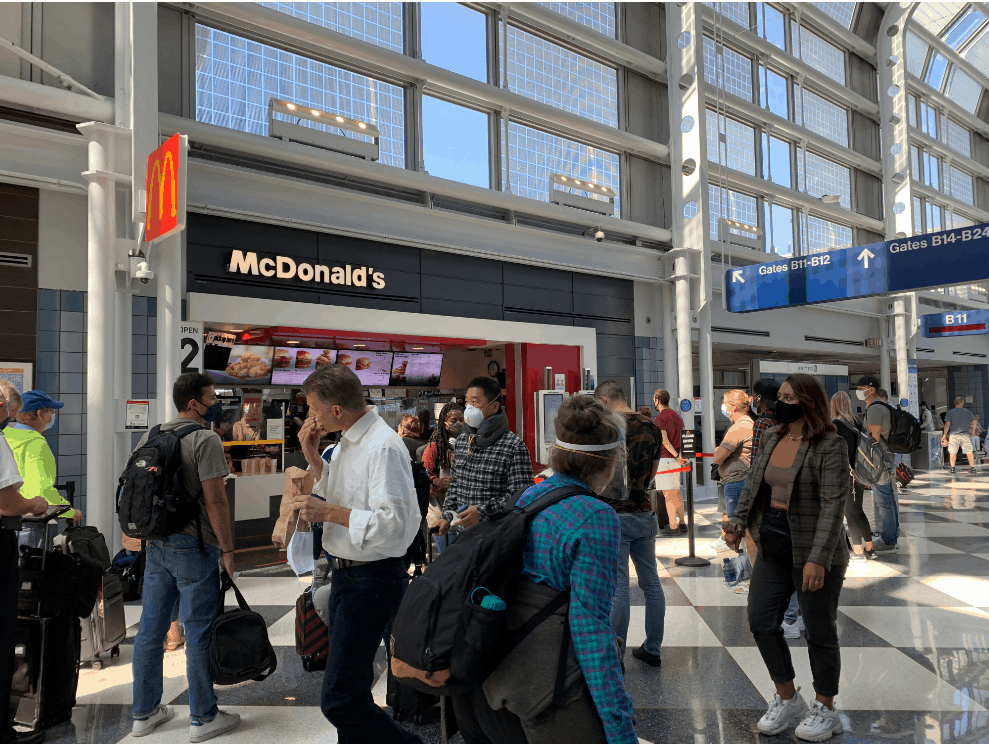 After about 45 minutes, the airport emptied out – I've never seen ORD so quiet, even late at night.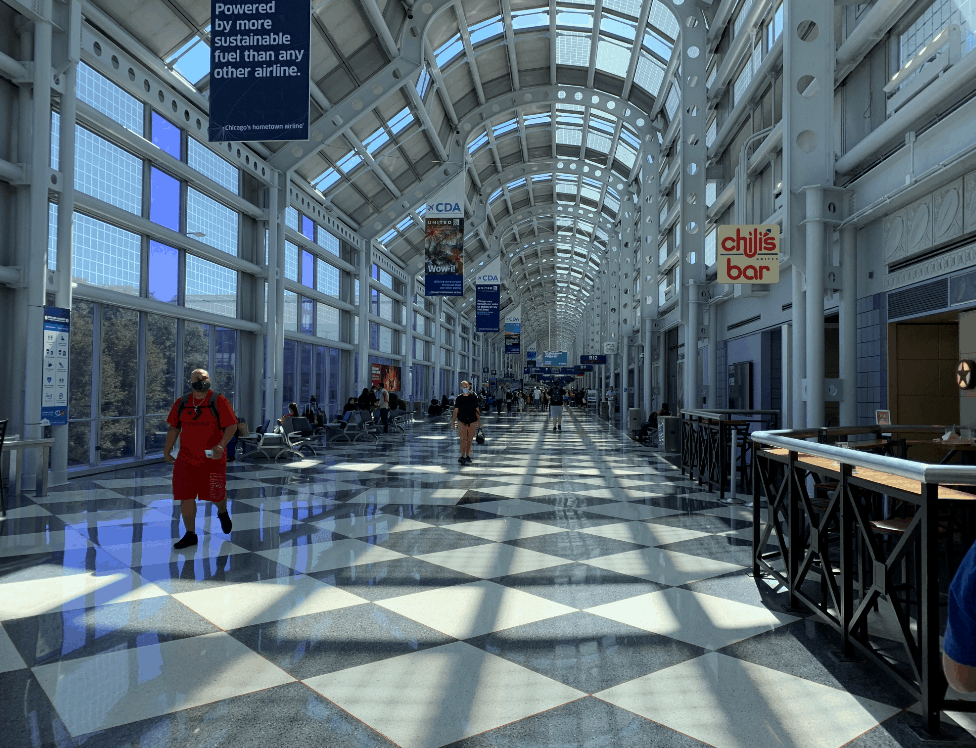 Lufthansa boards by row numbers, but in spite of that, boarding was a bit of a free for all. Passengers congregated around the gates and formed lines with little social distancing. I've noticed the same on all international flights I've flown on this trip (Lufthansa and Turkish Airlines). The only airline that was doing boarding in an orderly and socially distanced manner was United.
On the way back home, when I rechecked my bag at Chicago ORD, I noticed a cleaner going around and wiping the high touch areas, such as check in kiosks.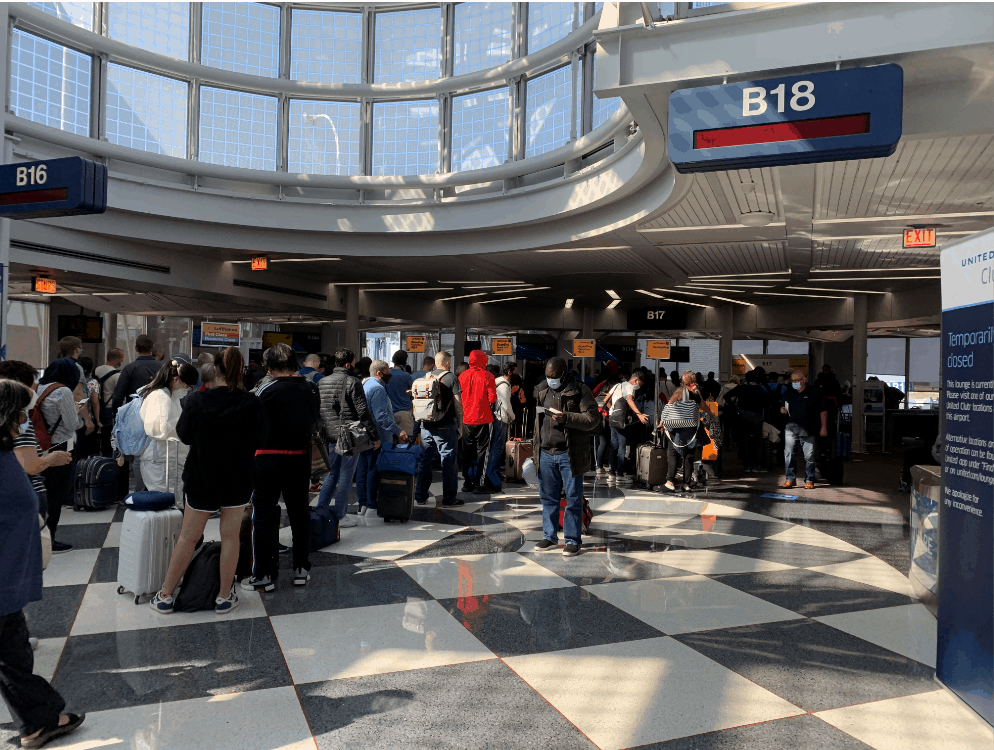 Frankfurt airport also looked far less busy than usual. Some areas, especially the Z zone, where most flights from the U.S. arrive, looked completely deserted. But as I walked around, I noticed some activity in other areas of the airport.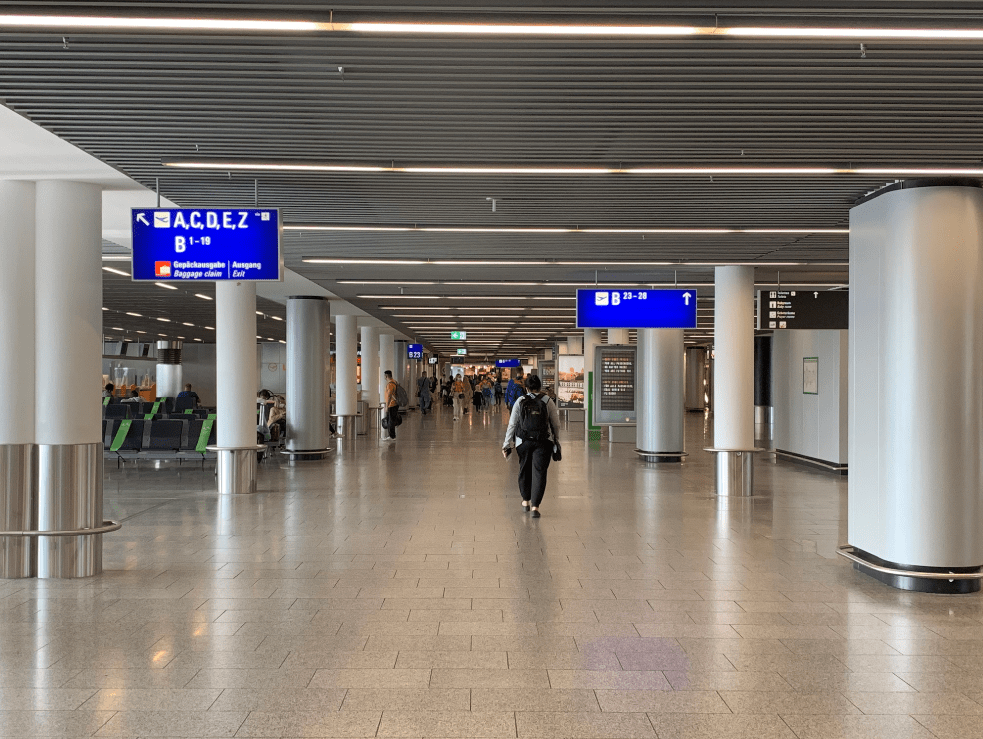 There were a lot of closed stores, restaurants and cafes. I was there early on a Sunday morning, so maybe some of them open later in the day. Everyone who wasn't eating or drinking was wearing a mask. Every other seat in the waiting areas was taped off with wide green tape, encouraging passengers to keep social distance.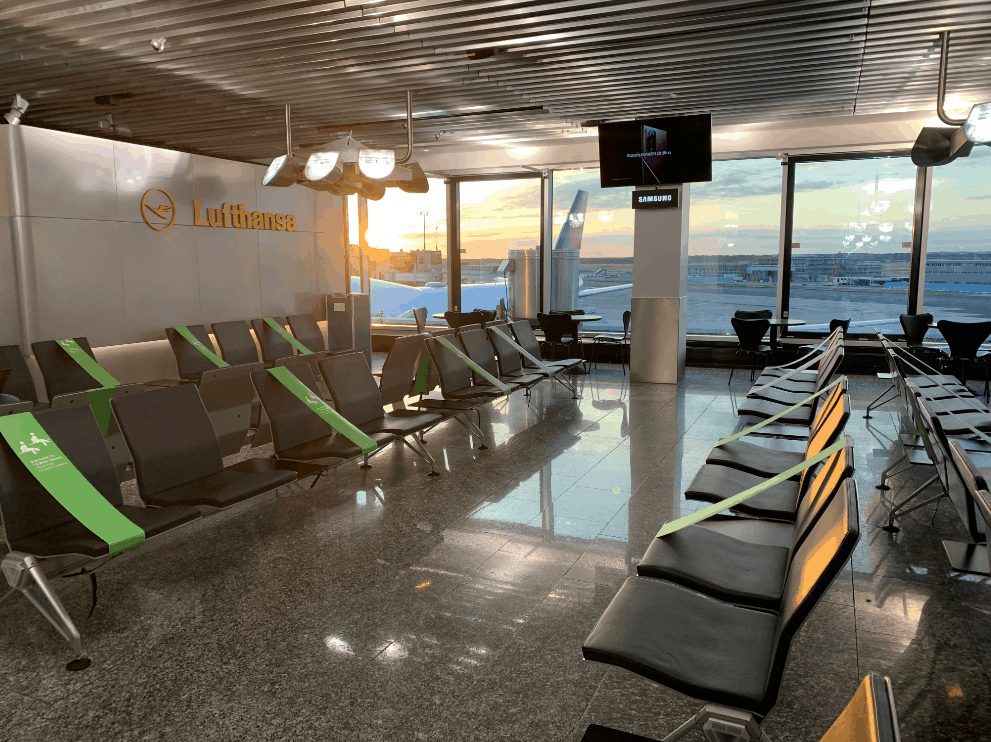 Airline Clubs and Lounges
All three airlines I've flown on this trip have scaled down the service and food offerings at their airport lounges. Here's a closer look at what's available at Chicago ORD, Frankfurt and Istanbul.
Chicago ORD
Sadly, my beloved Polaris club at Chicago ORD was closed. A couple of United clubs are still open, so I found one and waited there for my next flight. Just like the airport, the United club looked deserted – I've never seen it so quiet. There were very few passengers, and most sitting areas were empty.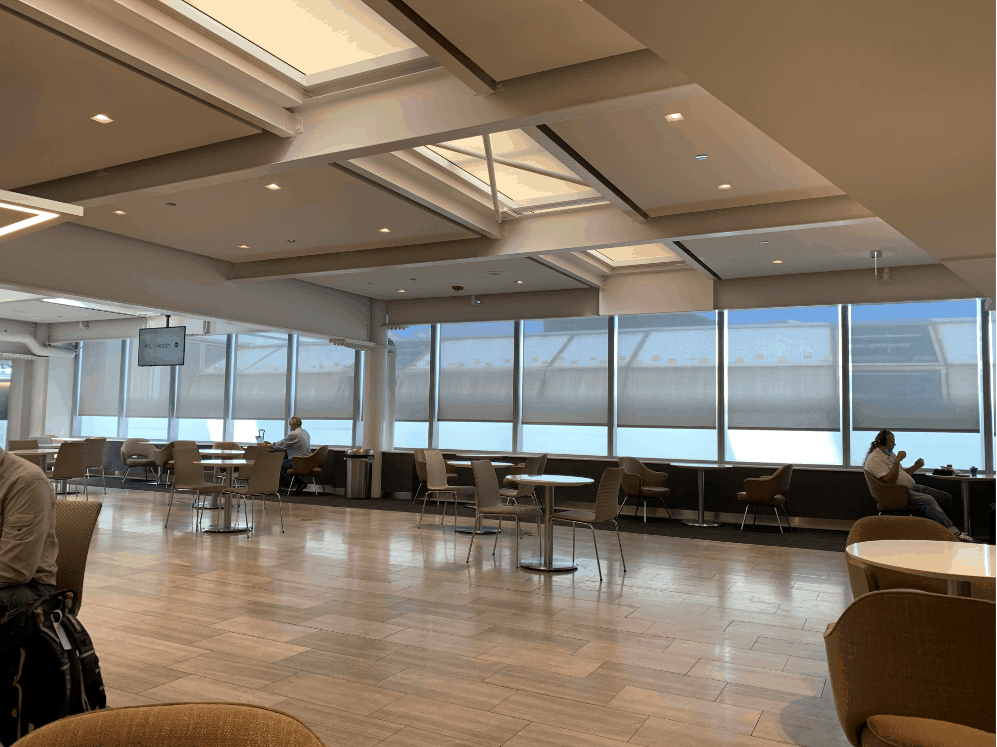 The food at United clubs in the best of times isn't anything special, and now the food offerings consist of pre-packaged snacks and instant noodles. The self-service coffee and soda machines were still in operation, and the bar was open. Mask compliance was great, as everyone was wearing a mask and there was no problem with social distancing.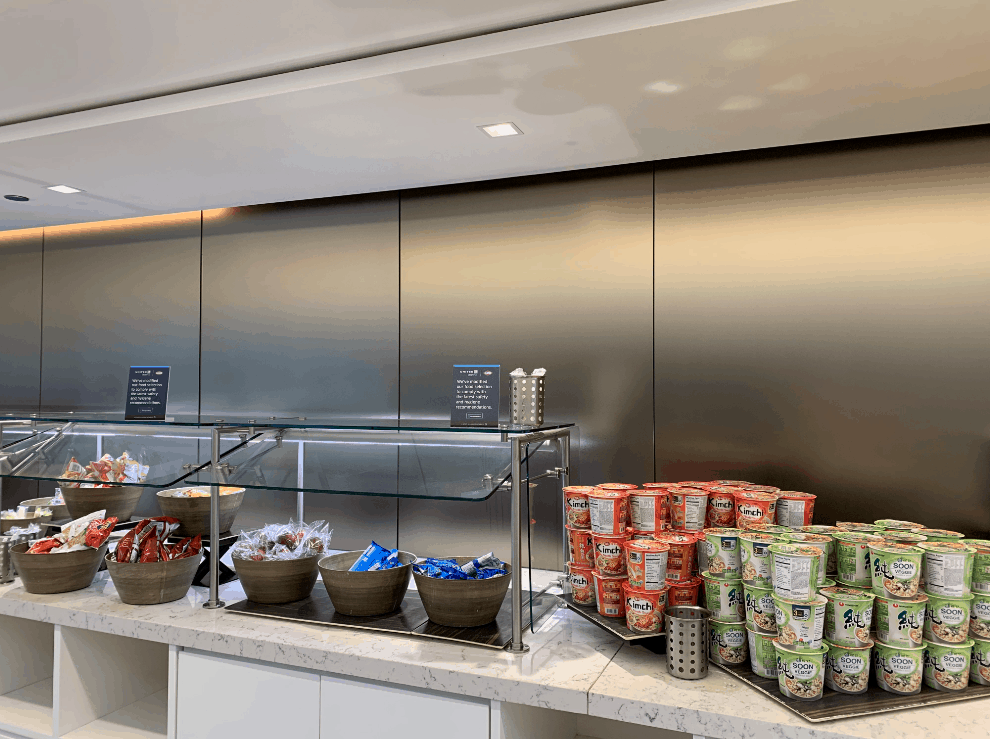 Lufthansa Senator Lounge in Frankfurt Airport
Most lounges at Frankfurt airport are closed. There were no open lounges in Zone Z, where flights from the U.S. arrive but I found one that was open near gate B43. My Turkish Airlines flight to Istanbul was departing from concourse B, so I had to get there anyway.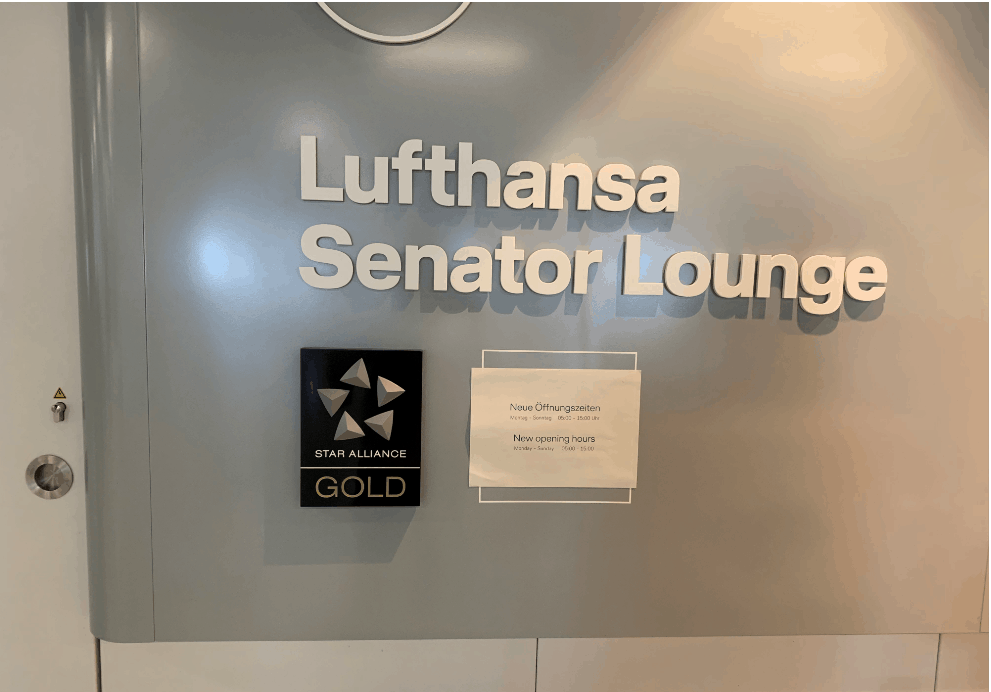 The first thing I look for when I get to a lounge is the shower. There's nothing better than a refreshing shower after a long flight and thankfully this lounge has great showers.
The food selection was very limited. I was there during breakfast and a staff member behind the glass partition was doling out baked beans, scrambled eggs and sandwiches. There were also some individually portioned snacks.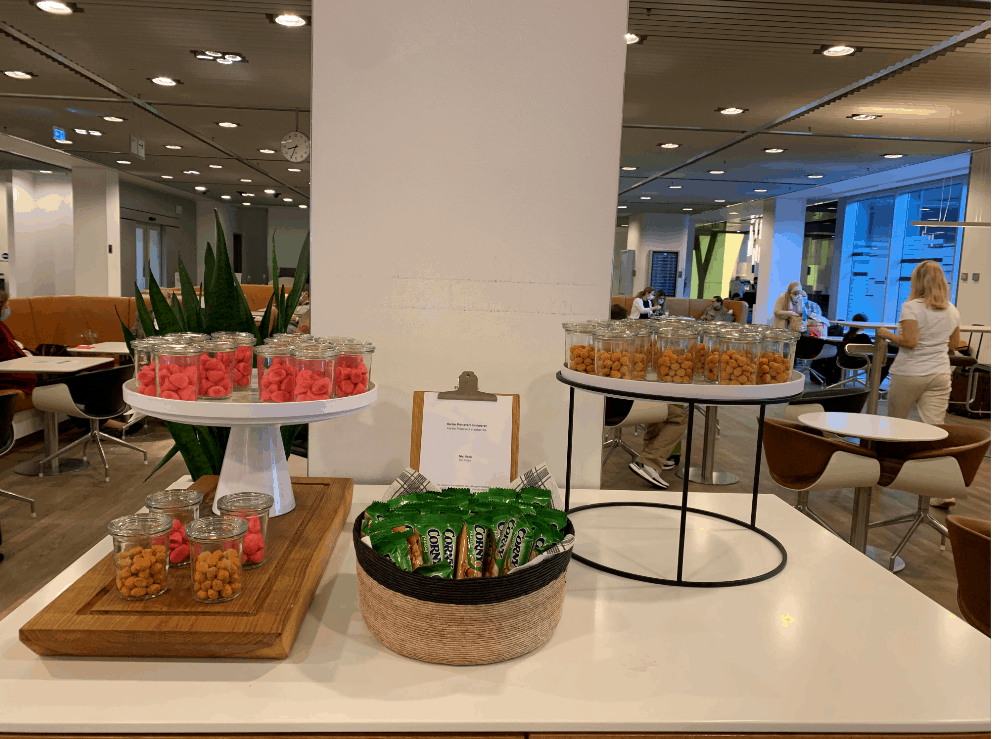 The beer was self-serve, but the rest of the alcohol was only available at the bar.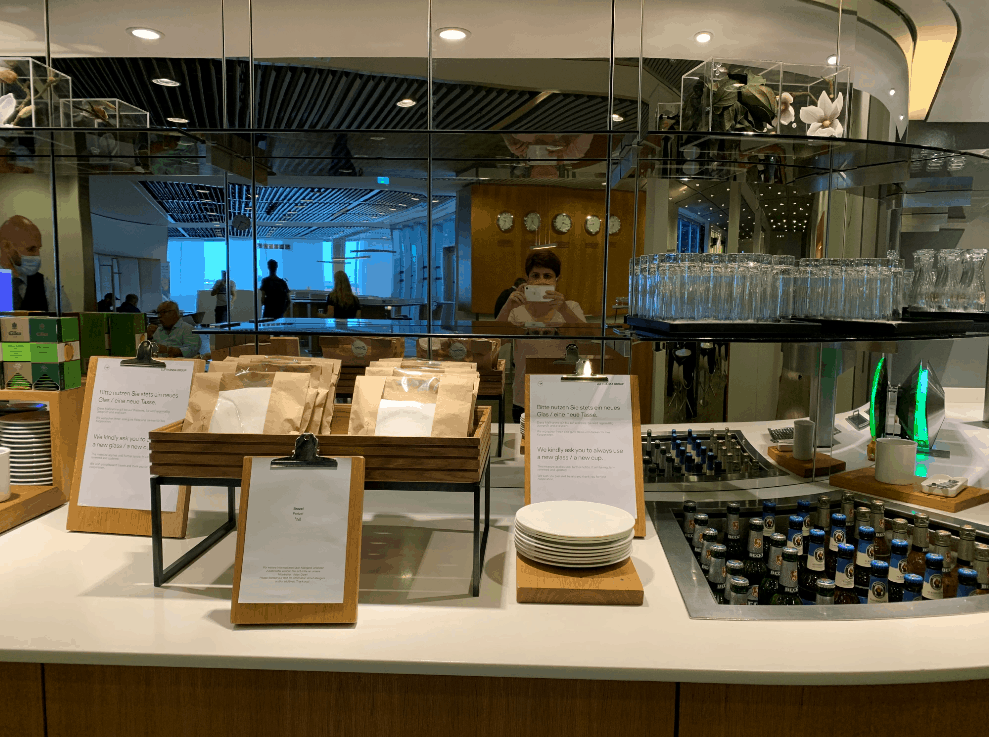 Turkish Airlines Lounges
Because I booked my itinerary utilizing United Excursionist perk, I had a domestic segment in business class. The domestic terminal's Turkish Airline business class lounge was quite busy, and the regular food offerings were replaced with prepackaged snacks and sandwiches. There was coffee and tea available, as well as soft drinks.
The last stop on our itinerary was Bodrum and I was able to book a ticket from Bodrum to Istanbul as part of the overall itinerary. So on my way back home I had another layover in Istanbul Airport. Turkish Airlines business class lounge at Istanbul Airport was closed, so I headed to the Miles&Smiles lounge. It looked exactly like the business class lounge and because it was the only lounge open, it was pretty crowded.
To my chagrin, the nap pods were closed. I've seen people spread out and sleeping on various couches and armchairs throughout the lounge, so I am not sure how that really helped with social distancing.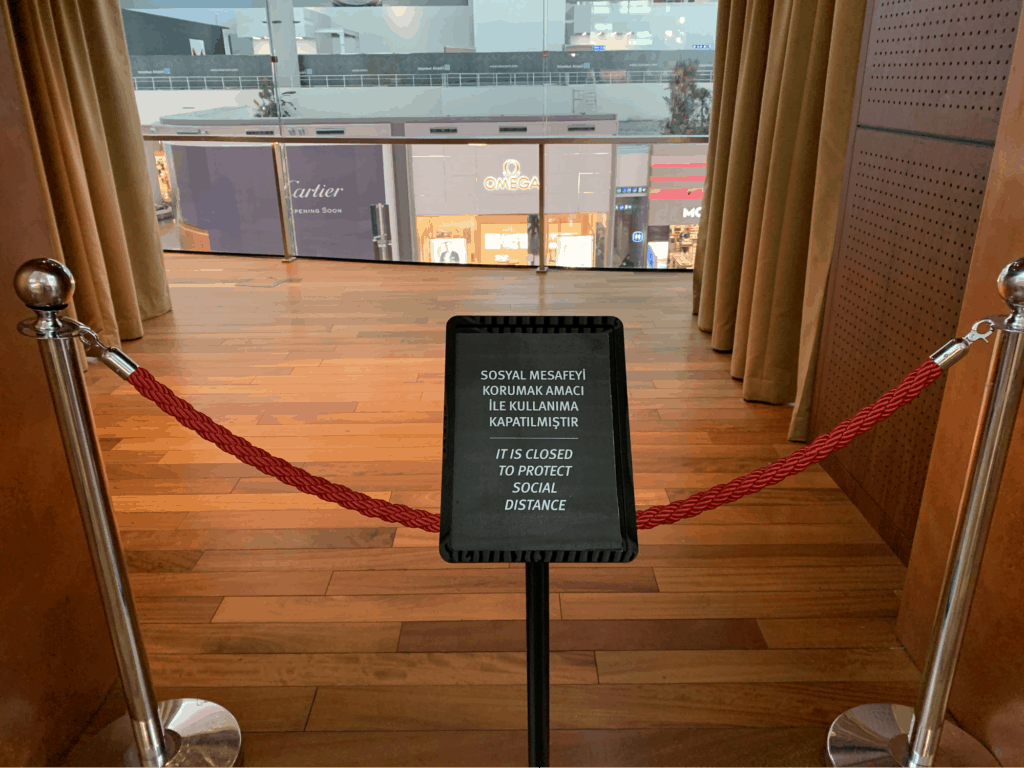 I did find a row of empty conference rooms, so this is where I spent most of my time, working and making some phone calls.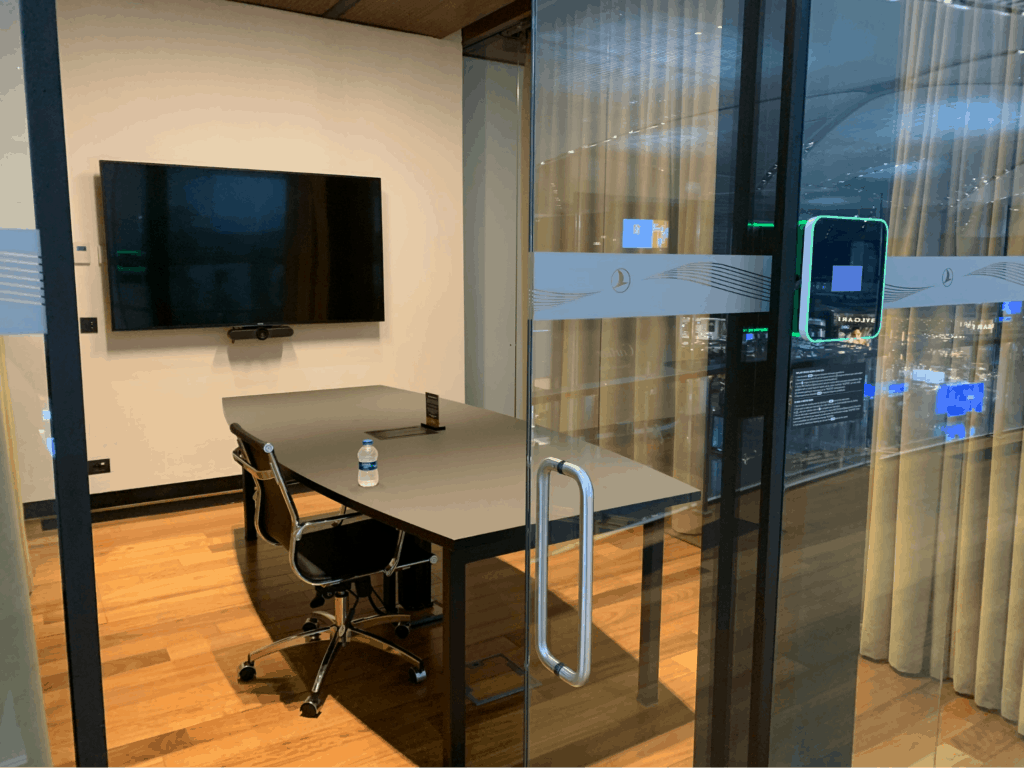 The food wasn't as good or as plentiful as I remember. Cold food was prepackaged, the staff handed out the hot items and the chefs were still making fresh pide (pizza-like Turkish flatbread).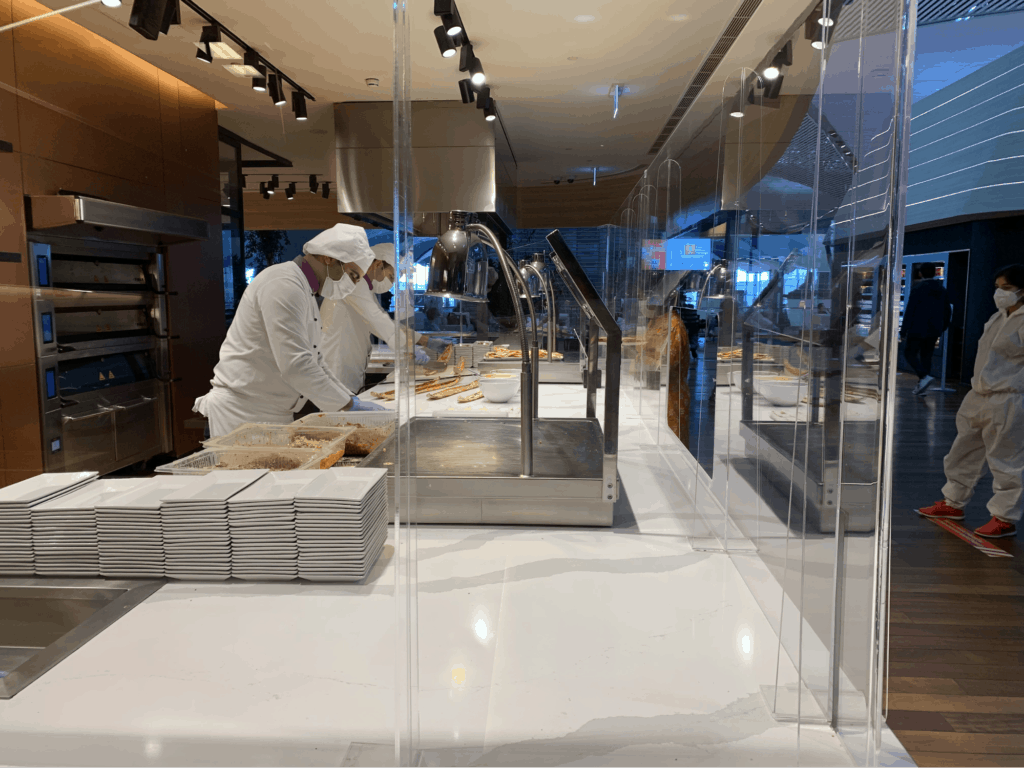 Even with the more limited selection, there was enough to make a full meal, which was very timely because I knew there won't be much food onboard my 11 hour flight to Chicago.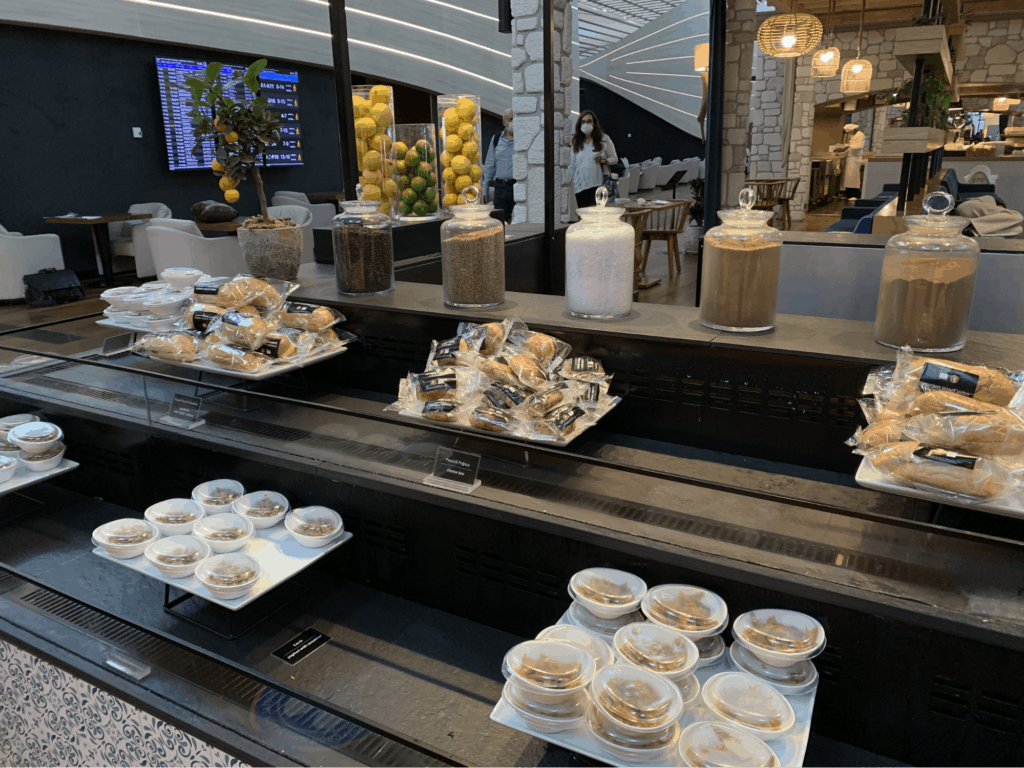 Inflight Service
Here's a quick rundown on the levels of service provided on the three airlines I've flown on this trip.
Inflight Service on United Flights
My Cleveland to Chicago flight was completely full. It was a small aircraft with a 2-2 seat configuration. Instead of the usual drink service, the flight attendant passed small bottles of water. Everyone wore a mask and the flight was uneventful.
My return flight from Chicago to Cleveland was on Saturday morning and was about 75% full. There was no service at all, not even water, but the flight attendant did make an announcement that soft drinks are available on request.
The boarding was by rows, back to front and the passengers were encouraged to deplane row by row and everyone complied.
Inflight Service on Lufthansa Flight
Lufthansa still serves their multi-course meal in business class and that was one of the reasons I booked this flight. I felt that for 77,000 MileagePlus miles, I should at least get a decent meal.
I initially had a seat in the small two-row business class cabin (right behind the bigger business class cabin and the galley), but a purser asked me if I'd be ok moving to the other, bigger cabin or upstairs. Apparently, I was the only one there and, as she explained, it'll be logistically hard for the flight attendants to provide service.
I chose to move upstairs where there were very few passengers and I had two seats for myself. Business class was about 20% full and there was plenty of opportunity for social distancing. We had two dedicated flight attendants who provided excellent and attentive service.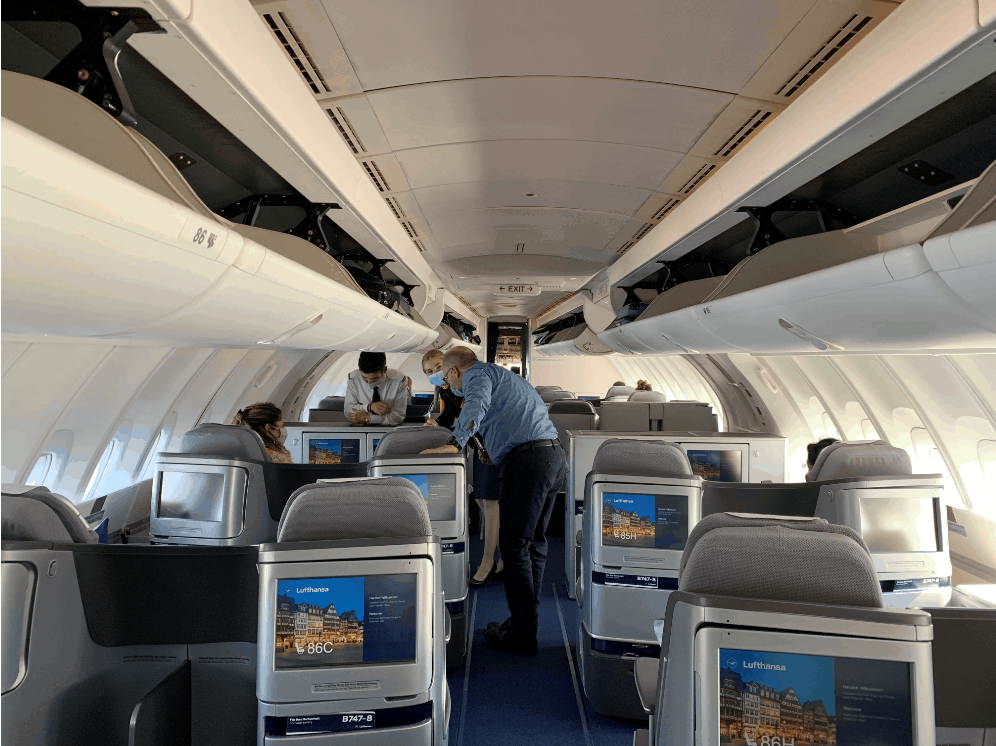 We also received a lovely amenity kit with the usual necessities for a long flight.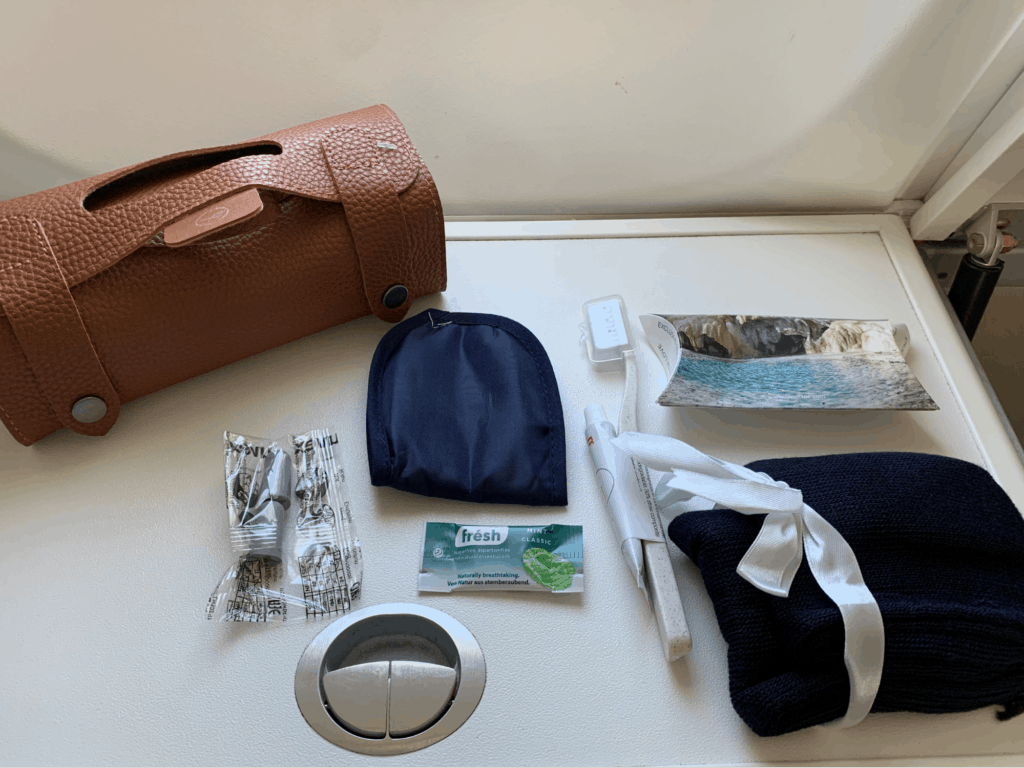 Inflight Service on Turkish Airlines Flights
Turkish Airlines is usually my favorite airline but they've decimated their cabin service. Gone is the famous TK catering with the onboard chef on the long haul flights and the great multi course meals. According to their website, they now give passengers one box of cold food and there are also no hot drinks on board. So because I had a choice of carriers and itineraries, I decided not to fly with them on the nonstop flight from Chicago to Turkey.
My Turkish Airlines flight from Frankfurt to Istanbul was almost completely full. As we entered the aircraft, the flight attendant passed a little packet with a mask and a sanitizing wipe.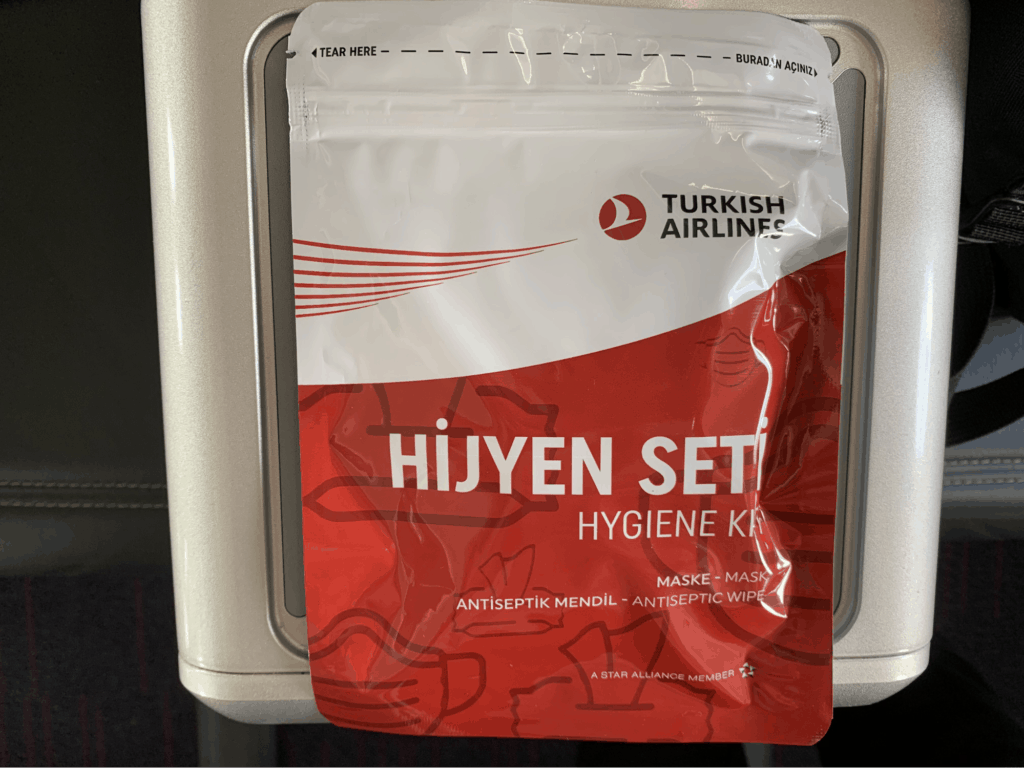 Turkish Airlines not only eliminated their regular food service, welcome drink and hot beverages onboard, but they also got rid of their amenity kits. Instead, all passengers, as they enter the aircraft in Istanbul, pick up a "hygiene kit". The little bag contained a couple of masks, a sanitizing wipe and a small bottle of hand sanitizer. I was glad I saved my eye mask and earplugs from Lufthansa's amenity kit.
I've seen crew members equipped with masks, gloves and face shields sanitize the aircraft lavatories on all Turkish Airlines flights I took on this trip. This is definitely new, and Covid or not, a clean lavatory is always a welcome sight.
Onboard Food
There was a huge difference in onboard food on my Lufthansa and Turkish Airlines flights. Lufthansa hasn't made any significant changes, but Turkish Airlines, however, really lost its luster.
Food on Lufthansa Flight
One small change that I noticed as soon as I boarded the aircraft was the absence of the usual welcome drink. Instead, we were handed a disinfecting wipe. Other things that were different: flight attendants no longer offer hot towels or a bread basket during mealtime. Other than these minor changes, the service felt the same as during pre-Covid times.
I was very impressed to see the menu that didn't look any different than before Covid-related restrictions were put into place.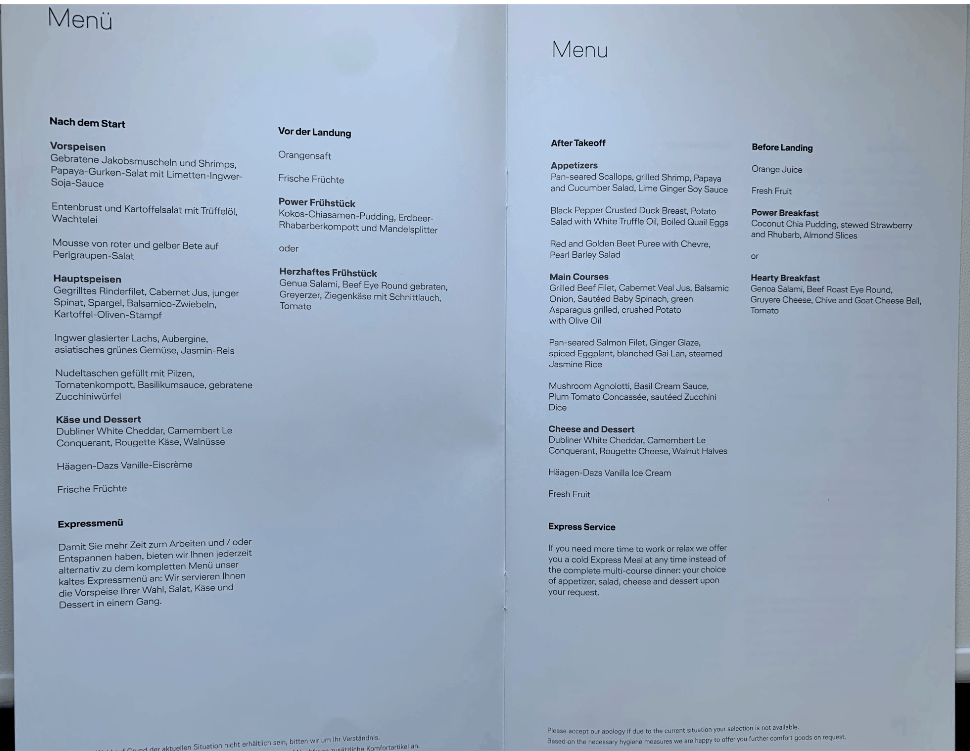 Wine and champagne offering also appeared unchanged.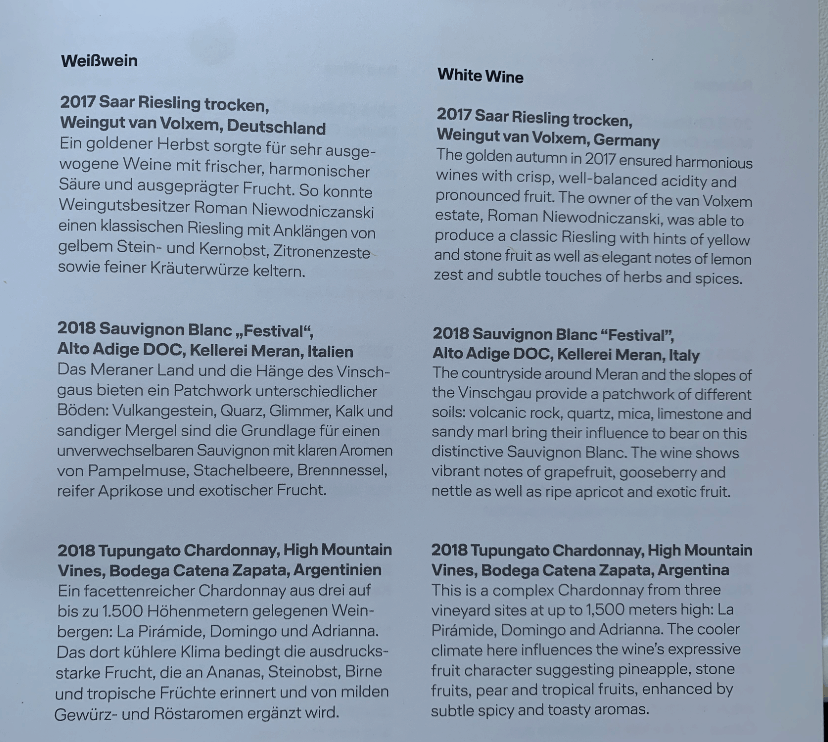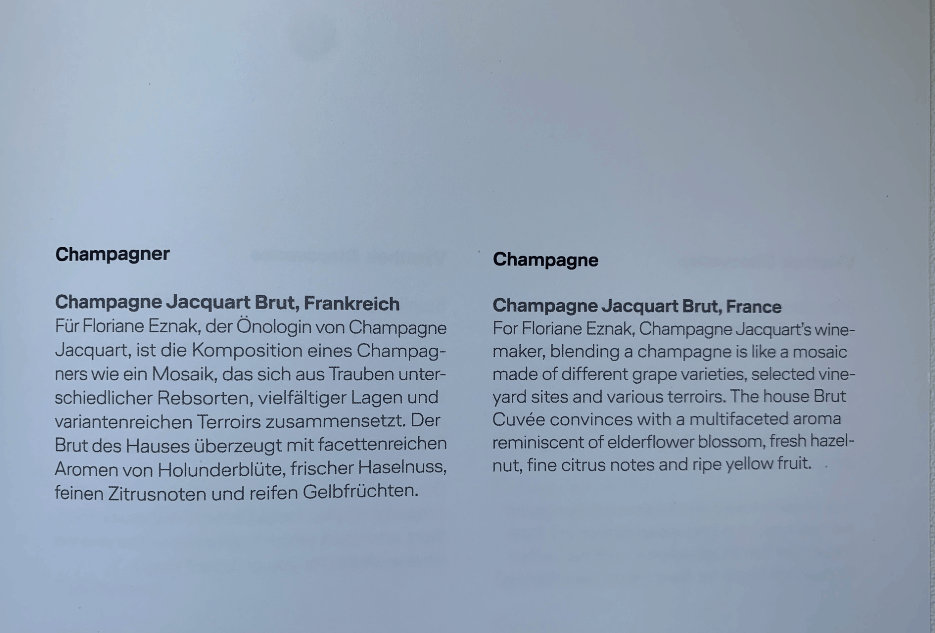 We were first served the salted nuts, then appetizer with two pieces of bread already placed on the plate, then the hot entre. I chose the scallop and shrimp appetizer and beef for my main course and both dishes were very tasty.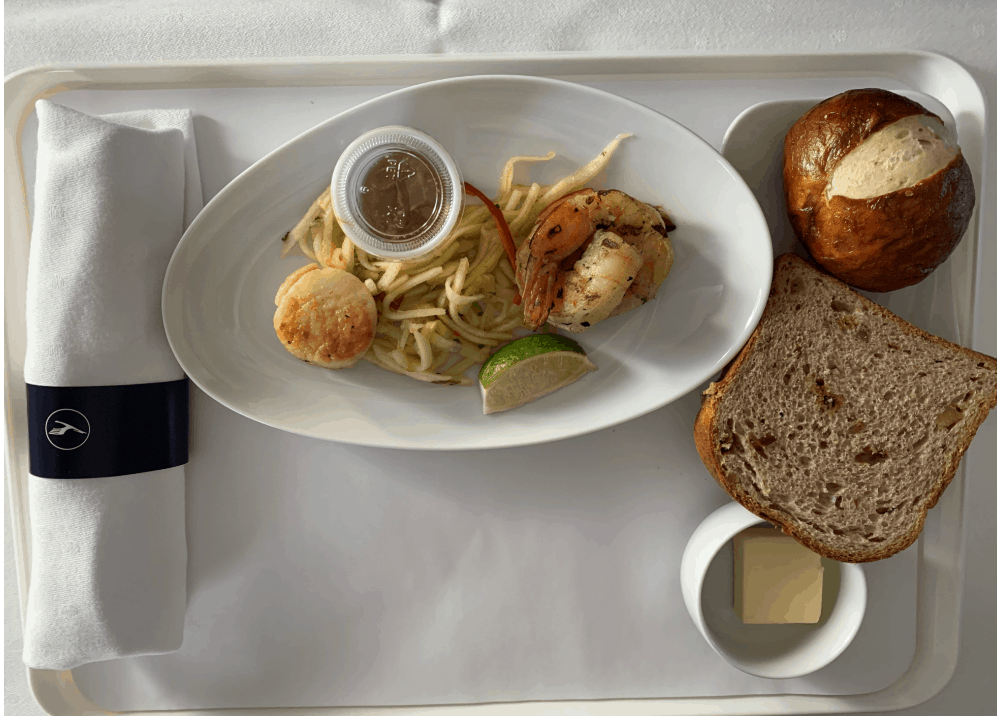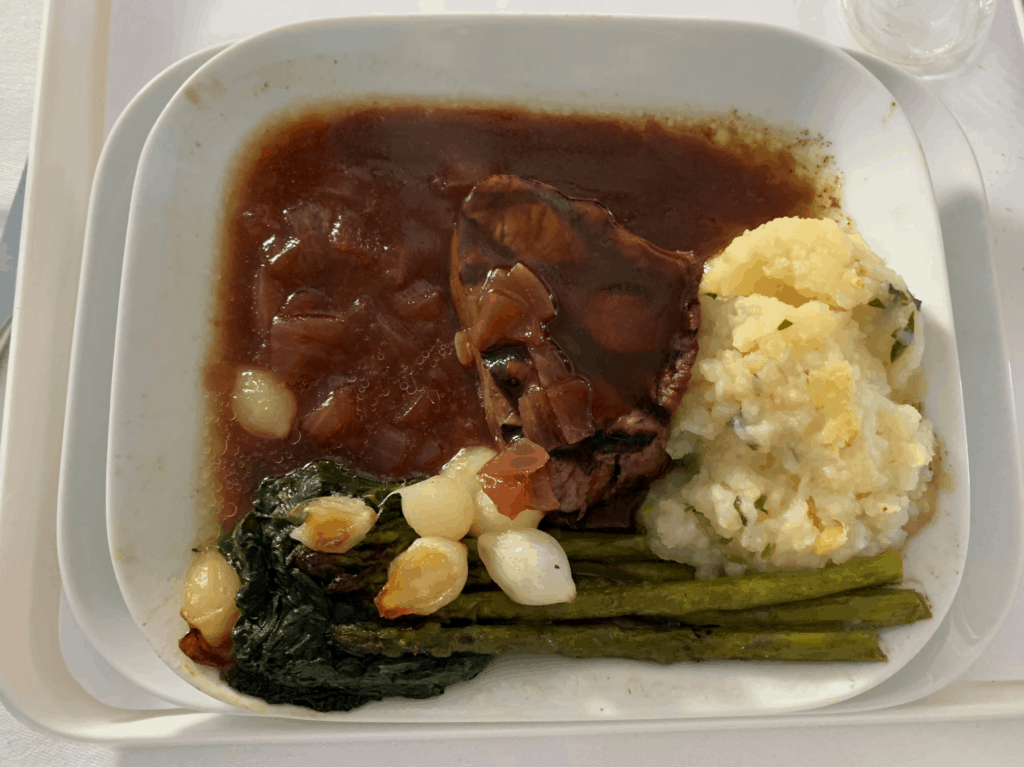 It's nice to see the airline not using Covid as an excuse to cut inflight service in any significant way.
Inflight Food on Short Turkish Airlines Flights
There was no pre-departure drink, and I really missed the delicious Turkish lemonade with a sprig of mint they used to offer. Meal service on the 3.5 hour Frankfurt to Istanbul flight now consists of a cold box, containing a sandwich, a couple of small appetizers, a small piece of pound cake and a mini Snickers bar.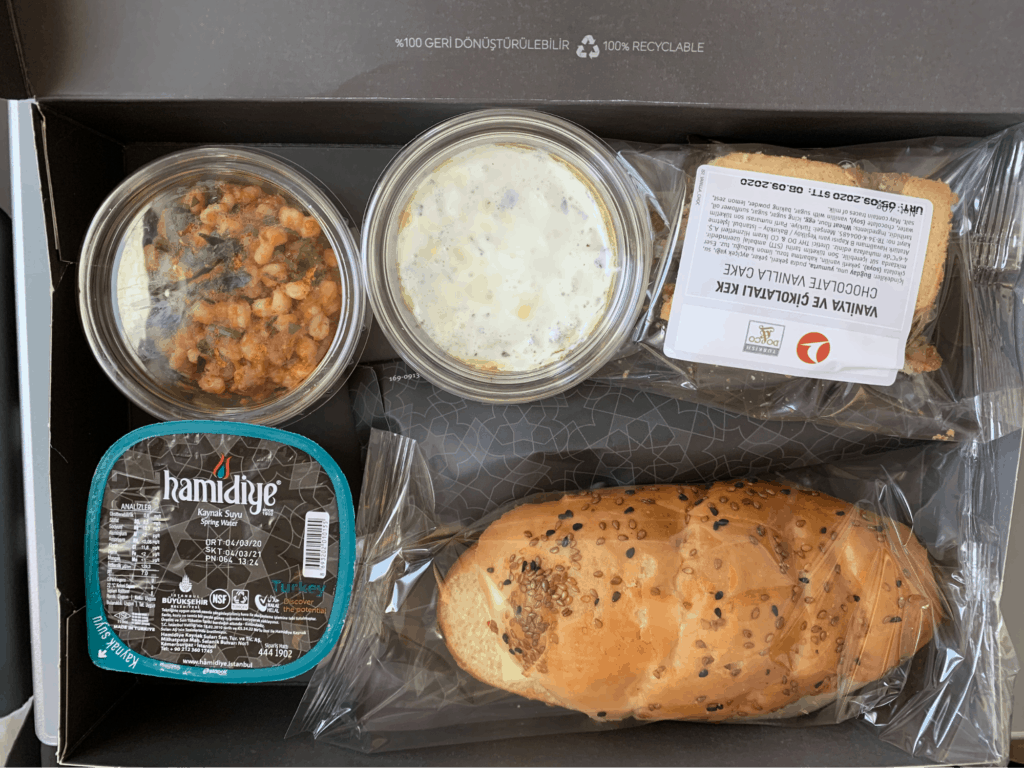 I asked for tea, but the flight attendant said there are no hot beverages on board at all.
The official line is that they are doing this to minimize contact. However, if a flight attendant can hand me a can of coke and a cold box of snacks, he can also hand me a tray of real food and a cup of tea. I really hope that Turkish resumes their great service as things improve, and doesn't use the current situation as an excuse to cut services permanently.
During my trip, I had an opportunity to fly a couple of times on Turkish Airlines short domestic flights, both in business and economy. There was no drink or food service at all in either cabin and I had to ask for water, which they bring in small plastic containers.
I've seen mask and sanitizing wipes sets being offered at the entrance to every flight we took, and you can take as many as you need.
Inflight Food on Turkish Airlines Flight from Istanbul to Chicago
The first meal of this 11 hour flight came in a large sealed box.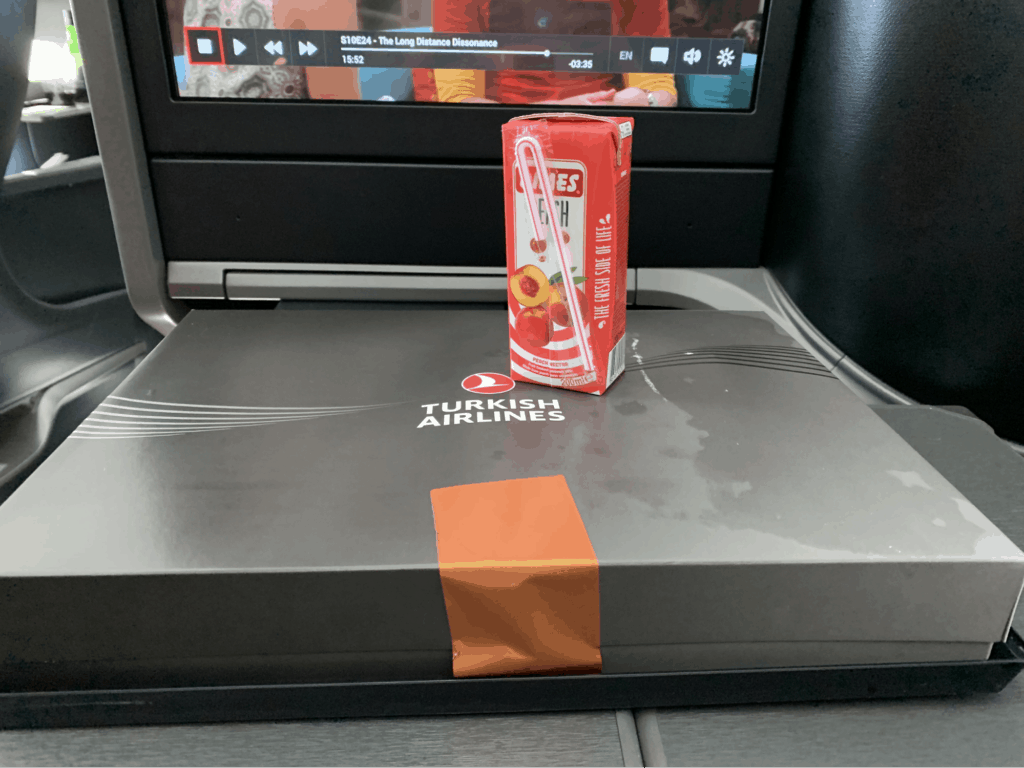 Based on my experience flying on other Turkish Airlines flights, this was actually more than I expected. I slept through breakfast, but the breakfast cold box was probably similar to what I got on my Frankfurt to Istanbul flight.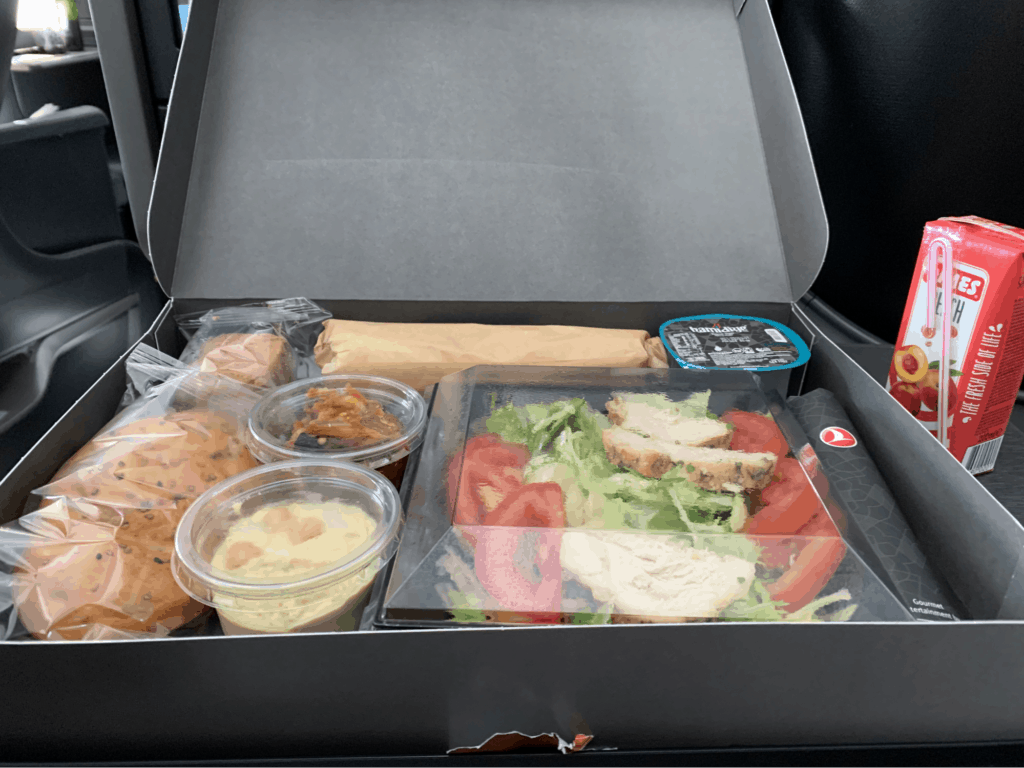 Istanbul Airport
During the course of my trip I've flown through Istanbul airport a few times, and have been in both the domestic and international terminals. Istanbul airport, like all the other airports I've seen on this trip, looked far less busy than usual. Domestic terminal looked almost deserted, I've only seen people congregating near the departure gates.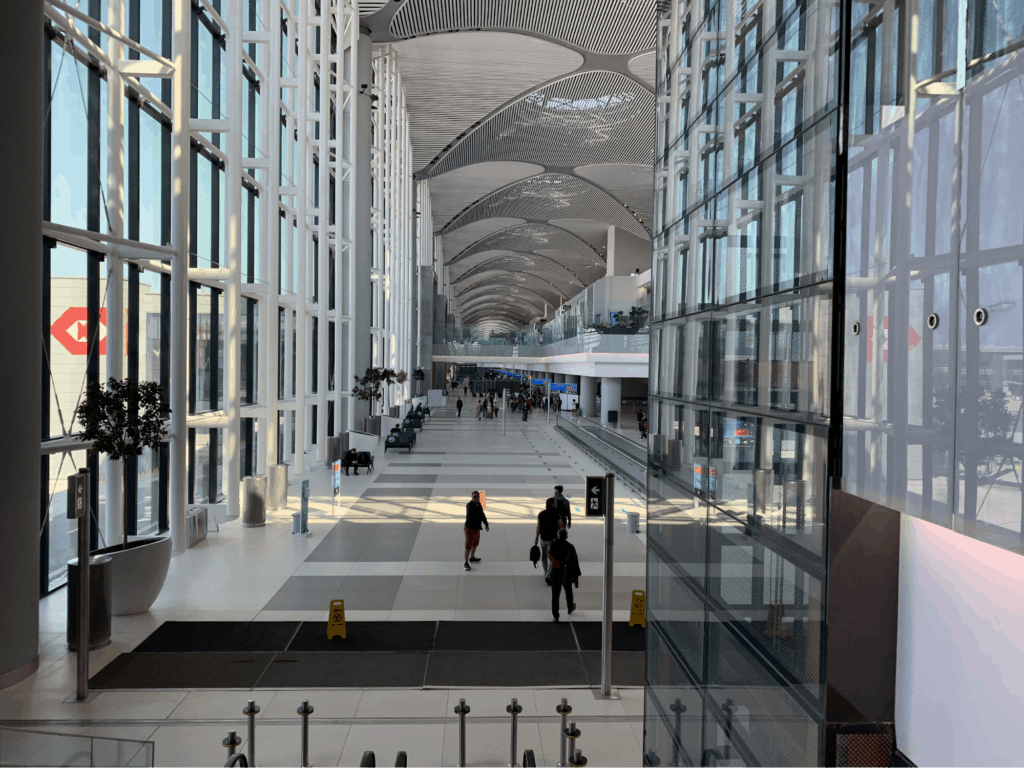 When I arrived in Istanbul from Frankfurt, the line to passport control looked long but moved at a good pace and most people did make an effort to stand on the floor markers.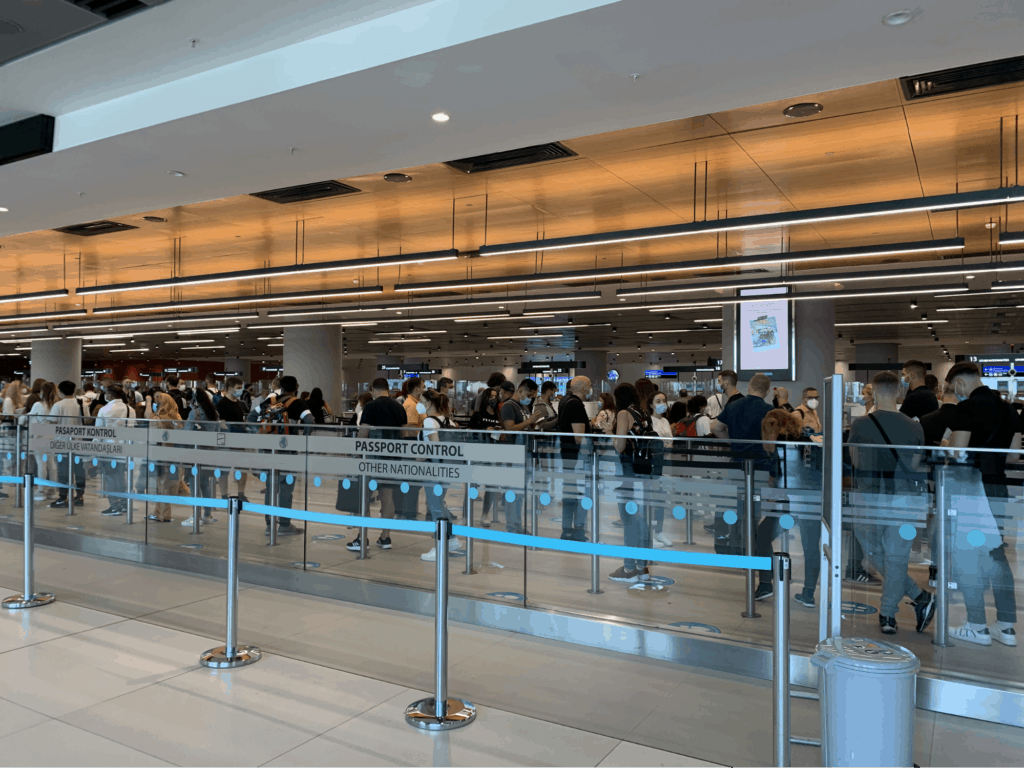 The baggage claim was also far less busy than usual and people did practice social distancing. The restrooms had screens placed between the sinks and there were plenty of stickers on tables and chairs encouraging social distancing. I would say the majority of people wore masks properly.
The airport is clearly making an effort to encourage social distancing, including placing these dividers in the baggage claim.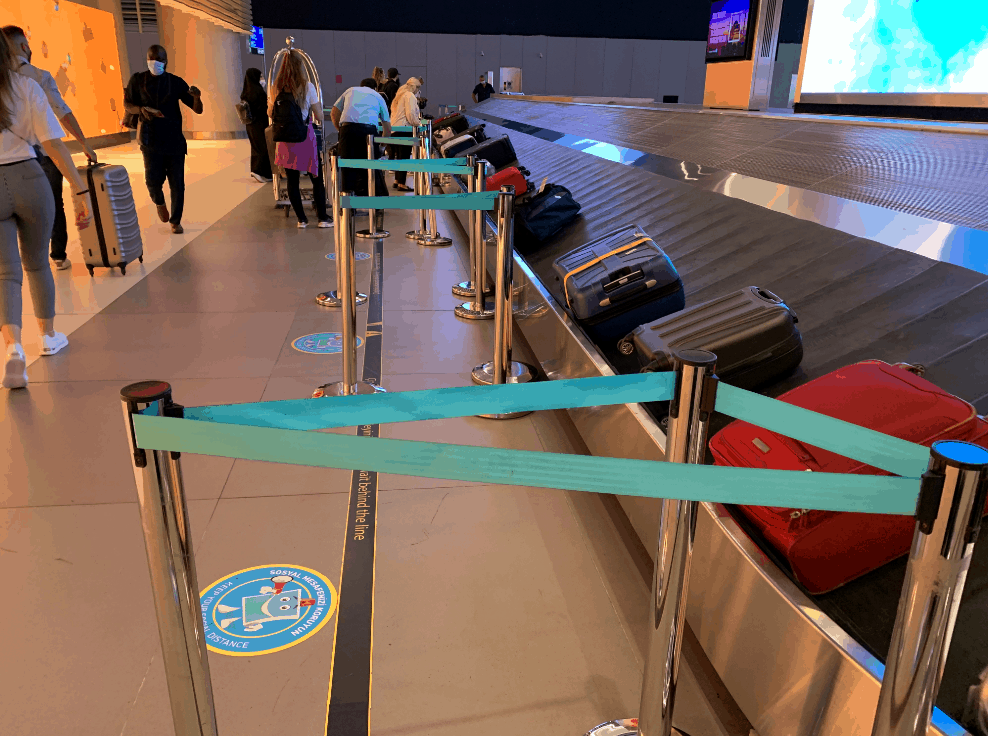 A big part of the international terminal is pretty much shut down. This is what I saw while transferring from a domestic flight to catch my Istanbul to Chicago flight home.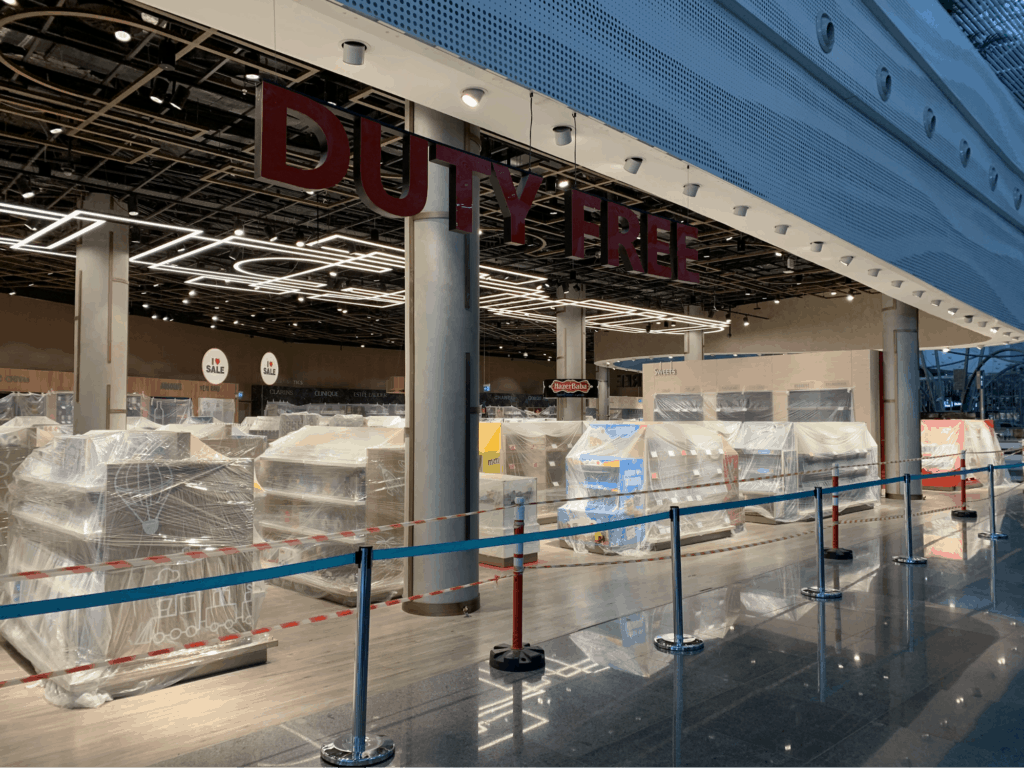 Hotels and Restaurants
We stayed at a Sheraton in Istanbul and Renaissance in Izmir. Both hotels had the glass barriers separating the front desk staff and guests. All hotel staff wore masks, although some front desk people had them hanging around their neck when they were behind the glass partition and not talking to guests. All luggage was sprayed with sanitizer and the bellmen wore gloves.
The two smaller, non-chain hotels didn't have the glass partition but the staff still wore masks.
Our temperature was checked every time we entered the two chain hotel and there were hand sanitizer stations everywhere.
At the larger hotels we stayed at on this trip, the towels came wrapped in a plastic bag.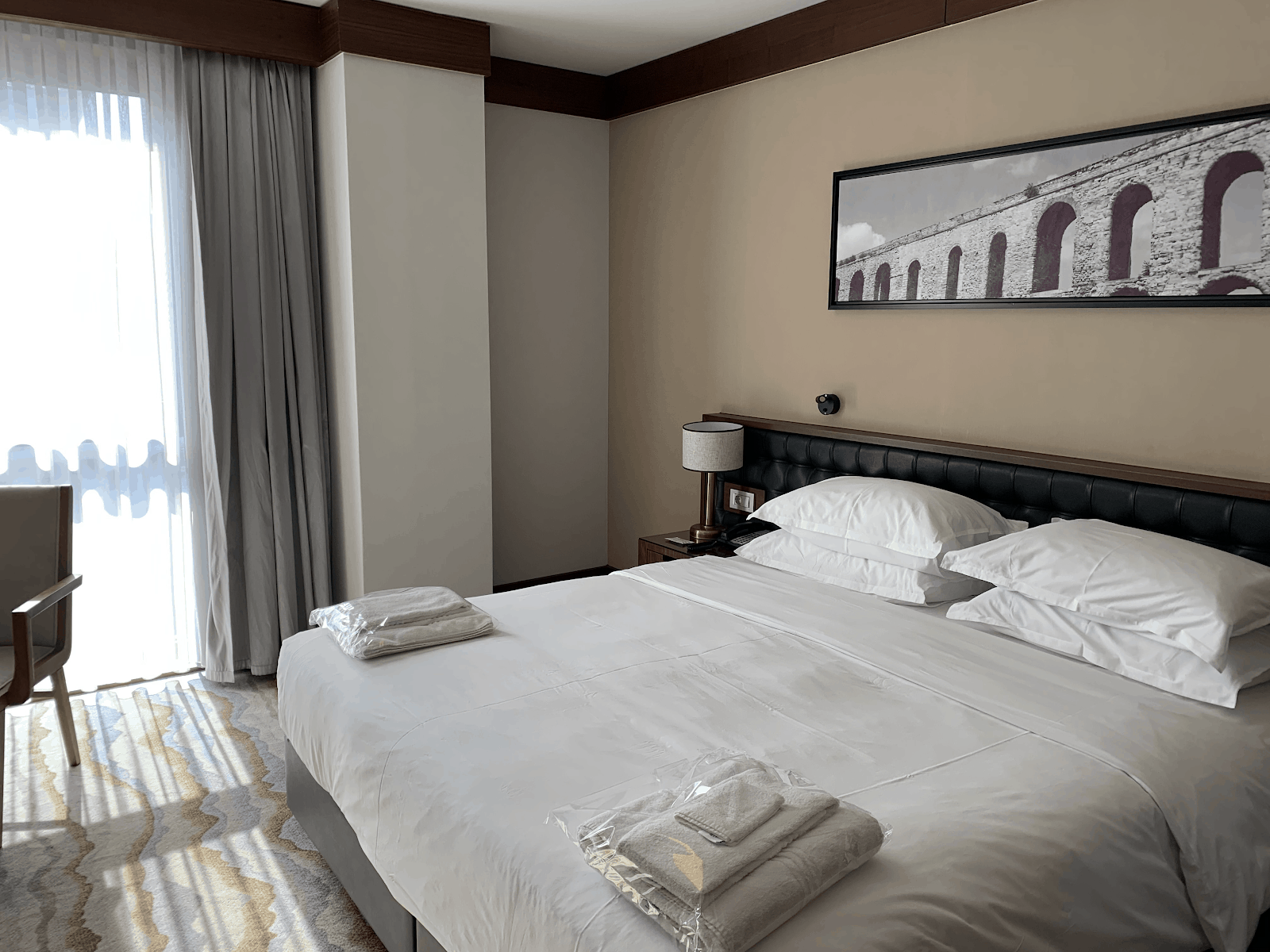 Turkish breakfast is usually extremely generous, with a huge variety of food, but right now the breakfast is served in an abbreviated format with everything behind the glass. You'll need to point at what you want and the staff member will plate your food. All hotel restaurant staff wore masks without fail.
Only once, at a tiny nine room hotel in Cappadocia, we saw the more traditional buffet. I think only two or three rooms were occupied and we never saw other guests at breakfast. The owner did ask the guests to wear disposable gloves when we were serving ourselves.
Most restaurants, including hotel restaurants, have pre-packaged utensils in little pouches or wrapped in plastic, so the servers aren't touching the utensils at all. Our temperatures were taken almost everywhere, at bigger restaurants and all attractions. At smaller restaurants that have all the seating outside, the temperature checks weren't as ubiquitous.
On the way back home, I had to stay overnight at the Hilton Chicago O'Hare Airport and the room came with a Hilton CleanStay Room Seal.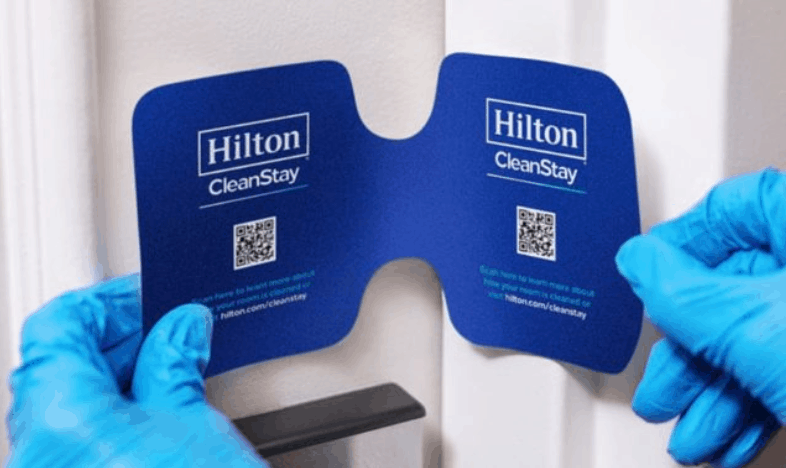 Photo courtesy of Hilton.com
Attractions
Istanbul is a city of 20 million people so I wasn't expecting much social distancing there. The central part of the city was as crowded as ever, and we avoided taking public transport except the ferries, where you can sit outside.
Areas outside of Istanbul have far fewer tourists than usual. In Cappadocia, it was a treat to have many parks, outdoor museums and restaurants almost to ourselves. As most attractions we visited in Cappadocia and other areas of Turkey are outside, I felt very safe. Most other tourists wore masks outside and only took them off when they were away from other people.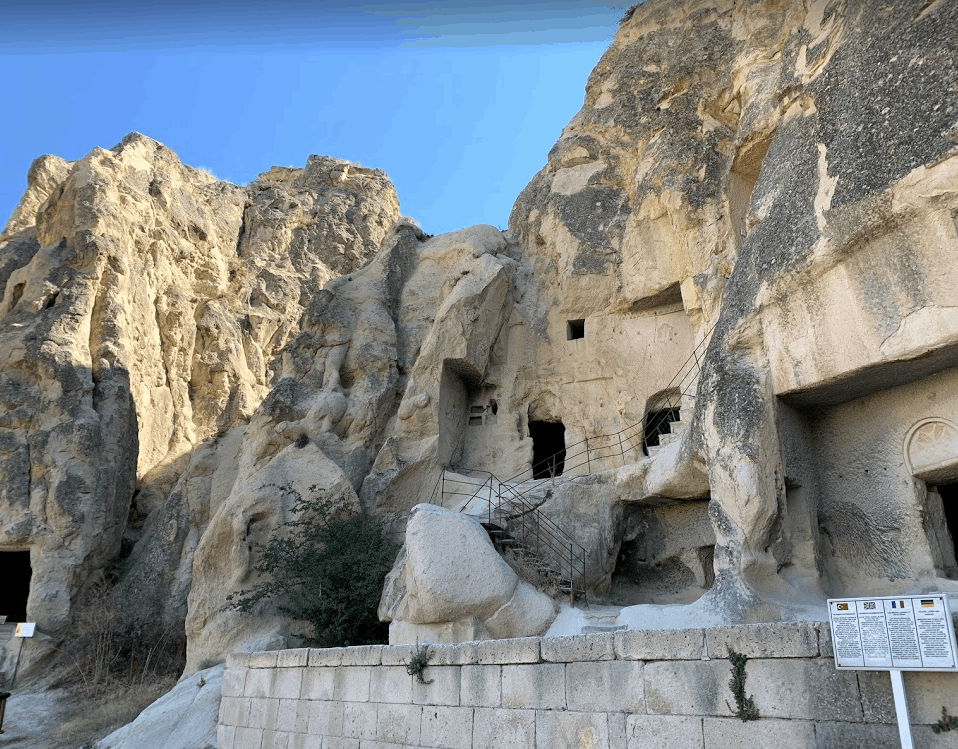 Goreme Open-Air Museum
Arriving in the U.S.
When I arrived in Chicago, there were no temperature checks or any other screening. Right before the Global Entry kiosks, a gentleman in a Public Health vest was handing out a half page information sheet about Covid . All airport employees, including the border agents were wearing masks. Other than that, it was business as usual.
Final Thoughts
Overall, I felt safe traveling. Airports were less crowded than some of the grocery stores I've been to, most people at the airport were wearing masks and there were very few people in business class on my transatlantic flights.
In order to minimize contact, instead of taking intercity busses and doing organized tours, my friends and I rented a car. I could also see that hotels are taking social distancing measures seriously and have stepped up their cleaning procedures.
There were no breakfast buffets at the larger hotels, and they removed some chairs and tables in restaurants and lobbies to encourage social distancing.
Tourism in Turkey is down significantly, so it was such a privilege to have no crowds at major tourist attractions, such as Cappadocia or the ancient ruins of Ephesus. Given the opportunity to travel again, I wouldn't hesitate to go to Turkey or another country that accepts U.S. citizens and takes the necessary precautions.
Earn 60,000 bonus points after you spend $4,000 on purchases in the first 3 months from account opening.
Just getting started in the world of points and miles? The Chase Sapphire Preferred is the best card for you to start with.
With a bonus of 60,000 points after $4,000 spend in the first 3 months, 5x points on travel booked through the Chase Travel Portal and 3x points on restaurants, streaming services, and online groceries (excluding Target, Walmart, and wholesale clubs), this card truly cannot be beat for getting started!
Editorial Disclaimer: The editorial content is not provided or commissioned by the credit card issuers. Opinions expressed here are the author's alone, not those of the credit card issuers, and have not been reviewed, approved or otherwise endorsed by the credit card issuers.
The comments section below is not provided or commissioned by the bank advertiser. Responses have not been reviewed, approved, or otherwise endorsed by the bank advertiser. It is not the bank advertiser's responsibility to ensure all questions are answered.