If you're just starting to collect miles and points, possibly the single best piece of advice is to sign up for five Chase cards before moving on to any other bank's rewards cards. This post is going to talk about which five cards you should choose, depending on a few factors, and why.
The fact of the matter is that Chase will cut you off from eligibility for their travel rewards credit cards once you've opened five credit cards from any bank whatsoever in the last 24 months (not counting most business cards). It's what people call the dreaded Chase 5/24 rule. Why does this matter? Because Chase issues some of the best rewards cards around with lucrative sign up offers as well as longterm value in the return you'll get on spending.
Of course, not all consumers are the same. This is not a one five-card combination fits-all type of situation. I've broken down your options into four five-card combos, however, that I think will fit the majority of people's needs. Today I'll cover Combo #1. In the coming days I'll write a few more posts about Combo #2 and #3, and the bonus Combo for true points omnivores.
Combo #1 (THIS POST)
One Chase Southwest consumer card (see options below)
If you're not interested in Southwest Rapid Rewards nor the companion pass/don't live in city served by Southwest, then apply for the:
Not eligible for business credit cards? You sure? Ok, then here are the five consumer cards I'd go for.
Bonus Combo for Points Omnivores: read more in the linked post. 
Today I'll tell you a little about each card in Combo #1 and what you'd earn total from those cards.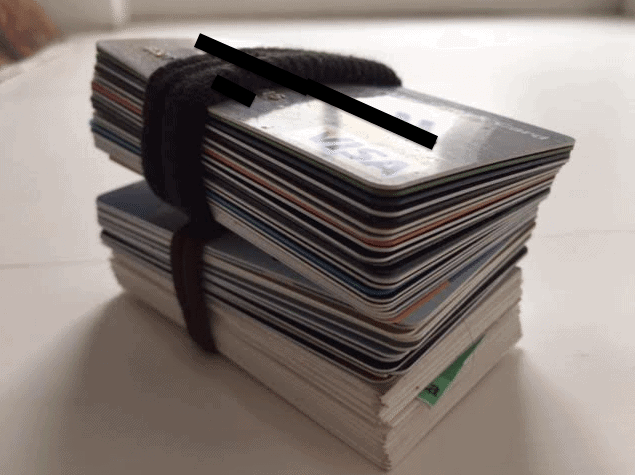 The Sapphire Reserve comes with a bonus of 50,000 Ultimate Rewards after spending $4,000 on the card in the first three months. You should be able to earn $300 to $400 in statement credits each year of card membership that help defray the $450 annual fee:
The first $300 in statement credits come from the automatic rebate of the first $300 you spend on the card in the travel category each cardmember year (not calendar year).
The last $100 in statement credits you'll earn by paying Global Entry's $100 application fee with the card. If you already have Global Entry, you can pay someone else's application fee.
The card also comes with airport lounge access at over 1,200 lounges worldwide via the Priority Pass for yourself and two guests.
You'll earn 3 Ultimate Rewards points for every dollar you spend on dining. You'll also receive the same point value on travel after earning your $300 travel credit. Ultimate Rewards are versatile–you can transfer them (1:1) to eight different airline loyalty programs. That includes four programs with region-based miles, three with distance-based miles, one with airline points. You can also redeem them for 1.5 cents each through the Chase travel portal on cash tickets, which is often the better option for domestic economy flyers.
No foreign transaction fees are collected.
The Freedom technically comes with $150 cash back bonus after spending $500 in the first three months (note adding someone as an authorized user probably does count towards their 5/24 total).
I say technically because the Freedom is marketed as a cash back card, but if you also have a Chase card that earns Ultimate Rewards that can be transferred to airline/hotel partners (i.e. Sapphire Reserve, Ink Business Preferred, Sapphire Preferred), then all you have to do is move the Ultimate Rewards earned by your Freedom into that account and voilà. They turn into that kind of Ultimate Reward, that can be transferred to airline/hotel partners or be redeemed for 1.25 to 1.5 cents a piece through the Chase travel portal.
This card has no annual fee, and you'll earn 5x points on the first $1,500 in spending per quarter in rotating categories.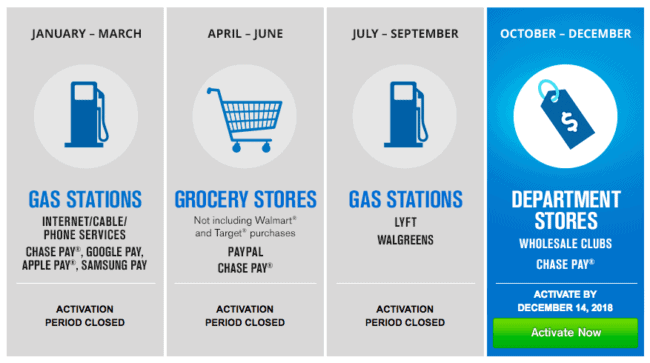 Chase also issues another "cash back" card, the Freedom Unlimited, that earns a simple 1.5x points on all purchases. But you'd have to spend a lot more on it to make up for what you could earn with the Freedom Unlimited by maximizing category bonuses.
If you max out the spending for a year in bonus categories, you'd earn 30,000 Ultimate Rewards on your Freedom for $6,000 in spending. The same spending on the Freedom Unlimited would earn 9,000 Ultimate Rewards. To make up the 21,000 Ultimate Rewards shortfall, you'd need to spend another $42,000 on each card in a year.
$48,000 on Freedom Unlimited = 72,000 Ultimate Rewards
$6,000 on Freedom in 5x categories + $42,000 on Freedom at 1x = 72,000 Ultimate Rewards
The Freedom does charge foreign transaction fees.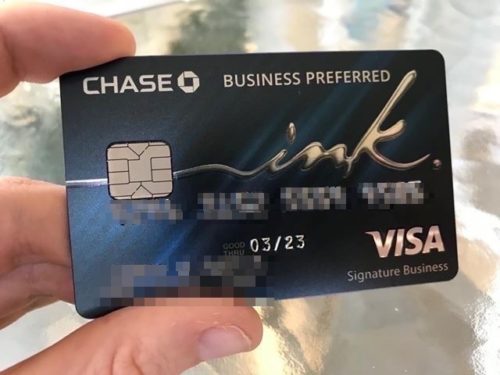 The Ink Business Preferred comes with 80,000 bonus Ultimate Rewards after spending $5,000 on the card in the first three months. It has an annual fee of $95 and no foreign transaction fees.
You'll earn 3x Ultimate Rewards on travel; shipping; internet, cable, and phone services; as well as search engine or social network advertising up to your first $150,000 combined in those categories during your cardmember year.
Read this if you're not sure you qualify for a business card.
Southwest Cards
Southwest Rapid Rewards, if you live in a city served by Southwest and travel places served by Southwest, can often be the most valuable rewards currency for domestic travel. The major incentive behind the Southwest cards is that they're a fast track to earning a companion pass–your travel companion flies free except for taxes. You need to earn 110,000 Southwest Rapid Rewards in a calendar year to qualify for that calendar year and the following one and Rapid Rewards earned by the bonuses on Southwest Cards count.
Attention: The internal data of table "16" is corrupted!
You have four Southwest cards to choose from, but Chase only allows one consumer card per person. So if you want the 110k qualifying points for the Companion Pass, the business card + one consumer card is the fastest route.
Each card also offers an extra free checked bag, priority boarding, and free award change fees. The Priority Card offers extra benefits on top of those.
What You'll Get Total From Combo #1
Not considering category bonuses nor the bonuses for adding authorized users, you'd earn 157,000 Ultimate Rewards from spending $9,500 to meet the minimum spending requirements for the sign up bonuses on the Sapphire Reserve, Freedom, and Ink Business Preferred. 
Not considering Southwest purchases, you'd earn at least 115,000 Rapid Rewards for spending $5,000 to meet the minimum spending requirements for the sign up bonuses on one consumer Southwest card and the business card (assuming you sign up for a personal card through a referral link). More importantly, you'd have a Companion Pass. 
Your potential for return on spending would span the following category bonuses:
5 Ultimate Rewards per dollar spent on rotating categories (common categories are gas stations, grocery stores, drug stores, PayPal and Apple Pay, restaurants, and Amazon)
3 Ultimate Rewards per dollar spent on travel and dining (via Sapphire Reserve)
3 Ultimate Rewards per dollar spent on travel; shipping; internet, cable, and phone services; as well as search engine or social network advertising
2 Southwest Raid Rewards per dollar spent on Southwest purchases
Timing of Applications
The general consensus is that Chase won't, automatically at least, approve more than two applications in a 30 day period. It is possible to get approved for more than that, but you'll almost certainly have to put in a reconsideration phone call and Chase representatives are known for being rather difficult in that aspect.
It's wise to apply for two at the same time (on the same day), as the two hard credit inquiries should combine into one as long as both are personal cards or both are business cards. I'd recommend putting some time–at least three months if not four–between these double application days though, as Chase will shut down accounts for too many new accounts too quickly as it makes you look risky to lend more credit to.
Bottom Line
If you plan on pursuing miles and points as a hobby, it's a no-brainer that your first five rewards cards should be issued by Chase. If you're interested in earning a Companion Pass and/or Rapid Rewards for Southwest flights, then the first five should be the Sapphire Reserve, the Freedom, the Ink Business Preferred, and two Southwest cards.
I'll discuss Combo #2, #3, and the bonus combo in upcoming posts.
The above recommendations will apply to the majority of people, but not everyone. If you have a very specific destination in mind and you want to make sure you earn the right type of rewards for you trip, use our Free Credit Card Consultation Service. I'll make sure you're set up with the right cards.
---
Editorial Disclaimer: The editorial content is not provided or commissioned by the credit card issuers. Opinions expressed here are author's alone, not those of the credit card issuers, and have not been reviewed, approved or otherwise endorsed by the credit card issuers.
The comments section below is not provided or commissioned by the bank advertiser. Responses have not been reviewed, approved, or otherwise endorsed by the bank advertiser. It is not the bank advertiser's responsibility to ensure all questions are answered.
If you liked this post, sign up to receive one free daily email every morning with all of the day's posts! You can also follow MileValue on Twitter and Facebook.