MileValue is part of an affiliate sales network and receives compensation for sending traffic to partner sites, such as CreditCards.com. This compensation may impact how and where links appear on this site. This site does not include all financial companies or all available financial offers. Terms apply to American Express benefits and offers. Enrollment may be required for select American Express benefits and offers. Visit americanexpress.com to learn more.
Note: Some of the offers mentioned below may have changed or are no longer be available. You can view current offers here.
---
My wife and I attended Oktoberfest in Munich for the first time in 2017 and had an absolute blast. The food, the beer, the music and the overall atmosphere made it clear that this wouldn't be my last visit. As my father, who is responsible for my German heritage, approached retirement, I started to put together a plan to return with him next time.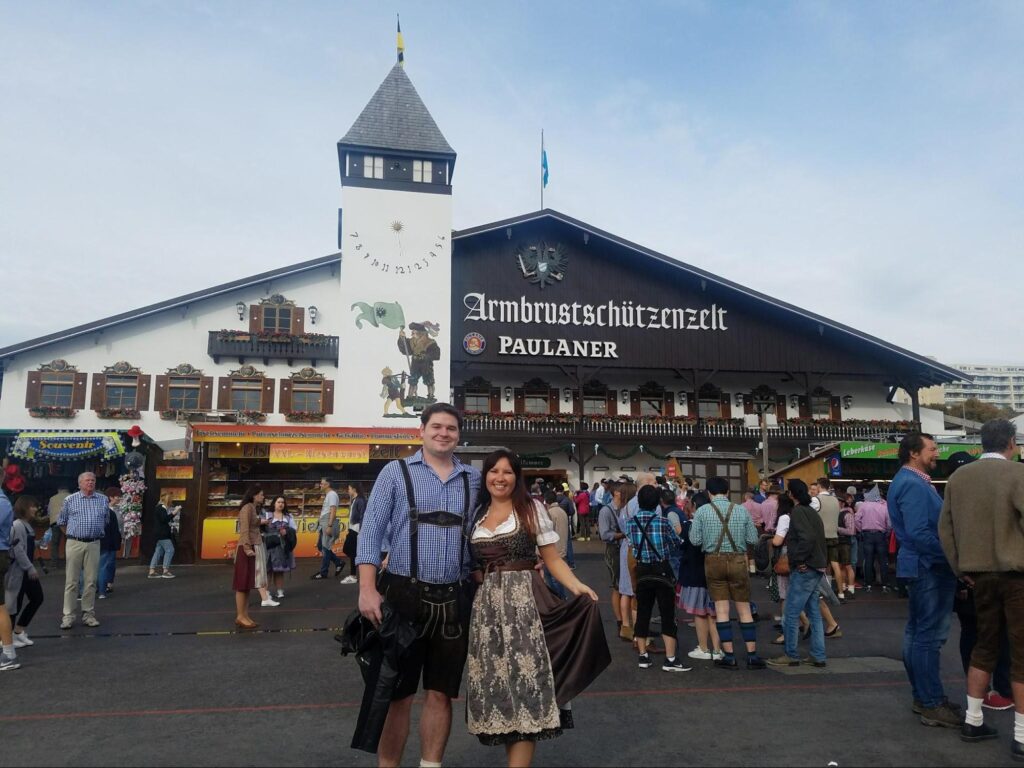 The group we went with originally goes every two years, and as excited as I was to return in 2019, the timing wasn't quite right. My dad was set to retire about a week before the party kicked off in Munich that year. He has never been that big on travel, and I figured I'd let him settle in and enjoy retirement for longer than seven days before I dragged him across the ocean.
I also had started a new job earlier that year and figured there was always next time.
That year, I learned a valuable lesson that my wife had been trying to teach me for years: travel as much as you can whenever you can because you never know when you might not have the chance.
How We Planned a Trip to Oktoberfest in Munich 2021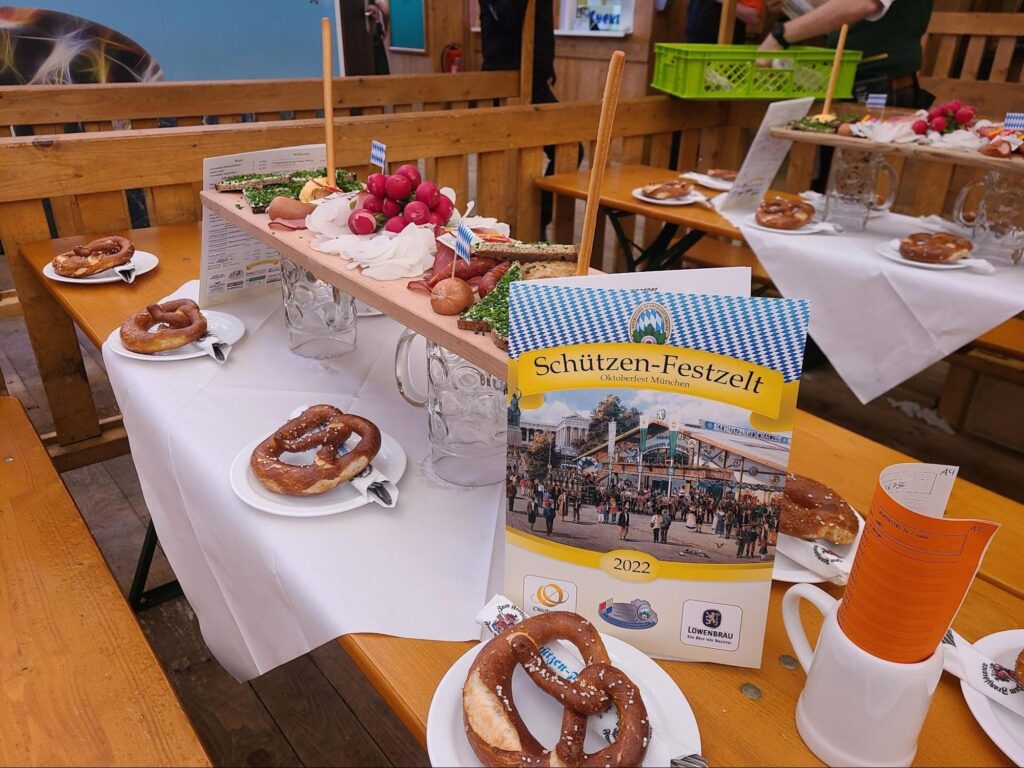 As the pandemic unfolded in March 2020, it was immediately clear that a gathering the size of Oktoberfest wasn't going to be possible that fall. As predicted, the event didn't go forward, so we planned to go in 2021.
Having attended previously, I remembered how far in advance we had to book hotel rooms and how expensive they were during the festival. My wife had a stash of Marriott Bonvoy points, so we went ahead and booked a room at the Sheraton Munich Westpark almost a year in advance of the 2021 festival, knowing that the points could easily be refunded.
We held off on buying flights and held out hope for the event to go forward in 2021. But in early May, we got the news that the festival was indeed canceled for the second year in a row.
While we were disappointed the trip was delayed, it also gave us more time to plan. Knowing how coveted hotel rooms would be for the grand return of Oktoberfest after a two-year hiatus, I got to work on a plan to make the trip with my dad affordable.
How We Built a European Trip Around Oktoberfest 2022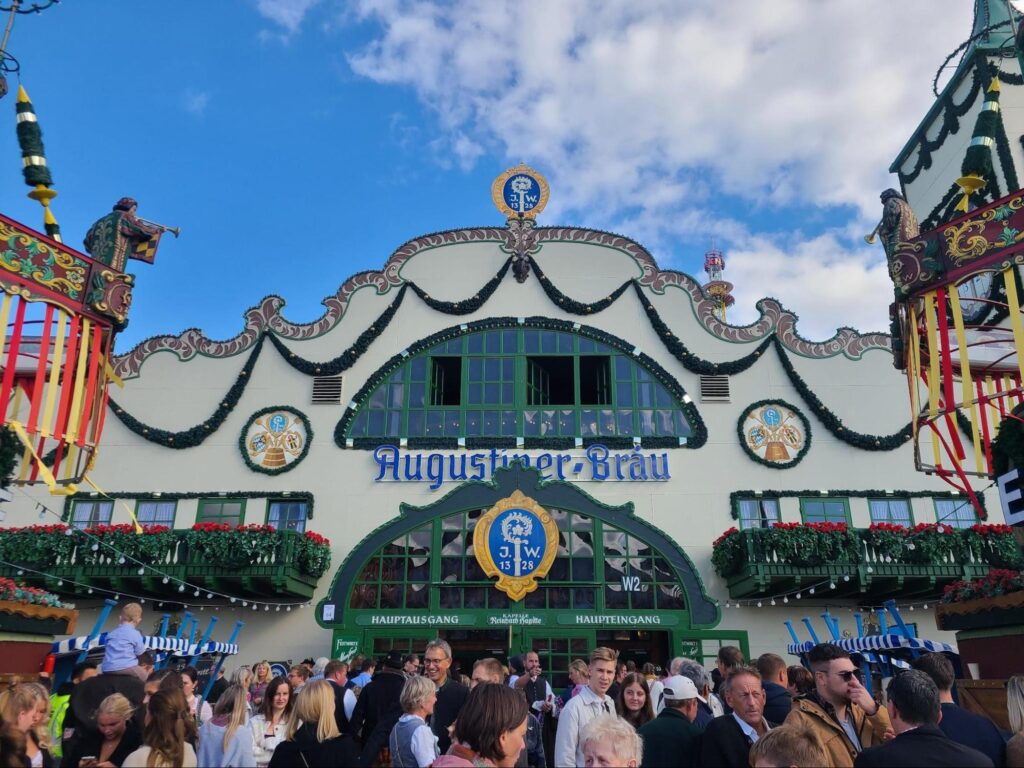 As I mentioned before, my father has never been a big traveler, so I was surprised to learn that he and his girlfriend were actually excited to see more of Europe than just five days of drinking in Munich. I'm not sure whether he was bored of retirement by then or whether he secretly always wanted to travel but just never took the time. Whatever the reason, with this welcomed news in hand, we started thinking of ways to expand the trip.
While my dream of a father-son pilgrimage to the land of steins and polka was well underway, my dad mentioned he had always wanted to see Amsterdam. Now knowing that he was open to extending the trip, my wife and I pitched a couple of other stops: Strasbourg, France, and Stuttgart, Germany. To my great joy, he agreed to those as well.
One of the perks of my father's limited travel experience was that he had never needed or wanted to explore all the opportunities available through points and miles. To be honest, up until about six years ago, neither had I.
While I've always enjoyed travel, I hadn't taken advantage of credit-card rewards. Having worked in bars much of my adult life, I mostly dealt in cash. When I met my wife, all of that changed.
I remember how appalled she was that I used cash only and wasn't earning any rewards on my spending. I also remember how excited she was to help me start building my points and miles stash from a blank canvas. From that moment on, my travel habits were turbo-boosted, and now was my chance to show my dad a trick or two.

As I imagined, my father hadn't applied for any cards recently and was at 0/24 with Chase, so the opportunities to earn credit-card offers were endless. To keep things simple, we recommended he apply for the Chase Sapphire Preferred® Card. Over the next year and a half of continuous use, his balance grew to about 140,000 points, and it was time to put those rewards to good use.
Earn 60,000 bonus points after you spend $4,000 on purchases in the first 3 months from account opening.
Points, Miles and Cash Breakdown
| | |
| --- | --- |
| Austin – Amsterdamflight (one-way) | 24,500 Flying Blue miles + $62.70 per person |
| Hyatt Regency Amsterdam (three nights) | 45,000 World of Hyatt points |
| Hyatt Place Amsterdam Airport (one night) | 5,000 World of Hyatt points |
| ICE train from Amsterdam to Munich | 127.90 euros ($139.25) per person |
| Salt Lake City – Denver – Munich flight | 33,000 MileagePlus miles + $79.37 |
| Courtyard Munich City East (five nights) | 80,000 Marriott Bonvoy points per room |
| ICE train from Munich to Strasbourg | 42.90 euros ($46.75) per person |
| Maison Rouge Strasbourg (two nights) | Two Marriott free night certificates (worth up to 35,000 points each) |
| Holiday Inn Express Strasbourg Centre (two nights) | 270.18 euros ($294.25) |
| TGV train from Strasbourg to Stuttgart | 29.90 euros ($32.50) per person |
| Ibis Styles Stuttgart (two nights) | 369.30 ($402.25) euros |
| Stuttgart – Amsterdam – Austin (one-way) | 24,000 Flying Blue miles + $190 per person |
| Tbilisi – Munich – Denver – Salt Lake City flight (one-way) | 33,000 MileagePlus miles + $79.37 |
How I Booked My Dad's Flights
My dad and his girlfriend are based in Austin, Texas (AUS), so we found award availability on a one-way KLM flight in economy class from Austin to Amsterdam (AMS) for 24,500 Flying Blue miles + $62.70 per person. For their return, we booked a one-way KLM flight from Stuttgart, Germany (STR), back to Austin via Amsterdam for 24,000 Flying Blue miles + $190 per ticket.
To complete the transcontinental portion of the itinerary, we would have needed to transfer a total of 97,000 Chase Ultimate Rewards points to my father's newly created Flying Blue account.
However, at the time, Chase was offering a 25% bonus on Ultimate Rewards point transfers to Flying Blue, so we ended up transferring only 78,000 points, which combined with the bonus of 19,500 miles, gave us the total we needed.
You may have noticed that it leaves a gap between Amsterdam and Munich. More on that later.
How I Booked My Flights
I flew out of Salt Lake City, which meant using different rewards for my flight. I chose to redeem 30,000 United MileagePlus miles + $5.60 for my one-way flight to Munich (MUC) via Denver (DEN). I arrived in Munich mere hours before my dad and his girlfriend.
I had accumulated these miles with the United℠ Explorer Card, so I didn't need to transfer any Ultimate Rewards points to my MileagePlus account.
After my wife and I parted ways with my dad and his girlfriend, we continued on to Yerevan, Armenia, and Tbilisi, Georgia. I ultimately flew home from Tbilisi (TBS) on a Lufthansa flight via Munich and Denver booked with 33,000 MileagePlus miles + $79.37.
Where We Stayed
Amsterdam
When I counseled my father to get the Chase Sapphire Preferred Card, I initially was hoping to take care of just his flights. However, with the year's delay allowing him to accumulate more points and the help of a transfer bonus to Flying Blue, we were looking at a remaining balance of about 50,000 Ultimate Rewards points.
My father and his girlfriend decided to spend four nights in Amsterdam before joining my wife and me in Munich, so we decided to redeem the remaining points on hotel nights for that portion of their trip.
We were able to find availability at the Category 4 Hyatt Regency Amsterdam for three nights at 15,000 points per night. We asked a friend with Hyatt Globalist status to book a Guest of Honor award, which provided my dad with free breakfast, un upgraded room and access to the Club Lounge. The central location of the hotel was ideal for inexperienced travelers and allowed them to walk just about everywhere they wanted to go.
Later on, over the roar of the tents in Munich, my dad told me how much fun he had had on a canal boat tour and his visit to the Heiniken brewery. To my surprise, what he really enjoyed the most was marveling at the efficiency of the bicycle traffic while at the Club Lounge, which is a Globalist benefit he "inherited" from the Guest of Honor booking.
For their fourth night, we selected the Hyatt Place Amsterdam Airport for 5,000 points per night so they would be near the airport for their flight to Munich. (In the end, they wound up taking a train instead of flying.)
Munich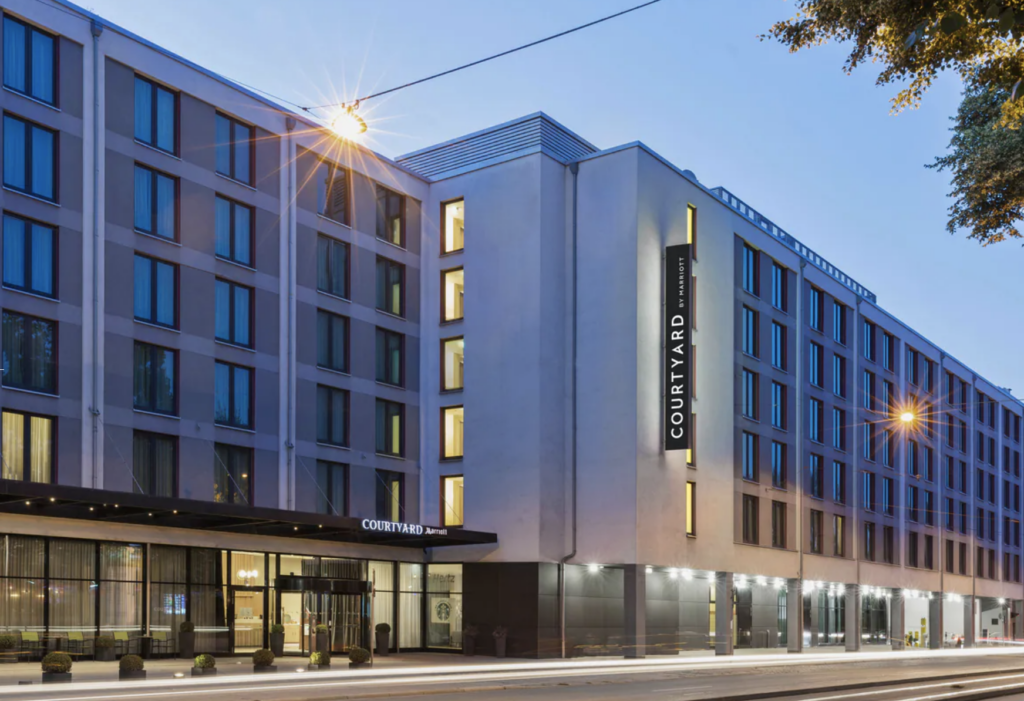 To cover our Munich stay, I had signed up for the Marriott Bonvoy Brilliant® American Express® Card. After taking the minimum spending requirements into account, I ended up with just over 160,000 Bonvoy points.
Earn two 85K Free Night Awards after you use your new Card to make $6,000 in purchases within the first 6 months of Card Membership
Although we had previously stayed at the Sheraton Munich Westpark, which is closer to the festival grounds, for 35,000 points per night, we decided to book a property that required fewer points but gave us the opportunity to book two rooms instead of one.
I was able to find space at the Courtyard Munich City East for only 20,000 Bonvoy points per night. The lower redemption rate, along with the fifth night free benefit on award stays, allowed us to book two rooms for five nights for 160,000 Marriott points total—one for each couple.
We booked this stay from my wife's Marriott account to take advantage of her Titanium Elite benefits. Although we didn't get upgraded, we received complimentary breakfasts for both rooms. Normally, the primary elite member receives free breakfast for one room only, so it was a nice surprise to get the perk for four people.
The commute to Theresienwiese, where the festival takes place, was about 30 minutes, but it was a direct line on the local metro. In the end, the lower redemption rates were well worth it. And those savings came in handy as we thoroughly enjoyed the next five days gorging ourselves on local food and drink.
Depending on the tent, steins of the good stuff were going for anywhere between 12 and 14 euros ($13 to $15.25). For a reasonable price, you could pick up a delicious herring sandwich or a plate of currywurst fries to snack on almost anywhere along the sprawling grounds of the festival, but the main gastronomical attractions in the tents were often in the 15 to 25 euro ($16.25 to $27.25) range.
That said, having offset so many of the travel and lodging costs with points and miles helped ease the guilt of ordering another round.
Strasbourg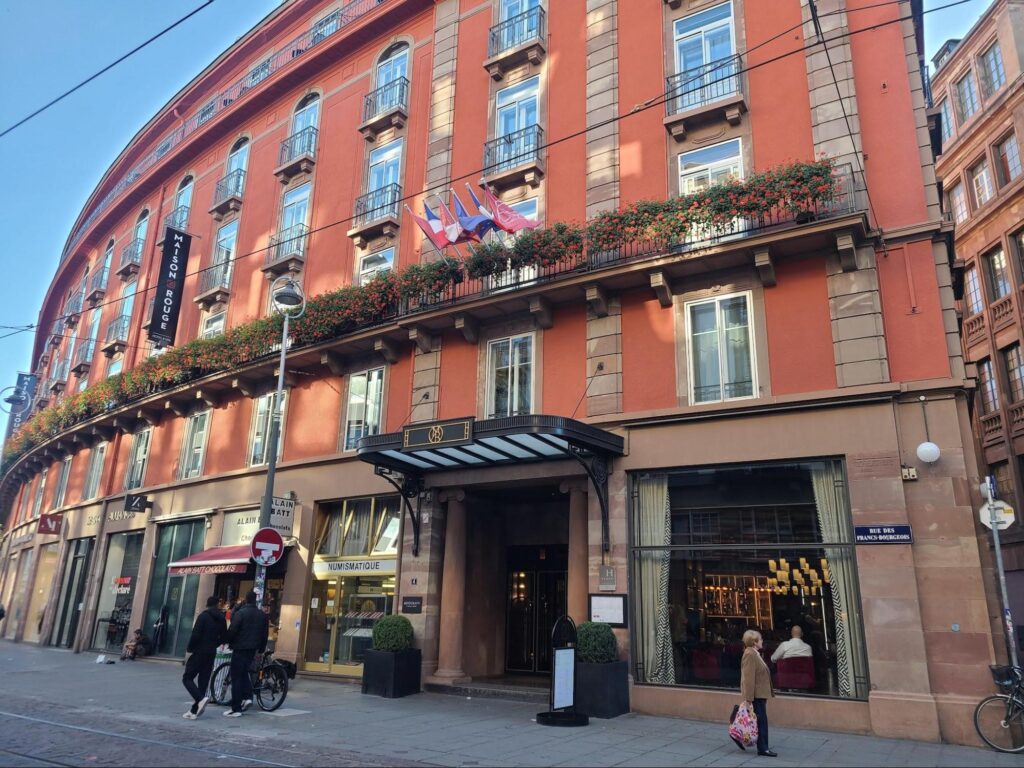 My wife had a couple of Marriott free night certificates worth up to 35,000 Bonvoy points each burning a hole in her pocket. She had earned them by renewing her Marriott Bonvoy American Express Card (no longer available to new applicants) and the Marriott Bonvoy Business® American Express® Card.
We managed to find a wonderful property in Strasbourg that presented an excellent redemption value for her certificates. The Maison Rouge Strasbourg has been hosting guests for more than 600 years, and its central location, only minutes from the Strasbourg Cathedral, was the perfect base of operations for our two-night visit.
My dad and his girlfriend stayed at the Holiday Inn Express Strasbourg Centre, which was a 10-minute train from our hotel. They didn't have any points left, so they paid cash for their stay. After having nine nights of their European trip covered so far, booking a paid stay stung a little less.
Stuttgart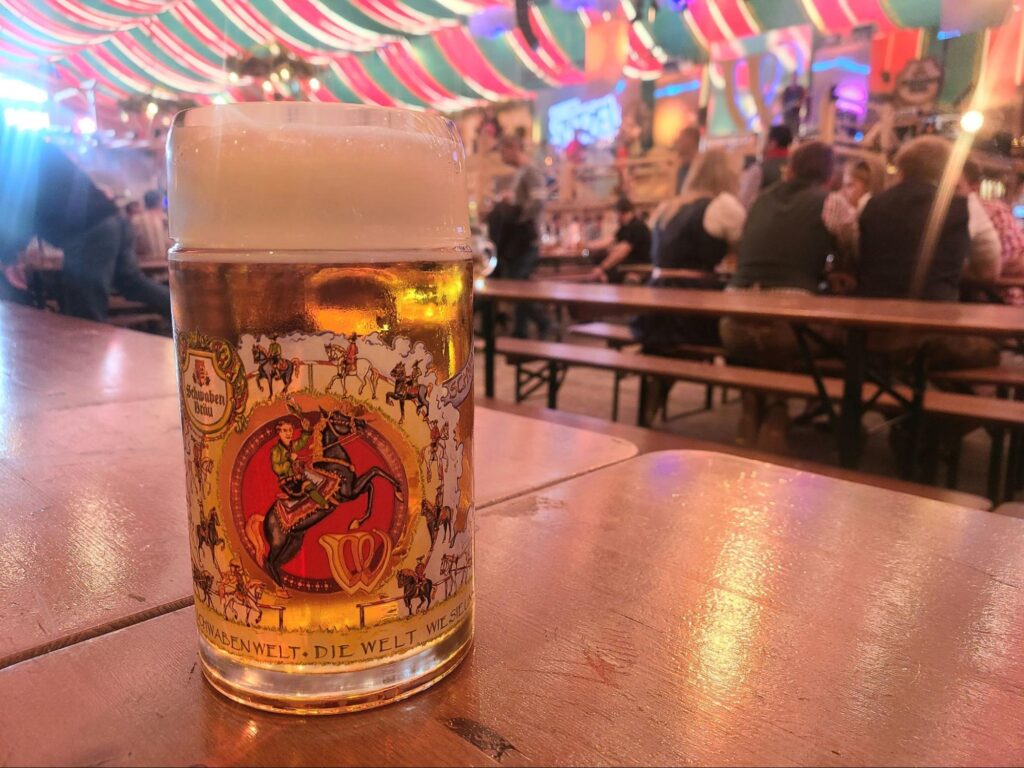 Reinvigorated by the fine local rieslings and delicious tarte flambé (the Alsatian flatbread), we headed once more for the warm embrace of the festival tents, but this time it was Germany's second largest beer fest, the Cannstatter Volksfest in Stuttgart. Here we were lucky enough to stay with a friend we had made traveling over the years.
Once again, my dad booked a paid stay at the Ibis Styles Stuttgart for a couple of nights before heading home to Austin. The hotel was within walking distance of our friend's apartment, so it was easy to meet up for Volksfest, which was also in the neighborhood.
How We Booked Trains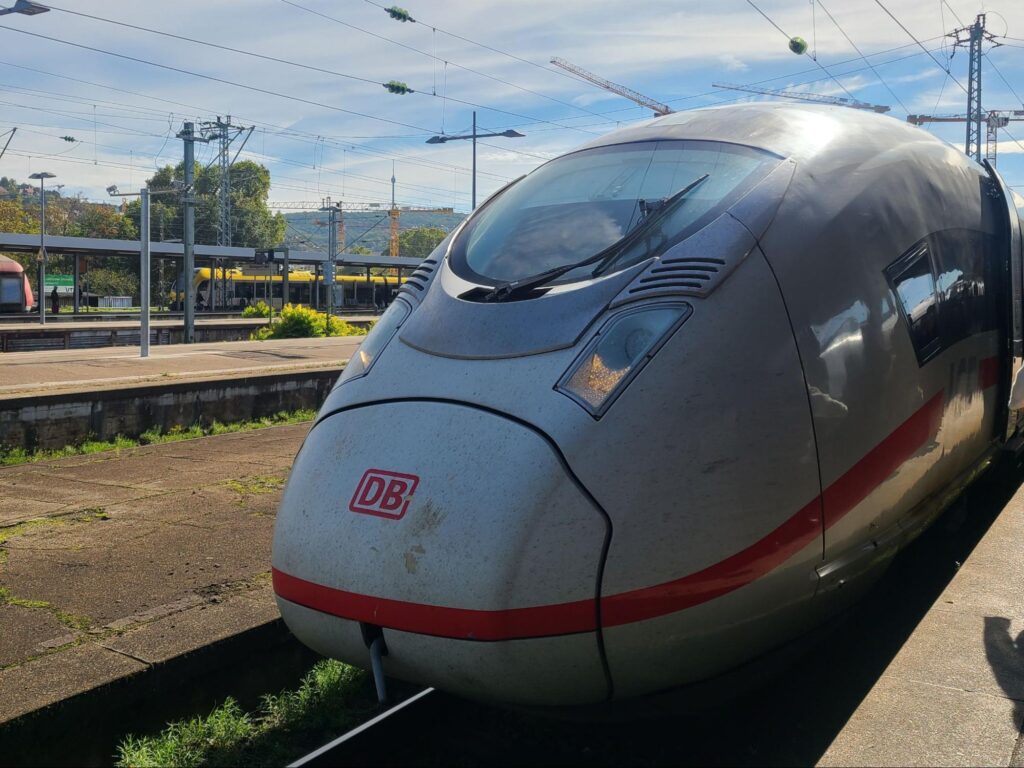 Amsterdam to Munich
Anyone who has ever traveled anywhere knows to book various travel components well in advance for the best rates. Well, we dropped the ball on this one but managed a decent scramble in the end.
My dad's original plan was to fly from Amsterdam to Munich. As the festival drew closer, I was shocked to see the fares for such a short flight had skyrocketed to almost four times the price I had previously seen but failed to act on.
On top of that, Amsterdam Airport Schiphol was dealing with a labor shortage, and security lines were extending well into blazing hot parking lots with reports of three- to four-hour waits.
With all this in mind, I started looking into rail options instead. In the end, we booked first-class tickets on an Intercity Express (ICE) train for my dad and his girlfriend from Amsterdam Centraal to Munich Hofbahnhof for 127.90 euros ($139.25) per person.
Because they spent their final night by the airport, this meant they would have to head back to the city center to catch the train. However, the arrival train station in Munich was closer to the hotel than the airport, so that balanced out the initial inconvenience.
With a scheduled travel time of less than eight hours and only one connection, we were back on track, literally. Not to mention, the added benefits of dodging the madness at Schiphol and not having to worry about checked luggage getting lost along the way made it a solid Plan B.
Munich to Strasbourg
After a long weekend of indulgence, with our heads still ringing with the songs of the tents and our voices hoarse from the merriment, we headed off for the next leg of our adventure. While a break from beer and brats had certainly been earned, we soon found ourselves in a world of wine and cheese. For 42.90 euros ($46.75) per person, we hopped on a one-stop ICE train to the Alsace region of southern France.
Strasbourg to Stuttgart
Embracing Europe's rail service for the final ride of the trip, we paid 29.90 euros ($32.50) each for an 80-minute high-speed TGV train from Strasbourg to Stuttgart.
Despite being smaller than the Munich Oktoberfest, the festival in Stuttgart delivered all the cheer and excess of its big brother while having a decidedly local flair. After two more nights of partying, my father and his girlfriend returned to the States, and my wife and I stuck around for another couple of nights to catch a local soccer match before continuing on to Armenia.
Final Thoughts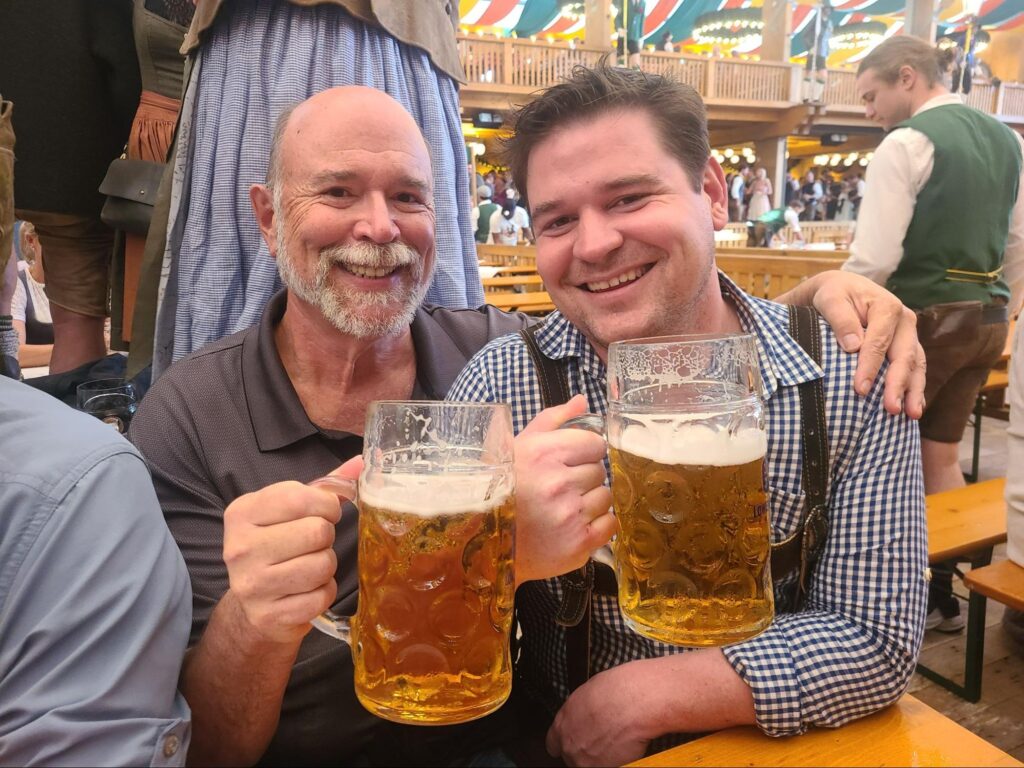 Hoisting a stein in the tents of Oktoberfest with my father was a dream five years in the making, and it was absolutely as much fun as I had imagined. I never really doubted that having a beer with my dad would be a good time, but this trip came with the added bonus of showing him a bit more of the world. Now that he has seen how affordable and fun planning a trip with credit-card rewards can be, it's time to start planning the next trip.
Earn 60,000 bonus points after you spend $4,000 on purchases in the first 3 months from account opening.
Just getting started in the world of points and miles? The Chase Sapphire Preferred is the best card for you to start with.
With a bonus of 60,000 points after $4,000 spend in the first 3 months, 5x points on travel booked through the Chase Travel Portal and 3x points on restaurants, streaming services, and online groceries (excluding Target, Walmart, and wholesale clubs), this card truly cannot be beat for getting started!
Editorial Disclaimer: The editorial content is not provided or commissioned by the credit card issuers. Opinions expressed here are the author's alone, not those of the credit card issuers, and have not been reviewed, approved or otherwise endorsed by the credit card issuers.
The comments section below is not provided or commissioned by the bank advertiser. Responses have not been reviewed, approved, or otherwise endorsed by the bank advertiser. It is not the bank advertiser's responsibility to ensure all questions are answered.