MileValue is part of an affiliate sales network and receives compensation for sending traffic to partner sites, such as CreditCards.com. This compensation may impact how and where links appear on this site. This site does not include all financial companies or all available financial offers. Terms apply to American Express benefits and offers. Enrollment may be required for select American Express benefits and offers. Visit americanexpress.com to learn more.
Note: Some of the offers mentioned below may have changed or are no longer be available. You can view current offers here.
---
I just spent a completely legal week in Cuba, split between Havana and Viñales. An American in Cuba in 2015 is a six part series on the trip. This post will focus on things I wish I'd known about internet, money, food, and nightlife in Cuba before going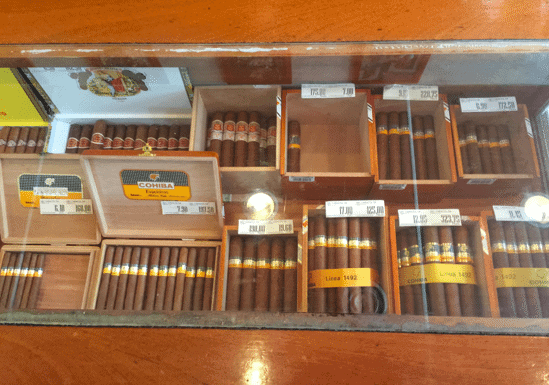 Other Posts
Coming soon posts on lodging, transportation, Havana, and Viñales.
Money
There are two Cuban national currencies:
Convertible pesos: abbreviated CUC. Things you'll hear Cubans call convertible pesos in Spanish: "pesos convertibles", "cucs" (pronounced "kooks"), "pesos", and confusingly "dólares." Also confusingly, CUC cents are usually called "kilos" by Cubans.
Non-convertible pesos: abbreviated CUP. Things you'll hear Cubans call non-convertible pesos in Spanish: "moneda nacional" or "pesos"
Exchange rates are fixed:
1 CUC = 25 CUP
1 CUC = $1 (though note the caveats below)
Between 90% and 100% of your transactions will be in CUC, and prices will almost always be quoted to you in CUC. Since CUC are the more valuable currency, there's no type of scam related to naming a price in one currency and then charging you the other.
The only scam you could run into with the currency would be getting change in less valuable CUP instead of CUC. They look kind of similar, but even a cursory glance will reveal obvious differences. The main one to look for: the words "pesos convertibles" on both sides of CUC bills.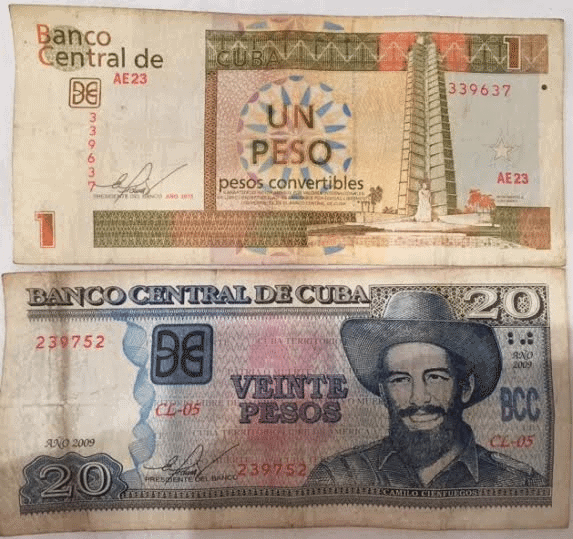 The bills also have a very different design style.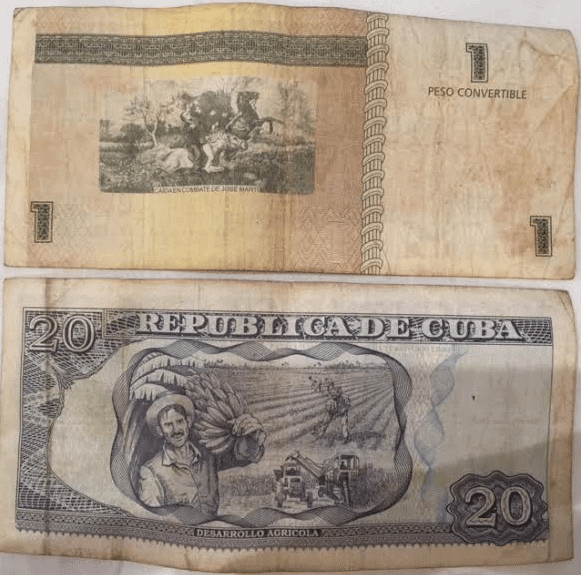 Here are pictures of CUP (above) and CUC (below) for all denominations. I love that both feature 3 peso notes, the only country I know of that offers a 3 unit bill.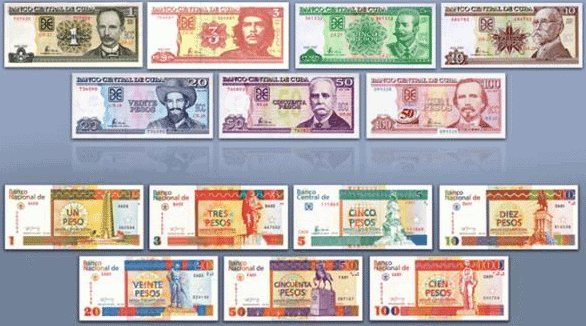 Everything I purchased was in CUC except for street pizzas (see Food below.) While things priced in CUP are cheaper than things priced in CUC, that is entirely a function of CUP prices only being attached to cheap things marketed to locals. There is no advantage to paying in CUC or CUP.
As I said above, there is a fixed exchange rate between the two. If you ever see a price in CUC or CUP, you can pay in either. Many stores have this sign proclaiming that fact, but even without the sign just pay 25x CUP to purchase something priced in CUC or 1/25 the CUC to purchase something in CUP.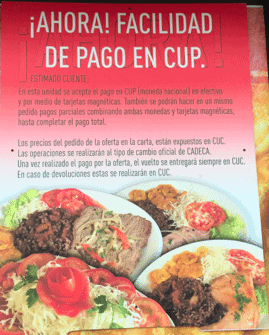 Exchanging Money
I didn't even attempt to use my ATM card in Cuba because I was certain it wouldn't work. I did attempt to use my Citi Prestige® Card at the Havana airport to buy cigars, and it was rejected despite being a MasterCard, which announced a few months ago that it would process payments for Americans in Cuba. (Please comment with your experience attempting to use ATMs or credit cards in Cuba.)
That leaves the major option of exchanging money.
You can exchange cash throughout the country at exchange houses, banks, and, I believe, hotels. The exchange houses at Havana's airport were open at 2 AM when I arrived, so I assume they are open 24 hours.
The exchange houses have about a 6% spread between buy and sell prices, 3% on each side of the "true" exchange rate.
In addition, there is a 10% fee for changing US dollars into Cuban pesos.
That means despite $1 being worth 1 CUC, you only get 87 CUC per $100 at an exchange house.
The best solution is to bring a different currency, specifically euros, pounds, or Canadian dollars, to Cuba so you only get dinged 3% instead of 13%. However, I don't know a cheap way to get euros, pounds, or Canadian dollars in the United States or at airports, so I was stuck with dollars. (Please comment if you know a cheap–loss of under 5% of value–way to get foreign currencies in the United States.)
Because of the 10% fee for changing them, there is somewhat of a black market for dollars. I was approached to exchange $200 for 180 CUC outside the exchange house at Havana airport. I was told you could get 95 CUC per $100 bill (ie not $20 bills) if you asked around.
Budget
I spent $700 for everything excluding flights for seven days in Cuba. This included staying at casas particulares and no meals above 10 CUC. I think most people will spend more money, especially if they stay in hotels. Bring lots of money since if you run out, there is no easy way to get more.
Internet
Internet takes work in Cuba. There is no cellular data network, so you need to find a place that offers wifi or computers with internet. The only places that offer these things are ETECSA offices and fancy hotels.
ETECSA Offices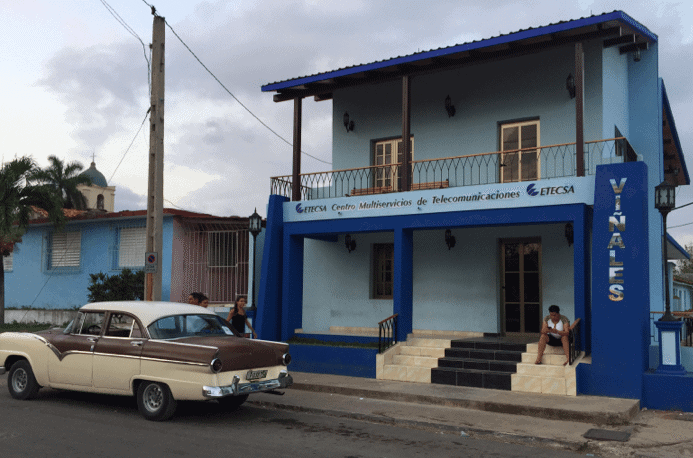 There are about 100 ETECSA, the Cuban state telecom company, offices throughout the country. ETECSA offices offer computers hooked up to the internet and wifi. I never inquired about the computers because I had a laptop, and they were often all full.
Wifi at ETECSA offices costs 2.25 CUC per half hour. You must bring a passport to purchase wifi scratch off cards like this.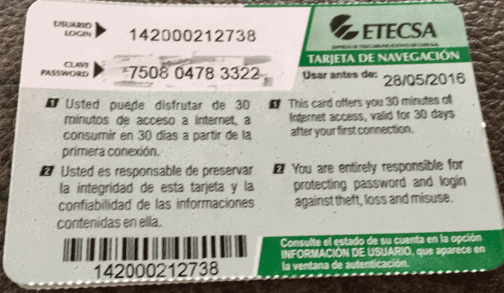 With the user name and password, you log on and start your clock. Ask when purchasing the card how to log out if you don't want to use the entire 30 minutes at once.
While ETECSA offices have normal business hours like 9 AM to 7 PM, you can usually connect to the wifi outside the building, and the wifi is left on 24 hours.
In Viñales, the ETECSA office functioned smoothly, and I enjoyed a comfortable chair in the air conditioning during the day when using the wifi and sat out front at night if I wanted to connect my phone to wifi to message people on Facebook or WhatsApp. I found wifi speeds to be pretty good at this office, better than at the Melia Cohiba in Havana (more on that below.)
In Havana, ETECSA was a bit more of an adventure. The two offices I tried were sold out of the scratch cards, leaving only renting computer time as an option. All the computers were full though, so I headed for a hotel instead.
Fancy Hotels
Nice hotels also sell wifi. The service is available to guests and non-guests alike. Enter and ask any employee where wifi is sold, usually at the Business Center. I used wifi at two hotels in Havana.
At the Melia Cohiba Havana, a two hour wifi pass cost 14 CUC. You could log in and log out to preserve the time. Wifi was terrible at the Melia Cohiba. It seemed to alternate between offering no connection and a slow connection in 10 minute intervals.
At the Hotel Nacional de Cuba, a one hour wifi pass cost 7 CUC. You could log in and log out to preserve the time. Wifi was good at the Hotel Nacional, at least on par with the ETECSA office in Viñales.
Blocked Sites
I had no trouble accessing gmail, Twitter, Facebook, WordPress, or any other site I tried. I asked a Cuban what was blocked and she said, "Pornography, snuff films, and some media especially from the United States."
At the Airport
Havana's airport has an ETECSA wifi network, though there is no way to purchase scratch cards as far as I know. You may want to purchase extra cards at an ETECSA office during your stay for your wait at the airport.
Food
Private restaurants, called "paladares" in Cuba, have increased greatly in number in the past few years. I ate some of my meals at paladares, some at state-run restaurants, some at my casa particular (more on casas particulares in the lodging post, and some at takeaway places on the street.
At Your Casa
I stayed all seven nights in Cuba in private homes called casas particulares. At most casas, the owner will cook for you for a fee. This is a great opportunity to get typical, local food for a very reasonable cost.
My main tip when eating at your casa is to tell the cook what you like. There isn't a fixed menu; they'll just make what you like if you tell them and what they like or what's cheap if you don't.
In Viñales, I told the cook I like chicken, pork, and beef, so I was given pork two nights and chicken once.
I ate breakfast and dinner at the casa each night. The meals he made me were colossal.
Dinner was 8 CUC and included:
a big piece of chicken or pork and potatoes or a potato-like vegetable
a plate of tomato and cucumber slices drowned in oil
a big fruit salad of papya, mango, and pineapple
a big bowl of rice and black beans (not pictured)
a glass of juice (not pictured)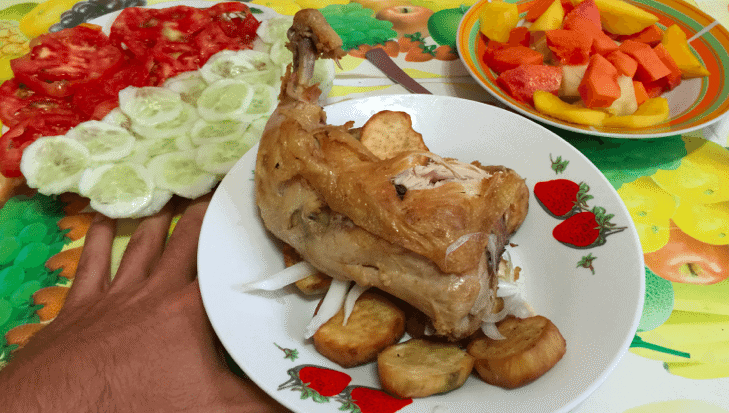 For another 1.5 CUC, he would give me a can of beer. I got the sense that these prices were suggested to him by a tourism board, and I didn't try to negotiate.
For breakfast I told him that I only wanted fruit, so he gave me this each morning for 2 CUC.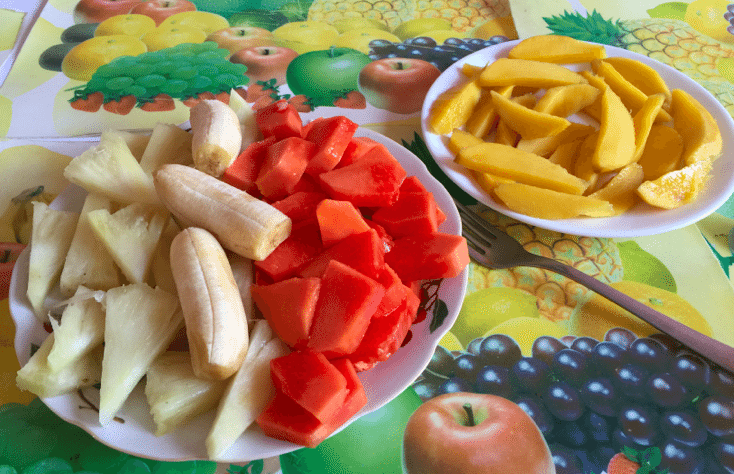 I imagine a breakfast with meat would have been more, but I can't believe how much fruit I got for 2 CUC.
I don't like seafood, but I understand that that is a very typical dinner at casas. To reiterate, tell the casa what you want, and you'll get it and a lot of it.
Most of my meals were just cut vegetables and fruits plus rice and beans, so not exactly anything where cooking skill matters. The only things really cooked, the meat and potatoes, were fine. Nothing spectacular, but not hard to happily eat after a long day.
I recommend eating at your casa as it will give you decent food at a decent price while giving you more great contact with locals.
Restaurants
My casa owner in Havana was elderly and didn't offer food. She told me about a cheap restaurant one block away called "El Rápido." I saw restaurants of the same name throughout Cuba, so it must be a chain.
I believe that it is a state-run chain, and thus not a paladar, which are family-owned restaurants.
El Rápido printed the menu right on the table and main courses were 2 to 3 CUC.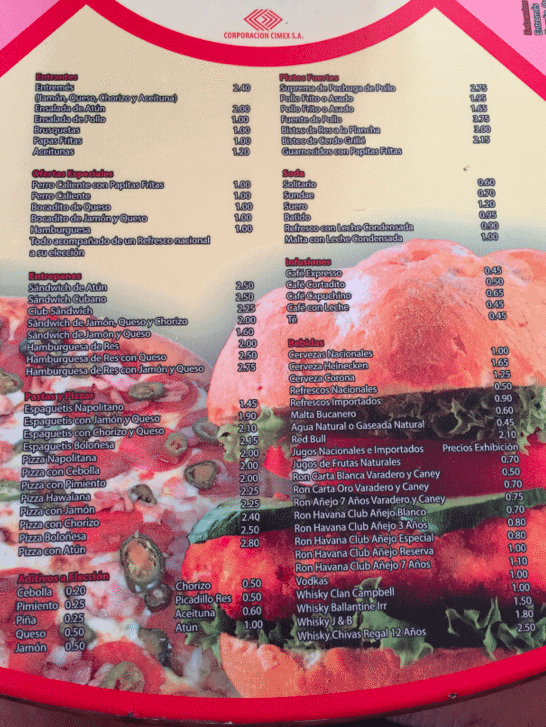 One meal I got the chicken breast, which was fine.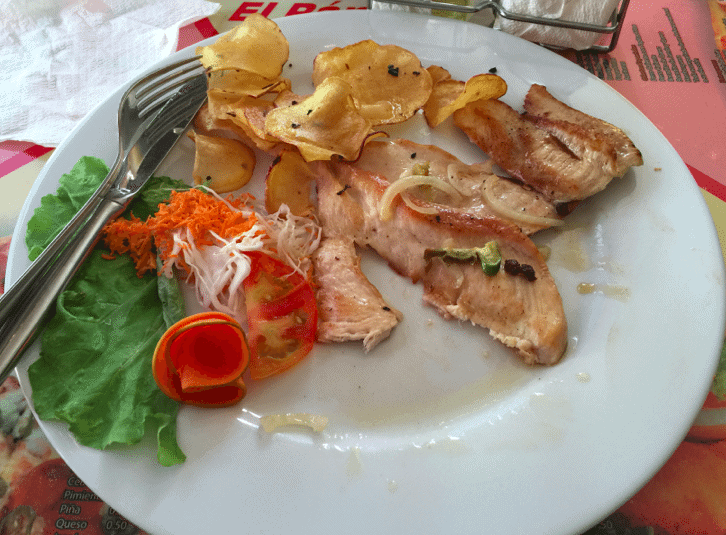 Another I got the spaghetti bolognese, also fine.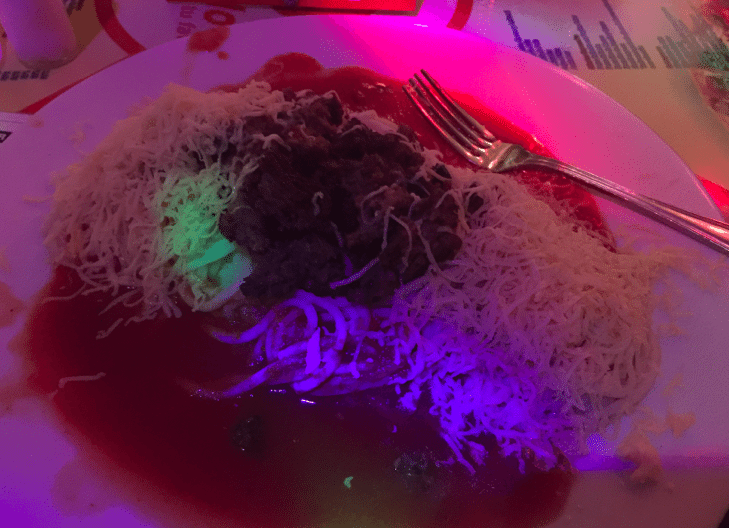 Finally I settled on pizza with ground beef and pineapple, also fine. This restaurant did not blow me away, but it was close and cheap, and I liked talking to the waiters, so I ate there every day in Havana.
Of course, there are restaurants with much better ambience and food. In the touristy areas of Havana Vieja, restaurants spill onto the sidewalks and offer live music.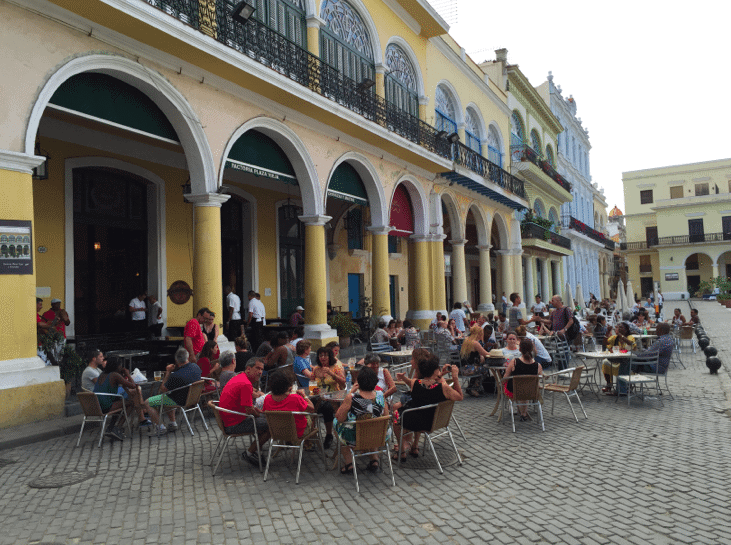 And you can check out the top paladares on Trip Advisor.
In Viñales, I ate at two paladares. El Olivo was highly recommended by Lonely Planet. I got the cannelloni with mixed meat. It was OK, but not nearly as good as I would expect for a recommended restaurant.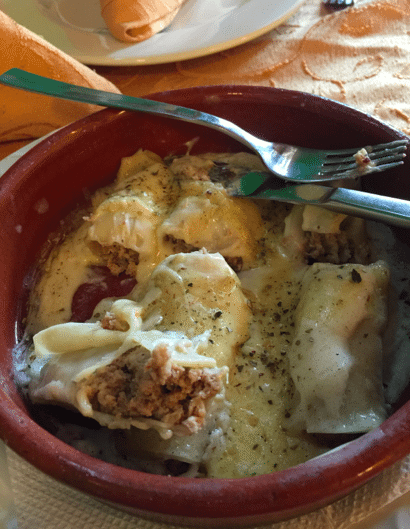 For another lunch, I ate at one of the other non-descript paladares that crowd the main street in Viñales because it had ropa vieja on the menu, and that was the one "Cuban food" besides sandwiches that I had eaten in the United States. Again, it was OK.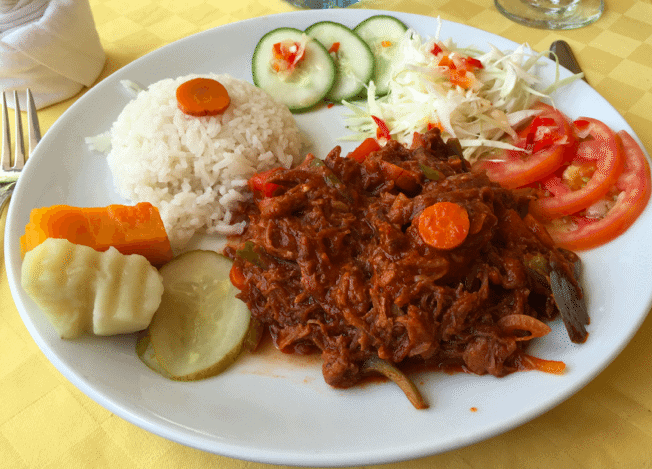 I know, I know. I just described every meal as OK. That's partly because I am not a good food reviewer and partly because I found the Cuban food I ate to be pretty bland and boring, but not distasteful in any way. I didn't eat at the top restaurants in the country by any means, but the median level of cuisine on the island badly trails many destinations.
Street
The only purchases I made in CUP were at small take away restaurants with signs like this.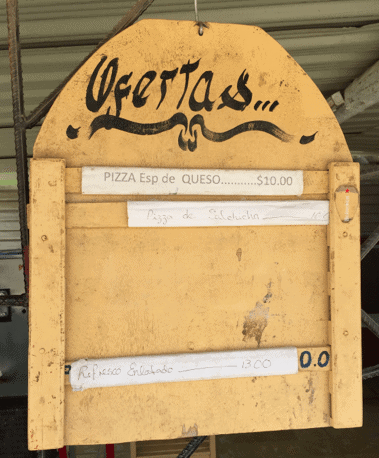 Most sold pizza and sometimes beers and sandwiches. I got pizza from one in Viñales and one in Havana. These pizzas are super cheap (10 CUP is $0.40) and, surprise, surprise, just OK.

Nightlife
In Viñales, the nightlife was the same every night of the week. There are two places, one on the plaza and one on the main street, that offered live music at night. Ask where they are or follow the music
The one on the main street had no cover, but no real dance floor.
The one on the plaza was far more popular despite its modest cover of 1 CUC for foreigners. The music started around 9:30 PM.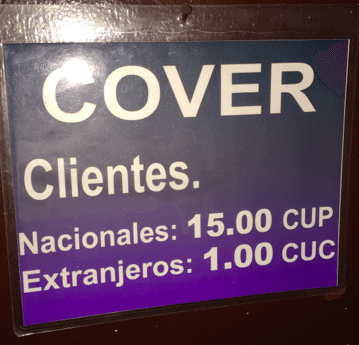 The plaza place had a nice dance floor perfect for salsa-ing to the band. If you are a girl sitting near the dance floor, you will invariably be offered the chance to dance with one of the local regulars.
Both live music spots were vast majority foreigners and local men. I didn't see prostitutes at either. I actually didn't see any in Viñales even though they are all over Havana.
In Havana, I had only one weekend night, so I tried to make the most of it. Here's my makeshift nightlife map:
red pin = Fábrica del Arte nightclub and art gallery
westernmost black dot = my casa
central black dot = Avenida 23 and Avenida de los Presidentes
easternmost black dot = Sloppy Joe's Bar

I started my night by walking to Avenida 23 because I had heard it was the area where people hung out on the streets inside and outside of bars. I didn't know exactly where on Avenida 23, but I found the nightlife starting at Avenida de los Presidentes and heading northeast from there to the Malecon. I found a group of students–locals and foreigners–with a little guitar circle on some steps on a corner and joined them for a drink.
Always on the lookout for something better, I caught a shared taxi (1 CUC) to the old town to Sloppy Joe's, a bar I expected to be full of foreigners. It was only half full with foreigners and a few prostitutes at the bar. I headed back to Avenida 23 and Avenida de los Presidentes and asked some students to recommend some bars. I got several suggestions and took off walking. I got a little lost, though I did find a local bar by following the music. It was crowded, but mostly people sitting with friends at tables, so I hailed a taxi to go to the last suggestion I had been given: Fábrica del Arte.
Fábrica del Arte was the best place I found. Downstairs was a quieter bar area and a separate dancing area with a DJ. Upstairs was an art gallery you could walk through. It seemed to attract a middle class Cuban crowd. (Well, way upper class for Cuba, but it felt middle class to me as an American.) I loved the space and the people, so this is the one recommendation I have for nightlife in Havana. Tell your taxi to take you to Calle 26 and Calle 11 in Vedado. Unfortunately I don't know the best nights or time, but at 1 AM on Saturday night, it was pretty good.
Up Next
I'm halfway done. Next up I'll explain lodging and transportation options. Finally I'll give full trip reports for Havana and Viñales.
Earn 60,000 bonus points after you spend $4,000 on purchases in the first 3 months from account opening.
Just getting started in the world of points and miles? The Chase Sapphire Preferred is the best card for you to start with.
With a bonus of 60,000 points after $4,000 spend in the first 3 months, 5x points on travel booked through the Chase Travel Portal and 3x points on restaurants, streaming services, and online groceries (excluding Target, Walmart, and wholesale clubs), this card truly cannot be beat for getting started!
Editorial Disclaimer: The editorial content is not provided or commissioned by the credit card issuers. Opinions expressed here are the author's alone, not those of the credit card issuers, and have not been reviewed, approved or otherwise endorsed by the credit card issuers.
The comments section below is not provided or commissioned by the bank advertiser. Responses have not been reviewed, approved, or otherwise endorsed by the bank advertiser. It is not the bank advertiser's responsibility to ensure all questions are answered.