MileValue is part of an affiliate sales network and receives compensation for sending traffic to partner sites, such as CreditCards.com. This compensation may impact how and where links appear on this site. This site does not include all financial companies or all available financial offers. Terms apply to American Express benefits and offers. Enrollment may be required for select American Express benefits and offers. Visit americanexpress.com to learn more.
Note: Some of the offers mentioned below may have changed or are no longer be available. You can view current offers here.
---
I just spent a completely legal week in Cuba, split between Havana and Viñales. An American in Cuba in 2015 is a six part series on the trip. This post will focus on entry and exit requirements for Americans going to Cuba.

Full Series
Entry, Exit, and Legal Requirements (this post)
Trip Report: Havana (coming soon)
Introduction
I've always wanted to go to Cuba because it's there, specifically 90 miles from Miami, and I wasn't allowed to.
Other reasons to go include the chance to see communism before it dies, pristine beach resorts, fine cigars and rum, to see crumbling 1950s beauty, and more chances for home stays with locals than in any other country I've visited.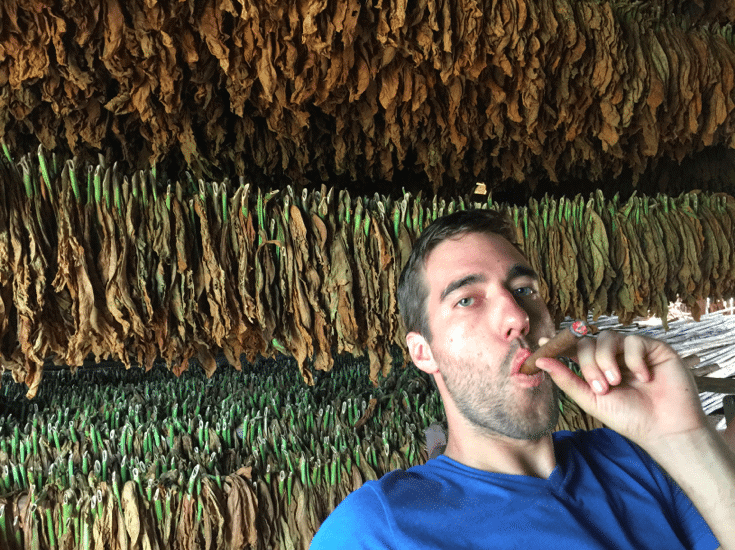 The Current Rules for Americans to Enter Cuba
It has never been illegal for Americans to travel to Cuba, but it was illegal to spend money there without prior approval, and a trip there would be considered de facto proof that you had spent money there.
In January, President Obama announced a loosening of travel restrictions. Instead of having to have the Treasury Department certify that you are in one of the 12 approved categories for spending money in Cuba (ie travel to Cuba), you can self-certify with no advanced proof required. From the State Department's website:
The U.S. Department of the Treasury's Office of Foreign Assets Control (OFAC) has issued general licenses within the 12 categories of authorized travel for many travel-related transactions to, from, or within Cuba that previously required a specific license (i.e., an application and a case-by-case determination)… No further permission from OFAC is required to engage in transactions covered by a general license.
The 12 categories are:
family visits
official business of the U.S. government, foreign governments, and certain intergovernmental organizations
journalistic activity
professional research and professional meetings
educational activities
religious activities
public performances, clinics, workshops, athletic and other competitions, and exhibitions
support for the Cuban people
humanitarian projects
activities of private foundations or research or educational institutes
exportation, importation, or transmission of information or information materials
certain authorized export transactions
I went for journalistic activity, the product of which you are reading right now.
I'm not a lawyer, and nothing in this post should be considered legal advice, but, as a traveler, those categories look pretty broad to me. I'm sure anyone who wants to go to Cuba can find a way to plan a trip that involves a religious or educational activity. There are churches and schools all over the country. And, more importantly, I think the changes Obama announced sent a powerful signal to United States Customs and Border Protection (which he heads as the head of the Executive Branch) that they shouldn't hassle people coming back from Cuba.
You must pick a category, and while I was never asked to prove my category before, during, or after my trip, I imagine it would be a good idea to have some supporting evidence at hand.
The Actual Steps and Paper Work Involved with Entering Cuba
Have ready for your trip:
Passport
Printed copies of your itinerary, especially your flight that leaves Cuba
Proof of Medical Insurance
Euros or Canadian Dollars (or less good, American Dollars, more on all this in a future post on money)
Evidence of which of the 12 categories you fall into
I checked in for my Copa flights from Washington DC to Panama City to Havana at Dulles Airport. (More on how to book flights in the next post; more on seeing the Panama Canal on my layover here.)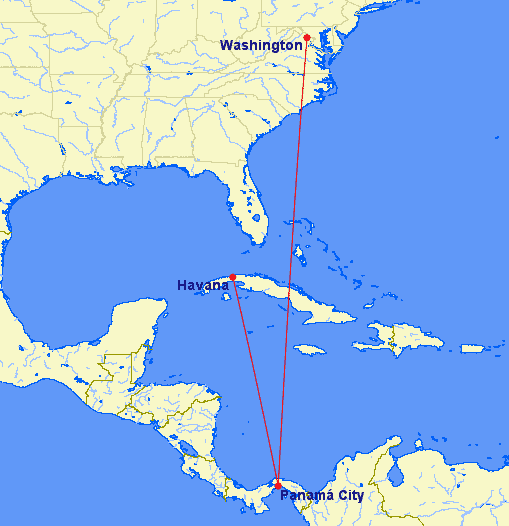 Since I was on a one way ticket, the Copa agent asked me for proof of onward travel from Cuba. I showed her a PDF of my Asiana award from Havana to Bogota on my phone, which took me a few minutes to find. It would have been much easier to have brought a printed itinerary.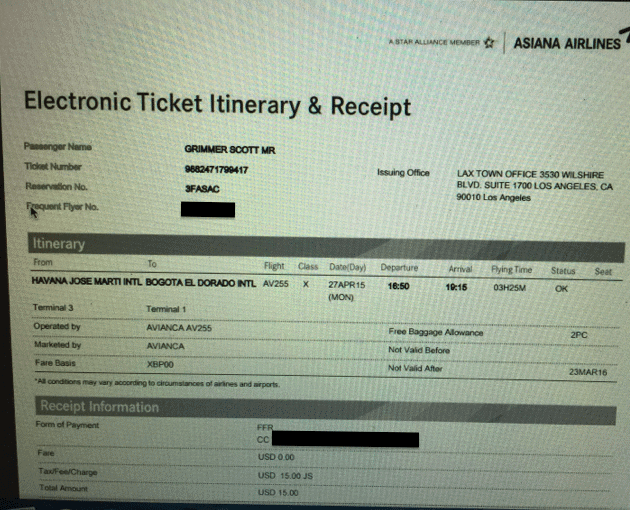 She handed me this form in Spanish, presumably English copies are also available, which asked me to specify which of the 12 categories for a general license to travel to Cuba I fell into as well as some personal information.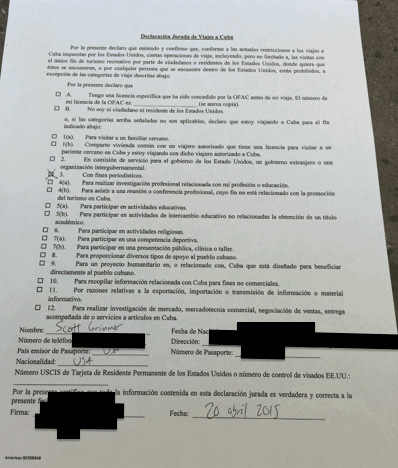 I completed the form and handed it back. I do not know whose form it is and whether the US government ever sees that form.
I was given both my Washington-to-Panama and Panama-to-Havana boarding passes by the agent, and I proceeded through security to my gate and a Chipotle burrito breakfast.
Other than that form and showing my flight out of Cuba, nothing was different about my airport experience at Dulles compared to what it would have been if I had been flying to Cleveland.
In Panama
In Panama City, as I was boarding the flight to Havana, I handed the agent my boarding pass and American passport. She handed me an equivalent form to the one I had gotten at check in at Dulles, but in English.
I completed that form and held onto it, and I was never asked for it at any point by anyone.
I asked her, "Don't I need to get the Cuban visa here?," and she said, "Oh yes!" You buy the Cuban visa from the airline for $20 cash.
Onboard I was handed the Cuban immigration form. Pictured below is the English form that asks which of the 12 categories I am (left), Cuban immigration form (top right), and Cuban visa (bottom right.)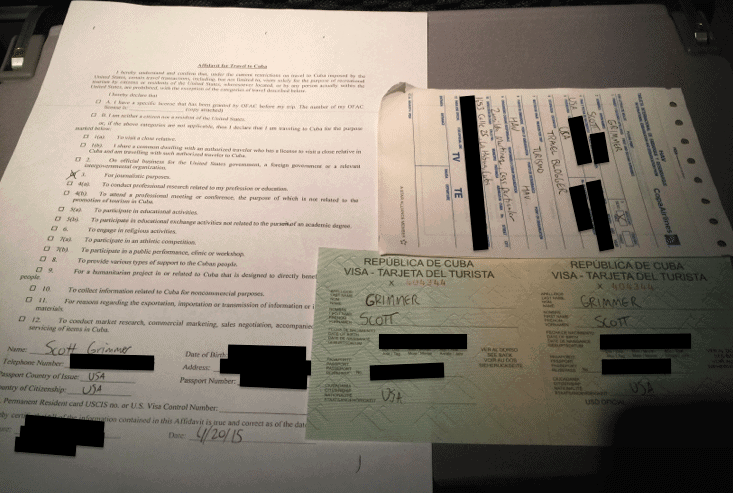 Upon arrival in Cuba, I proceeded to immigration. The agent needed my passport, Cuban immigration form, and Cuban visa.
I thought I was in the clear, but then she asked for proof of my medical insurance. I showed her my card that my American insurance company gives me. It is not travel insurance. She looked it over, and asked me, "This just says the number to call if you're injured in Hawaii." I pointed to an 800 number that said to call if injured elsewhere.
She accepted that, and gave me back my passport with half the Cuban visa. Do not lose that half of the visa. You need it to leave.
I'm pretty sure my medical insurance does not cover me in Cuba. I understand that Cuba sells travel insurance on the spot to tourists who arrive without proper proof of travel insurance. I have no first hand knowledge of that.
After immigration, there were a few tables of doctors (or nurses?) who appeared to be giving health checks.
Before you get to the doctors, grab a customs form.
The doctors stopped me, but when I showed my American passport I was let through without a check.
I had not checked a bag, so I proceeded past baggage claim to customs. I went into the "Nothing to Declare" line, and the agent asked for my customs form. Apparently I had missed it. It was right back after immigration. I went back, filled it out, and brought it back to the Nothing to Declare line where the agent made sure it was complete and then dropped it into something that looked like a ballot box.
I was free to leave the airport!
Key Points
Have passport, evidence of your category for Cuba travel (though this was never requested), evidence of flight out of Cuba, cash, and proof of medical insurance ready to go at check in
Buy a Cuban visa from your airline for $20 before you board your flight to Cuba
Get a Cuban immigration form on your flight to Cuba
Give passport, Cuban visa, Cuban immigration form, and proof of medical insurance to immigration agent in Cuba. Hold onto your half of the Cuban visa for exit.
Get a customs form after immigration and give it to customs agent after baggage claim
Leaving Cuba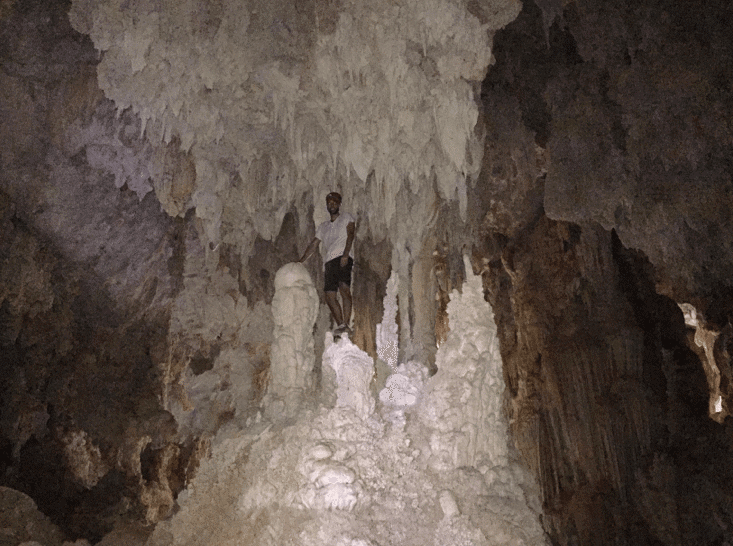 Things you need:
The half of the Cuban visa given back to you by the immigration officer
Your passport
40-50 CUC (more on what a "CUC" is in the post on money)
A taxi from Vedado (a section of Havana, more on that in the Havana post) to the airport cost me 15 CUC, negotiated upfront. I believe you can negotiate a taxi from anywhere in Havana to the airport for 15 CUC, but if you are a bad negotiator or try to get a taxi outside of a hotel, be ready with 25 CUC.
The ride to the airport took about 30 minutes, and I got there almost about 2.5 hours before my flight. I almost never arrive more than 90 minutes before a flight, but I was glad I gave myself so much time. It took me 1 hour 26 minutes to get from my taxi to my gate.
I was flying Avianca to Bogota, and Avianca has another flight about 45 minutes earlier to San Salvador. The check in line was packed with people from both flights being checked in by four agents and no self check-in machines. It took me one hour from the start of the line to the end. The agent just needed my passport to check me in.
All other airlines had shorter check in lines for what it's worth, but you may still want to arrive very early.
After getting your boarding pass, you have to pay the 25 CUC airport tax in cash. The line here was also very long, but the two agents could process people quickly, so I only waited about five minutes.
Next came emigration, which was hard to find because its entrance was blocked by so many Cubans who had come to the airport to see off their friends. The line here was another five minutes. I gave the agent my passport and the other half of my Cuban visa and got through quickly.
At no point during immigration or emigration was my passport stamped. I was hoping they would, but I didn't ask.
Security took another few minutes, and I was at the gate about 60 minutes before my flight.
The airport does have WiFi. The only way to access it is with an ETECSA WiFi scratch card (more on all this in a post about internet), but none are sold at the airport as far as I can tell. If I had known this in advance, I would have brought one or two with me. There were also computers you could rent, but I didn't have any more CUC or inquire about their price.
Key Things to Leave Cuba (Arrive very early)
Your passport
The half of the Cuban visa given back to you by the immigration officer
15-25 CUC for your taxi
25 CUC for your exit tax
ETECSA WiFi cards if you want to use the internet
Entering the United States
Global Entry Pitch
I have Global Entry, which means that I never have to fill out the United States paper immigration form and rarely have to speak to an immigration officer upon entering the country. If you have time to get Global Entry before Cuba, do it.
Global Entry saves me a few minutes to a few hours of time in line on every re-entry to the United States all for the cost of a $100 application fee, filling out a lengthy application, and one short interview with a Customs and Border Patrol agent. Plus Global Entry gets me TSA Precheck on all my domestic and international flights, which saves time and hassle when going through security. The $100 fee is totally worth it, but you don't even have to pay that. Cards like the Citi Prestige® Card offer a $100 statement credit if you pay the application fee with your Citi Prestige. (My full review of the Citi Prestige.)
Entry into United States
After Cuba, I headed to Colombia for four days. This was in no way strategic; I just wanted to visit friends in Bogota. I flew back from Bogota to Miami to Washington DC. When I landed in Miami, I went through immigration. My kiosk experience was the same as always.
Scan my passport
Take a picture
Confirm my arriving flight
Answer "No" about bringing anything in that I needed to declare
Get my print out
I headed past baggage claim because I had no checked bags and handed my print out slip to the customs agent who waived me through.
Customs Rules
According to the US Customs and Border Protection website:
Can I import Cuban cigars into the U.S.?
Persons authorized to travel to Cuba may purchase alcohol and tobacco products while in Cuba for personal consumption while there. Authorized travelers may return to the United States with up to $100 worth of alcohol and/or tobacco products acquired in Cuba in accompanied baggage, for personal use only.
For further information, see this public notice from CPB.
I brought back about $50 worth of cigars.
What If You Don't Have Global Entry?
My recollection is that the form that non-Global Entry folks fill out asks which countries you've visited on your time outside the United States. I would tell the truth, since if you're in one of the 12 designated categories listed above, your trip was legal.
Bottom Line
Since January 2015, Americans can enter Cuba and spend money without prior approval of the Treasury Department as long as we self-certify that we are visiting Cuba for one of 12 permitted reasons.
Make sure you have everything you need for entry into Cuba, exit from Cuba, and entry back into the United States before making the trip.
The next post will focus on how Americans can buy flights to Cuba in 2015 with cash or frequent flyer miles.
Request for Comments
Cuba is a hard country to understand sometimes, and often I didn't ask when I was confused because I didn't want to draw attention to myself. Please comment on this and all future posts if you've been to Cuba. Did I make any mistakes or omissions? Did your experience differ? Your comments can really help people who are planning a trip to Cuba.
Earn 60,000 bonus points after you spend $4,000 on purchases in the first 3 months from account opening.
Just getting started in the world of points and miles? The Chase Sapphire Preferred is the best card for you to start with.
With a bonus of 60,000 points after $4,000 spend in the first 3 months, 5x points on travel booked through the Chase Travel Portal and 3x points on restaurants, streaming services, and online groceries (excluding Target, Walmart, and wholesale clubs), this card truly cannot be beat for getting started!
Editorial Disclaimer: The editorial content is not provided or commissioned by the credit card issuers. Opinions expressed here are the author's alone, not those of the credit card issuers, and have not been reviewed, approved or otherwise endorsed by the credit card issuers.
The comments section below is not provided or commissioned by the bank advertiser. Responses have not been reviewed, approved, or otherwise endorsed by the bank advertiser. It is not the bank advertiser's responsibility to ensure all questions are answered.