I received a great TACA/Avianca LifeMiles credit card offer in my email inbox late last week. The LifeMiles Visa Signature card is offering 40,000 LifeMiles after spending $3k in the first 90 days.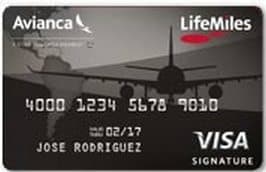 20k miles are awarded after making your first purchase and you receive an additional 20k miles after spending $3,000 in the first three months of card membership. The actual email I received is pasted below.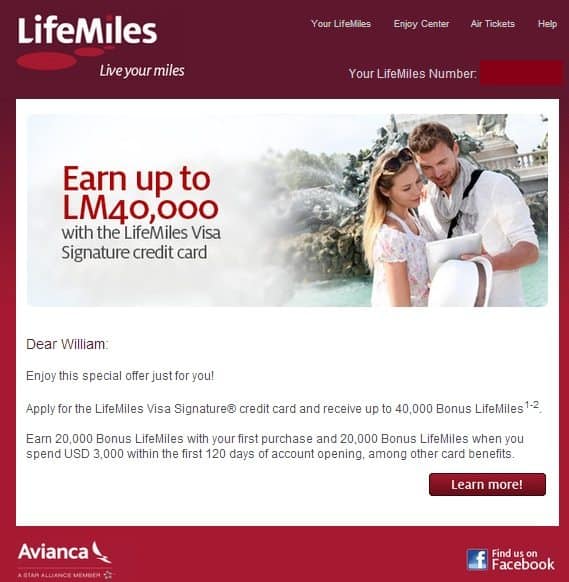 Why is this such a good credit card offer? Should you take advantage? Why are LifeMiles so valuable, especially in today's climate of devaluations? Are there any pitfalls associated with the LifeMiles program?
The LifeMiles Visa Signature credit card comes with a $75 annual fee which is waived for the first year of card membership. The application landing page with full details can be found here.
This is a great card offer, and one I will likely add to my next round of applications. LifeMiles are extremely valuable for Star Alliance premium cabin travel, especially after United's devaluation.
I love LifeMiles because:
Why should you take advantage of this offer?
LifeMiles are difficult to acquire in bulk other than through outright purchases with cash. No transferable points–not Starpoints, Membership Rewards, or Ultimate Rewards–transfer to LifeMiles. Many people don't want to commit large chunks of money to buy awards. This 40k bonus should put you much closer to a oneway business class award to Europe, which is 52.5k LifeMiles.
This credit card is issued by US Bank, so you avoid a credit inquiry from one of the major players like American Express, Barclay's, Chase, or Citi.
Any intriguing benefits besides the signup & renewal bonuses? 
None that I see. You earn double miles on Avianca purchases, but I don't foresee making any of those. You also get an "Excess Baggage Redemption Discount" which holds equally little appeal.
When does the offer expire?
Per the landing page, this offer ends on April 30th. The bonus will likely drop back to 20k miles, which is the standard offer I routinely see.
Should you keep the card after the annual fee hits?
You might want to. Retaining the card after the annual fee hits your statement means you earn 6,000 bonus LifeMiles. Because you need to pay the $75 annual fee to unlock the bonus miles, you are paying 1.25 cents for those miles, which is a good deal.
Why should you be wary of this offer?
Read the terms and conditions carefully. If your credit profile doesn't qualify you for the Visa Signature card with a 40k bonus, you might receive a Visa Platinum card with a 15k signup bonus or a Visa Secured card with a paltry 5k bonus! I hate these credit card bait-and-switch tactics, and they need to be on your radar before applying.
LifeMiles online booking tool is buggy, to put it mildly, so if you have a complicated itinerary in mind, you might be frustrated by the (lack of) search results.
Recap
Avianca/TACA is offering a limited time 40k signup bonus when you are approved for their Visa Signature Card.
LifeMiles are great for several reasons, most importantly as a hedge against other Star Alliance carriers' devaluations.
40k miles puts you well on the way to many aspirational awards, such as a 52.5k oneway business class seat between the US and Europe. LifeMiles are difficult to acquire unless you purchase them for 1.5 cents during one of their occasional sales. This is an excellent boost, and the card is issued through US Bank, an issuer with relatively few other offers.
Be wary of the potential to receive an inferior offer if you aren't approved for the Visa Signature card. Only apply for this card if you have a strong credit score and are debt-free. Given the potential for a bait and switch, apply for this card first on your next round of applications.
————————————————————————————————————
Never miss a post again! Follow MileValue on Twitter and Facebook. And sign up to receive one free daily email every morning with all of the day's posts!