A few weeks ago, I discussed Flying Blue Promo Awards at length.
Flying Blue is the loyalty program of Air France and KLM, the Dutch flag carrier.
Every few months, a rotating list of discounted awards are released that can allow you to get from cities in the US to anywhere in Europe for only 25k miles + taxes + small surcharges roundtrip.
Business class awards to Europe are as low as 62,500 miles roundtrip, though fuel surcharges are substantially more.
See the full story on Flying Blue Promo Awards in How to Get to Europe for 25k Points Roundtrip Through March 31, 2014
Today I want to share a way to fly to Europe on Flying Blue Promo Awards with no fuel surcharges. That means you get the incredibly low price in miles and only pay taxes on the award. A Flying Blue Promo Award with no fuel surcharges is on the short list of best awards in the world.
Of course, there's a catch, but I see the catch as a further opportunity.

How can you fly Flying Blue Promo Awards to Europe with no fuel surcharges? How can you get Flying Blue miles?
Starting in Brazil
Brazil made fuel surcharges on award tickets illegal. Different airlines interpret that different ways. Flying Blue interprets that to mean that any award originating in Brazil–whether a one way or roundtrip–can not have any fuel surcharges.
For instance, a one way from Rio de Janeiro to Amsterdam has no fuel surcharges. The award costs miles plus $33 in taxes.


But a one way in the opposite direction–Amsterdam to Rio–costs miles plus taxes plus a $243 fuel surcharge.


Starting an award in Brazil can save major cash. Even roundtrip awards from Brazil have no fuel surcharges on any legs.
Promo Awards from Brazil
Currently (until 3/31/14) there is a Promo Award from Rio de Janeiro to anywhere in Europe in economy class for a 25% discount off the normal miles price.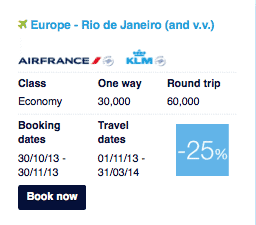 With the discount, you can fly one way for 30k miles or roundtrip for 60k miles. There is no discount on business class travel, which is very pricey at 100k miles each way!
Ideally this would be a 50% miles discount like some promo awards and would include business class, and hopefully those types of promo awards will crop up from Sao Paulo and Rio de Janeiro on future Promo Awards lists.
We work with what we've got on this list though, which is the opportunity to fly from Brazil to Europe for 30k Flying Blue miles + $33 one way.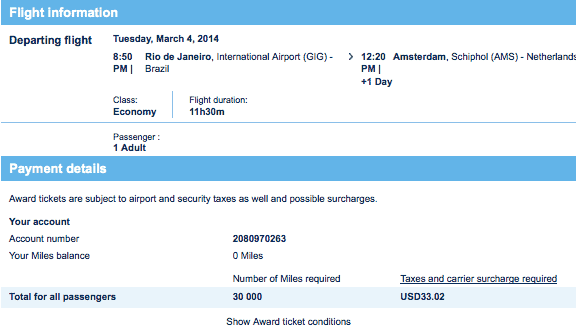 Or a roundtrip would be 60k miles + $74.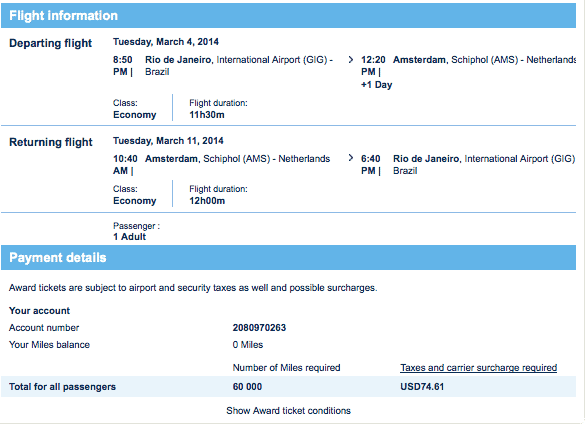 You Don't Live in Brazil?
Promo Awards out of Brazil are a problem since most of us don't live in Brazil, but they're also an awesome way to make a triangle trip.
Fly from the US to Brazil on a one way award, fly from Brazil to Europe on a one way award, and fly Europe to the US on a one way award.
Compare Brazilian Portuguese to European Portuguese on a single vacation or compare Samba and Flamenco on a single trip or watch Brazilian league soccer game and an English Premier League game in the same week. The possibilities are endless.
This would really combine well with off peak American Airlines awards from the US to Brazil and Europe to the US for only 20k miles each in economy. For 40k American Airlines miles and 30k Flying Blue miles and minimal taxes, you could take the trip of a lifetime.
Getting Flying Blue Miles
Right now, there is a targeted 50k bonus point offer for the Premier Rewards Gold Card, which always comes with 3x points on airfare and 2x at gas stations and supermarkets, after spending $1k in three months. Go to CARDMATCH and see if you are targeted for the offer.
The Premier Rewards Gold Card earns Membership Rewards which transfer 1:1 to Flying Blue miles at no charge.
Recap
Flying Blue awards originating in Brazil have no fuel surcharges. This isn't merely an interesting piece of trivia.
Fuel-surcharge-free Flying Blue Promo Awards can be a fun way to get from Brazil to anywhere in Europe as part of a larger trip.