MileValue is part of an affiliate sales network and receives compensation for sending traffic to partner sites, such as CreditCards.com. This compensation may impact how and where links appear on this site. This site does not include all financial companies or all available financial offers. Terms apply to American Express benefits and offers. Enrollment may be required for select American Express benefits and offers. Visit americanexpress.com to learn more.
Note: Some of the offers mentioned below may have changed or are no longer be available. You can view current offers here.
---
Regular MileValue readers: ignore this post. It's about college basketball, not miles.
UVA fans: ignore this blog. It's about traveling free (in first class if you want) by efficiently collecting and redeeming frequent flyer miles, hotel points, and credit card points. If you don't want to ignore that, start here.
About My Fandom
My sister started at UVA in 1995, and my brother followed in 1997. He was a fan of the teams that featured Hand, Hall, Watson, Mason, and others. They took me to a laugher against Liberty and the 3OT loss to Georgetown in the 2000 NIT.
I was hooked from there and starting watched as many UVA games on TV as I could through high school. It seems like we usually lost unless Billet hit a buzzer beater three.
I started at UVA in 2005 and caught the last season at U-Hall. When the JPJ opened the next season along with a new system that allowed top attenders to get to the game 90 minutes early and snag 4th-row-center seats, I started showing up 90 minutes early and sitting behind Mrs. Leitao.
For the opening game against Arizona at JPJ, there was a promotion about an hour before tip off to pick out the craziest UVA student to sit on the team bench. I won and got to sit in the second row of the bench with the managers, just inches from the players, and well within ear-shot of Leitao's rage. When we stormed back from (was it?) 17 down to beat a top ten team, I assumed the students would rush the court. But I was in front of them and couldn't see them, so I hopped over one row of chairs and onto the court with the team. I noticed I was alone, so before I could be nabbed by security, I just kept going across the court to greet a friend on the other side, as if nothing had happened. (Hence my Sabre handle "rushdacote" … rush da court.)
For four years at the JPJ I wore a striped orange and blue sweater and sat fourth row center. For the first two, I carried a sign that said "LEITAO PUT LARS IN" and could be folded to read "LEAVE LARS IN." No matter where the 10-minutes-a-game goofball was, I had an opinion on where he should be: in! I was set to bring that sign to his senior year when he got kicked off the team. That fall, I met Jerome Meyinsee at a speech by an economist to the Jefferson Literary and Debating Society. He immediately recognized me as "Lars Guy," and commiserated that my favorite player was gone.
He suggested that I switch to cheering for him, and I said, "Fine but Lars had the cheer: L-A-R-S, LARS, LARS, LARS! What's yours?" And so was born "LEITAO/BENNETT PUT ROME IN" and "R-O-M-E, ROME, ROME, ROME!" I'm going to give most of the credit to Coach Bennett that Meyinsee went from a benchwarmer for three years to a 124 offensive rating his senior year, but the sign had to have helped too. 😉 We're still friends, too.
Since UVA, I went to the 2010 Maui Invitational and made the local paper with my "Anyone But Chaminade" sign (who would have been our opponent in the third game if we'd lost our second.) In 2014 and 2015, I went to all the ACC and NCAA tournament games. For the last few years, I've spent most or all of the basketball season in Argentina, so I haven't been able to see a game at the JPJ in several years.
I've spent the last few summers in Europe, this year mostly in Serbia and Croatia, so when the trip to Spain was announced I knew had to go.
I love Spain, have spent a lot of time there, and speak Spanish
I love UVA basketball
This is one of the best teams we've had since I followed UVA; I'd rank them third behind the last two seasons
This is the biggest and best class of incoming players when including Nichols and Diakite we've had since I've been paying attention
In June, I reached out to someone who I knew would be on the trip and got the travel dates: August 8 to Madrid and August 18 from Barcelona. I booked my flights to and from Zagreb accordingly for about $200.
I didn't get the games dates and times until August 4th and only after I was sworn to secrecy. Because of all the uncertainty, I understand why most people didn't go. I decided to try to provide the coverage of the trip that I would want if I couldn't go.
For game 1, I noted jut about every play on my phone and took three short videos. For games two through five, I took box score style stats, and of course I streamed part of the second half of game five. These recaps will feature those stats, videos, some pictures, and my thoughts. Game 1's recap is the worse since I didn't take stats.
Game 1, 92-81 Win vs. Getafe
The first game was August 9th in Getafe, Spain, which is a bedroom community about four stops and 20 minutes from the heart of Madrid by commuter train ($3.75 roundtrip.)
The game was played in a gym with about 60 seats under one basket for fans, chairs for the teams along one sideline, a few chairs folding chairs under the other basket, and nothing along the other sideline. Folks traveling with the UVA team took about half the seats. (I heard the traveling party was 55 people.)
My friend happened to be traveling with me for the first few days in Madrid, and he and I arrived at the arena at 5:30 PM for a supposed 7:00 PM start. (Oh the irony that he, with no connection to UVA, and only mild college basketball interest saw these two games in Getafe, and hundreds of mega-fans were stuck at home.) By pure luck, we walked up to the arena right as the UVA bus pulled up and stopped. Behind it was a police van, out of which stepped two Spanish cops with machine guns–which was as unnerving as it was unnecessary. The cops didn't stop us from walking up to the players, and I walked straight up to Coach Bennett and shook his hand.
(The cops waited outside the arena all game, but I never saw them again thankfully.)
Coach Bennett graciously talked with us for a few minutes and was exactly as nice as everyone says. We are extraordinarily lucky that he is our coach, but I don't have to tell that to anyone who's been a fan for more than a few years.
We followed the team into the gym and watched them shoot around, stretch, and warm up from a few feet away. As was the case for all five games, we didn't have to buy a ticket for our courtside seats.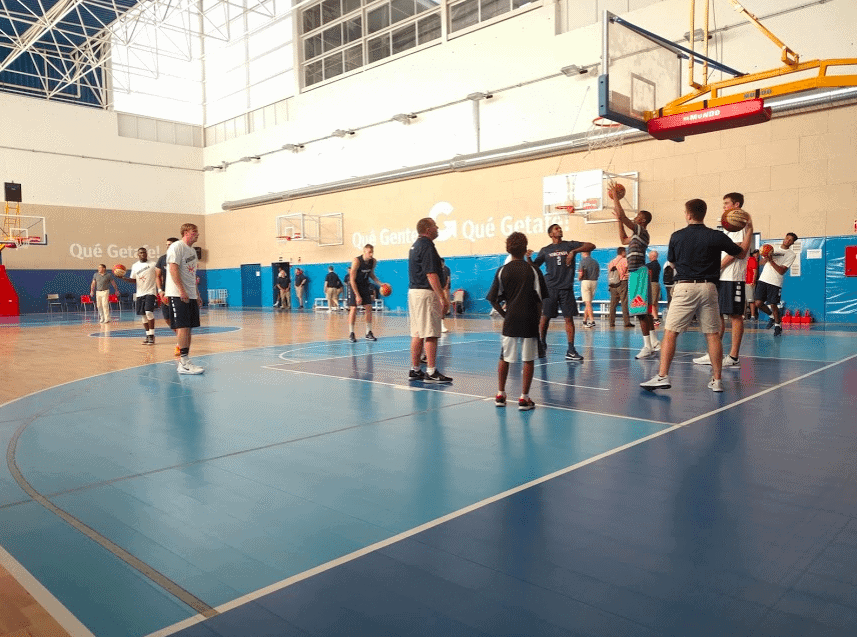 The whole atmosphere before and during the games was low key. When the team was in the locker room, local kids, coaches' kids and wives, and I grabbed the balls and played horse.
Getafe plays in the Spanish third division (LEB Plata), but this wasn't that team. According to the Spanish UVA fan behind me, there were a few Getafe players, and other players from the 2nd, 3rd, and 4th divisions plus one old, big guy my friend and I called Father Time who played in the 1st division "about ten years ago."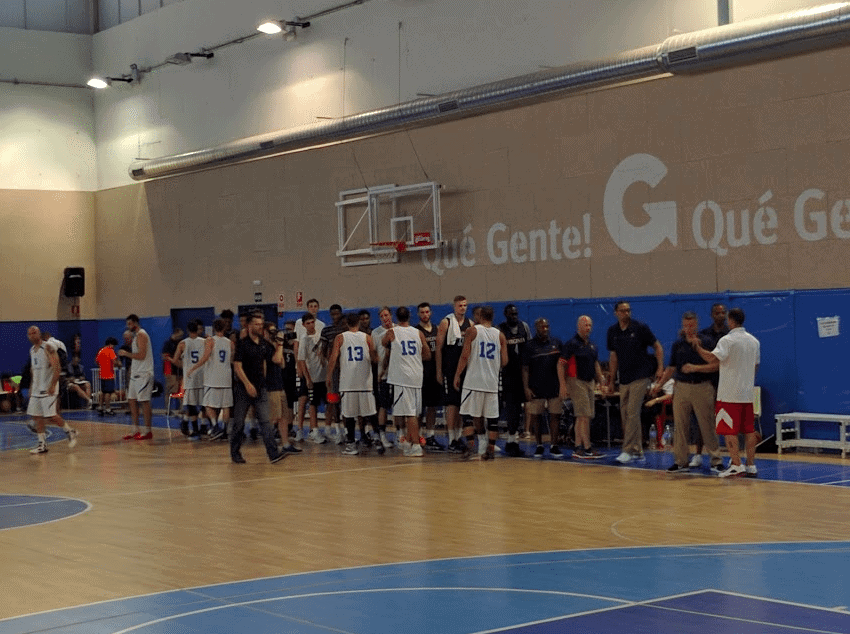 There were three refs, a FIBA ball, and scorers who held up a sign with the number of fouls on a player after each foul and put up a cone when a team was in the bonus (5 fouls in a quarter means two shots the rest of the way.)
The international shot clock was used, and UVA forced three 24 second violations while committing none. We didn't need to grind on offense because the other team didn't play tough defense. And we didn't get to grind much on defense because the other team liked to make a quick pass or two and shoot a three. Our opponents made very few post entry passes and several of those were stolen.
The international three point line is 16.75″ longer than the college three points line for most of its arc, but it straightens out in the corners like the NBA three point line, though to a much lesser extent than the NBA line. Our guys didn't seem to have much trouble with that extra foot and a third.
In the first game, Diakite, Huff, and Jerome sat out.
Hall, Shayok, Perrantes, Nichols, and Wilkins started. Since the last three are very obviously going to start, and the first two are strong contenders, I can only assume that this was Coach Bennett's projected starting five coming into Spain.
This was the only game for which I didn't keep stats, but I noted almost every play with words, so here are a smattering of plays, organized by player.
Austin Nichols
We won the tip and five seconds into the game, Hall made a great pass to Nichols on a pick-and-roll for a posterizing dunk.
Shayok made a great pass to Nichols for what should've been an and-1, but Nichols couldn't finish strong enough and went 1-2 at the line.
All our bigs were running our classic big-to-big doubles, but the other team had very good shooters 1-5, so we were getting burned for a lot of threes. Anyone who has seen the last few seasons knows this is a weakness of the pack line. Great rotations can minimize it, but it will never go away. Their center "Father Time" hit a pair of early threes.
Nichols had a Mike Scott special. You know how Mike Scott would get the ball 15-18 feet out, not dribble, head fake a few times, and eventually just take a slight fade away jumper? Nichols did that and connected. Combined with his other abilities like shot blocking and getting to the rim, he looks like a complete player.
Nichols takes hook shots with both hands.
London Perrantes
London picked up where he left off last year and drained his first three. I hope he keeps shooting. We need the points without Brogdon, Gill, and Tobey.
By my count, he went 3-5 on threes, had a great pass to Nichols for an alley oop and a great pass to Salt that was called off by one of the phantom travel calls we saw all week. Every time a UVA player caught a ball on the run, he got called for travels. None would be travels in the United States. I can't explain the discrepancy, but it inflated our turnover numbers and depressed our point totals.
Marial Shayok
Shayok had a really strong move in transition to get fouled but missed the lay up. He made both free throws.
Three other times, Shayok was fouled in transition later. All three teams UVA played had a concerted strategy to bump UVA players in transition as soon as possible and well before we got to their basket. The idea was to pick up a foul that would stop our fast break. This is really good strategy that UVA should copy frankly.
They couldn't foul him every time though. He picked up a steal off of great defense by Hall and took it all the way for a dunk. Shayok also hit a long two, had a nice take that he finished with a lefty layup, and made an alley oop lay up.
I noticed that Shayok had a lot more shot attempts than Hall or Thompson on the trip. He wasn't super efficient, but he looks like the most likely of the three to become more of a scorer for us.
De'Andre Hunter
It was a tough first game for Hunter. He missed a three and airballed a long two coming off a curl early. He also had a really boneheaded turnover in transition.
But he had a pair of assists to Kyle Guy, made a long two, and had a few great takes. I think he is our best freshman wing at the moment or at least up there with Guy.
Kyle Guy
Guy was fouled on his first three point attempt and made only one free throw. Having established himself as a shooter, the next time he caught the ball at the three point line, he juked and took it to the rim. Father Time rejected his shot attempt, but I was still impressed by the attacking instinct. Wings who can rain threes and then blow by you if you overcommit to their threes are golden.
He wasn't close to done. On another take from the three point line, he tried a floater in the lane and got fouled. I counted four takes from Guy from the three point line to the rack. Only one resulted in a successful layup, but I still think this was very encouraging.
Later he made a couple of threes later, assisted by Hunter.
He had one great Joe Harris-esque defensive stop. You know how Joe, when his man drove, would just back up with the man and put his arms up not trying to steal or block, just trying to make it hard on his man to score over the top. Guy did that to force an impossible floater from just inside the free throw line and then got the rebound on the miss.
But, he showed he was a freshman with some boneheaded plays like catching a pass while standing on the sideline, and attempting to punch a full court pass to Hunter on a fast break instead of just catching the ball.
Jared Reuter
Reuter had several steals in this game, and one nice spinning take for a layup.
Jack Salt
Jack Salt is still a fouling machine.
He got the ball under the basket early and literally threw the ball backwards over his head, missing badly. Later he had a dunk off a great Perrantes pass that was called off by one of many phantom travel calls we saw in Spain. He also made a short turnaround jumper. The last two plays are in the video at the bottom of this post.
He also made a short hook shot and had a strong move for an and-1. He missed the free throw, and he missed a lot more free throws the rest of the trip. Not quite Petinella-esque, but not good at the line.
Salt also air balled a hook later. I think he's still a ways off from being a good offensive player.
Isaiah Wilkins
Last year I thought Tobey should have started and played more. I was lower on Wilkins than many. But he looked really good on this trip, and I think will be a very good player for us this year. He still won't score a ton because of Nichols, but he can score more than he did last year.
Early on, he was working hard on the offensive glass with a rebounds and tips out to our guards.
He banked a long jumper and made another long jumper later. He showed us he can do that last year too.
On defense, he knocked away a post entry pass for a steal.
Devon Hall
Devon started by missing a step back three off the dribble. That's not our offense. (That's not anybody's efficient offense except Steph Curry's.)
Darius Thompson
He missed all three three-point attempts including an airball.
But in the fourth quarter of a tight game, he had three steals that he took all the way for dunks, including two on back-to-back plays when we were up only 73-70.
He also had a nice take in the half court offense that got him to the free throw line.
I don't know what to make of Thompson. I think he's the worst wing offensively in the half court and worst shooter, but the most athletic, the most likely to make steals on defense, and one of the potential back up point guards this year who can start next year. I don't envy Tony who has to figure out how to weigh those pluses and minuses.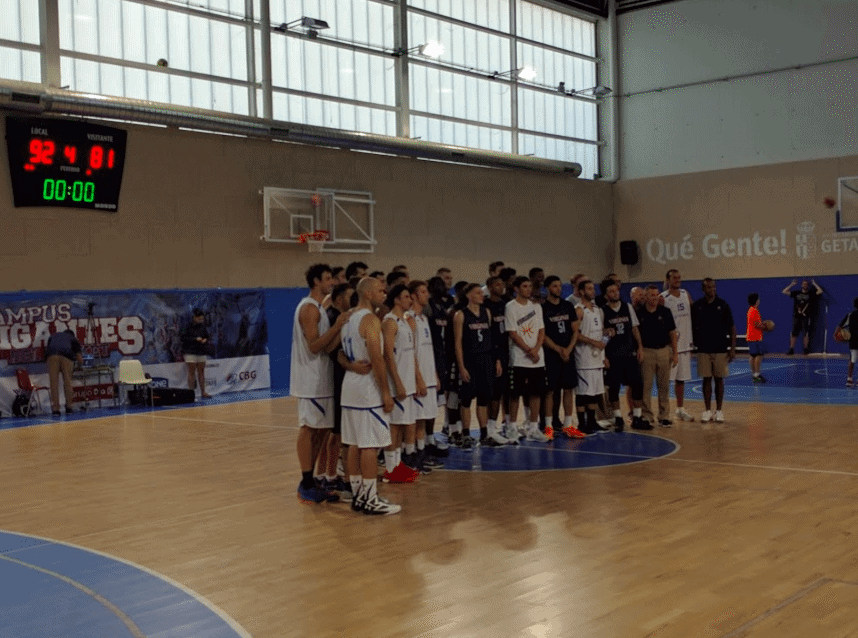 Hopefully future installments will be shorter, better, and more backed by stats.
Regularlights (Not Highlights, just three random plays I filmed)
Earn 60,000 bonus points after you spend $4,000 on purchases in the first 3 months from account opening.
Just getting started in the world of points and miles? The Chase Sapphire Preferred is the best card for you to start with.
With a bonus of 60,000 points after $4,000 spend in the first 3 months, 5x points on travel booked through the Chase Travel Portal and 3x points on restaurants, streaming services, and online groceries (excluding Target, Walmart, and wholesale clubs), this card truly cannot be beat for getting started!
Editorial Disclaimer: The editorial content is not provided or commissioned by the credit card issuers. Opinions expressed here are the author's alone, not those of the credit card issuers, and have not been reviewed, approved or otherwise endorsed by the credit card issuers.
The comments section below is not provided or commissioned by the bank advertiser. Responses have not been reviewed, approved, or otherwise endorsed by the bank advertiser. It is not the bank advertiser's responsibility to ensure all questions are answered.