MileValue is part of an affiliate sales network and receives compensation for sending traffic to partner sites, such as CreditCards.com. This compensation may impact how and where links appear on this site. This site does not include all financial companies or all available financial offers. Terms apply to American Express benefits and offers. Enrollment may be required for select American Express benefits and offers. Visit americanexpress.com to learn more.
---
Spooky season is upon us, and Companion Pass season is heating up!
Getting the Southwest Companion Pass is all about the timing. You don't want to be too early or too late to get the best value possible.
Let's take a deep dive and cover everything you need to know about earning the Southwest Companion Pass for 2024.
What is the Southwest Companion Pass?
The Southwest Companion Pass is a buy-one-get-one-free(ish) ticket on Southwest Airlines for you and a designated companion. The best part about it is the Companion Pass has unlimited uses for the year you earn it and the following year.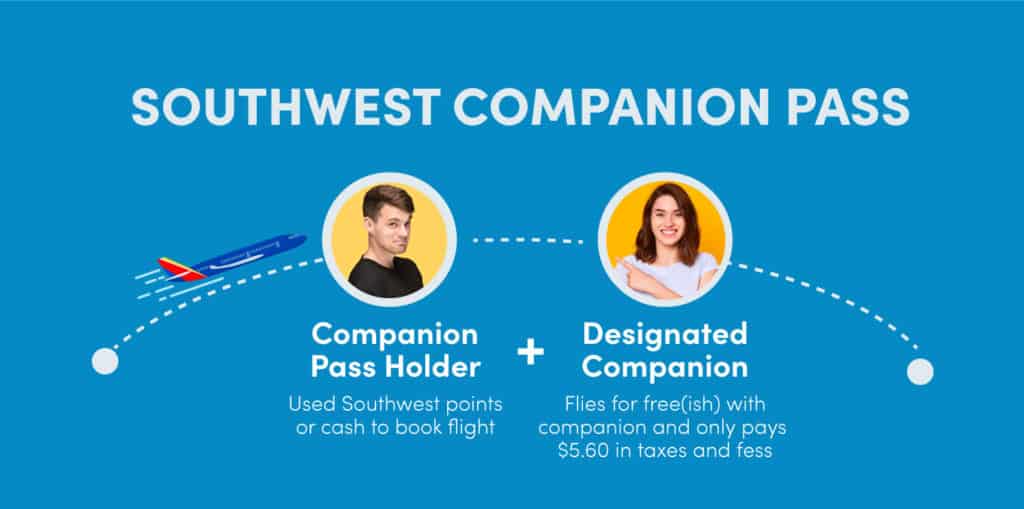 There are a few more details than that, but that's the quick overview.
For starters, you get BOGO tickets for you and your plus-one. The person who earns the Companion Pass gets to name one person as their companion. When the Companion Pass holder books a ticket on Southwest, either with cash or points, their named companion gets to fly for almost free. You'll still have to pay taxes and fees on their ticket, which start at $5.60 each way.
When you earn the Companion Pass, you get to designate someone as your companion. You can have only one person listed as your companion at a time, but you can change your companion up to three times per year.
There are no limitations on the Companion Pass that you'll find from other airlines. For example, there are no blackout dates; it doesn't rely on there being low-level Saver availability; and it isn't simply a discount.
As long as there's an open seat on the plane, your companion can fly with you for the cost of taxes and fees. You could fly to Hawaii 50 times per year, and your companion can come with you on every flight.
The last part to keep in mind is probably the most important. The Southwest Companion Pass is good for the remainder of the year in which you earn it plus the following calendar year.
Why is this so powerful? If you earn your Companion Pass by Dec. 31, 2023, then it would be good through Dec. 31, 2024. And although one whole year of buy-one-get-one-free(ish) flights is great, two years is even better.
If you earned the Companion Pass on Jan. 1, 2024, then it will be good until Dec. 31, 2025. That's 365 more days to take advantage of the BOGO tickets simply by earning it one day later.
If that sounds interesting to you, and it likely does, let's talk about how you can earn the Southwest Companion Pass.
How to Earn the Southwest Companion Pass
The requirements to earn the Southwest Companion Pass are fairly straightforward. All you have to do is fly 100 Southwest flight segments in a calendar year or earn 135,000 Southwest Rapid Rewards points in a calendar year.
Fasten your seatbelts because if you want the Southwest Companion Pass as early as possible, you need to fly 100 flights on New Year's Day!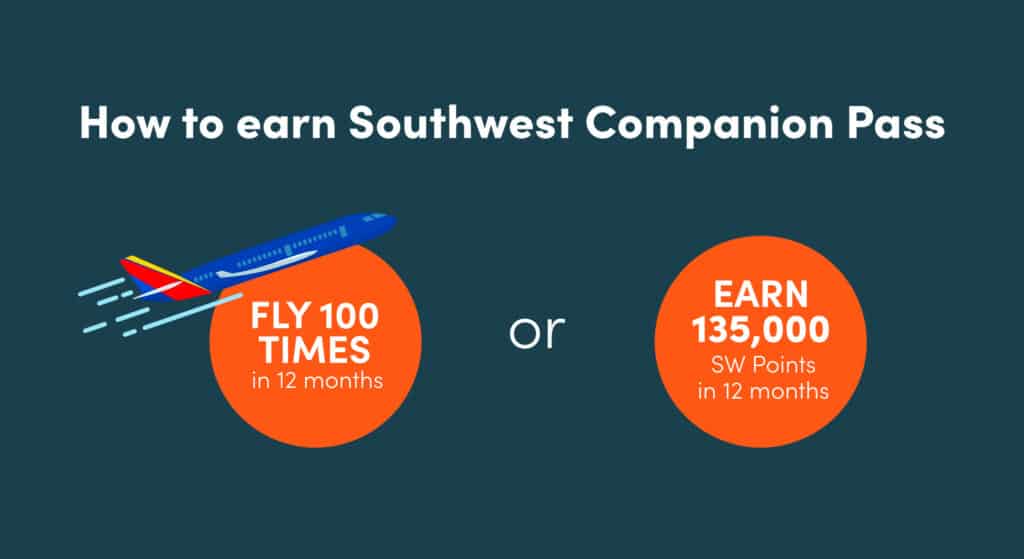 Kidding, of course!
Thankfully, there's an easier way. Instead of flying 100 flight segments, we're going to focus on earning 135,000 Southwest Rapid Rewards points in a calendar year without ever stepping on a Southwest flight.
How You Can Earn The Southwest Companion Pass Without Stepping On A Plane
Instead of flying 100 flights, all you'll need to do to earn the Southwest Companion Pass is earn 135,000 Southwest Rapid Rewards points in a calendar year. Now, before you start transferring Chase Ultimate Rewards to Southwest, let's dig a bit deeper.
Southwest specifies that points accrued through the following methods count towards your Companion Pass:
Points earned from flying on paid flights booked through Southwest
Points earned from the Southwest Rapid Rewards credit cards
Points earned from Rapid Rewards partners
This means that you can't simply buy 135,000 Rapid Rewards points, nor can you transfer the points from Chase. However, Southwest Rapid Rewards credit cards are fair game. And since we don't want you to have to fly to earn points, and earning from partners can take a long time (and a lot of money), we're going to focus on earning the Southwest Companion Pass using the Southwest credit cards.
Before we go on, we must tell you—read everything before proceeding. There are a lot of small nuances to earning the Companion Pass, so be sure you understand everything entirely before opening any credit cards.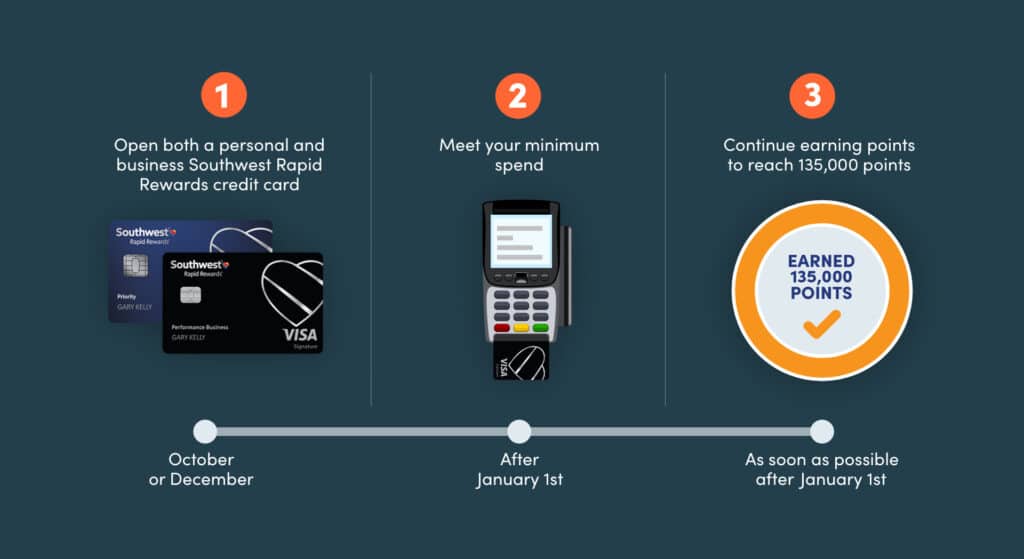 Step 1: Open a Personal and a Business Southwest Credit Card
Southwest partners with Chase and offers three personal credit cards and two business credit cards.
The personal cards are:
The business cards are:
Unfortunately, it isn't quite as easy as that. Of course there are some rules we're going to have to consider.
First things first, you'll need to be sure you're under the 5/24 card count with Chase, meaning you haven't opened five or more consumer credit cards from any bank in the last 24 months.
If you're at 4/24, be sure to apply for a Southwest business card first. By opening a business card first, you'll remain at 4/24 if your application is successful, as Chase business cards don't add to your count. That way, you'll then be able to apply for a personal card after.
Second, Chase won't let you get a new Southwest welcome bonus on any of the personal cards if you currently have one of the personal Southwest cards open or if you received a bonus in the past 24 months. Luckily, this rule doesn't apply to business cards, meaning you can get one personal card and one business card and earn the welcome bonuses on both.
Third, be sure the bonuses are high enough for you to earn or at least get close to the Companion Pass. Around this time of year, you'll see the Southwest credit card bonuses start rising. Wait until the bonuses are at about 40,000 to 80,000 Rapid Rewards points before applying.
When opening your cards, don't rush. These bonuses tend to stay around through November or December, sometimes even later. Timing is crucial to get the longest duration of your Companion Pass.
Step 2: Meet the Minimum Spends in January 2024
This is probably the biggest area where we see people mess up earning the Companion Pass.
You must earn 135,000 in a calendar year—not in a 12-month period, but in a calendar year. That means you have from Jan. 1, 2023, to Dec. 31, 2023, to earn it in 2023. If you're looking to earn it in 2024, any points earned in 2023 will not count. Remember, you want to try to earn it at the start of the year, so you want your bonus points to post in 2024.
If you meet your minimum spend too early, your points may post early. You want to avoid this at all costs. Thankfully, this is pretty avoidable with some care.
First, we don't recommend adding anyone as an authorized user. Plenty of people have had the best of intentions. "Honey, I used the Southwest Card for gas since I know you wanted everything on the card."
Trust us—it happens more often than you'd think.
Second, don't rush to apply. If you open your card in the next few days, your window to finish your minimum spend in January shrinks. You'll only have about a two-week window to finish the spend. Waiting until the end of October or early November to open a Southwest card will give you plenty of time in the new year to finish your spending.
Third, don't get too close to meeting your spending requirements. We recommend spending within about $500 required for your bonus and socking the card away until Jan. 1. With two cards, you'll have a few weeks to meet the rest of your bonus spend.
Remember, the bonuses will be the biggest point balances you earn toward your Companion Pass. Earning them too soon means you'll either lose an entire year off your Companion Pass or you'll need to make up the 40,000- to 80,000-point difference in spending in 2024.
Finally, be meticulous. We're not here to tell you how to manage your finances, but be sure to track how much you've spent on your card. Take screenshots of your bonus offer when you apply—you don't want to think your spend requirement was $3,000 when it was really $2,000.
If you've already opened the card and you can't quite remember the offer terms, your best bet is to send a secure message to Chase asking them what your bonus offer was.
Step 3: Earn Any Remaining Necessary Rapid Rewards Points
So, you opened the cards, you waited until Jan. 1, and now you have 120,000 to 130,000 Rapid Rewards in your account. How do you earn the rest of the points toward your Companion Pass?
First, keep putting all your spend on the card. Earning the Companion Pass isn't a race. Yes, some people earn it the first few weeks of January, but most likely you won't be using it until spring or summer anyway. Use those extra months to keep putting the spend on your card. You'll still get 18 to 23 months to use your Companion Pass.
Second, take advantage of Southwest's earning partners. You can use the Rapid Rewards Shopping portal to earn more points on top of most purchases you make online. Yes, these count toward the Companion Pass, and yes, they will stack with the points earned from your card.
Third, keep in mind that all co-branded Southwest cards (consumer and business versions) give you a boost of 10,000 Companion Pass qualifying points per calendar year.
You're eligible to receive one boost per calendar year only, regardless of how many Southwest Rapid Rewards cards you have open. The annual point boost is posted to your account by Jan. 31 of each calendar year or up to 30 days after opening your account. This is an easy way to rack up your final 10,000 points.
Finally, fly Southwest. If you find a cheap fare, you'll earn Rapid Rewards on your ticket. Save your points for later when you have your Companion Pass (if that works with your points and miles plans).
Once you hit 135,000 points, you'll see your Companion Pass in your Rapid Rewards account. That's it! You don't have to redeem points for it, as you'll still have all your points available to use.
Speaking of using those points…
How to Use the Southwest Companion Pass
Using the Companion Pass is pretty simple.
Remember, the 135,000 points you earned to get your Companion Pass aren't cashed in. You still get to use them for award flights.
As a reminder, the Companion Pass can be used on any flight, whether you're paying cash or points. That's 135,000 points you get to redeem and bring your companion with you for almost free.
Once you've earned your Companion Pass, you'll be able to add your companion to any ticket you've booked, as long as there's an open seat on the plane.
To add a companion, book a flight, then go to "My Account" and locate the flight on which you want to bring a plus-one. You'll notice in the lower right hand corner the option to "Add Companion." Simply click this button, fill out the relevant info, pay the necessary taxes and fees, and you'll receive confirmation shortly that your companion has been added.
Frequently Asked Questions
What is the Southwest Companion Pass Worth?
Southwest Rapid Rewards points are usually worth around 1.3 to 1.6 cents each. So, 135,000 Rapid Rewards points are worth between $1,755 and $2,160 worth of travel on Southwest, give or take.
Since you can redeem these for a BOGO flight, that effectively makes the Companion Pass worth between about $3,150 and $4,320.
How do I book a flight for my companion?
To book a flight for your companion, you first have to book your own flight. Then, go to "My Account" on the Southwest website. All your existing flight reservations will have the option to add a companion. As long as another seat is available, your companion can be added to your trip.
Do I have to cash in my points for the Companion Pass?
Nope! You get to keep the points in your account. In fact, you can use those points to book flights for free(ish) and add your companion.
What happens if I spend my points before hitting 135,000?
Don't worry, Southwest keeps track of the total number of points you earn during the year. You can spend them before earning the Companion Pass. Once you hit 135,000 points for the calendar year, you'll see the Companion Pass in your account, even if you've redeemed some points before earning it.
Can I purchase 135,000 Rapid Rewards and earn the Companion Pass?
No.
Can I add my Companion to a flight booked with points?
Yes! You can add your companion to any flight you're taking.
If I booked a flight before earning the Companion Pass, can I still add my companion?
Yes, you can. Once you earn the Companion Pass, you can add your companion to any existing reservation.
Can I transfer 135,000 Chase Ultimate Rewards to earn the Companion Pass?
No, transferred points don't count toward Companion Pass.
TL;DR The Steps To The Companion Pass
For those who don't want to digest the entire article or want to find a quick reference point in the future:
Open both a personal and a business Southwest Rapid Rewards credit card in November or December when the welcome bonuses are around 40,000 to 80,000 points.
Meet your minimum spend AFTER Jan. 1, 2024.
Continue spending on the cards, flying Southwest or earning points from online shopping partners to get the full 135,000 points needed for the Companion Pass.
Choose your companion and start adding them to any flights you want them to fly with you.
Enjoy your Companion Pass for the remainder of 2024 and all of 2025.
Welcome to the Companion Pass Club
That's it! If you follow these steps, you'll be on your way to having your Companion Pass solidified for 2024 and 2025. Remember, be patient. Rushing your Companion Pass is the best way to miss out on earning it.
If you want to chat more or learn how the Southwest Companion Pass could fit into your long-term credit card strategy, feel free to book one of our free credit card consultations. We can dive a bit deeper into your personal points situation to find out if the Companion Pass is right for you.
Earn 60,000 bonus points after you spend $4,000 on purchases in the first 3 months from account opening.
Just getting started in the world of points and miles? The Chase Sapphire Preferred is the best card for you to start with.
With a bonus of 60,000 points after $4,000 spend in the first 3 months, 5x points on travel booked through the Chase Travel Portal and 3x points on restaurants, streaming services, and online groceries (excluding Target, Walmart, and wholesale clubs), this card truly cannot be beat for getting started!
Editorial Disclaimer: The editorial content is not provided or commissioned by the credit card issuers. Opinions expressed here are the author's alone, not those of the credit card issuers, and have not been reviewed, approved or otherwise endorsed by the credit card issuers.
The comments section below is not provided or commissioned by the bank advertiser. Responses have not been reviewed, approved, or otherwise endorsed by the bank advertiser. It is not the bank advertiser's responsibility to ensure all questions are answered.