Yesterday I warned about the drawbacks of searching United.com for Star Alliance award availability  Sometimes, United.com will display phantom award space. Seats will show as available but in reality they simply aren't there.
The best way to confirm Star Alliance award space is using the All Nippon Airways (ANA) search tool. ANA's tool is trickier to use, but it's the most reliable.
Unfortunately, ANA restricts members from searching Star Alliance availability unless they have miles in their account. This is presumably to curb the usage of the search engine by people who have United or US Airways miles but want to search ANA. ANA wants their site to be used by loyal ANA frequent flyers.
Fortunately, there is a trick to using the ANA search tool without any miles in your account! If you haven't already, the first thing you need to do is sign up for a ANA Mileage Club account here. Though this page looks like a credit card application (no annual fee!) simply click "Apply Here" at the bottom of the screen.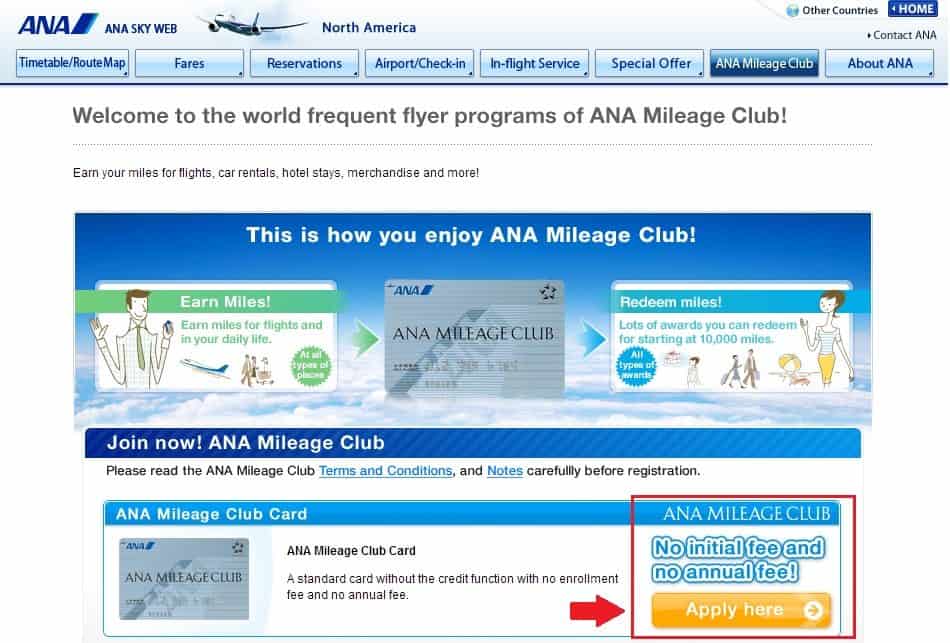 After filling in your pertinent information, you will be assigned a Mileage Club frequent flyer number and a password. You can now click on the "Mileage Club" button at the top of the screen.

You will then be taken to the main ANA frequent flyer page. Click "For Details" on the Using Miles tab.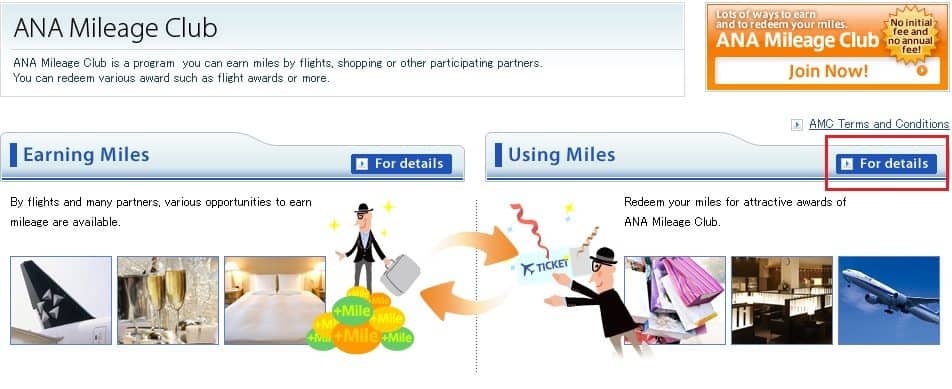 Once on the Using Miles page, you should click "Partner Flight Awards."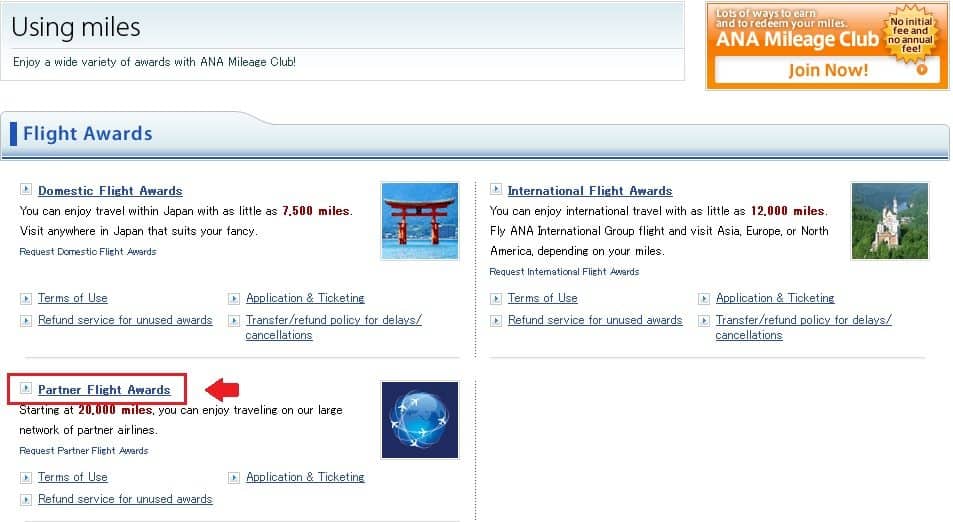 You will be taken to page with the handy ANA distance-based mileage chart and their routing rules. From here, click the small tab "Application & Ticketing" near the top of the screen.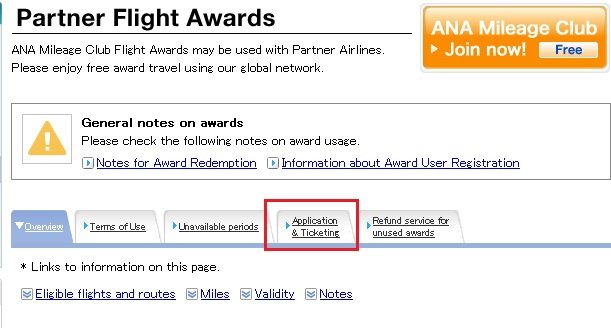 You are given the option of phoning the ANA call center to book your award or simply searching using their online tool. We want to search online, so click the "members-only function" to reach the search query page.

You will be asked to log in to your account before continuing. Enter your ANA number and your password before hitting continue.
We have finally reached the award search page! To skip the previous steps, it might be handy to bookmark the search page for future queries.
Though we arrived at the award search page, notice that the Star Alliance Partner search is grayed out. I don't have any miles in my account. Luckily there is a work around. Click "ANA International Flight Awards" to search for award seats on ANA-metal only.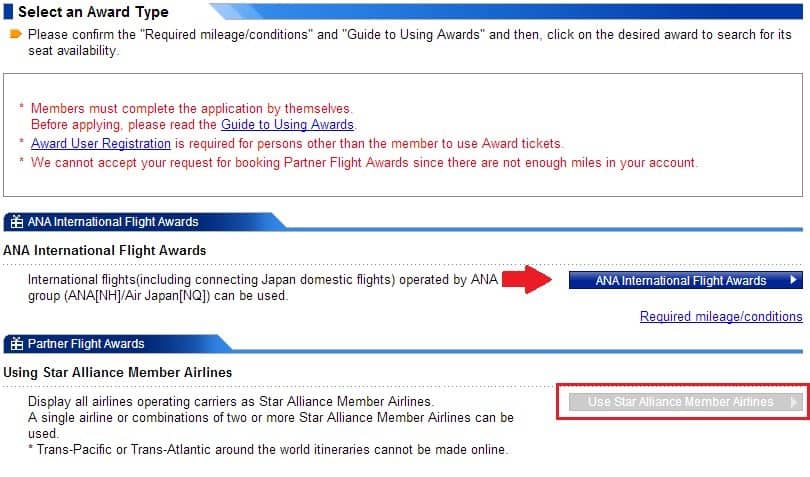 You have to start with a dummy search because you can only search ANA operated flights.
The route you enter doesn't matter just as long as it's served by ANA. I always enter Los Angeles <-> Tokyo-Haneda (feel free to choose a different ANA route) and select the number of seats I want. The dates don't matter either as you can change them later. After entering the airport codes and number of passengers, I then hit "Next" to look for award space.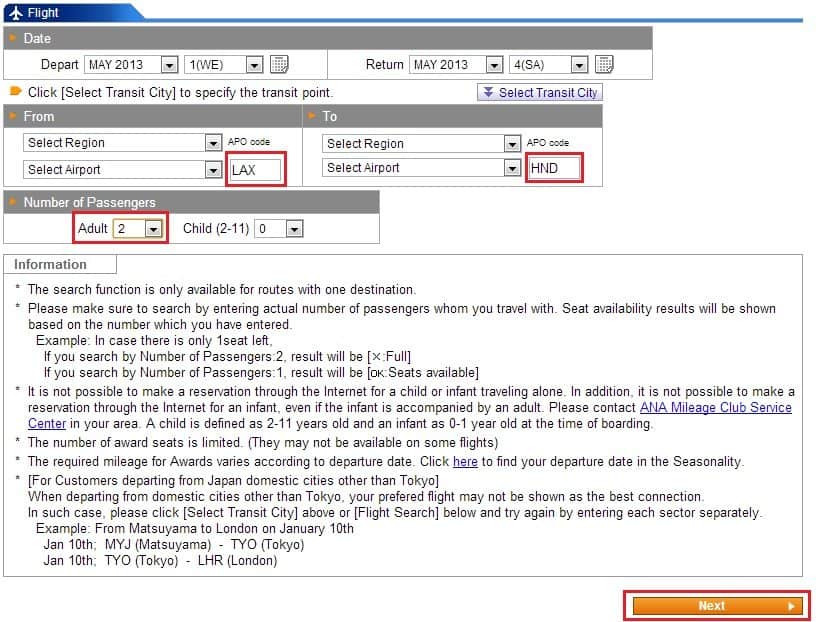 You will see plenty of options on the next screen. After all, ANA serves Los Angeles to Tokyo with several nonstops. They are immaterial, though. You need to scroll down to the bottom of the screen and click "Use Star Alliance Member Airlines."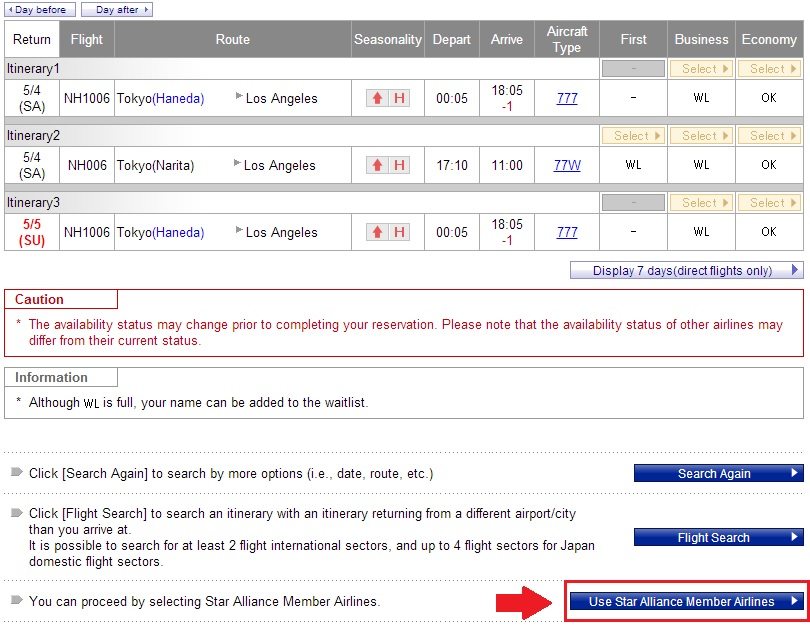 Congratulations, as you have gone through the backdoor and can now search all Star Alliance partners. The search screen is nearly identical to the ANA-only screen. You should delete the "LAX" and "HND" airport codes before beginning your real search. Also change the third drop down (below "Select Region" and "Select Country") back to "Select Airport." If you don't, your new search will likely yield an error message.
Can I plug in my city pairs and expect ANA to come up with good itineraries?
No. Searching Kansas City <-> Mumbai likely won't yield anything usable. You should search segment by segment.
How do I search multiple segments?
Click the blue button "Flight Search" to add segments to your query.
This seems tedious. Any shortcuts?
Searching united.com is faster but can sometimes display false positives as we detailed yesterday. United's site is a great place to get ideas while confirming them using ANA's tool.
I never fly ANA, what's the best way to deposit miles in my account to lift the Star Alliance search restriction?
American Express Membership Rewards transfer to ANA at a 1:1 ratio. Note that the minimum transfer amount is 1,000, and it usually takes around 48 hours for the miles to post to your Mileage Club account.
ANA is also a transfer partner of Starwood Preferred Guest (SPG) points. Regular SPG members with no status must transfer a minimum of 2,500 points. Gold members  have a 1,500 point transfer minimum, and Platinum members have no restrictions. They can transfer 1 mile.
I value my Membership Rewards highly, do ANA miles have any value?
Absolutely! Scott detailed ANA's great distance-based award chart in his post, How to Save Thousands of Miles Booking United Flights: Use Membership Rewards on ANA.
Though ANA assesses fuel surcharges on all Star Alliance partner flights except United and US Airways, their chart has some great sweet spots that allow for low mileage redemptions.
Recap
ANA's search tool is the final word on Star Alliance availability. If united.com displays the space but you don't see it on ANA's site, the award isn't bookable.
ANA restricts Star Alliance partner award searches to its own frequent flyers with a mileage balance. Luckily there is a work around that lets you bypass this requirement, though it takes a few extra steps.
If you don't have the patience, simply utilize ANA's two primary transfer partners American Express Membership Rewards and SPG Starpoints. Having a balance will ensure the Star Alliance search restriction is lifted.