Lufthansa is currently offering a whopping 10,000 Miles & More miles for a one-year print + digital subscription to The Economist. The offer details and sign-up page can be found here.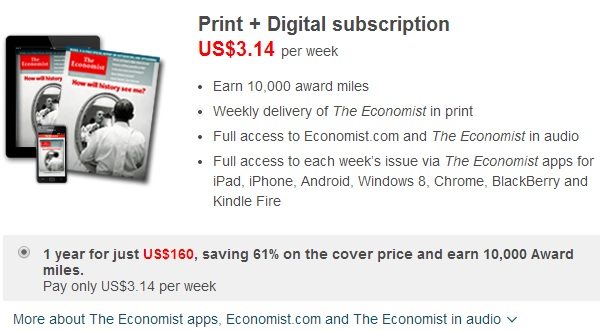 A one-year print & digital subscription to The Economist is $160 through the Lufthansa portal. That cost is exactly the same as what you would be charged on The Economist site without the bonus miles.
Is buying 10k Lufthansa miles for $160 a good deal? What are the best redemption options? How do you avoid fuel surcharges? What's the best way to earn more Lufthansa miles?
How much does Lufthansa's standard print subscription cost?
Lufthansa also offers a normal print subscription (without digital access) for $127, or $33 less than the print+digital subscription. You only receive 7,500 Lufthansa miles for that offer, so you are purchasing miles at a more expensive rate (1.69 cents/mile).
I'm in the market for a tablet, so the digital subscription is more appealing to me anyway. When buying the print + digital subscription over just print, you are essentially purchasing 2,500 additional Lufthansa miles for 1.32 cents ($33/2.5k), which is a solid value.
The "cost" of "buying" Lufthansa miles from this deal is:
the amount you pay for the subscription ($160)
minus the amount you value the subscription
If you value the subscription at $100, then you are paying only $60 extra for 10k Lufthansa miles, which is like buying them for 0.6 cents each.
Note that all values in here are based on list prices. Of course, you may be able to find better deals online or in the mail. [Scott: I was offered 51 weeks of print for $99 and last year for $51, but I am a former subscriber.]
What are the best uses for Lufthansa Miles & More?
Scott wrote a comprehensive post on Lufthansa miles. Lufthansa miles have strategic uses, but shouldn't be the primary mileage balance for frequent flyers. Some of my favorite redemptions include business class from the US to Poland on LOT Polish for only 52k miles oneway.  Flying from the East Coast to Hawaii in a flat bed for only 35k miles oneway is another great redemption.
Scott detailed his Hawaii-to-Newark redemption on a flat bed with Lufthansa miles in this Anatomy of an Award post.
Are there other solid redemptions with Lufthansa miles?
Don't sleep on their massive list of discounted Mileage Bargains that allow for economy travel to Europe for 30,000 miles roundtrip or business class travel for 55,000 miles roundtrip. As you can see below, it's impossible to beat a 30k economy award between the US and Poland.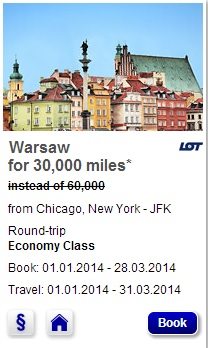 How about Lufthansa First Class to Europe?
Lufthansa Miles & More are what you want to collect to book coveted Lufthansa first class awards to Europe more than two weeks in advance. Lufthansa charges 85k miles + approximately $460 in taxes/fuel surcharges for a one way first class award from the US to Europe.
Of course, that's expensive, but Lufthansa miles are the only way to book Lufthansa First Class more than two weeks in advance on most routes.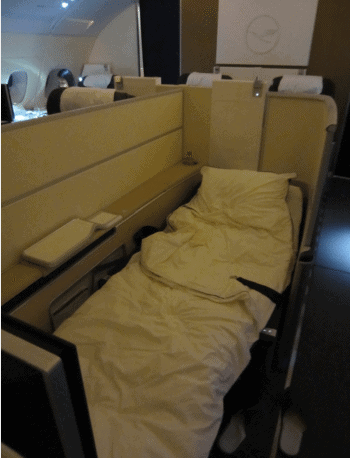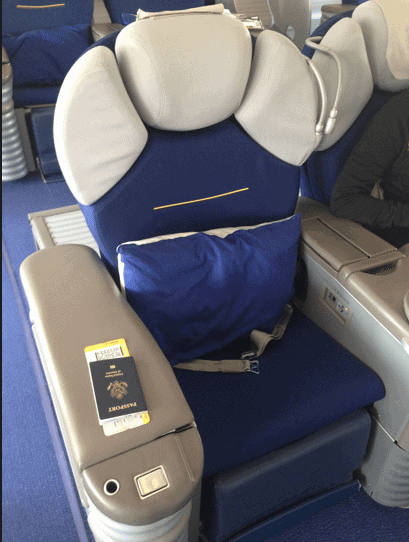 After United's devaluation, Lufthansa first class awards to Europe are a whopping 110k miles oneway (with no fuel surcharges), and you can't even book more than two weeks prior to departure, as that's when Lufthansa releases first class seats to partners.
How do you earn Lufthansa Miles & More?
Starpoints
You can earn Starpoints from the Starwood Preferred Guest® Credit Card from American Express and Starwood Preferred Guest® Business Credit Card from American Express.
Both cards offer 25k bonus Starpoints after spending $5k in the first six months. Meet both spending requirements and you'd have 60k Starpoints (50k bonus + 10k for spending), which transfer to 75k Lufthansa Miles & More miles.
Lufthansa Premier Miles & More World MasterCard
I took advantage of the Barclaycard Lufthansa Premier Miles & More World MasterCard when the signup bonus jumped to 50k miles. The current sign up bonus is 20k, so I would NOT sign up for the card right now.
Will you be taking advantage of this offer?
Likely so. I love to read The Economist on longhaul flights, so I've been eyeing a subscription for quite some time. The 10k Lufthasa miles are a massive bonus and will help pad my Miles & More balance.
Recap
Earning miles for magazines subscriptions is usually a poor deal, but Lufthansa's latest offer could make sense for some. Purchase a one-year print + digital subscription to The Economist and receive 10,000 Lufthansa Miles & More.
Buying Lufthansa miles for 1.6 cents isn't a crazy steal, especially if you are getting value from an Economist subscription, but Lufthansa's frequent flyer program has excellent strategic uses. Transcontinental flights on United, flights to Hawaii and certain awards to Europe are great bargains. Awards to South America are a steal as well. With a bit of planning, you can easily get more than 1.6 cents in value for your redemption.
Lufthansa's own miles are also the only way to gain access to Lufthansa first class award space, though that privilege comes with fuel surcharges.
If The Economist is appealing to you and the 10k miles help you reach a great redemption like the awards in this post, jump on the offer!
Hat tip to Patrick's Travelogue
————————————————————————————————————
Never miss a post again! Follow MileValue on Twitter and Facebook. And sign up to receive one free daily email every morning with all of the day's posts!