MileValue is part of an affiliate sales network and receives compensation for sending traffic to partner sites, such as CreditCards.com. This compensation may impact how and where links appear on this site. This site does not include all financial companies or all available financial offers. Terms apply to American Express benefits and offers. Enrollment may be required for select American Express benefits and offers. Visit americanexpress.com to learn more.
Note: Some of the offers mentioned below may have changed or are no longer be available. You can view current offers here.
---
Traveling with a family using points and miles means that each adult has to earn miles for more than one person, which can put a damper on your travel plans. However, while singles and empty nesters jetset around the world in their fancy first-class seats, traveling in economy has allowed me to stretch my miles to see more of the world despite doing the heavy lifting for more than one flyer.
Booking economy flights with Capital One Venture Miles has become an important part of our travel budgeting strategy since they've added a suite of helpful transfer partners. Let's look at some of the best ways to grab an economy seat on one of Capital One's many partner airlines.
How to Earn Capital One Miles
Venture Miles are the currency of Capital One. These miles can be used to pay for travel through Capital One's travel portal, use miles to cover travel purchases or transfer to one of 17 transfer partners.
You can earn Venture Miles by applying for and spending on a number of Capital One credit cards:
Capital One VentureOne Credit Card
The Capital One Venture and Venture X cards both earn 2X miles per dollar on every purchase. The VentureOne earns 1.25X on every purchase.
You can also earn Venture Miles by earning Spark Miles through Capital One's lineup of business cards. Although the names are different, you can combine Spark Miles with your Venture Miles account and use them the same way. Keep in mind, unlike many business cards, Capital One's business cards do count against your 5/24 status.
The following Capital One's business cards are available:
Capital One Spark Miles Select for Business card
Now that you've got your hands on fresh Venture Miles, let's look at some of the best ways to redeem them for economy flights.
Cover a Cheap Cash Fare
The easiest way to redeem Venture Miles is to simply pay for a flight using your card and use the miles to be reimbursed for the charge after it shows up on your statement. You can request reimbursement for any charge that codes as "travel" at a value of 1 cent per 1X Venture Mile.
If you're someone who is always on the lookout for the cheapest deal or you often fly low-cost airlines, this can be a great way to use your Venture Miles. You also can earn rewards with your credit card and with the airline loyalty program.
A redemption of 1 cent per point is only average. However, you can reserve your hard-earned airline miles for future redemptions by using Capital One's travel erasure feature for a discount flight. When you factor in the discount of the ticket and the earning potential, the redemption ratio starts to look a lot better.
Additionally, erasing a travel charge allows you to use miles for the total charge including taxes and fees as opposed to redeeming airline miles when you still have to pay taxes on your ticket. Erasing a travel charge with Capital One is as simple as clicking "redeem points" on your Capital One dashboard and then selecting the travel charge you want to erase.
Although not the most intricate use of miles, don't overlook a simple cash fare statement credit, especially when booking a domestic trip.
Finnair to Select Middle East Countries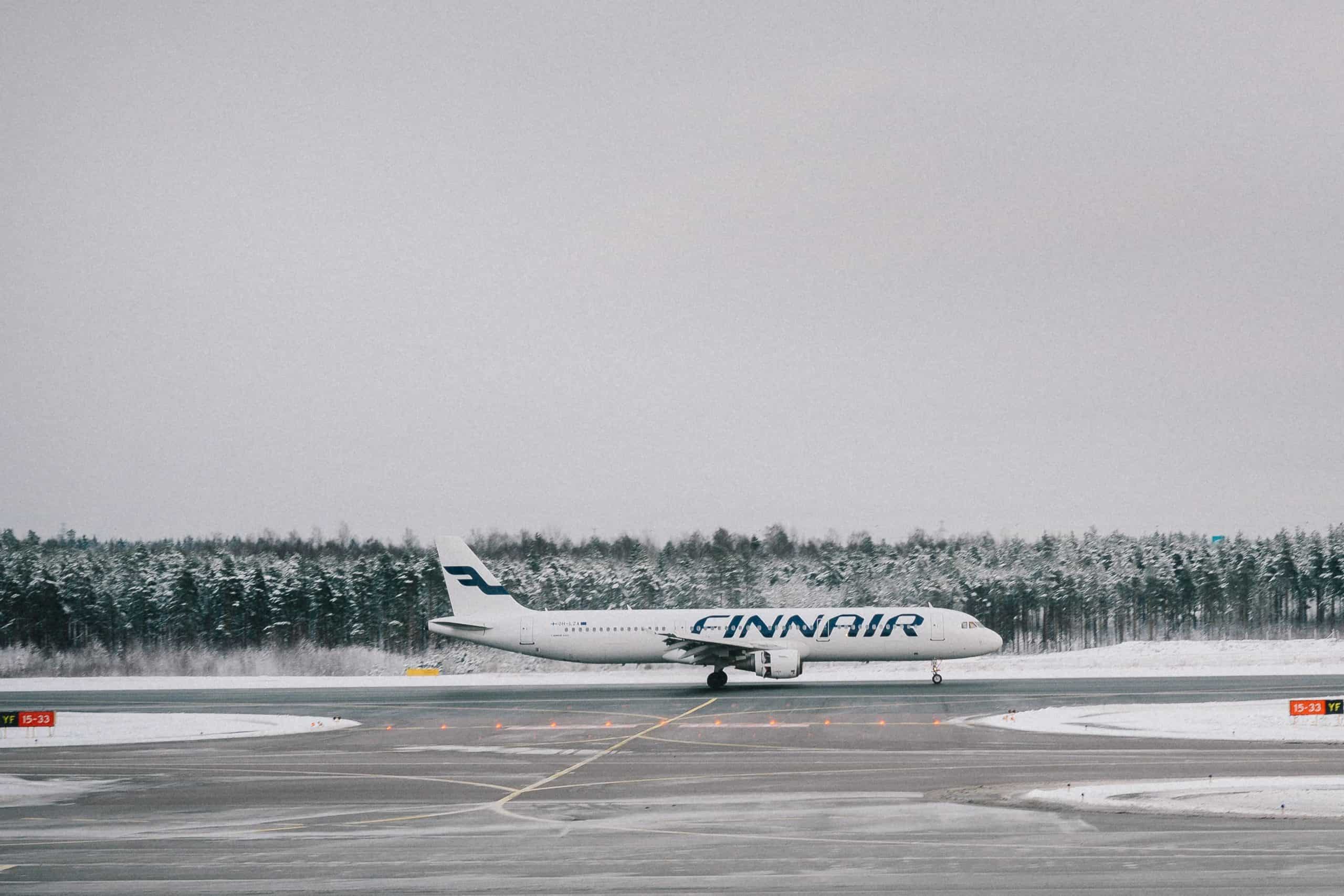 Whether you're making a pilgrimage or just an interested tourist, seeing Jerusalem is high on the bucket list for many travelers. Venture Miles offer a surprising way to get to Israel. You probably wouldn't think of a Finnish airline when you rack your brain for ways to get to the Middle East, but that's exactly where you can find a sweet spot with Venture Miles.
Finnair Plus is a little-known transfer partner of Capital One. Most redemptions have other transfer partners that would yield better results than Finnair. However, one exception is for trips to Israel or to the United Arab Emirates (UAE).
Finnair uses a regional fixed award chart, but unlike most award charts, it places Israel and UAE in the Europe region. Most airline award charts classify the Middle East as its own region or add it to the Africa or Asia regions. This peculiar categorization creates a sweet spot for flights to Israel and the United Arab Emirates on Finnair.
If you've ever wanted to take a trip to the Holy Land, don't pass up on the ability to get to Tel Aviv, Israel, for 45,000 points each way, with incredibly low fees.
The United Arab Emirates is another destination that benefits from this unorthodox way of dividing the world. Dubai is a popular aspirational trip for many, so if you've thought about snagging a coach seat to make it a reality, transferring Venture Miles to Finnair might be the move for you.
Searching for available flights can be a little frustrating because Finnair doesn't have a flexible dates calendar like many award engines. You can use a Oneworld alliance partner search engine, such as Alaska Airlines or American Airlines, to find what dates have award space. We recommend using Alaska's website because you can select specific partners that you want to view.
Here's an example of award space, and it's 5,000 miles cheaper through Alaska Mileage Plan. Because Venture Miles don't transfer to Mileage Plan, hop over to Finnair's website and book your trip through Finnair Plus.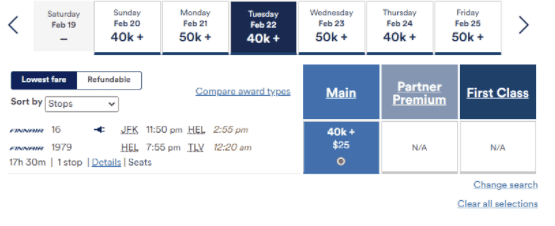 LifeMiles for Short-Haul Flights on United Airlines
United Airlines has so many solid Star Alliance partners that sometimes it's hard to know which program to book a United flight through. When booking domestic short-haul flights, don't overlook using Avianca LifeMiles.
While most Star Alliance partners use distance-based or dynamic award pricing for award flights within the United States, Avianca breaks up the U.S. into three regions. This creates reduced award pricing when flying in domestic economy seats within the same region.
If you're taking the family on a beach vacation or visiting family "up north," check Avianca's site to save a few more miles on your trip.
The one drawback to redeeming LifeMiles is the $25 partner booking fee. This fee is unavoidable, so you'll have to do the math to determine if the fee is worth the points savings. Start your search on United's site to save you time and hassle. Make sure you're not logged in to your United MileagePlus account to locate awards available to partners.
For instance, I could take my family from my home airport of Columbus, Ohio (CMH), to visit family in Atlanta (ATL) for 10,000 LifeMiles each way, plus the additional $25 booking fee. This same United flight booked through MileagePlus costs 12,500 miles.

LifeMiles are especially helpful for short-haul trips to Canada because the program doesn't pass fuel surcharges onto its travelers.
Air Canada Aeroplan
Another great United partner is Air Canada's revamped Aeroplan rewards program. Venture Miles transfer to Aeroplan at a 1:1 ratio.
The advantage of the Aeroplan program is opposite of the advantage of LifeMiles. While LifeMiles breaks the United States into multiple regions making short-haul flights cheaper, Aeroplan breaks the world into far fewer regions making longer flights within regions cheaper.
Because of its four-region chart that also includes a distance component, trips that are considered cross-regional in other award programs are in-region through Aeroplan.
Below are two great ways to maximize Aeroplan's program on economy flights.
Fly United to Central America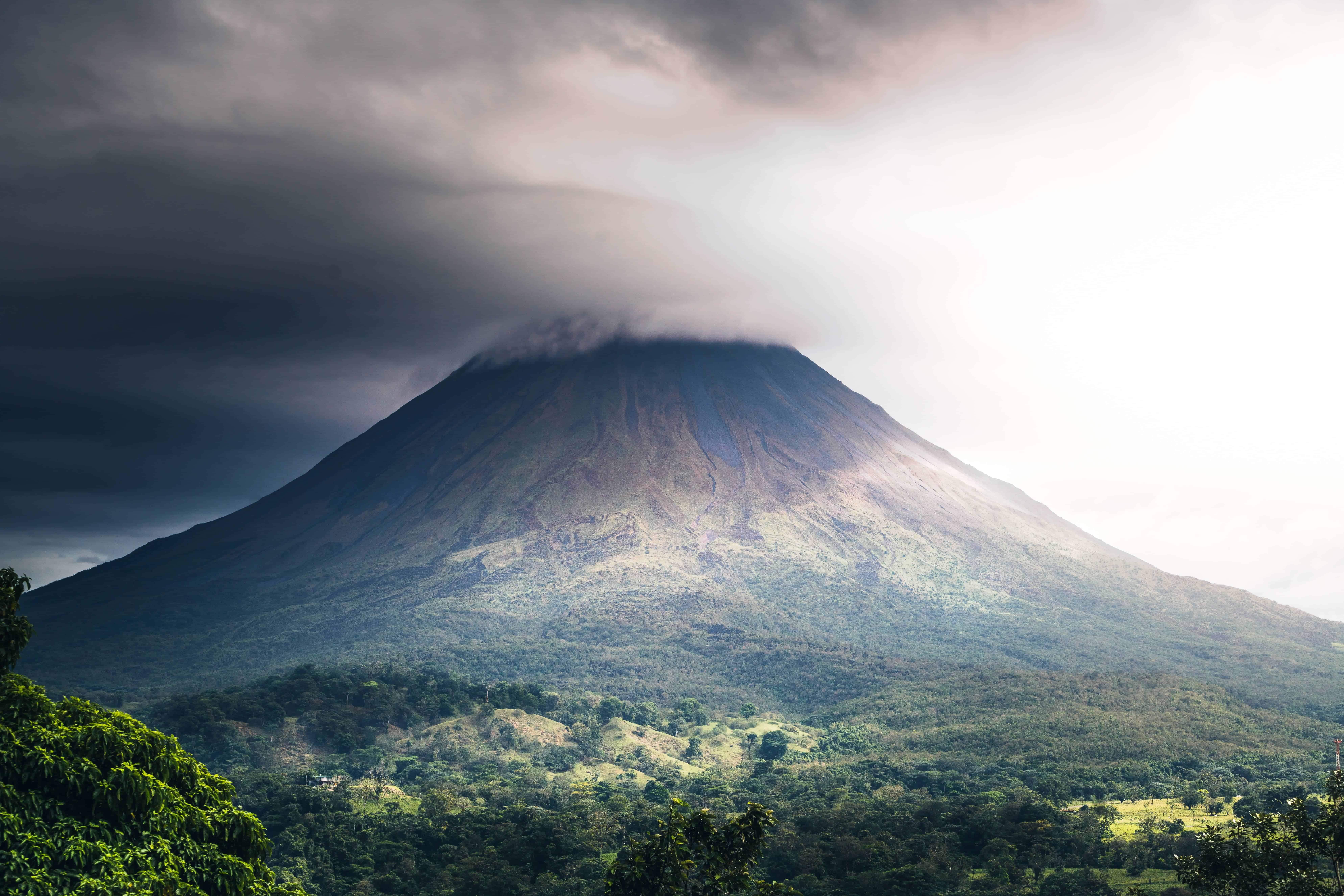 Aeroplan lumps Central America into the North America region. This means distance is the only factor pricing any awards from the United States to Central America.
This is a great sweet spot that makes Central America much more accessible for U.S. travelers. Whether you want to tour the coffee farms in Guatemala, see the natural beauty of Costa Rica or watch barges navigate the Panama Canal, using Aeroplan can get you there cheaper.
For example, tickets from Chicago O'Hare (ORD) to San Jose, Costa Rica (SJO), start at 12,500 Aeroplan points each way. You will still pay the CA$39 partner booking fee, but the redemption rates on these economy flights are definitely worth it.
Here are a few other economy flights to consider for your trip to Central America:
New York (JFK) to San Jose, Costa Rica (SJO) – 12,500 Aeroplan points
Miami (MIA) to Panama City, Panama (PTY) – 10,000 Aeroplan points
San Francisco (SFO) to Belize City, Belize (BZE) – 12,500 Aeroplan points
Aeroplan prices award flights based on region and then distance within that region. Here are the award prices for North America (including Hawaii and Alaska) and Central America:
0 to 500 miles = 6,000 Aeroplan points
501 to 1,500 miles = 10,000 Aeroplan points
1,501 to 2,750 miles = 12,500 Aeroplan points
2,751+ miles = 20,000 Aeroplan points
Because flights are based on distance, routing matters. Layover airports count toward flight distance. Air Canada is, unsurprisingly, a Canadian airline and therefore routes many of its international trips through Toronto (YYZ) and Montreal (YUL).
If you're heading south, this can add a lot of miles to your trip. Booking through a partner airline, such as United, can route your trip more directly to your destination keeping you within a lower award band.
Not only can you get to Central America for very few Venture Miles, but you can see more of Central America for less with Aeroplan's stopovers.
Add Stopovers to Your Itinerary Booked with Aeroplan
If you want to city hop on your next trip, you can add stops to your itinerary for just 5,000 Venture Miles each using the stopover program with Aeroplan.
A stopover is an intentional stop between a departure and destination city for longer than 24 hours. You can add a stopover to any Aeroplan itinerary, except it's not possible to add a stopover within the United States.
For instance, if you book a ticket from Miami to Guayaquil, Ecuador (GYE), it would cost 30,000 Aeroplan points. Stopping in Panama City for a couple weeks on your way would add only 5,000 points to the total award ticket.
You can book one stopover on each one-way ticket, meaning you can book two per round-trip ticket (one each way).
Like with any good thing a few restrictions apply:
You can't pass through the same airport twice.
The stopover city can't be more than twice the mileage of the original destination.
You can't stop over for more than 45 days.
You can't book stopovers within North America.
You can discover more of the world without breaking the points bank using Aeroplan stopovers. It's a fantastic way to utilize your Venture Miles to book extra flights.
British Airways Executive Club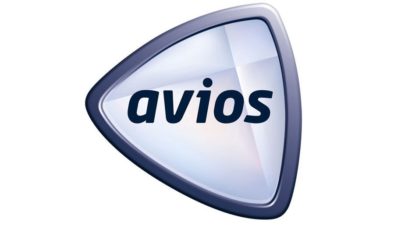 Domestic American Airlines Flights Using British Airways Avios
American Airlines is a bit of a points and miles enigma as none of the transferrable points currencies transfer directly to American Airlines.
Enter British Airways. Venture Miles transfer to British Airways Executive Club at a ratio of 1:1. Because British Airways and American Airlines partner closely together through the Oneworld alliance, you can use Avios to book flights on American.
For instance, you can book an economy ticket from New York (JFK) to Miaimi for just 9,000 Avios during off-peak season. This is comparable with what you would pay using AAdvantage miles for similar flights.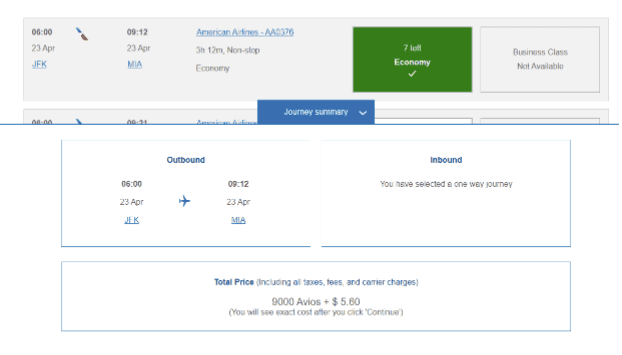 British Airways is another online award frustration culprit. You may not be able to find the American Airlines flight on the British Airways site. This doesn't mean that the space isn't bookable. It just means you'll have to call the British Airways reservation line at 1-844-979-3891 and provide the flight numbers of the itinerary you want to book.
Flying Blue Miles for Short-Haul Flights within Europe
Using Flying Blue miles for short-haul flights within Europe is a great way to set up a European tour. Paris' central location in Europe makes Air France an ideal airline to use for multiple stops across Europe.
Combine the already-low priced award chart with the monthly Flying Blue Promo Rewards and you could discover some seriously low-cost flights within Europe.
For instance, I happened to hit a monthly promotion when I searched for flights from Dublin (DUB) to Athens, Greece (ATH). This almost 1,800-mile flight is hardly a short one, but requires only 11,000 Flying Blue miles each way.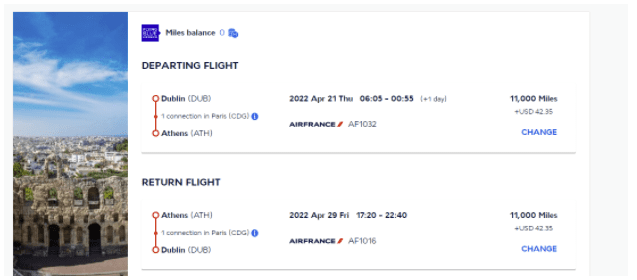 Shorter flights do even better especially when flying on Air France metal. Here's a few intra-European flights you can take just after the Easter holiday in 2022:
Madrid (MAD) to Paris (CDG) – 7,500 Flying Blue miles
Frankfurt, Germany (FRA) to Amsterdam (AMS) – 6,000 Flying Blue miles
Rome (FCO) to London (LHR) – 7,500 Flying Blue miles
Flying Air France or KLM while in Europe is a great way to add a stop to your trip. Even if you aren't planning on adding a city to your itinerary, keeping track of the monthly promotions might just inspire you to take a quick weekend exploring a never-before-visited city the next time you're in Europe.
Fly to Africa on Emirates
One of the most amazing animal encounters in the world is the wildebeest migration in Nairobi, Kenya. My kids are obsessed with animals, and seeing this migration in person is high on their list of aspirational trips. Because of Emirates and my Venture Miles, this trip is within reach.
Emirates is the largest airline based out of the United Arab Emirates. In the points and miles community, it's known for the cushy first-class product. However, because Venture Miles convert to Emirates Skywards miles at a ratio of 1:1, you can get literally half-way across the world for just 42,500 Venture Miles each way in economy class.
Flights to Africa can be challenging because of all the routing possibilities. This trip has only one connection between Chicago and Kenya. While that's quite a jaunt in economy, you'll get there without all kinds of world hopping that tends to happen when flying airlines based in the U.S. or Europe.
This flight connects in Dubai and continues on to Nariobi, which is a fairly straight shot, considering the distance traveled. Planning an aspirational safari for the family? Think about transferring those Venture Miles to Emirates to complete the trip.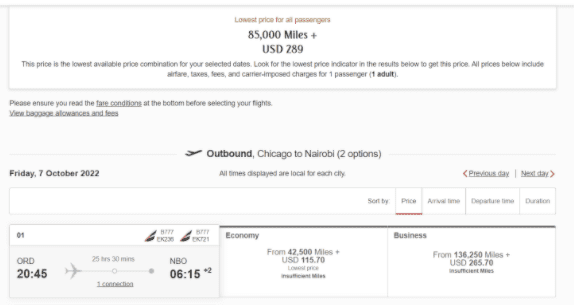 Turkish Miles&Smiles to Hawaii on United
Turkish Airlines is another airline with a surprising sweet spot. You can reach Hawaii from the continental U.S. for just 20,000 Venture Miles round-trip. Venture Miles transfer to Turkish Airlines Miles&Smiles program at a ratio of 1:1.
Turkish Airlines is another Star Alliance partner that is better known for its international business-class product. You know, like to Turkey, for instance? But this little-known sweet spot cuts the price for a trip to Hawaii virtually in half compared to other award charts.

Like with other award programs we've explored, the browsing experience leaves a lot to be desired. To save yourself a few hours of frustration, the Miles&Smiles enrollment page allows numerical passwords only. Additionally, slow reset times on forgotten passwords can make logging in a hassle.
We recommend searching United for a route with award availability and then cross-searching on the Turkish Airlines site once you're able to log in. This is the best way to identify the award flight you'd like to book. But once you do, booking is a relative breeze.
Final Thoughts
I'm a maximizer. Stretching points to help me and my family see more of the world is more important to me than the Champagne glasses and first-class service. There's no shame in my economy game while my family and I globe-trot in coach seats.
Using these programs will help you cross off more countries on your travel bucket list. Whether you've got your family in tow or you just want to travel more, using Venture Miles to book economy tickets preserves your points bank for future travel.
Of course, you don't have to do it alone. If you'd rather the crew at MileValue find the most efficient way to spend those hard-earned points, you can use our award booking service, and we'll use all our points and miles expertise to help you reach your next destination.
Earn 60,000 bonus points after you spend $4,000 on purchases in the first 3 months from account opening.
Just getting started in the world of points and miles? The Chase Sapphire Preferred is the best card for you to start with.
With a bonus of 60,000 points after $4,000 spend in the first 3 months, 5x points on travel booked through the Chase Travel Portal and 3x points on restaurants, streaming services, and online groceries (excluding Target, Walmart, and wholesale clubs), this card truly cannot be beat for getting started!
Editorial Disclaimer: The editorial content is not provided or commissioned by the credit card issuers. Opinions expressed here are the author's alone, not those of the credit card issuers, and have not been reviewed, approved or otherwise endorsed by the credit card issuers.
The comments section below is not provided or commissioned by the bank advertiser. Responses have not been reviewed, approved, or otherwise endorsed by the bank advertiser. It is not the bank advertiser's responsibility to ensure all questions are answered.