There is currently gold mine business class award availability on US Airways flights from the US to southern Europe for this summer.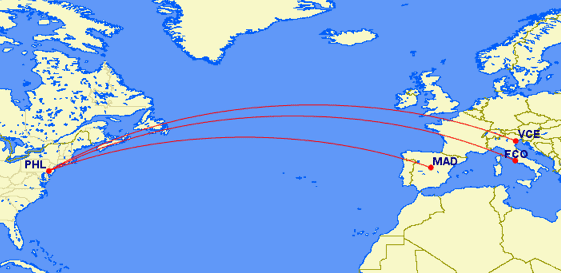 Award space on US Airways flights is especially advantageous because it means that you can book the space at favorable mileage rates (and no fuel surcharges) with:
US Airways miles
American Airlines miles
United miles (until March 30, 2014)
Ultimate Rewards (until March 30, 2014)
Membership Rewards (until March 30, 2014)
What are the routes? How good is the space? How good is US Airways Business Class? What is the cheapest way to book it?
Gold Mine to Southern Europe
I found very good business class award space on US Airways flights this summer from Philadelphia to:
Madrid, Spain
Venice, Italy
Rome, Italy
Here's the award space in July and August on the Philly-to-Madrid flight. It has 9 days with one business class seat in July and 13 in August.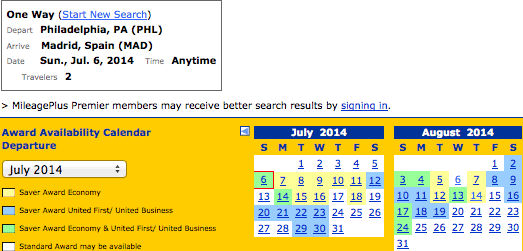 That's not just great for summer. That's great any time of year. Here's the award space for this month and next month on the route. In an ultra-low-demand time frame, there is no business class award space.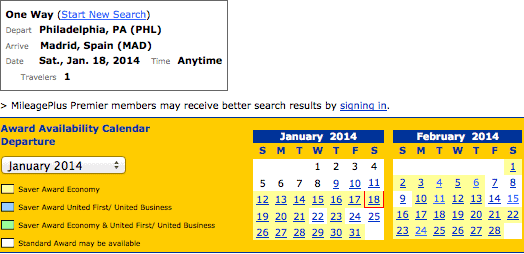 Here's the award space in July and August on the Philly-to-Rome flight. It has 8 days with one business class seat in July and 10 in August.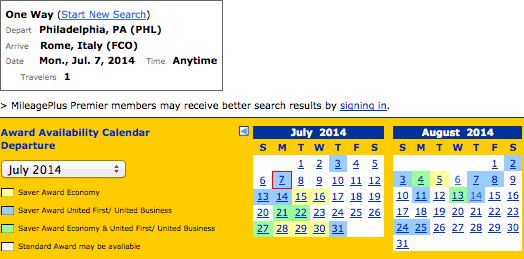 Best of all is the award space in July and August on the Philly-to-Venice flight. It has 13 days with one business class seat in July and 9 in August.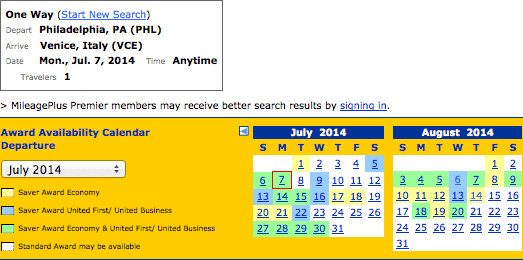 This great award space is confined to these three Southern European routes. For instance, Philly-to-Paris has only one business class seat available for a Saver award in July and August combined.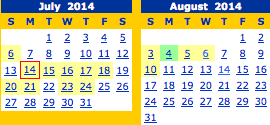 London has none!
The Bed
US Airways has a very nice business class product. It's hard to beat a flat bed on a redeye to a great destination.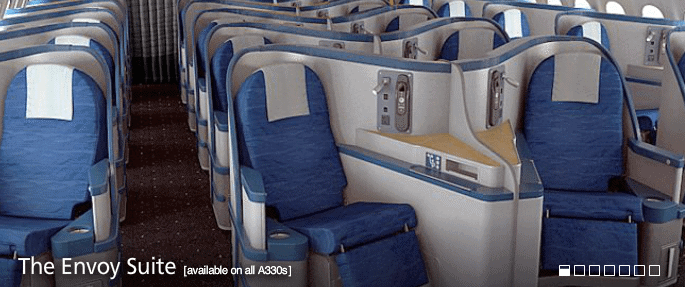 The Cheapest Ways to Book the Space
US Airways is still in the Star Alliance until March 30, 2014, so all Star Alliance miles can book all the Saver award space discussed in this post for now.
Starting yesterday, US Airways flights are now bookable with American Airlines miles too.
Membership Rewards–as low as 68k points
Membership Rewards transfer to three Star Alliance loyalty programs:
None of the programs collect fuel surcharges on US Airways award flights.
ANA has a distance based chart. You have to book roundtrip awards, and then you add up the miles flown on every segments and find the price on this award chart. (For full details, see How to Save Thousands of Miles Booking United and US Airways Flights with ANA Miles.)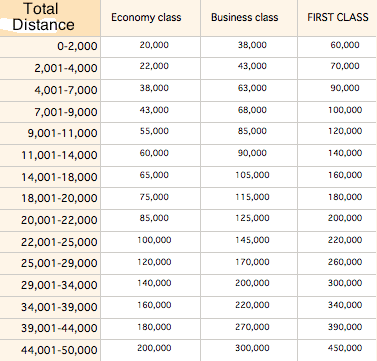 All three direct flights profiled in this post–Philly to Madrid, Rome, or Venice–would fall in the 68k miles roundtrip band. If you live somewhere other than Philadelphia and have connecting flights, the price will be higher.
Aeroplan classifies Spain and Italy in "Europe 1." A roundtrip in business class from anywhere in the US to anywhere in Europe 1 is 90k miles.
Membership Rewards transferred to a Star Alliance partner is the cheapest way to get onto these flights this summer. Just remember that US Airways leaves the Star Alliance March 30. You need to book US Airways flights with Star Alliance miles by then.
Ultimate Rewards, United miles, American Airlines miles, and US Airways miles–from 100k miles roundtrip
This month, United is charging 100k miles to book these flights as a roundtrip business class award to Europe for all of 2014. Next month, that price rises to 140k United miles. Starting March 31, 2014, you will not be able to book US Airways flights with United miles at all since US Airways will be in the oneworld alliance by then.
Ultimate Rewards transfer 1:1 to United miles instantly, so all the United prices apply.
US Airways and American Airlines will both charge 100k miles roundtrip for the US Airways flights. There is no date by which you need to book with either type of miles, since both airlines are now partners and will soon be integrated into one airline.
Booking with US Airways miles versus American Airlines miles will subject you to very different rules. Understand your options by reading this post.
Getting Membership Rewards
Membership Rewards offer the cheapest deal. Transfer 68k to ANA miles and book a roundtrip to Europe in flat beds. You can most quickly be earned from the American Express® Premier Rewards Gold Card or The Business Gold Rewards Card from American Express OPEN.
Both cards offer huge category bonuses. I especially love the category bonuses on the Business Gold card.
Get 25,000 Membership Rewards® points after you spend $5,000 in purchases on the Card within the first 3 months of Card Membership
Built with business-sized purchasing power and fast rewards
3X points on airfare purchased directly from airlines
2X points on US purchases for advertising in select media, shipping, at gas stations, and made directly from select computer hardware, software, and cloud computing providers
Up to $100,000 in each category per year, then 1 point
Use points to entertain clients, reward employees, reduce travel costs, or just offset the everyday expenses of moving your business forward
Terms and limitations apply
Application Link: The Business Gold Rewards Card from American Express OPEN
————————————————————————————————————
Never miss a post again! Follow me on Twitter and Facebook. And sign up to receive one free daily email every morning with all of the day's posts!