I've written extensively about getting Free Oneways on United Awards. Yesterday I got an email from a foreign reader, asking whether he could get a free oneway on his United awards. Seeing no theoretical reason why not, I looked into it and found you can get free oneways on roundtrip United awards regardless of their origin.
I thought I'd share this because even for US-based flyers, this discovery can have value. The key thing to remember is that like all free oneways on United awards, the free oneway must depart and arrive in the same region on United's award chart.
Take a US-based example: LAX-NRT, NRT-LAX, LAX-JFK (<—free oneway). This free oneway is from Los Angeles to New York, which is fine because Los Angeles and New York are in the same region (USA/Canada).
But let's say you live in Singapore or want to start a roundtrip there for whatever reason. Singapore is in United's South Asia region. South Asia includes: Bangladesh, Bhutan, Brunei, Cambodia, Hong Kong, Indonesia, Laos, Macau, Malaysia, Myanmar (Burma), Philippines, Singapore, Thailand, Vietnam.
That means the free oneway can go to one of those countries. Here's some proof in the form of an award from Manila to Singapore (free oneway), Singapore to Los Angeles, San Francisco to Singapore: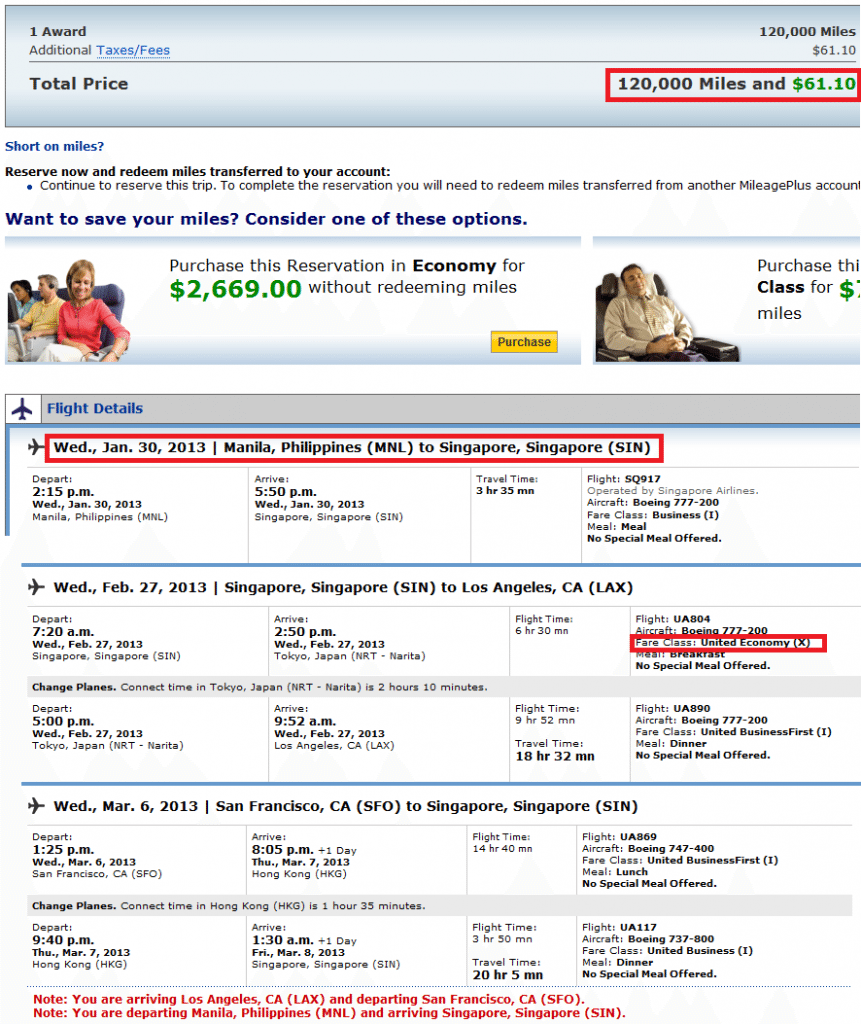 I've highlighted a few things. First the price is 120,000 miles which is the low level roundtrip price United charges between South Asia and the United States in business class. So the leg from Manila to Singapore preceding the main award was free.
The second thing I highlighted is the free oneway Manila to Singapore. Instead, we could have had a free oneway after the main award from Singapore to somewhere else in South Asia.
The last thing I highlighted is that one of the legs is in coach. Occasionally when booking an award, you can't find business class space on all legs and have to fly one in coach. Unfortunately there is no discount for this.
A few paragraphs ago I said you can only get a free oneway if the free oneway is wholly within one region. At the risk of confusing everyone, it's not entirely true. You can also get a free oneway if the origin and destination of the free oneway are in different regions that cost the same number of miles to get to.
Hopefully an example will elucidate what  I mean. From the USA/Canada to South Asia in business class costs 60,000 miles. From the USA/Canada to Central Asia in business class also costs 60,000 miles. Since United stopovers can be anywhere en route and since it costs the same to go to Central or South Asia in business class on United awards, you can have a free stopover like this:
Delhi (Central Asia) to Singapore (South Asia) <—free oneway
Singapore to Los Angeles
San Francisco to Los Angeles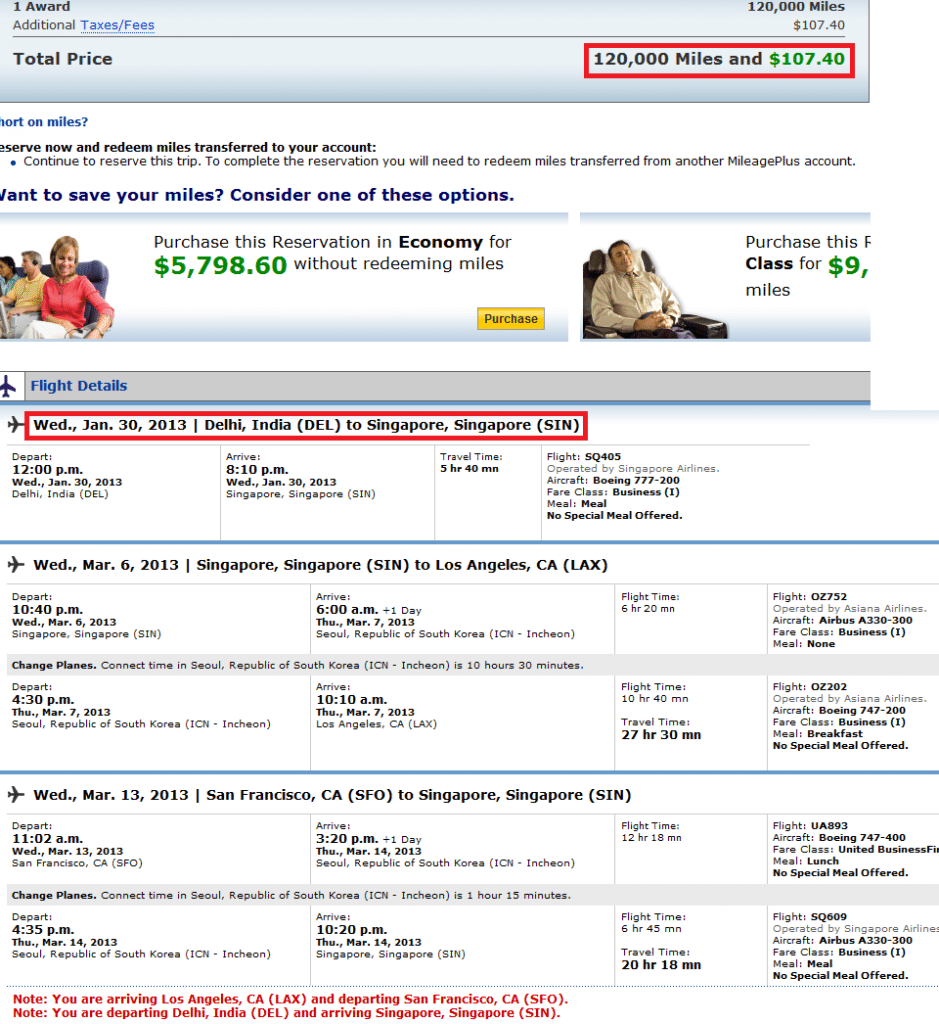 Singapore to the US roundtrip is 120,000 miles in business class, so Delhi to Singapore, a six hour flight in business class was added for free!
There's nothing special about an origin in Asia either. Take a look at this award.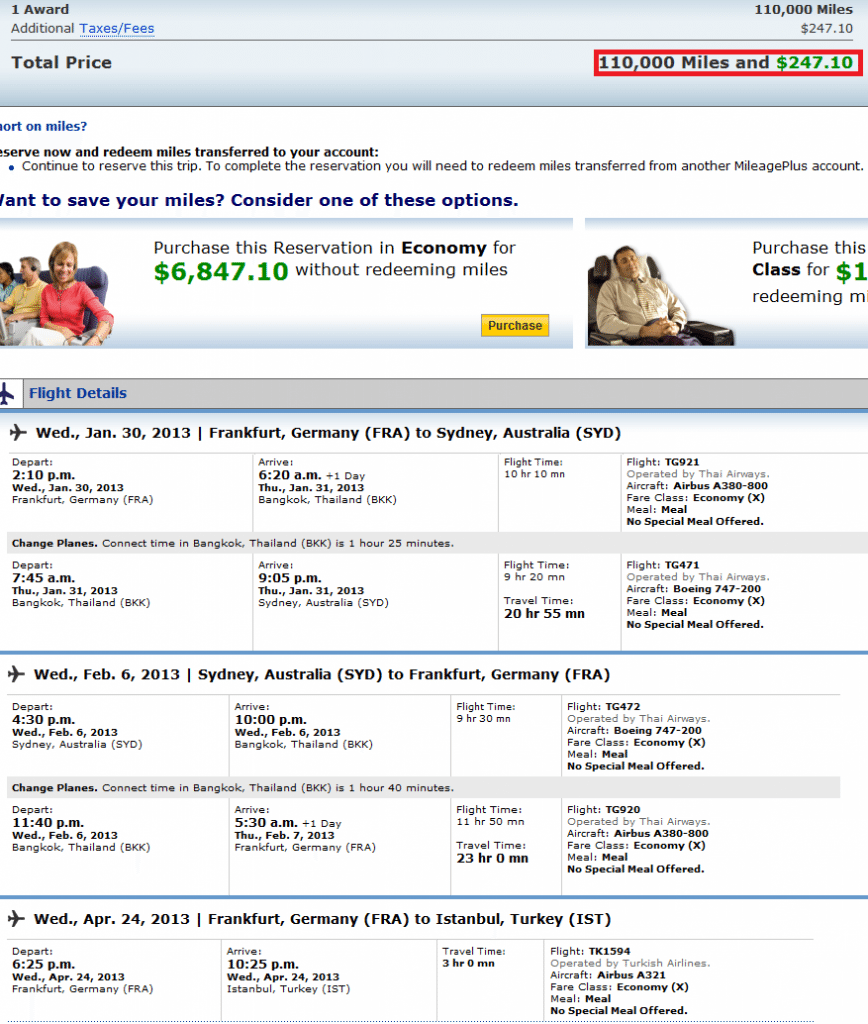 United's low level oneway coach award price is 55,000 miles between Europe and Asia. This award from Frankfurt to Sydney roundtrip with a oneway Frankfurt to Istanbul at the end priced as having a free oneway at 110,000 miles!
So whether you live abroad or you can think of any reason to start a roundtrip United award outside the US, the news is unequivocally good: you can add a free oneway to roundtrip United awards regardless of their origin.