Saver Economy award seats are wide open from the United States to Sao Paulo during the World Cup for only 30k miles per direction per person.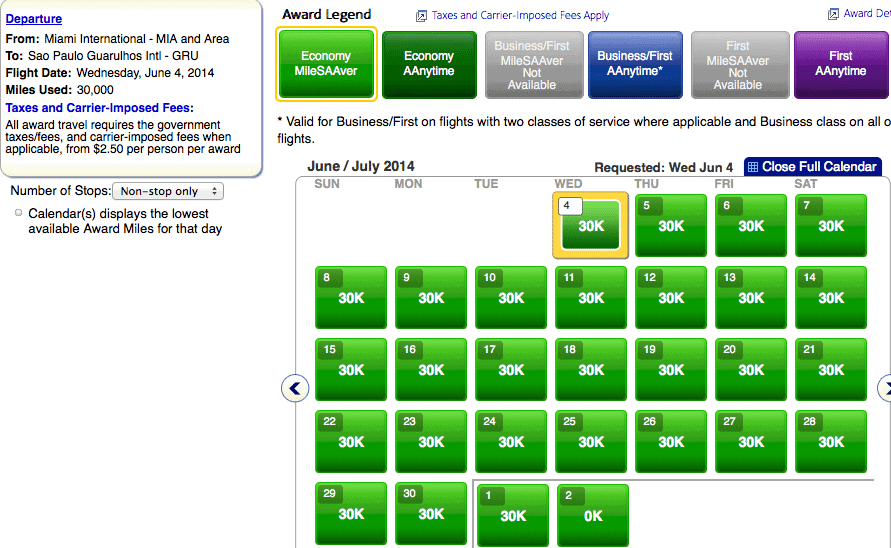 This is a marked change from four months ago when I wrote How to Get to the World Cup with Miles and Points. Back then there was very little Saver award space on any airline, and I even suggested that spending 95k Delta miles for a roundtrip award at the Standard (Medium) Level could be a good value.
Now a roundtrip flight, which is going for $1,300 to $2,000 can be had for 60k miles plus $54.
What route has all the award space? What miles can book it? Can you take advantage of the award space?
The World Cup runs June 12 to July 13, 2014 with games being played all over Brazil.
During the entirety of the tournament, there is Saver award space on American Airlines flights from Miami to Sao Paulo and Sao Paulo to Miami.
Miami to Sao Paulo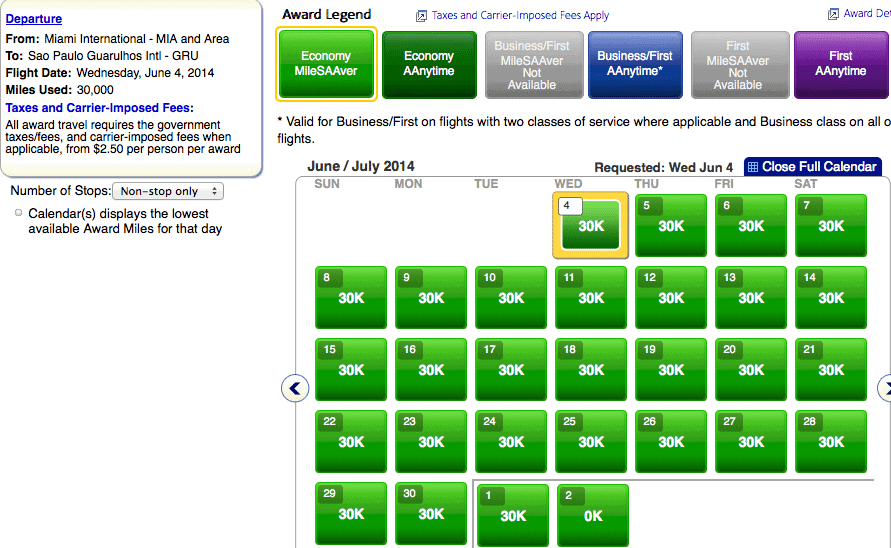 Sao Paulo to Miami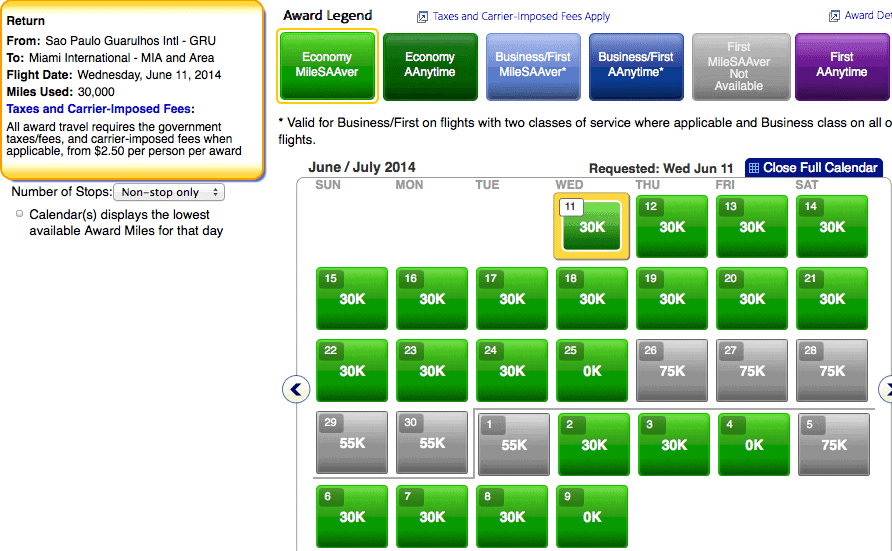 Many days have award space on several daily flights. Many flights have award space for seven or more passengers. Some days even have award space on another oneworld partner, TAM, on the same route.
For instance, there are at least 32 Saver economy award seats from Miami to Sao Paulo on June 12 spread across five flights operated by two airlines.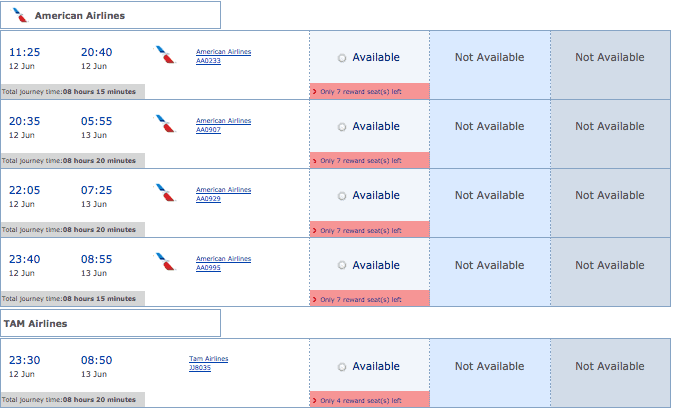 How can you book the wide open award space?
American Airlines (and TAM) flights are bookable with American Airlines, US Airways miles, and British Airways Avios.
American charges 30k miles each way from the United States to Brazil.
US Airways charges 60k miles roundtrip from the United States to Brazil.
British Airways charges 25k Avios each way from Miami to Sao Paulo. Additional flights cost more Avios.
What if you don't live in Miami?
Miami is an American Airlines hub with tons of flights to/from the city to the rest of the country. If you find Saver award space on a connecting flight to Miami, you can add it to an American Airlines or US Airways award to Brazil without increasing the number of miles needed. Those two airlines have region-to-region award charts, so the miles price is the same whether you start in Miami or Seattle, which are both in the North America region.
Adding a domestic flight to an Avios award will increase the price because on Avios awards, since every segment adds to the total cost of an Avios award.
What if you want to go somewhere other than Sao Paulo?
This is theoretically possible but tougher. Award space within the US on American Airlines is plentiful in June, but award space on TAM within Brazil is less so, since they expect to sell a lot of tickets to soccer fans following their teams around the country.
If you find intra-Brazil space on TAM, it can be added to American and US awards for no extra miles. Adding the same space will increase the price of an Avios award.
How good of a deal is the American Airlines award space?
The American Airlines award space is an excellent deal. In mid-June, the cheapest roundtrip direct flights from Miami to Sao Paulo run $1317.

You can get the same flights for 60k American Airlines miles and $54.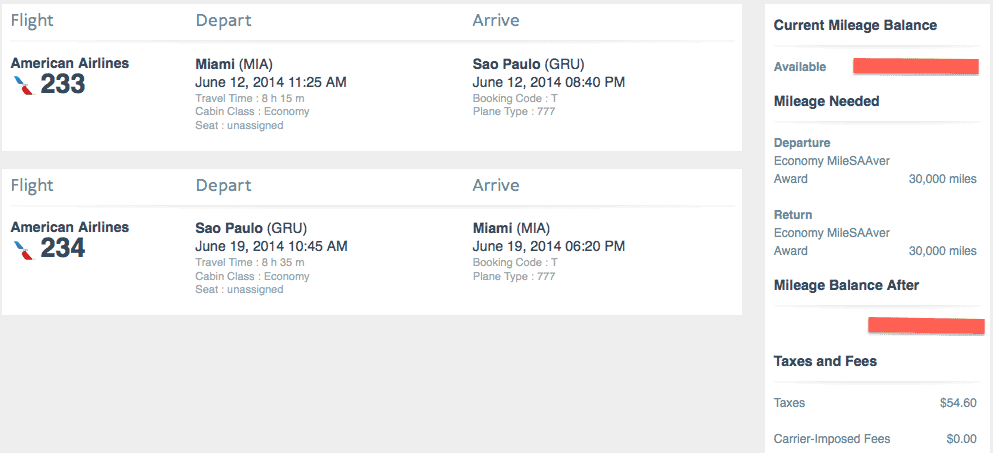 From the west coast to Brazil can approach $2,000 in economy, but it's still only 60k American Airlines miles.
Final Tip
Book now!
I see two possible reasons why this gold mine of space opened up.
American Airlines has somehow screwed up by releasing the space, and the space will disappear soon.
American Airlines is offering way more capacity to the World Cup than it can sell, so this award space is here to stay.
I don't know which is correct, but why wait? Lock in your trip to the World Cup today. (Worry about tickets and your Brazil visa tomorrow.) Or put the American Airlines award on a free five day courtesy hold and make your decision less spontaneously.
Hat Tip to Brian for emailing me about this marvelous award space!
————————————————————————————————————
Never miss a post again! Follow MileValue on Twitter and Facebook. And sign up to receive one free daily email every morning with all of the day's posts!