American Express Membership Rewards transfers to Virgin Atlantic miles will come with an automatic 30% transfer bonus from now through May 31, 2014. This transfer bonus allows you to fly:
One way from the US to London for only 14k Membership Rewards and $131.

One way from the US to London in Premium Economy for 22k Membership Rewards + $231.

Roundtrip from the US to Buenos Aires (or anywhere else in South America) for 35k Membership Rewards and $77.

Tons of other great routes for low mileage, taxes, and fees.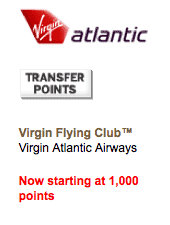 Virgin Atlantic is a London-based longhaul carrier best known for its Upper Class cabins and Clubhouse lounges. (Do not confuse it with Virgin America or Virgin Australia, which are all independent airlines.) It is not part of any alliance, so its dozen airline partners span the globe and all the alliances.

Should you transfer Membership Rewards to Virgin Atlantic?

What are the key features of Virgin Atlantic's Flying Club?

How can you get to Europe for 14k Membership Rewards and to South America roundtrip for 35k Membership Rewards?

How can you get Membership Rewards?