All four Southwest credit cards are back with a 50k offer. This is perfect timing to get the Companion Pass for all of 2015 and 2016.
Southwest is currently offering 50k bonus point sign ups on its personal and business credit cards after spending $2,000 in three months. You can leverage the offers for $3,142 in free flights.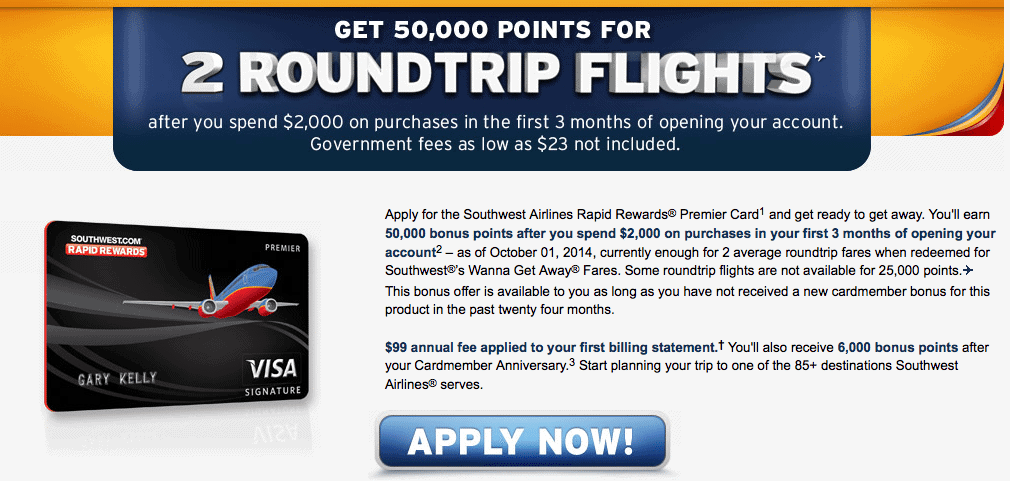 You can get both a personal and business card at once, and after meeting their minimum spending requirements, you will have 104,000 Rapid Rewards post to your account.
Southwest has a fixed-value program in which you can get any Wanna Get Away? fare for 70 points for every dollar of the base fare. That means 104,000 points are worth $1,485 in free flights.
Earn another 6,000 Rapid Rewards with the cards or a few other ways–getting to 110k points total–and you will earn the best deal in all of travel hacking: a Southwest Companion Pass.
If you have the Southwest Companion pass, you can designate a companion who flies for $5.60 per direction on every Southwest flight you fly. That's every Southwest flight–including paid tickets and awards–for all of 2015 and 2016 if you play this correctly.
The free travel from the 110k Rapid Rewards and Companion Pass are worth at least $3,142 even after Southwest's recent devaluation.
What is a Southwest Companion Pass?

How can you get one from two credit cards?

How can you time this to make your companion pass last over 23 months?