Loyal reader Drew sent along an amazing targeted offer he received to continue spending on his US Airways® Premier World MasterCard®.
If he spends $500 per month on his card in August, September, and October, he'll get 15,000 bonus miles!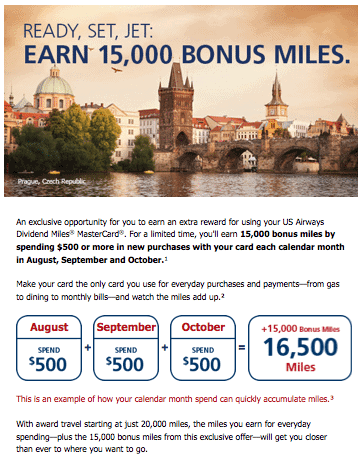 That means for a total of $1,500 in spending, he will earn 16,500 miles, which is 11 US Airways miles per dollar!
The email came to Drew with the subject "Earn 15,000 miles with your card!" Check your email for a similar offer if you have a US Airways® Premier World MasterCard®.
Most of us got the US Airways® Premier World MasterCard® for its 40,000 bonus miles with no minimum spending requirement. Check out all the places you can go with just that sign up bonus.
Barclaycard seems to recognize that fact and offers frequent promotions to encourage us to get in the habit of regular spending on the card. These offers are targeted, but it seems like everyone eventually gets targeted for one or more:
Earn 20% bonus miles (1.2 miles per dollar) on all purchases between July 1 and August 31, 2014.
Earn 2x-10x US Airways miles in select categories from January 1 – March 31, 2014. I was offered 5x in grocery stores, movie theaters, and utility bills.
Frequent offers to spend $750 per month for three consecutive months and earn 15,000 bonus miles. (The same offer Drew got, but Drew's spending requirement is smaller.)
It looks like Barclaycard is pulling out all the stops to keep people engaged with the US Airways® Premier World MasterCard®, which will only be open to new customers until the US Airways and American Airlines loyalty programs combine early next year. Don't miss out on getting the card and its 40,000 bonus miles.
Should Drew take advantage of his bonus offer?

How can you get targeted for the same offer?