I haven't been home since February 16 when I boarded a plane from Honolulu for Newark. I have loved the I'm on trip because I finally got to play poker in Asia, see Angkor Wat, catch up with friends in Europe, see more of the Balkans, and experience the curiosities that are Macau and Singapore.
The trip took me to:
New York
Macau, China
Singapore
Cambodia
London
Ljubljana, Slovenia
Frankfurt
Greensboro, North Carolina
Atlanta, Georgia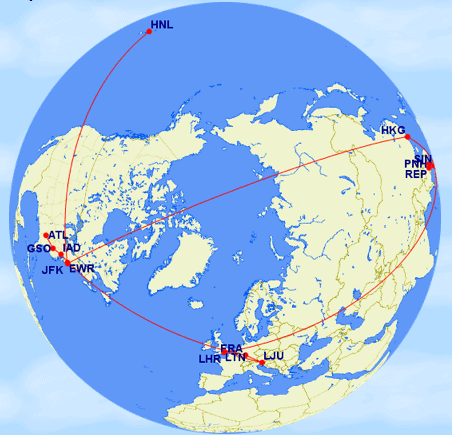 Along the way, I've flown and stayed at:
Cathay Pacific First Class
Singapore Airlines First Class
Lufthansa First Class (and First Class Terminal)
Wizz Air and Jetstar Asia (low cost carriers)
Radisson Martinique on Broadway
Grand Hyatt Macau
Le Meridien Angkor Wat
The May Fair in London
A Holiday Inn Express in Frankfurt
hostels in Cambodia, Singapore, and Ljubljana
a motel in Greensboro
Booking Process
What was the booking process, how much time did I spend in each place, and what would I have done differently?