Alaska Airlines flies a direct flight between Anchorage and Honolulu.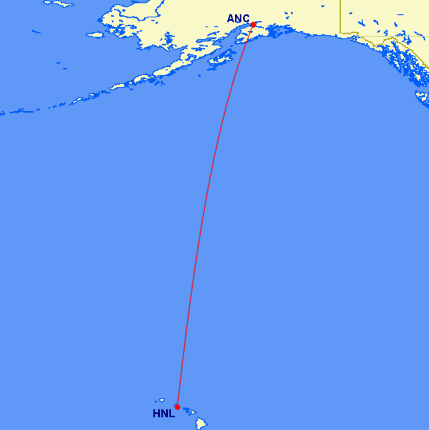 I love interesting routes from Hawaii–like the Island Hopper across the Pacific–since moving to Oahu, but I think this route has some cool possibilities for everyone, like one vacation that combines Alaska and Hawaii this summer.
Anchorage and Honolulu are 2,777 miles apart. This is a sweet spot on British Airways' distance-based award chart. The approximately six hour flight costs only 12,500 British Airways Avios + $2.50 in taxes.
Combine a one way British Airways award between Alaska and Hawaii with a few other one way awards, and you can create a really cool triangle trip to see the 49th and 50th states for as little as 40k points.
What are the best awards to combine with the Alaska Airlines flight between Hawaii and Alaska? What is the award space on these routes? In what program, do you need to amass only 40k miles to take the whole trip?