Disclosure: National offered me compensation to write this post, and a $200 gift card for MileValue readers. All views are expressed are mine and (other) Scott's, not those of National Car Rental.

National Car Rental's popular ONE TWO FREE has returned through January 31, 2015. For every two qualifying rentals, you earn one free* rental day for use on a future trip. ONE TWO FREE is a points-based promo, so you can also earn free days by referring friends to the program, using the mobile app, and more.
*Like "free" award tickets, you are responsible for taxes on your free rental day.
To promote ONE TWO FREE, National put me in touch with (another) Scott, an active member of National's Emerald Club program since 1999, to get his perspective on the Emerald Club, the ONE TWO FREE promo, and how National Car Rental works for business travelers.
How the ONE TWO FREE Promo Works
During the ONE TWO FREE promo, which runs until January 31, 2015, registered Emerald Club members can earn one free rental day for every 600 points earned. Members can combine up to three free-day certificates into a single rental.
Once you register for ONE TWO FREE, you earn 300 points for any qualifying rental of 2+ days. You can also earn points in a variety of  other ways: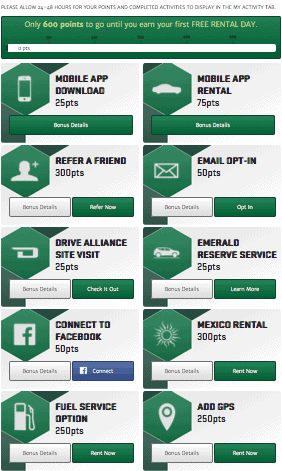 Scott said that he usually takes business trips that include car rentals paid by his employer. Those rentals earn him free rental days that he uses on personal trips.
Some other ways to earn points require just a few clicks:
50 points for connecting your Emerald Club account and Facebook
50 points for opting in for emails
25 points for downloading the National Car Rental app
25 points for visiting the Drive Alliance, a site about the partnership between National, Alamo, and Enterprise
There are ways to earn extra points on every rental:
75 points for renting on the mobile app (up to 4 times)
250 points for renting a GPS
250 points for using the fuel service option
Scott highlighted the bonus points for using the mobile app and how easy it is to use. He said that he once took an earlier flight to Seattle for a conference near the airport. He hadn't originally planned on renting a car at all, but he realized he had enough time to make it to Mount Rainier, which had always been a dream of his.
He used the mobile app during the plane's taxi to the gate, and within 15 minutes of landing, he had rented his National car and was headed south. Within a few hours, he had one less item on his bucket list.
You can also earn 300 points for each friend you refer to the Emerald Club after their first paid rental (up to 10 referrals.)
A combination of paid rentals and taking advantage of the other points-earning methods can quickly get you free rental days.
You can combine up to three free days for each free rental.
You can earn up to 50 free days during the promotion period.
Why Everyone Should Join Emerald Club (even if they won't be frequent renters)
There are two reasons you should join the Emerald Club even if you only plan to rent a single time.
At most locations, Club members do not have to go to the desk. They go straight to their cars.
Club members who rent a mid-sized vehicle can pick any car off the Emerald Aisle.
1. Save time with stored preferences and skipping the desk.
When you join the Emerald Club, you input your driver's license information, credit card information, car type, and preferences for options like insurance.
Scott explained that then when you rent a car as an Emerald Club member, you can skip the counter and go straight to the Emerald Aisle at most locations. Flash your credit card and license at the exit, and you are on your way. He estimated he is usually driving away from on-site lots within 10-15 minutes after walking out the airplane door. Scott raved about the speed of the process.
Scott said there's nothing worse than showing up at your destination tired and then facing a line at the rental-car counter. And then when you get to the front, an agent goes through each option that you don't want. Just by joining the Emerald Club, you skip that forever, which is well worth the 5 minutes it takes to sign up.
Plus if you want something other than the default options you set, you always have the option to go to the counter and pick new options for your current rental.
2. Access the Emerald Aisle with a mid-sized rental
Club members who rent at least a mid-sized car get to go to a special section of the lot where they can pick any car.
Scott gushed about the control and choice.
When he anticipated a long drive, he'd look for a hybrid to save on gas or a car that had free XM radio to enjoy the drive more. He's picked cars with lower mileage on their odometers to get the benefits of a newer car, or cars that he's been wanting to test out in anticipation of perhaps one day buying them. He's gotten a bigger car when he needed more room when traveling with his family, and a convertible when he was alone and wanted a more fun drive.
Bottom Line
National's Emerald Club is free to join and lets members skip the counter and head straight to the Emerald Aisle, where they can pick any car. There's no reason not to join.
The Emerald Club's ONE TWO FREE promotion allows members to earn free rental days after every two qualified paid rentals. You can earn free days even more quickly with actions like linking your account to Facebook and referring friends.
Giveaway
National Car Rental is offering an amazing giveaway to MileValue readers. One lucky reader will win a $200 American Express Gift Card and a year of complimentary Emerald Club Executive status. There are two ways to enter:
Share this blog post with hashtag #OneTwoFree and @MileValue on Twitter
Leave a comment on this post about your favorite business-turned-sightseeing trip
At 11:59 PM Hawaii time on November 21, 2014, entries will close. I'll add up the total number of entries and randomly pick one winner of the $200 American Express Gift Card and a year of complimentary Emerald Club Executive status.
————————————————————————————————————
Never miss a post again! Follow MileValue on Twitter and Facebook. And sign up to receive one free daily email every morning with all of the day's posts!