I get frequent reader emails asking whether you can open a second US Airways® Premier World MasterCard® with 40,000 bonus miles after first purchase and paying the $89 annual fee.
The US Airways® Premier World MasterCard® will disappear in 2015 when American Airlines and US Airways integrate their frequent flyer programs, so people understandably are rushing to get the card or get it again and get the bonus one more time. (When the card disappears, the US Airways miles will become American Airlines miles.)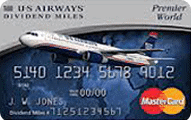 I got the card in twice in 2012 and 2013 without cancelling the first one, and I got the bonus twice, but I want to share a more recent success story of getting the bonus more than once.
My friend Jake, who has come to MileValue dinners in Los Angeles, tweeted me to let me know that he just got the card and its bonus a third time!
When did he open each card?

Did he close each card before opening the next?

When and why did he get denied for a US Airways card along the way?