Yesterday I talked about the 2014 off peak space to Europe and Brazil on US Airways, and how it's an amazing way to redeem 30,000 miles for a roundtrip award to Europe or South America–which is 50% off the normal price–or 55,000 miles for a flying bed to Brazil–which is 45% off the normal price! I also explained US Airways off peak awards. See Eleven Months Out: 40% Off Awards to Brazil and South America for Winter 2014.
Well if you looked at the off peak calendar for 2013 and 2014 I put in the post, you saw that the 2013 off peak period hasn't completely passed.
I took a look at both off peak options: May 1 – 31 to South America and September 1 – 30 to the Caribbean.
The only South American route in that time from is Charlotte to Rio because the Sao Paulo service I talked about yesterday starts in June. US Airways has a number of routes to the Caribbean from both Philadelphia and Charlotte.
Charlotte to Rio
In economy, Charlotte to Rio has one day with award space on the outbound in May at the off peak price. It has no return space at the off peak price.
In business class, there is no off peak space on the outbound, but there are several days with space on the return.
If you want a two to three week trip to Brazil next month, you can book the outbound in economy and the return in business, both at the off peak price. Unfortunately you can't book a mixed-cabin award like this at usairways.com, but you can call 800-622-1015. The price should be 47,500 miles total or 42,500 miles if you have the US Airways MasterCard.
Caribbean
The off peak prices to the Caribbean are 25k miles roundtrip in economy and 50,000 miles roundtrip in business. I think economy is a great deal, but business is not. Remember that these flights are operated by domesticall-configured planes, meaning first class is just a few extra inches of legroom for a few hours for double the price.
For that reason, I was hoping to find economy off peak space, but I found very little. First class space is wide open though.
Economy
Business Class
While there was hardly any economy class space, business class was wide open.
Keep in mind the drawbacks of off peak awards on US Airways that I mentioned yesterday.

Off peak US Airways awards are restrictive. You have to find off peak space during a very narrow window. Yes, you can combine off peak one way and any other priced space the other way, but you won't be getting nearly as good of a deal.
Furthermore all flights must be on US Airways planes (metal). While normally you can use your US Airways miles for flights on any of their partners, that is not the case for off peak awards.
If you don't live in Charlotte or Philadelphia, you'll need to find award space on US Airways flights to the gateway city at the low-miles price. That's not always easy because US Airways doesn't release a ton of domestic award space at the low level.
And don't forget: like all US Air awards, the roundtrip price is charged whether you fly oneway or roundtrip.
And a special note if you want to snag the Brazil flights: there is a $75 charge for booking a US Airways award within 21 days of departure, so book now.
Miles
Even if you don't have any US Airways miles, you can rack up the miles you need very quickly to book this award space.
Because Charlie recently had trouble getting the personal US Airways card and business US Airways card on the same day, I would recommend getting the personal US Airways card and Starwood Preferred Guest from American Express.
The Barclay's US Airways MasterCard comes with 30,000 US Airways miles after first purchase.

The card also offers a 5,000 mile discount on award bookings, meaning that the award to Brazil half in business class would only be 42,500 miles! And roundtrip off peak awards to the Caribbean are 20k miles in economy and 45k in business.

There may even be an offer to get 5,000 more miles on this card!
The Starwood Preferred Guest American Express comes with 25,000 bonus Starpoints after spending $5,000 in the first six months.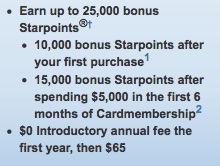 Starpoints transfer 1:1 to US Airways miles, and if you transfer 20,000 points, you get a 5,000 mile bonus. So the 30,000 Starpoints in your account are worth 35,000 US Airways miles.
Combined, these two cards can get you any of the awards mentioned in this post.
Recap
There are still US Airways off peak options for 2013, including one possible itinerary to Brazil in May and tons of business class space to the Caribbean in September.
If you don't already have the US Airways card, get it for the miles and the discount on award bookings. If you want to fly business class, get the rest of the miles you need with the SPG AMEX card.
Application Link: Barclay's US Airways MasterCard
Application Link: Starwood Preferred Guest American Express
I'm on vacation in Bariloche, Argentina for the week. Email and comment response may not happen.
Join the 1,300 geniuses on Twitter and 3,000 mavens on Facebook who follow MileValue for more tips, tricks, and deals. Subscribe for on free, daily email on the top left of the page, so you never miss another post.