Per the email I received last week, US Airways is again offering up to a 100% bonus on purchased or gifted miles. This "Mystery Bonus" promotion is a slight variant from previous iterations, as the bonus you receive varies by individual frequent flyer account. You might receive a 25%, 50%, 75%, or 100% bonus on purchased and gifted miles.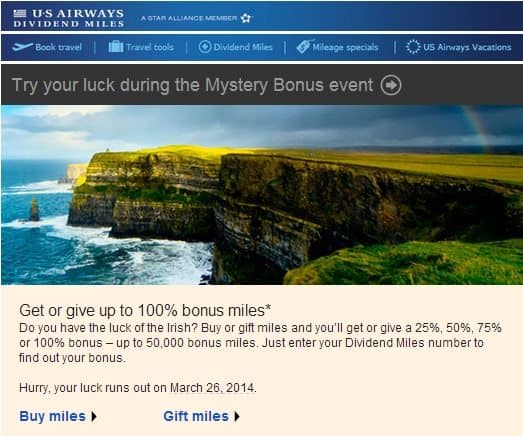 US Airways frequently runs promotions offering bonuses to buy its miles, including one in December of last year. The deal is hardly a new proposition, especially if you receive an inferior 25%-75% offer like I did. However, there is a small subset that will want to jump on this promotion before US Airways leaves the Star Alliance.
Who should buy miles through this promotion? What do you need to be very aware of before booking a Star Alliance award with Dividend Miles? Are the lesser offers worth your time?