I had a blast spending 70 hours in Beijing with my brother this week using the 72-Hour Visa-Free Transit rule.
The rule requires you to enter China from one country and leave China to a third country within 72 hours among other requirements.
Since the time you can spend in Beijing under the rule is so limited, I would not fly directly from the United States to China, starting the clock when you'll be severely jet lagged. We started our Asian trip in Hong Kong and got over jet lag there, so when we flew to Beijing (same time zone), we could hit the ground running.
Since starting in Beijing is not recommended, I looked at award space next May for awards returning from Beijing to the United States. Why May? The temperature was perfect for us in September, and May has similar weather. (September 2015 will be bookable next month.)
There are a number of direct flights from Beijing to the United States and Canada on Air China, United, Air Canada, and American Airlines that I'll look at in this post. I'll ignore the Delta flights because they can't be booked one way until January 2015.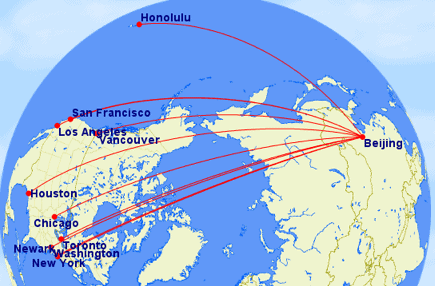 How is award space for two people from Beijing to the United States in May 2015?

What miles can you use to book the flights?