The glory days aren't over. You can get two cards right now with no annual fee for the first year and rack up 144,000 Ultimate Rewards after meeting their minimum spending requirements.
Then you can redeem those points for $1,800 in flights on any airline, five roundtrips flights to Hawaii or Europe, getting three people into Thai or Korean First Class, or up to 32 award flights.
The Cards
The classic Chase Sapphire Preferred offers 50,000 bonus Ultimate Rewards after spending $4,000 on the card in the first three months. Plus add an authorized user on the application for 5,000 more bonus miles (you are sent the card, and the authorized user is not precluded from getting his own Chase Sapphire Preferred account and bonus.)
Spend $4,000 in the first three months for at least 59,000 Ultimate Rewards (4,000 for the spending, 5,000 for the authorized user, and 50,000 bonus), or a lot more if you spend in the 2x bonus category on travel and dining.
You can read my full analysis of the card here.
The new Ink Business Preferred offers 80,000 bonus Ultimate Rewards after spending $5,000 on the card in the first three months.
Spend $5,000 in the first three months for at least 85,000 Ultimate Rewards (5,000 for the spending and 80,000 bonus), or a lot more if you spend in the 3x bonus categories: travel; shipping; internet, cable, and phone services; and search engine or social network advertising.
Here' my full analysis of the Ink Business Preferred, and my post on how to be approved for business cards.
That's $9,000 total spending in the first three months for 144,000 Ultimate Rewards.
The Best Redemptions of 144,000 Ultimate Rewards
Ultimate Rewards can be used like cash toward any flight or can be transferred to airline miles or hotel points, in which case they become those miles and points and are subject to those miles/points' rules. While it is a little more complicated to transfer Ultimate Rewards to airline miles, it is much more lucrative.
$1,800 in Flights on Any Airline with No Blackouts
This is not one of the best uses.
Yes, Ultimate Rewards earned by the Sapphire Preferred and Ink Business Preferred can be used like cash toward the purchase of any flight at a rate of 1.25 cents per point, so 144,000 points would be $1,800 in flights.
And yes, you'll earn miles for all $1,800 of flights because the airlines just see that you're flying a "cash" ticket.
But I think the 10 uses below–which involve transferring Ultimate Rewards to United, Korean, British Airways, Flying Blue, or Virgin Atlantic miles–are even better!
1. Roundtrip Business Class to Europe (115,000 to 140,000 United Miles)
United charges 57,500 miles each way to Europe in flat bed Business class on its own flights. (It charges 70,000 to fly its partners.)
For that price, you can get from anywhere in the continental United States to anywhere in Europe in a flat bed like this now…
…or the improved "Polaris" product as it rolls out on more planes this year.
Award space is often wide open in United Business Class to Brussels and Amsterdam, with connections throughout Europe from Brussels.
2. First Class Between Southeast Asia & Australia or New Zealand (40,000 United Miles)
Thai Airways First Class on its 747 operates daily between Bangkok and Sydney. Thai Airways First Class is luxurious with renowned Thai service, awesome Thai food, and free hourlong Thai massages for First Class passengers departing Bangkok.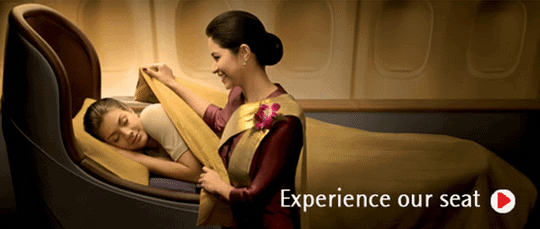 The price for 9+ hours in Thai First Class: only 40,000 United miles!
For whatever reason, when United jacked up the prices of flying Business and First Class on partners in February 2014, it dropped the premium-cabin prices between Southeast Asia and Australia/New Zealand.
I flew First Class on the Thai A380 in September 2013–unfortunately I lost my camera, so I never wrote a trip report–and I was sufficiently impressed by the bed, food, massage, and service that I would happily fly Thai First Class again. On that trip, I even got an hour in First Class on a Thai 747 from Phuket to Bangkok, and I found this specific seat/bed combo to be very comfortable as well.
The Massage
Most international First Class, at least on Asian airlines, is going to have a great bed, great service, and delicious food. What sets Thai apart is the ground experience.
I connected in Bangkok and was met at the plane door by a Thai employee who escorted me to the lounge. Once there, I was handed off to another employee who took my food, drink, and massage order.
First Class passengers departing Bangkok get a free massage. You have four options, and I went with the hourlong Touch of Silk oil massage. I'm not much of a massage guy, but the time flew by, and I came out feeling relaxed and fantastic.
All else equal, you really want to fly Thai First Class out of Bangkok instead of into Bangkok to take advantage of Thai's ground service.
Read more about using 40,000 United Miles to Book Thai First
With 144,000 miles, you could book three people on this award with plenty of miles left over.
3. Roundtrip to Hawaii (25,000 Korean miles, 45,000 in First Class)
Korean charges 25,000 miles roundtrip in economy and 45,000 miles roundtrip in First Class or Delta One between the mainland and Hawaii
Korean has access to all the same Level 1 award space Delta releases to people with Delta miles, but no other Delta award space.
What's the catch? For bookings to Hawaii, there are two:
You can only book Korean awards for yourself or immediate family members, with proof of relationships.
Korean awards are the same price roundtrip or one way, so you have to book roundtrip (although an open jaw is allowed.)
However there are a number of benefits to booking Korean awards to Hawaii:
Korean awards have no change or cancellation fees if your plans change
Korean awards of Delta flights to Hawaii do not have fuel surcharges, so both types of awards will just have identical taxes of $11 roundtrip.
Korean offers a stopover on roundtrip awards to Hawaii.
Read more about using 25,000 Korean miles or a roundtrip to Hawaii
4. Korean First Class (45,000+ Korean Miles)
Korean First Class is the most available international First Class award space I've ever seen.
Korean flies to Seoul from 11 American cities.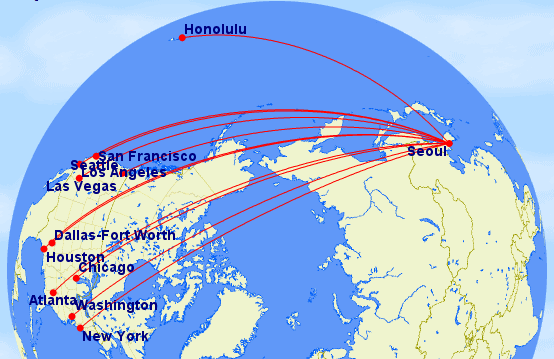 It features a First Class cabin on all 11 routes, including Honolulu.
Last year, I searched award availability for one week for each route on Expert Flyer. I spread my searches throughout the calendar. In total, there were 87 flights searched because because the cities ranged from 3 to 17 flights per week. On 84 of those 87 flights, there was at least one award seat in First Class.
Read more about booking Korean First Class
5. 32 Award Flights (144,000 Avios)
British Airways Avios are very often the best miles to book short, direct, economy flights.
I like international First Class as much as the next guy, but sometimes I just want to fly from Los Angeles to Hawaii, Hong Kong to Tokyo, or Chicago to Dallas–short flights on planes without a great First Class cabin anyway.
While most major airline miles are region-based, Avios are distance-based. British Airways charges a price for each segment of your award. The number of Avios is determined by only two things: the distance of the segment and the cabin of the segment.
Here is the award chart: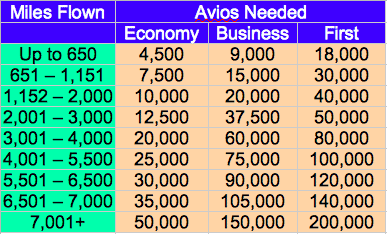 …except that any flight that touches the United States costs at least 7,500 Avios, so this is the award chart for flights to/from/within the United States:
You can get 32 4,500-Avios flights like Helsinki to Oslo , Lima to Cuzco, or Sydney to Melbourne after meeting the minimum spending requirements.
Or you can get 11 flights to Hawaii (12,500 Avios each) on the following routes:
For more information see Avios Basics and All the 12,500 Avios Awards to Hawaii.