A few weeks ago I got this letter in the mail: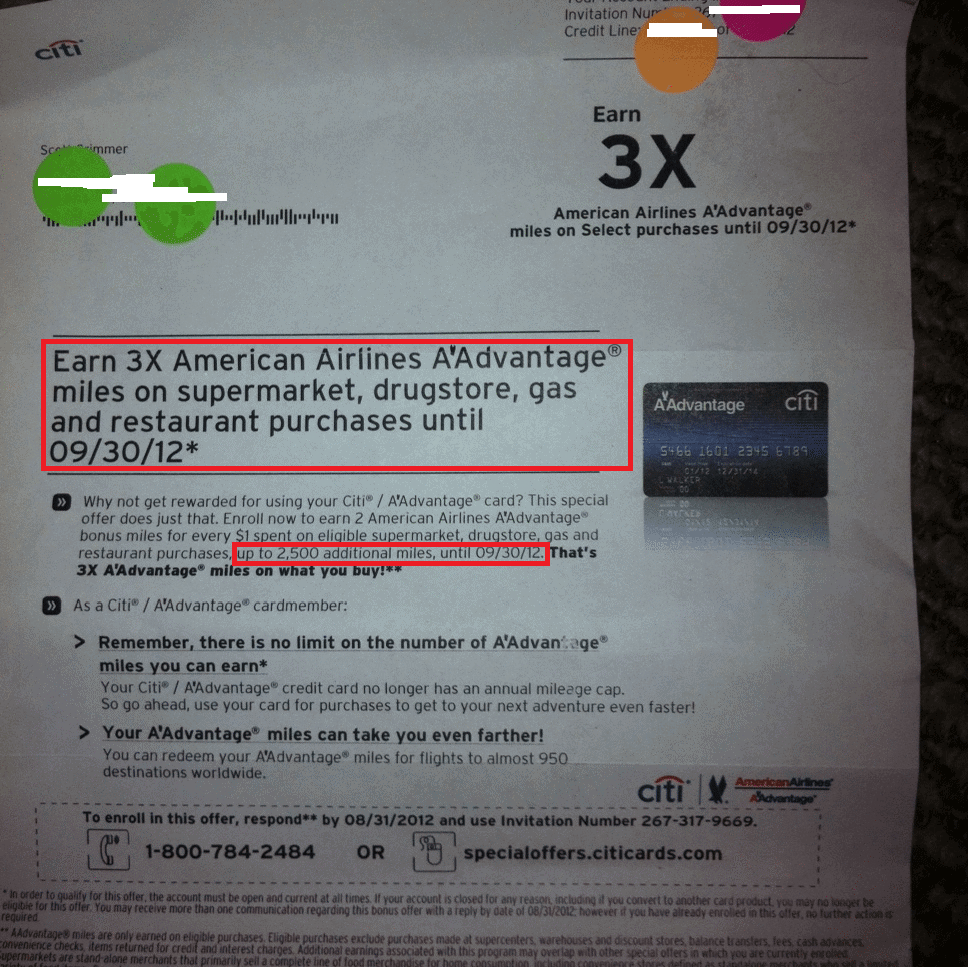 Always read your junk mail from credit card companies!
My offer is 3x American Airlines miles on purchases at supermarkets, restaurants, pharmacies, and gas stations up to a maximum of 2,500 bonus miles. Since I would normally earn 1x at those places on this card, I take it to mean that I get my first $1,250 at 3x miles.
I went to the website, typed in my "Invitation Number" and received confirmation I was registered. I put a tiny sticker on my card to remind me to use it at supermarkets, restaurants, pharmacies, and gas stations.
I value 3 American Airlines miles at 5.31 cents, so this spending gets a 5.31% rebate. That's not as good as sign up bonuses or some category bonuses, but it's better than any other offer I have at those categories between clearing sign up bonuses.
Until September 30, it looks like my Citi AA American Express is back in my wallet. I know there are other versions of this offer out there. Reader DaveS told me about his:
I just got a letter in the mail yesterday from Citi offering 10x AAdvantage miles on purchases at amazon.com through Sept. 30, and 3x on a wide range of purchases from different kinds of targeted merchants – clothing, electronics, department stores, office supply stores. However each offer is limited to 2,500 bonus miles, so while they're nice, they're capped. This appears to be carefully targeted as there's a registration with an enclosed lengthy code that is necessary. I'll definitely clear the Amazon offer (rebate 17% at my valuation of AA miles), and perhaps the other too (5%), or at least use that card when shopping anyway at those specific places, since I'm just about done clearing signup bonuses, and don't have another application planned right away. Don't throw away any envelopes from Citi that look like junk mail.
His would be exhausted by a $250 purchase at Amazon.com. But otherwise his categories are weak. 3x at office supply stores? I get 5x with my Ink Bold.
Have you gotten an offer that you'll take advantage of? What was it?