From December 2, 2013 to December 5, 2013, US Airways is offering a bonus of 100% on shared miles.
This is the best mileage purchasing offer of the year. It works out to paying 1.13 cents per mile. If you could buy unlimited miles at that price, a roundtrip award from the US to Europe would be only $1,180 plus government taxes, an incredible value.

This is a non-targeted offer that only requires membership in US Airways' Dividend Miles program for at least 12 days and a minimum of 1,000 miles in your account to begin.
Very similar promotions occurred in October 2012 and 2013. I participated fully both times. This time, though, there are some unknowns about the future value of US Airways miles in light of the now certain US Airways/American Airlines merger.
How can you take advantage of the best mileage-buying promotion of the year? Should you, in light of the approved US Airways/American Airlines merger?

I'll precede all my analysis of the promotion with thoughts about the merger.
What we know about the merger:
The merger will close on the stock market December 9, 2013.
The new airline will be called American Airlines, and its loyalty program will be AAdvantage.
Its credit cards will be issued by Citi.
It will be a member of the oneworld alliance.
US Airways will exit Star Alliance in early 2014.
US Airways and American Airlines miles will be combined somehow.
What we don't know about the merger:
US Airways' exact exit date from Star Alliance.
US Airways' exact entry date into oneworld.
How exactly US Airways and American Airlines miles will be combined. (I'd assume they'd be added together at a 1:1 conversion rate.)
Whether we'll be able to transfer between existing US Airways and American Airlines miles for any time period (and whether that time period will overlap with US Airways still being in Star Alliance.)
What the New American's award chart will look like.
The Potential Risks and Rewards
The worst case scenario is to "buy" US Airways miles right now for 1.13 cents, then have them devalued with no notice and no chance to redeem on the current chart before you redeem those miles.
The best case scenario is to buy the miles and have a chance to burn them on the incredible US Airways award chart on Star Alliance carriers, then have a chance to burn them on the incredible US Airways award chart on oneworld carriers, and finally have a chance to convert them to American Airlines miles for one way redemptions on oneworld carriers and Explorer Awards.
I won't handicap the likelihood of either scenario. There are risks, and we're talking about a lot of money–$567.50–to buy 50k miles. Presumably US Airways has a better picture of the future value of its miles than we do, and it is selling them dirt cheap this week. That's a bad sign for us. On the other hand, the sale period is very short, which is a good sign for us. (It would be pretty bad if US Airways offered miles for 1.13 cents indefinitely. That would be a certain harbinger of an upcoming massive devaluation.)
I am personally NOT going to buy miles this week, but that's because I maxed out the last promotion only two months ago and haven't used the miles. If I had missed that promotion, I would max out this promotion because the price is too tempting, I think that the miles being devalued below 1.13 cents in worth is an unlikely scenario, and I have a high risk tolerance.
What do I need to take advantage of this offer?
You need at least two Dividend Miles accounts that have been open for a minimum of 12 days. One account is yours, from which the miles with be shared. The second account can belong to a spouse, friend, or family member, and will receive the miles–and the bonus–from your account.
If you do not have a US Airways Dividend Miles account, open one now! There is still time to earn some very valuable US Airways miles before the airline and Dividend Miles program disappear.
How do I actually share the miles?
Log in to your account at www.usairways.com and navigate to "Buy, share, & gift miles":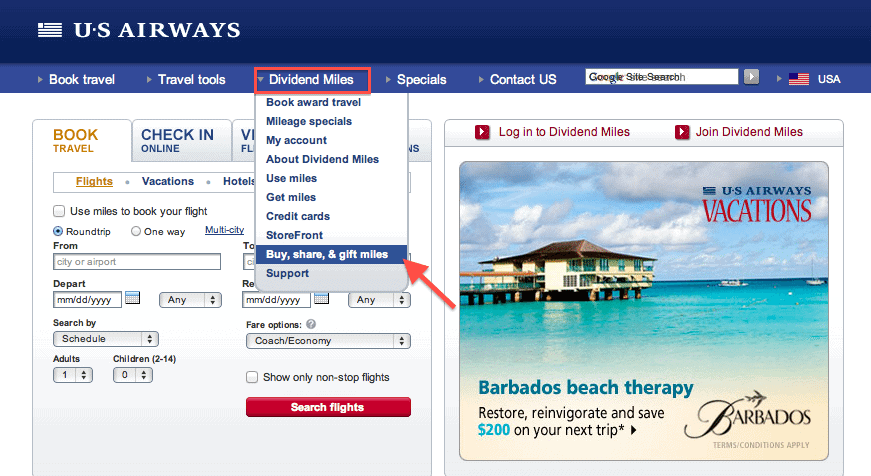 Once you are on the Buy, share, or gift miles page, click on "share miles":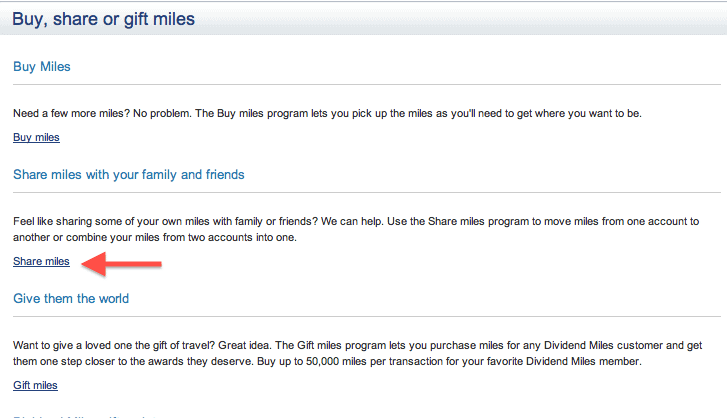 You will see confirmation of the 100% bonus, and you will be prompted to enter your membership information, the number of miles you want to share, and the membership information of the person receiving the shared miles: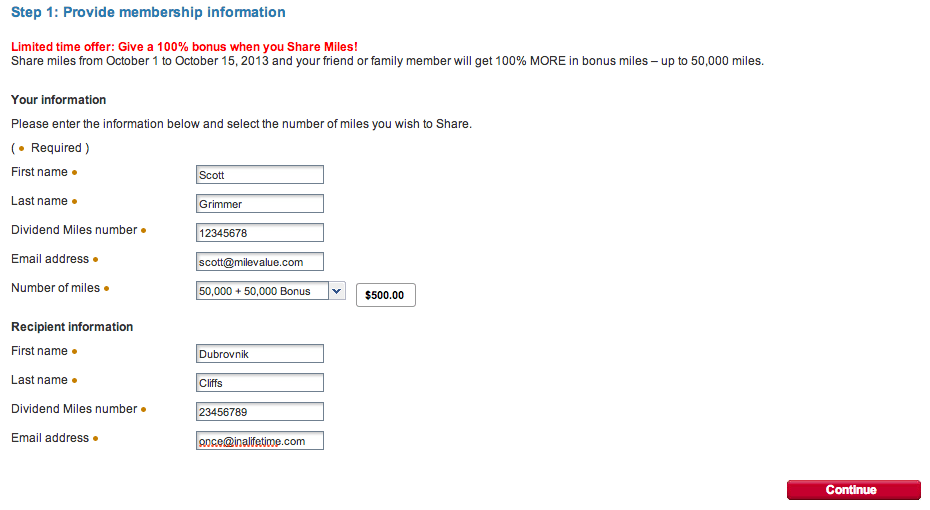 In my example above, I have maxed out the offer by choosing to share 50,000 of my miles. This means that the lucky recipient will get a total of 100,000 miles deposited into his account!
After you have entered the account details for the sharing and receiving accounts and the number of miles you want to share, you will be quoted the final price, which includes a fee of $30 and tax of 7.5%.
In my example, sharing 50,000 miles with a 50,000 miles bonus costs $567.50 ($500 + $30 + $37.50). The net result is buying 50k US Airways miles for $567.50 or 1.13 cent each. This is an absolutely fantastic deal ordinarily, though the merger clouds our ability to predict the future value of US Airways miles.

How can I take advantage of this offer if I don't have any miles?
Have a friend transfer you 50,000 US Airways miles. Your account will receive 100,000 miles. Transfer 50,000 back to him.
You are left with 50,000 miles, and you've spent $567.50.
What is this deal worth?
I value US Airways Dividend miles at 1.95 cpm—see the Mile Value Leaderboard. That means 50,000 miles is worth $975. Through this promotion, you can pay $567.70 for 50,000 miles—a discount of $407.30 or 42%! This is a fantastic value for the money spent.
What else should I know?
Because the buying, sharing, and gifting of US Airways Dividend Miles is processed through points.com, you will not get any category bonus points for travel purchases if you use the Chase Sapphire Preferred or American Express Premier Rewards Gold cards.
But how will I use my Dividend Miles to book my flight when they are in someone else's account?
Don't worry–the miles can be redeemed for an award ticket in your name, even if they are in a friend's account.
I want to max out this promo. What is the limit?
The limit is that each account can only receive 50,000 bonus miles (plus the 50,000 miles shared = 100,000 miles.)
Here's how it would look for two people to max out this promo:
A = you, 50,000 miles in account
B = partner, no US Airways miles
Then:
A shares 50,000 miles with B
B gets 100,000 miles
B shares 50,000 miles with A
A gets 100,000 miles
At the end of the day, you have converted 50,000 to 150,000 miles:
A has 100,000 miles
B has 50,000 miles
What can I do with 100,000 US Airways Dividend Miles?
Here are some possible roundtrip redemptions–US Airways does not allow oneway award ticket bookings at half the roundtrip price unfortunately:
2 first class or 4 coach class trips in the continental US
1 round trip business class trip to South America
1 round trip business class trip to Europe
1 round trip business class trip to North Asia–for example Hong Kong, Japan, or South Korea–with 10,000 miles left over. This award also allows a stopover in Europe.
In previous posts, I discussed the South American sweet spots in US Airways' award chart and how US residents can use open-jaw itineraries to take advantage of some of these sweet spot awards originating in South America. With some creative routing, you can squeeze even more value from your Dividend Miles.
Recap
The US Airways 100% bonus on shared miles promotion runs from now through December 6, 2013 and offers an outstanding value at a cost of 1.13 cpm for Dividend Miles.
There are risks to loading up on US Airways miles now, since we don't know what the new American Airlines' award chart will be, but if you can tolerate some risk, buying miles this cheap is a potentially rewarding risk.
To participate, you and the recipient of the shared miles must have Dividend Miles accounts at least 12 days old. The maximum bonus that a recipient can earn is 50,000 miles, but there is no limit on the number of miles that you can transfer out of your account.
Bonus
To add on to the 50,000 miles you can earn through this promo, there are two personal credit cards that earn US Airways miles:
The US Airways Premier World MasterCard with 30,000 Dividend Miles after first purchase
The Starwood Preferred Guest® Credit Card from American Express with 25,000 bonus Starpoints after spending $5k in six months. The 30k Starpoints would transfer to 35,000 Dividend Miles.
US Airways Premier World MasterCard® with 30,000 US Airways miles after first purchase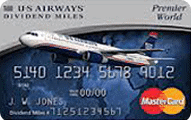 Earn up to 40,000 bonus miles on qualifying transactions
EXCLUSIVE: Redeem flights for 5,000 fewer miles
Zone 2 boarding on every flight
Enjoy 2 miles per $1 spent on US Airways purchases
Earn 1 mile per $1 spent everywhere else
Annual companion certificate good for round-trip travel for up to 2 companions at $99 each, plus taxes and fees
First Class check-in
Please see terms and conditions for complete details
Application Link: Barclay's US Airways Premier World MasterCard
Starwood Preferred Guest® Credit Card from American Express with 25,000 bonus Starpoints!
Starpoints® bonus: earn up to 25,000 bonus points: 10,000 after your first purchase and another 15,000 after you spend $5,000 within the first 6 months of Cardmembership
That's enough for a weekend getaway to a Category 4 Hotel.
Earn up to 5 Starpoints® for each dollar of eligible purchases at participating SPG hotels and resorts – that's 2 Starpoints for using the Card in addition to the Starpoints you earn as an SPG member. Earn 1 Starpoint for all other purchases.
Free Hotel Nights: redeem Starpoints at over 1,100 hotels in nearly 100 countries worldwide – with no blackout dates. Some hotels may have mandatory service and resort charges.
Free Flights: redeem Starpoints on over 350 airlines with SPG Flights – with no blackout dates
No limits on the number of Starpoints you can earn
$0 introductory annual fee for the first year, then $65
Terms and Restrictions apply.
Application Link: Starwood Preferred Guest® Credit Card from American Express