You can take way-out-of-your-way stopovers on United awards that cause you to massively backtrack and add tons of increased flying to awards.
For instance, you can fly from New York to London via Los Angeles for no extra miles even though routing through Los Angeles is about two-and-a-half-times more flying than flying a direct flight.
This laxity toward massive backtracking has some great uses.
You can back track for a free oneway.
If the only routing with award space involves backtracking, you can fly it.
You can have an out-of-the-way stopover to combine two trips into one.
If you and a traveling companion are starting in different cities, you can fly to him to meet up even if he's farther from the destination than you are.
When are backtracks possible on United awards? When are they impossible?
I've uncovered possible backtracks en route to Asia, Europe, and South America from the continental US.
My successful backtracks have all been within the continental US. I failed to add backtracks to and from Hawaii.
All the awards below were (dummy) booked as laid out in this video on booking United awards with stopovers.
Backtrack on the Way to Europe
This award priced out as 60,000 miles in economy, the normal price for a roundtrip from the US to Europe:
New York to London via Los Angeles
Frankfurt to New York
Backtrack on the Way to Asia
This award priced out as 65,000 miles in economy, the normal roundtrip price from the US to Japan:
Los Angeles to Tokyo via New York
Tokyo to Los Angeles
Backtrack on the Way to South America
This award priced out at 40,000 miles in economy, the normal roundtrip price from the US to Northern South America:
New York to Lima via Los Angeles
Lima to New York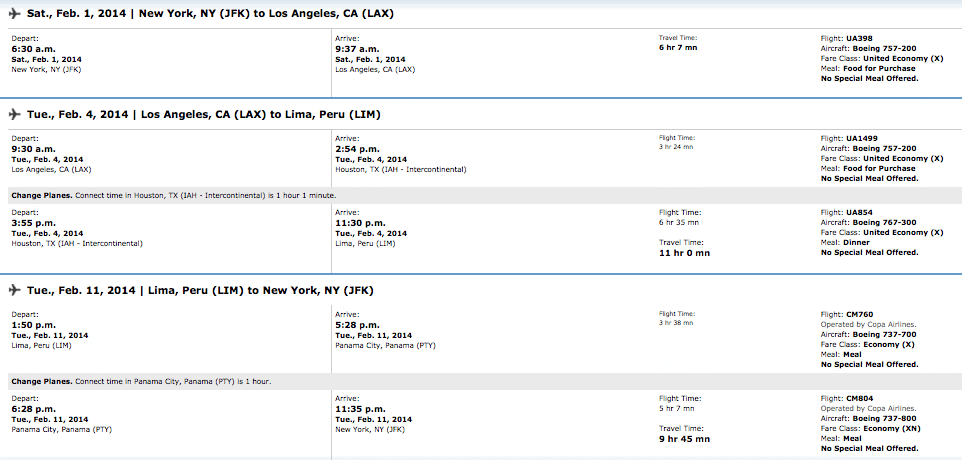 Failed Attempt: Honolulu to Tokyo via San Francisco
My failed attempts were greeted with the standard united.com error message.

Sometimes a united.com error message doesn't mean failure. It just means you have to call United at 800-UNITED-1 to have an agent successfully book the award.
But in this case, I couldn't talk agents into booking the award by phone.
General Conclusions
What We Don't Know
From the information I've gathered, I cannot definitively answer the question: "Does this mean I can route from X to Y via Z?"
It is impossible for me to fully generalize my findings into hard-and-fast rules, which fits perfectly with my contention that I Don't Know United's Award Rules because they don't really exist. Whatever the computer says goes, and it is inconsistent.
If you want to test how these findings apply to a trip you want to take, try to book it at united.com. If you get an error, call United. If you don't want to do that, hire my Award Booking Service.
What We Do Know
What I can unequivocally say, though, is that unless you do a multi-city search (explained here) on united.com, you will never see a search result like New York to London via Los Angeles. These backtracks showed up only because I specified I wanted a stopover in the out-of-the-way city.
We also know that United doesn't have a problem with stopovers in tiny airports. All the examples in this post were Los Angeles and New York, but I have booked United awards with stopovers in Palm Springs, California and Charlottesville, Virginia too.
Have you booked a backtracking award before? Do they have any uses for your future travel plans?