Fact: I check eight frequent flier blogs daily. (Just dropped a ninth…)
One of those eight is Mileage Saver by Paul Walia. I love it because his posts take, on average, 10 seconds to read, and he covers all the easy ways to earn miles. The other day, he had a post on how to earn 400,000 Hilton Points in Five Steps.
Some of the cards mentioned in his post are Hilton cards, but some just feature miles that can be transferred to Hilton points. On my last credit card churn in March, I picked up the Virgin Atlantic card from American Express. I met the minimum spend by my number one trick to increase credit card spending by $10,000 per year.
Virgin Atlantic miles can be used for flights or transferred to Hilton. Which is a better deal? This is the Virgin Atlantic award chart: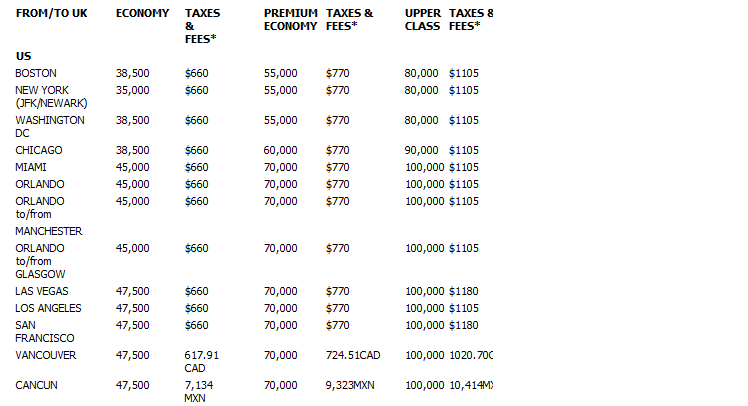 You are reading that correctly. A roundtrip coach redemption from the USA to the UK costs miles plus $660. Since I value a roundtrip from LA to the UK at about $800, I would be getting less than 0.3 cents of value per mile because of that crippling surcharge. (Actually I would probably be getting negative value since if I bought an $800 ticket, I would be earning thousands of frequent flier miles for flying a paid itinerary.)
What about the premium redemptions? They all have surcharges of $1,105! Since I only value the chance to fly Upper Class from LAX-LHR at $1,200 or so, I would be getting 0.1 cents per mile redeeming 100,000 miles plus $1105. (Again, I'd actually be getting negative value because of the foregone miles when flying an award ticket instead of a paid ticket.)
I recognize I have idiosyncratically low valuations for these trips to Europe. But your valuation would have to be over $2,105 just to get 1 cent of value per mile. I like to get 2 cents per mile on redemptions, so I would have to value the Upper Class awards at $3,105 to get that kind of value.
Since using the Virgin Atlantic miles is out, I decided to transfer them to Hilton. I've seen people value Hilton points between 0.4 and 0.7 cents. So transferring the 45,000 Virgin Atlantic miles to 90,000 Hilton points means I'd be getting $360 to $630 worth of value from the points. That's certainly more value than I could get out of redeeming the miles for flights based on the above surcharges.
Here's how the process of transferring Virgin Atlantic miles to Hilton points works.
You have to call Virgin Atlantic's Flying Club at 800-821-5438. Have your Virgin Atlantic account number and Hilton account number ready. I called June 23. I spent five minutes on hold, and I spoke to the agent for two minutes, for seven minutes total.
You must transfer a minimum of 10k miles, and your transfer must be in increments of 5k. I transferred 45k, since that was the maximum I could transfer with an account balance of 48k.
The agent tells you that the names on the two accounts must be the exact same, so you can't combine your and your wife's miles into one Hilton account for instance.
The agent tells you the points will post within 30 days. The next day, on June 24, 45k miles were deducted from my Virgin Atlantic account. Five days later, June 28, 90,000 points appeared in my Hilton account.
If anyone has any other data points on how long this transfer took or how long any of the other transfer opportunities in Paul's post take, please leave that info in the comments. I'm not going to go for 400,000 Hilton points, but this 90,000 sure beats the heck out of 45,000 Virgin Atlantic miles, which for me had a negative value.