We're three months away from Christmas. If you know you want to visit family over Christmas, and you haven't yet booked your ticket, it is not too late to get home for Christmas for free.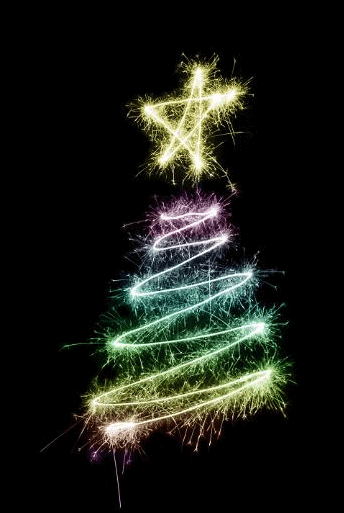 But you have to start planning now. What's the plan?

First let's talk about how you shouldn't try to get home for free. Do not use traditional airline miles.
If you try to use traditional region-to-region based airline miles, you will get very bad value for your miles. That means don't try to collect or use United, American, Delta, or US Airways miles for the trip.
Why not?
First, you'll have to find Saver award space on the days and flights you want in order to get the "real" price of 25,000 miles for a roundtrip in economy. Furthermore airlines release very little Saver award space at peak times like Christmas, so you might have to shell out 50,000 miles for a roundtrip in economy class at the Standard award level.
Spending 50,000 miles on a roundtrip economy ticket is awful when the same 50,000 American Airlines miles could get you a one way to Europe in flat bed business class or a roundtrip in economy.
But even if you luck out and find Saver award space, it's a still a bad deal with your traditional airline miles.
Let's look at a roundtrip from Los Angeles to New York with United miles. There actually is some Saver award space near Christmas on the outbound, represented by green days on this calendar.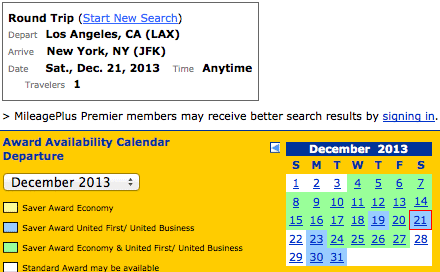 But on the return there is very little award space unless you want to fly at 6 AM on New Year's Eve or wait until early January.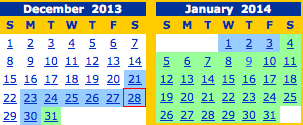 And even if you put together Saver award space, you're paying 25,000 miles and $5 out of pocket for what is only about a $400 flight according to Kayak. For instance, you can depart 12/22 and return 12/29 for only $428.

So to summarize the problems with using United, American, Delta, and US Airways miles to get home for free this Christmas:
You'll need to find scant award space to get home for 25,000 miles roundtrip.
Even if you find that space, you'll only get around 1.5 cents of value per mile, and I value these types of miles nearer to 2 cents.
So what do I recommend? That depends on whether you want to fly between cities Southwest serves or not.
If You Are Flying Between Cities Southwest Serves
If you are flying between cities Southwest serves, you should get the Southwest Rapid Rewards card and use the 50,000 bonus Rapid Rewards to book a trip home for just $5 to $10 in taxes.
The reason to favor Southwest Rapid Rewards points over traditional airline miles is that you don't have to search for award space, and you're guaranteed to get around 1.69 cents in value for your points regardless of the flight's price.
All Southwest Wanna Get Away? fares are bookable for 60 points times the base fare price. That means a $200 fare is 12,000 points and a $500 fare is 30,000 points. Instead of searching for Saver award space, you just search southwest.com for low fares on its low fare calendar if you want to stretch your points farther.
For more information on booking awards on Southwest, see How to Book an Award on Southwest.
Some other considerations if you get the Southwest card:
Southwest allows you to check two bags for free each direction. If you're loaded up with presents, that's a $120 savings compared to other airlines.
The Southwest card has a $69 annual fee that is not waived the first year.
The 50,000 point sign up bonus is worth over $900 in flights, so you're very likely to have some points left over from this Christmas booking for other Southwest flights.
If You Are Flying Between Cities Southwest Doesn't Serve
If you are flying to or from somewhere not served by Southwest, you should get the Barclaycard Arrival World MasterCard for a free trip home.
The card earns 40,000 bonus Arrival miles after spending $1,000 on the card in the first three months of cardmembership and double Arrival miles on all purchases. That means you'll get 42,000 Arrival miles after spending your first $1,000.
Arrival miles are worth 1 cent each toward any flight on any airline. You just purchase the flight with your card and apply your miles online as a statement credit. That means 42,000 miles would be worth $420 worth of flights.
When redeeming for flights, you get a 10% rebate of the miles redeemed. That means if you redeem 40,000 miles to get a $400 flight for free, you'd get 4,000 miles back. It's this 10%-back feature that leads me to value Arrival miles at 1.11 cents each.
You also earn airline miles on all your Arrival-mile award flights. From the operating airline's perspective, you are flying a cash ticket, so you earn miles with that airline.
That means the card has a $444 sign up bonus and earns 2.22% back toward travel on all purchases.
To compare the Arrival card and Southwest card:
The Southwest card has a bigger bonus, worth about $900 in flights versus $444 for the Arrival card
The Southwest card has a $69 annual fee the first year. The Arrival card has no annual fee the first year, $89 thereafter.
Southwest points can be used on any Southwest flight any time. Arrival miles can be used on any airline's flights any time.
The Southwest card earns 1 point per dollar on purchases, worth about 1.69 cents. The Arrival card earns 2 miles per dollar on purchases, worth 2.22 cents.
Southwest awards do not earn additional Rapid Rewards. Arrival awards do earn miles with the operating airline.
Recap
You can get a free trip home this Christmas if you start planning and collecting miles now. Just make sure you meet the minimum spending requirement on any card you open as soon as possible, so you have access to your bonus miles to book your flight home.
I don't recommend collecting traditional airline miles from United, Delta, American, or US Airways for the trip or using traditional miles you already have because there are much higher-value uses for those miles.
If you can fly Southwest home, I recommend opening the 50k point Southwest Rapid Rewards card and using the bonus points on any Southwest flights you want, paying only $5 to $10 in taxes and the card's annual fee.
If you can't fly Southwest home, get the Arrival World MasterCard and fly any airline any time with the miles.