I am giving away four American Airlines Systemwide Upgrades that expire February 28, 2013 (Thursday).
An American Airlines Systemwide Upgrade entitles you to an upgrade of one class of service on American Airlines or American Eagle operated one way itineraries if upgrade space is available.
This upgrade has tremendous value to you if you have a trip booked that meets the following conditions:
paid itinerary (not award)
operated by American Airlines or American Eagle (not partners)
with upgrade space
and the entire one way itinerary will be flown by 2/28 at 11:59 PM CT
There are two ways to enter:
1. Retweet the following tweet: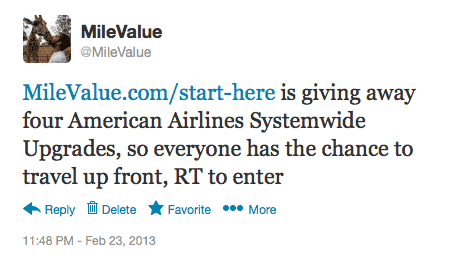 2. Like the following facebook post and comment with your proposed itinerary.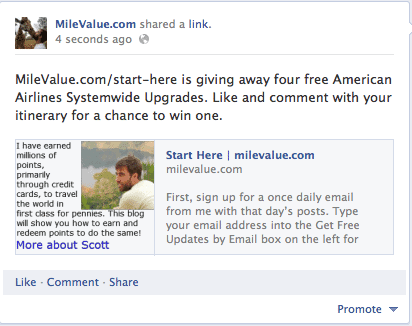 At about 1 PM ET on 2/24, I'll start selecting and contacting people. My strong desire is to get these upgrades used, so I will be contacting people fast and furious to find people with eligible itineraries who can be upgraded.
For full information on American Airlines Systemwide Upgrades, see AA.com on the subject.
Good luck.