Activate your Chase Freedom 5% cash back categories for 2014 to earn 5x Ultimate Rewards per dollar at gas stations, movie theaters, and Starbucks until March 31.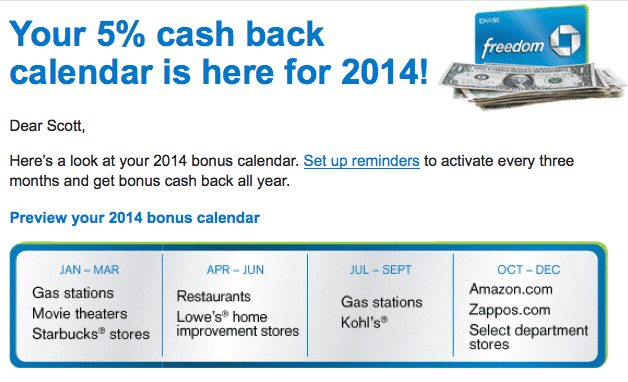 Each quarter, you can earn 5x Ultimate Rewards per dollar on your first $1,500 in the bonus categories as long you register your Freedom card. Max out the $1,500 each quarter, and you'll earn 30,000 Ultimate Rewards.
That's on top of the current sign up bonus of 10,000 Ultimate Rewards after spending $500 in three months on the card.
All these Ultimate Rewards on the Freedom can be redeemed for 1 cent cash back, so 50,000 Ultimate Rewards would be $500. Or the Freedom's Ultimate Rewards can be redeemed at a much, much better rate.
How?