Last week I urged people to be realistic with their miles and listed The Easiest Places to Get with Miles. Today I'm telling you to dream big and to look to do things with miles that you couldn't easily or cheaply do without miles.
For instance, for 60,000 miles, you can book yourself a "triangle trip" that lets you practice your Spanish in Chile and Spain. The trip would let you see the wildlife of Patagonia and the nightlife of Barcelona.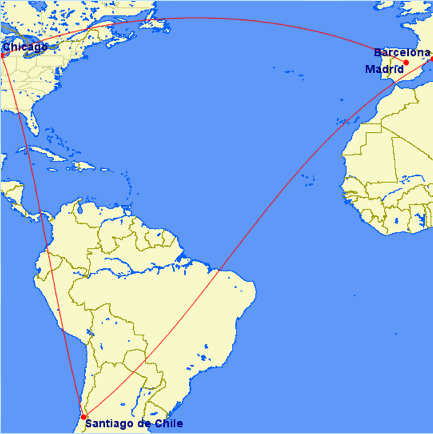 How many thousands of dollars would a similar trip cost? Could you even have dared to dream about such a routing before you knew the power of your miles?
The routing I'll talk about relies on three discounted awards, and award space is plentiful on all routes. Best of all, you can live anywhere in the continental United States to take advantage, and you can customize the destinations to your taste.
What three discounted awards combine to form the legs of this triangle trip?

What 60,000 miles do you need? How can you get them?