Yesterday, I posted about getting free stopovers on American Airlines awards outside the USA. Hopefully I opened a few eyes, and I certainly caused some confusion. So I'll give a concrete example of getting a free stopover outside the USA on an AA award with screen shots.
This award will go from Los Angeles to Shanghai with a stopover in Tokyo. Yesterday I said there are two ways to get a free stopover on AA awards outside the USA:
Book two AA awards, one from your origin city to the stopover city, one from the stopover city to your destination.
Book one AA award, from your origin city to the stopover city, and one Avios award, from the stopover city to your destination.
For this example, I'll focus on the second way, combining one Avios award with one AAdvantage award. Step one is to find and reserve the AAdvantage award: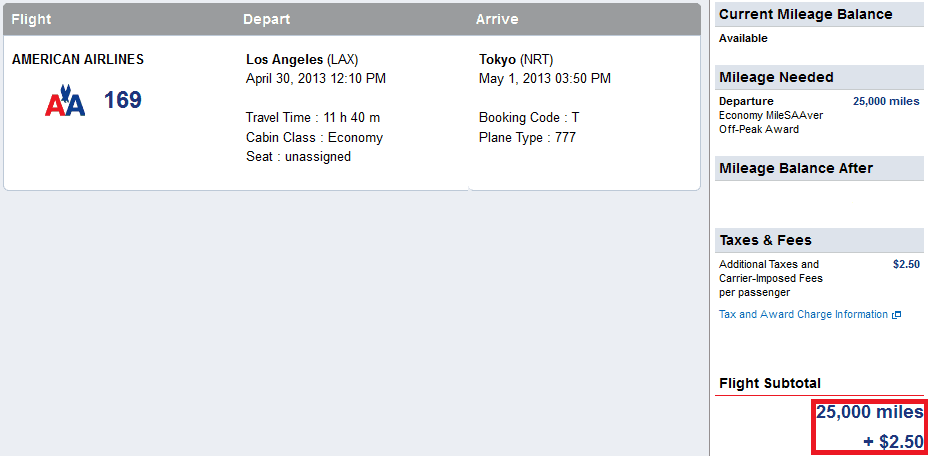 The AAdvantage award from LAX to Tokyo costs 25,000 AA miles and $2.50 in economy class during off peak season. Instead of purchasing this award, we will want to put it on an AAdvantage Hold on the purchase screen. This will hold the award for five days.
Next, we will purchase the Avios award, which will be from Tokyo to Shanghai: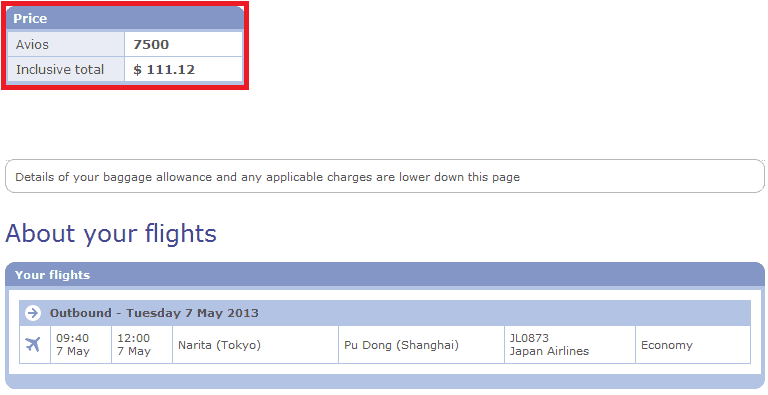 For 7,500 Avios and $111 we can get from Tokyo to Shanghai. The cash outlay is annoying, but booking NRT-PVG as a separate AA award, we would have to pay $57 (including $25 phone fee) plus 20,000 AA miles, so this is a much better deal than that.
Having booked the Avios award, we would now circle back and book the AAdvantage award that is on hold for five days, so we get both awards at once.
That means in total, we are spending 25,000 AA miles, 7,500 Avios, and $114 to go from LAX to Shanghai with a one-week stopover in Tokyo. That's a fantastic deal since on just one AA award, we would not be able to make a stopover in Tokyo since it is outside the USA. Compare that price to the price of a direct LAX to Shanghai award on AA: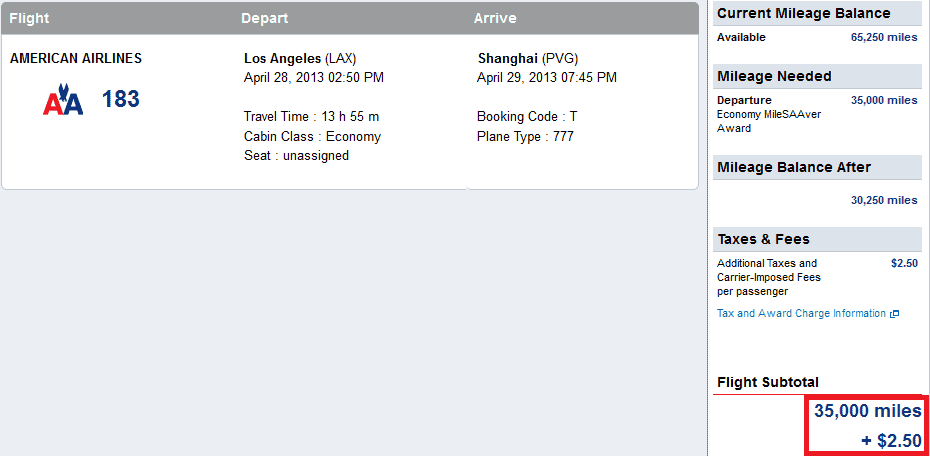 With the stopover in Tokyo, we are actually spending fewer miles than without it! Of course, the stopover brought Avios surcharges into play increasing the cash outlay, but we saved miles, and we greatly expanded our potential stopover cities with the trick outlined in this post!
Why are these cities–a stopover in Tokyo en route to Shanghai–ideal candidates? To quote yesterday:
The key to unlocking big savings from this two-award trick is to find airports that are geographically close to each other, but cost very different amounts for AA awards.
Tokyo is 10,000 AAdvantage miles fewer to get to than Shanghai, despite the fact that they are very close.
By the way, I didn't want to mention free oneways earlier in the post because I didn't want to clutter the basic framework of this trick. But of course the LAX to Tokyo award can be preceded by a free oneway since LAX is the international gateway city on that award. See: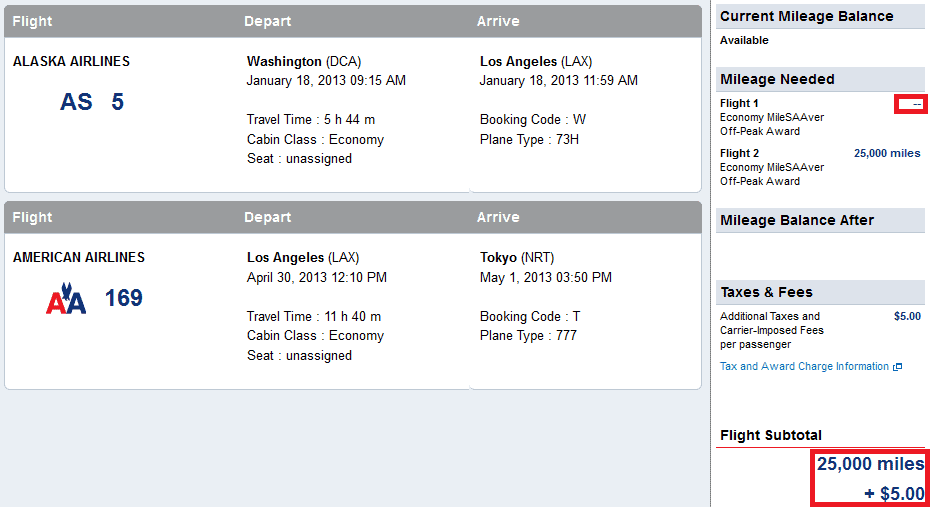 As this image shows, LAX-NRT can be preceded by a free oneway for no extra miles and only $2.50 in extra taxes. In the example, I added a free oneway from Washington-DCA to LAX about three months before the main award. But I could just have easily chosen many other destinations in the USA, Canada, Mexico, and the Caribbean. And I could have chose any date between now and the LAX to Tokyo award.
Don't forget about the first ever MileValue.com seminar in Honolulu on July 21; please come or spread the word. For more great posts like this, sign up for the MileValue RSS feed, like the brand new MileValue facebook page, or follow me on Twitter @milevalue. Get your friends involved too, so you can have more companions for your Free First Class Next Month.