United is offering its direct flight from Newark to Honolulu for $420.40 roundtrip on several dates in November and December! I hear Hawaii has better weather than New York that time of year.
For all my Oahu-based readers, the same deal is available in reverse December 3 -11.
How do you get in on the deal?
The easiest way is to start at matrix.itasoftware.com. Type in EWR-HNL or HNL-EWR. Tell the software your desired vacation length and give it a date to start searching.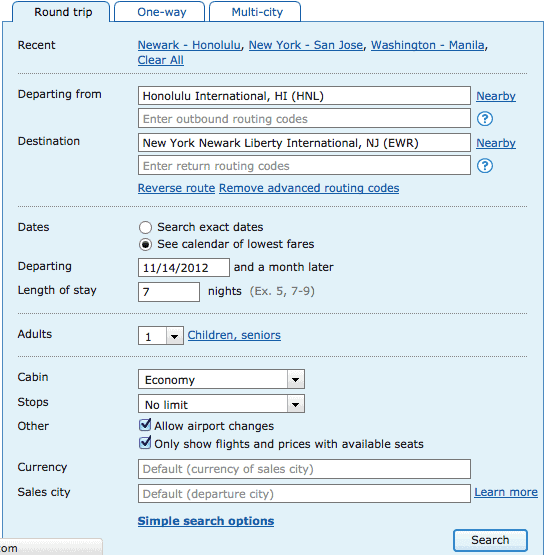 After hitting search, you'll get a thirty-day calendar. The price listed on each date is the cheapest vacation of your desired length starting on that date. Here is the seven-night vacation calendar from Newark to Honolulu from November 14 – December 14:

As you can see, the cheapest seven-night vacations start November 27-29 and December 3-5. Here's November 28 – December 5. The westbound flight is in the afternoon, and the eastbound is a redeye.

I would start on ITA because it will quickly show you all possible dates at the cheapest price. Once you find the itinerary you want, head to united.com and input your dates. It was easy enough to reproduce the same flights from above.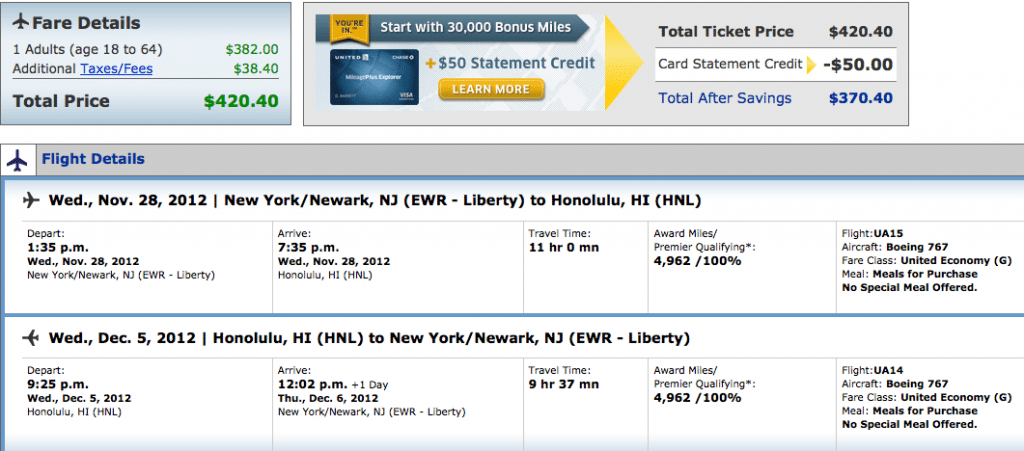 This fare earns 9,924 United redeemable and status miles. That works out to 4.2 cents per mile, nearly mileage run worthy, and definitely vacation worthy!
Hat tip: Dan's Deals
Let's meet up at the Chicago Seminars. For more great posts like this, sign up for the MileValue RSS feed, like the MileValue facebook page, or follow me on Twitter @milevalue. Get your friends involved too, so you can have more companions for your Free First Class Next Month.