I've added a new page–Best Current Credit Card Offers–which should always be clickable at the top of the page. So far, I've just put the top ten in terms of absolute value.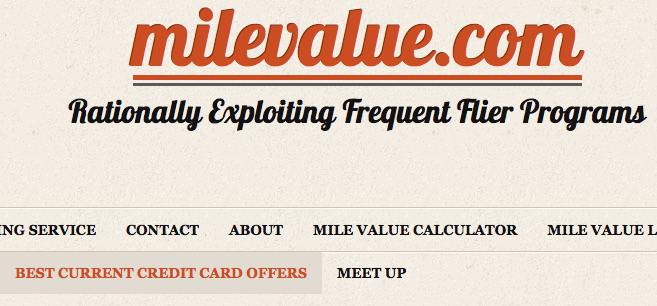 I should be adding more cards, and a list of the top cards by rebate percentage this week. (What do I mean by rebate percentage and absolute value? See "The Two Ways to Value Credit Card Sign Up Bonuses.")
I added the page because the original reason I started this blog was to cut through the morass and list the top deals by dollar value. 70k this, 50k that, what's the best deal? By combining a value for each mile and point and benefits and costs of each sign up bonus, I've finally started to do that.
The good news is that my increased coverage of sign up bonuses will not come at the cost of my posts on the best ways to redeem miles. This blog has mainly been about redeeming miles, and that's the content that has expanded readership so rapidly, so I am not going to stop. (I'm writing an Anatomy of an Award post right now about when stopovers make an award booking less complicated.)
Think of the Best Current Credit Card Offers page as beta at the moment. It's incomplete and probably contains errors. Help me by catching those errors and suggesting any cards not mentioned that you think belong on the list.