This post will tell you how to book any hotel on the list of Priority Club's PointBreaks for only $35 per night.
Whenever Priority Club announces its new list of PointBreaks hotels, the miles' world pays attention. The hotels on the list that may ordinarily cost hundreds of dollars a night go for 5,000 Priority Club points for a limited time. The new list is valid for stays through July 31.
As loyal readers know, I'm not big on hotel rewards programs; I usually get a better deal pricelining as I explained here. But PointBreaks are a great deal since Chase Ultimate Rewards transfer 1:1 to Priority Club (not instantly, in about 14-19 hours). And you can also transfer Amex Membership Rewards at a 1:1 ratio until June 30 when the relationship ends.
I value 5,000 MR at $127.50 until the 50% Avios transfer bonus ends on May 31 and 5,000 UR at around $100. Those are pretty low prices for some of the PointBreaks hotels, but we can do better. We can stay at any hotel on the PointBreaks list for $35 just by exploiting one loophole!
The basic premise is that Priority Club lets you buy its points for 0.7 cents each when booking an award night with cash and points. Then you can immediately cancel the award night you purchased with cash and points. Instead of refunding your cash, Priority Club will let you keep the points you just purchased for 0.7 cents.
Hopefully this example will show you how you can book any PointBreaks hotel for $35/night:
I scoured the new PointBreaks list to see if any of my travel plans coincide with any of the hotels, and they did in one case: I will be in Krakow, Poland and the Holiday Inn Krakow City Centre is on the list.
I'll be in Krakow June 6 – 9, and I didn't have a hotel booked. While the Krakow Holiday Inn is hardly the nicest property on the PointBreaks list, its cheapest room June 6 is 531 Polish Zloty, which is $153.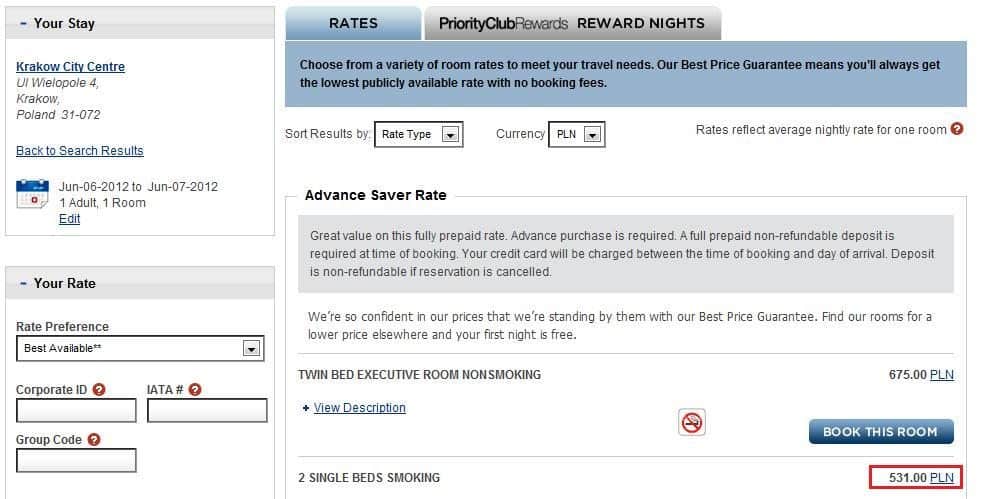 As a PointBreaks hotel, the same room that night is 5,000 Priority Club points. Having no Priority Club points, I could transfer in 5,000 Ultimate Rewards, book the hotel room, and be satisfied by saving a few bucks. But we can do even better than booking this property for 5,000 Ultimate Rewards; we can book it for $35!
To do that, we need to buy Priority Club points for 0.7 cents, which you cannot do through ordinary point buying. The way to buy Priority Club points for 0.7 cents is to make a cash and points award booking then cancel it. To make a cash and points booking, you need to have some Priority Club Points, so I transferred 5,000 Ultimate Rewards into my new Priority Club account. The transfer took about 14 hours to post.
Once I had a Priority Club account with 5,000 points, the next step was to book a 15,000 point award. Why? When booking a 15,000 point award, you are given the option to purchase the 10,000 point shortfall for $70, which is 0.7 cents per point. Here is such an award:

As you can see, this award costs 15,000 points or 5,000 and $70. Having only 5,000 points in my account, I selected 5,000 points and $70 and paid for the award. The confirmation screen made it very clear that the $70 was going towards buying 10,000 points that would be immediately used to book the award.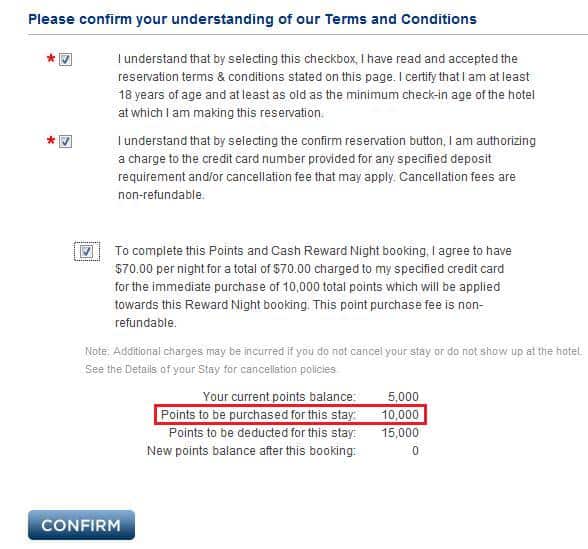 After booking, I immediately cancelled the reservation online by following a link from the booking confirmation page. That brought me to this screen:

As you can see, my reservation has been cancelled. As you can also see in the top right, the points immediately credit back to my account. My account now has 15,000 points, 5,000 that I transferred from Ultimate Rewards and 10,000 that I just bought for $70 while making a dummy booking.
The 10,000 points I just bought for $70 are enough points for two free nights at any PointBreaks hotel, meaning that you can stay at PointBreaks hotels for $35/night using this trick!
Now that I had some extra points, I went to book the night at the Holiday Inn Krakow. I would have been willing to book two nights, but while there was award availability June 6 and June 8, there was none June 7. In the end, I just booked one night June 6.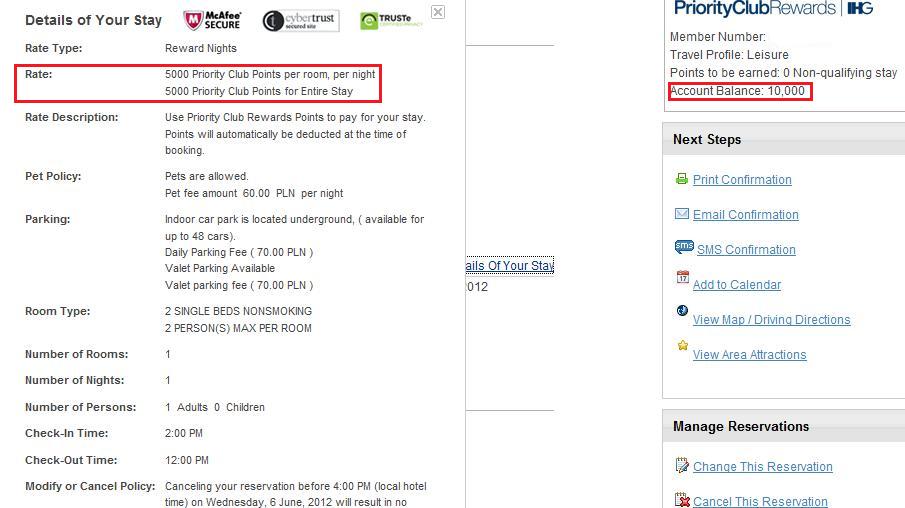 As you can see, the night cost me 5,000 points, which I had just bought for $35, and my account balance was back down to 10,000 points. I'll be sure to use those 10,000 points if future PointBreaks lists coincide with my future travel plans!
Caveats:
You have to have points in your account to "buy" points for 0.7 cents each. Buying points is a much better deal than transferring in your UR or MR that are worth way more than 0.7 cents each, but you may have to transfer in 5,000 to start the point-buying madness.
Not all hotels are on the PointBreaks list. Not all nights are available as 5,000 point award nights at the hotels that are on the list. Check availability before buying points.
Bottom line:
I just booked a $153 hotel room for $35. And there are much nicer, more expensive hotels on the list of PointBreaks hotels. There are Intercontinentals that go for over $400/night that you can get for $35/night using the technique outlined in this post.
Which hotel will you stay at for $35/night?
Follow me on twitter @milevalue