I get a lot of emails that start something like:
"We want to take our dream trip in summer 2015 to _______. What type of miles should we be collecting?"
While I admire that level of planning, there is a preliminary question. How far in advance should you start collecting miles for a dream trip?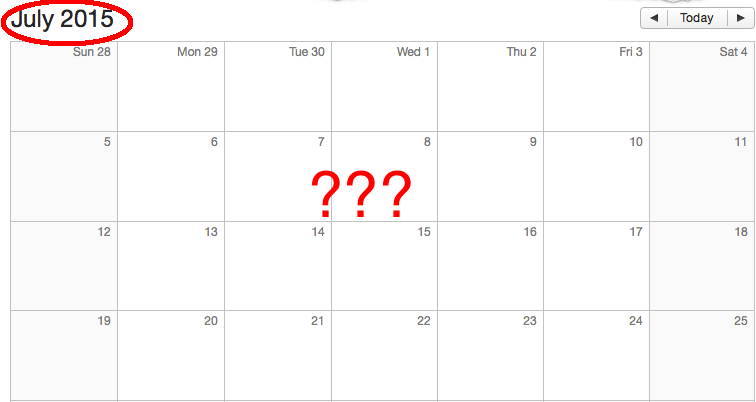 There's actually a simple answer to how far in advance you should start collecting miles.
How far in advance should you start collecting miles? Does the answer depend on location?
For the US-based airlines, you can book awards up to 11 months (331-337 days) in advance.
The best award space is not always available 11 months out, but I always say that if you know when and where you want to go, you should at least start looking 11 months out to give yourself the best chance to book the trip.
If award space is open 11 months out, get it. If not, monitor the flights you want until space does open.
Since miles posting from credit cards don't post until your statement closes, and you really want the miles ready when the award schedule opens, you should give yourself a buffer of one month. For your dream trip, you want to have your miles ready to be used 12 months in advance.
If you want the miles 12 months in advance, you need to work backwards from there to see when you need to apply for credit cards.
Most credit cards have a minimum spending requirement to unlock their lucrative sign up bonuses. You need to consider how many cards you need to open to get the miles you need, which cards, and how long it will take to meet those cards' spending requirements. (Or ask me through the Free Credit Card Consultation Form.)
For instance, imagine you are trying to collect 200k United miles on your own to get two business class awards to Europe. You identify the best cards to get as the United card, Sapphire Preferred, Ink Bold, and Ink Plus to get to 200k United miles. Your spending on credit cards is $3,000 per month.
You know that you will need to get one of the personal and one of the business cards one day and the last two cards 91 days later. That means you will need at least 5-6 months from the time of the first application to having all 200k miles. Add that lead time to the 12 months before the trip that you want your miles, and you'd need to start collecting 17-18 months before the trip.
Having to get more cards and being a low spender on credit cards will require you to start collecting miles earlier for your dream trip.
Why not just start collecting now for your dream trip that's three years away?
So much could change that you could be charging off 100 mph toward your goal and have it turn out you were going the wrong way–collecting the wrong miles.
The miles you're collecting could be gutted in value by an award chart devaluation or the imposition of fuel surcharges on your contemplated award. Or an airline's partners could change, making another type of mile a surer bet to get the award you want.
In a constantly changing landscape, you want to minimize the amount of time between when you implement your miles-collecting plan and when you book your award.
What if I'm three years away from my goal trip? Should I avoid collecting miles at all?
Of course not. Getting miles back on all your purchases is such a great deal that you definitely want to participate, but you need to be extra careful with a far-off goal. You need to collect very flexible miles that can't be devalued very much or collect miles for another intermediate goal.
If you're quite far off from your dream trip, I would recommend collecting Starpoints or Arrival miles in the mean time.
Starpoints from the Starwood Preferred Guest® Credit Card from American Express can be transferred to American Airlines, US Airways, and Delta at a 1 point to 1.25 miles rate, so they are likely to retain their value unless all those programs and Starwood's own hotel program are all devalued at once.
Arrival miles from the Barclaycard Arrival World MasterCard – Earn 2x on All Purchases are worth 1 cent each toward any flight, hotel, or car rental any time. I don't see that changing any time soon, so they should be good for incidental flights and vacations you take before your goal trip.
Recap
No matter where your dream trip is, you should start collecting miles  so that you finish collecting the miles you need 12 months before you want to take your trip.
If you are planning before that time frame, grab a versatile card whose points are very unlikely to be devalued significantly, so that your early start is not pointless.
Starwood Preferred Guest® Credit Card from American Express with 25,000 bonus Starpoints!
Starpoints® bonus: earn up to 25,000 bonus points: 10,000 after your first purchase and another 15,000 after you spend $5,000 within the first 6 months of Cardmembership
That's enough for a weekend getaway to a Category 4 Hotel.
Earn up to 5 Starpoints® for each dollar of eligible purchases at participating SPG hotels and resorts – that's 2 Starpoints for using the Card in addition to the Starpoints you earn as an SPG member. Earn 1 Starpoint for all other purchases.
Free Hotel Nights: redeem Starpoints at over 1,100 hotels in nearly 100 countries worldwide – with no blackout dates. Some hotels may have mandatory service and resort charges.
Free Flights: redeem Starpoints on over 350 airlines with SPG Flights – with no blackout dates
No limits on the number of Starpoints you can earn
$0 introductory annual fee for the first year, then $65
Terms and Restrictions apply.
Application Link: Starwood Preferred Guest® Credit Card from American Express
Barclaycard Arrival World MasterCard – Earn 2x on All Purchases with 40,000 miles after spending $1k in the first three months
My full review of the Arrival World MasterCard
Earn 40,000 bonus miles if you make $1,000 or more in purchases in the first 90 days from account opening. 40,000 bonus miles equates to $400 off your next trip!
0% introductory APR on purchases for the first 12 months after account opening. After that, variable APR, currently 14.99% or 18.99%, based upon your creditworthiness.
Earn 2X miles on all purchases
No mileage caps
No foreign transaction fees
Exclusive Carry-on Miles – earn 10% of your miles back when you redeem for travel
Use miles for a statement credit toward any airline purchase to any destination with no seat restrictions and no blackout dates
Easily redeem your miles for statement credits toward flights, cruises, car rentals, hotels and more
Complimentary subscription to TripIt Pro mobile travel organizer – a $49 annual value!
Application Link: Barclaycard Arrival World MasterCard