According to this thread on FlyerTalk, Hilton is offering up to 50% off the Best Available Rate at participating hotels and resorts in the Hilton portfolio. The maximum potential discount at each brand is listed below:
Save 50% at these participating hotels and resorts:
-Waldorf Astoria, Conrad, Hilton, DoubleTree by Hilton, Embassy Suites, and Hilton Grand Vacations
Save 30% at these participating hotels and resorts:
- Hilton Garden Inn, Hampton, Homewood Suites, and Home2 Suites
The offer page can be found here. The promotional details are listed below: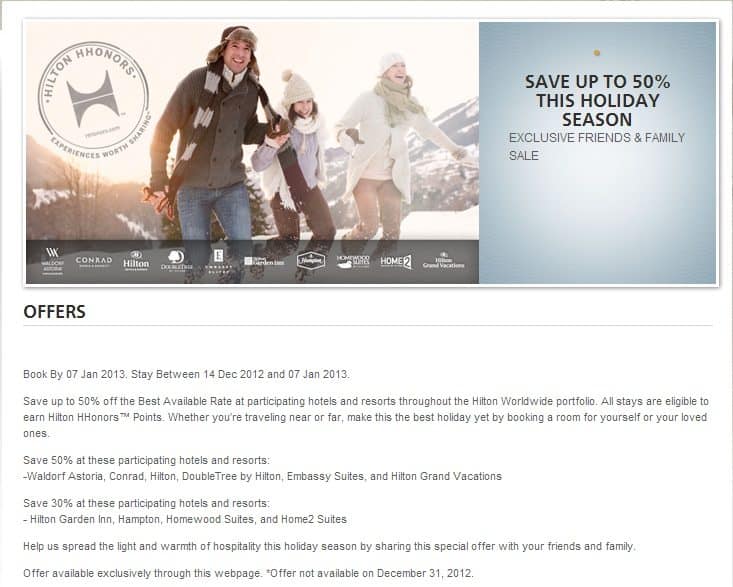 When do I have to book by?
Stays must be booked by January 7th. You must also stay between December 14th and January 7th to be eligible for this "Friends & Family" discount rate.
Will I be asked who I know at Hilton when I check in using this rate? After all, the landing page says "Exclusive Friends & Family Sale".
No, despite the misleading name, this is not a corporate rate or something that only Hilton employees can take advantage of. The promotional name simply implies that rates are deeply discounted off the Best Available Rate. They want you to feel like you are getting a great deal when booking.
A lot of times these bargain rates are can't be cancelled and are nonrefundable. Is that the case with this Friends & Family rate?
Surprisingly no. I have a few upcoming hotel stays in Baltimore and Atlanta for Christmas, so I wanted to check out the flexibility of this rate. I can't stand fully prepaid rates. Plans (and hotel rates, for that matter) can change at a moment's notice, so I hate locking myself into a price only to see it drop later. It warmed my heart to see the cancellation details below when I clicked on the Friends & Family rate: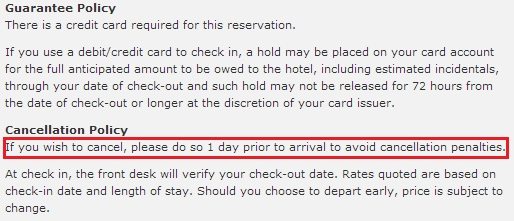 Any blackout dates I need to be aware of?
Yes. The terms and conditions note that this Friends & Family rate isn't available on December 31st. Hilton has excluded New Year's Eve from the promotion.
Does this rate earn points and elite credit?
There is nowhere in the terms and conditions that states otherwise. The Friends & Family rate appears to earn HHonors points and elite status credit as normal.
Will you be taking advantage of this rate?
I actually will. As I mentioned above, I have a few stays in Atlanta and Baltimore that I need to book quickly for later in the month. This Hilton promotion came around at the perfect time. Researching some December weekend dates in Atlanta got me these nice results: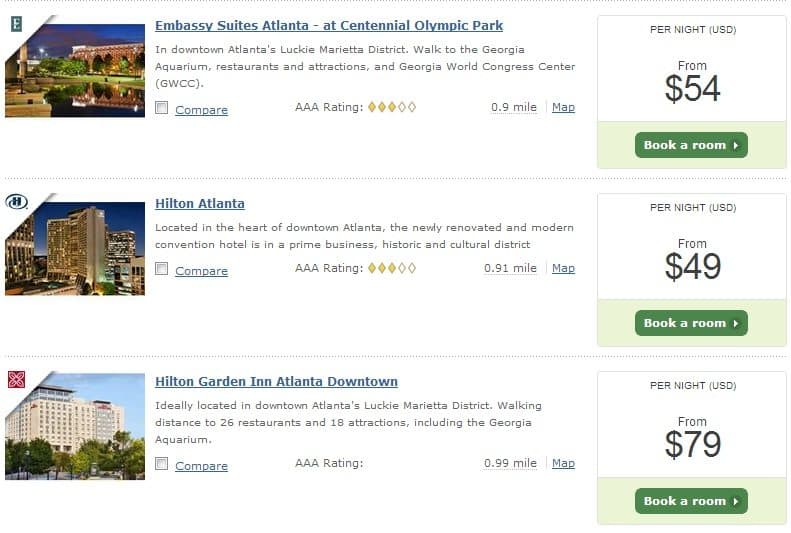 To make sure the $49 rate at the Hilton Atlanta represented actual savings off the Best Available Rate, I clicked Book a room and then checked the boxes on the left side of the screen to display the Best Available rate, the Advance Purchase rate, and the Friends & Family rate. I was pleased with the results: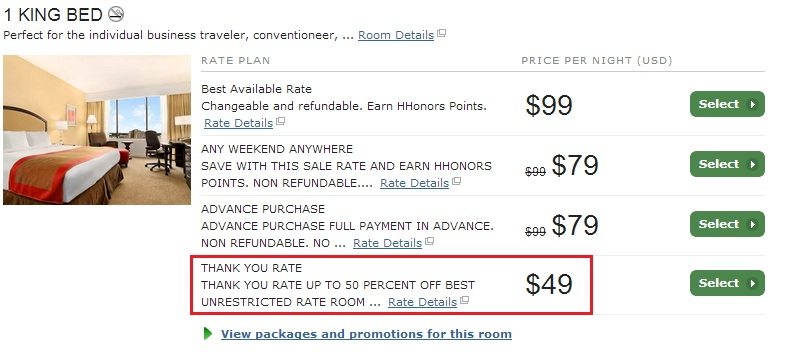 That's a cool $50 savings off the Best Available rate and $30 off the Advance Purchase rate.
I see the Any Weekend Anywhere rate is also $79. Did you write about this rate before?
I actually did in this post, Hilton HHonors Promotion: Double Stay Credit. The Any Weekend Anywhere rate could be useful for some as it rewards double stay credit for each stay of two nights or more. If you are struggling to requalify for Hilton Gold or Diamond status, the double stay perk might put you over the top.
Unfortunately, my stays in Atlanta and Baltimore are one night stays. As mentioned above, I really despise prepaid rates in case plans change suddenly. The Friends & Family rate is cheaper than the Any Weekend Anywhere price anyways. By my count, that's three big strikes! I will be booking the Friends & Family rate without hesitation.
Atlanta and Baltimore…that's pretty boring. Are there any other places that stand out to you?
I did some checking and found great rates at the Conrad Miami for upcoming weekend stays. The best part of the Friends & Family rate is that it applies to upgraded rooms. A suite at the Conrad was actually pretty reasonable: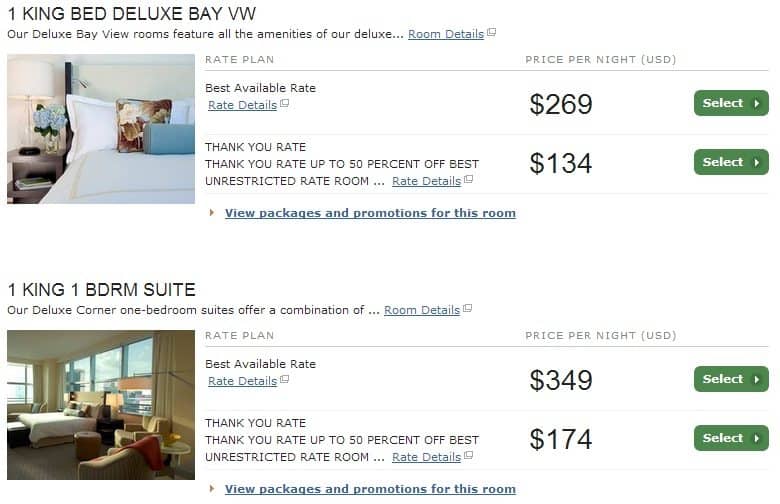 I also tripped over some good prices in San Francisco close to New Year's.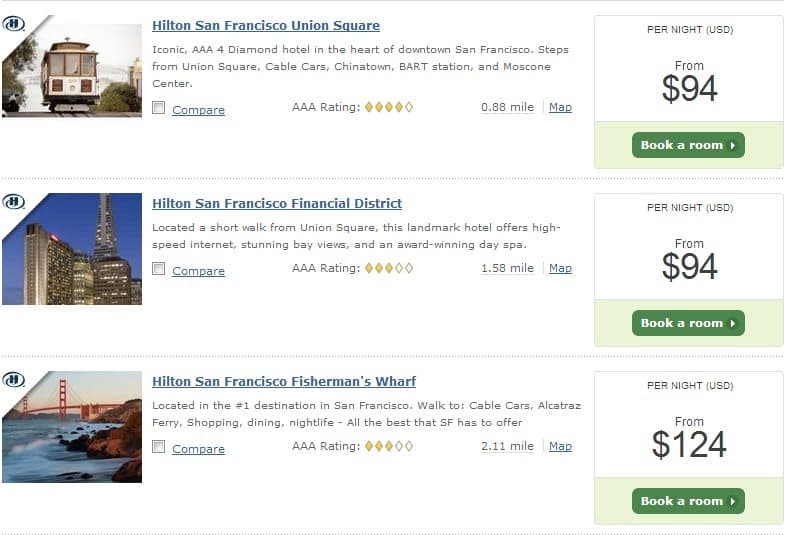 Sadly, cursory checks of Honolulu and New York yielded less encouraging results. I couldn't find any availability in Honolulu and New York appeared to be fully booked on the weekends. I did find a pretty good weekday price in Manhattan (at the Hilton New York), though:

I don't have any new stays planned, but some of my previously booked hotel nights would be a lot cheaper with this Hilton rate. Can I cancel and rebook?
If you booked a flexible reservation with Hilton (or any other hotel chain) then go ahead and cancel and rebook with the Friends & Family rate if it saves you money. Just remember to verify that you won't be penalized for cancelling your old reservation!
Recap
I'm not one to get too excited about hotel promotions, but this Hilton rate has usable value. There are concrete examples showing 50% discounts on the Best Available rate. This newly announced Friends & Family rate is also fully cancellable (provided you give the hotel enough notice.) Stays booked under this rate also appear to earn normal points and elite credit. There is a lot to like here.
Check your previously booked rooms and see if the Friends & Family rate can save you money. If you were looking for a last minute December vacation, this promo could be a great incentive.