The images in this post are showing up smaller than I'd like. I can't solve it, but if you just click on them, they'll go full screen.
Incredible Sub-$800 First Class Fare from Myanmar
Both FlyerTalk and MilePoint are absolutely buzzing about a Star Alliance premium cabin mistake fare departing from Yangon, Myanmar and ending in Montreal, Canada.
The trip routes through Tokyo, Zurich, and New York, and all legs are in premium cabins on great carriers such as Swiss and All Nippon Airways. This fare is tricky to book, so make sure to follow the step-by-step instructions below.
The key to finding the deal is locking in the first leg, All Nippon Airways Flight #914 from Yangon, Myanmar to Tokyo-Narita. ANA Flight #914 departs on Mondays, Wednesdays, and Saturdays.
You should begin any booking with those dates. As an example, I began searching for this fare by departing on Wednesday, July 31st, 2013.
Log on to Travelocity and choose a multi-city search. It appears that while sites such as Orbitz will price the trip correctly, it is only bookable on Travelocity.

This will take you to the multi-city booking page. From there you will need to enter the cities and departures in a very particular way to get this fare to price correctly.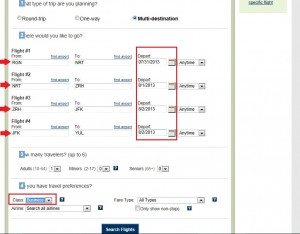 Study the above picture carefully. You will need to plug in each city pair separately. You will be traveling from RGN-NRT, NRT-ZRH, ZRH-JFK, and JFK-YUL.
As I mentioned before, the RGN-NRT leg must depart on a Monday, Wednesday, or Saturday. The NRT-ZRH leg must depart one day after the first leg. The final two legs must depart two days after the first leg. Also remember to select "Business" as your preferred cabin.
So, with my first leg leaving on Wednesday, July 31st, my second leg must depart on Thursday, August 1st. And my last two legs must depart on Friday, August 2nd. Once you have input everything, hit "Search Flights" to check for this great fare.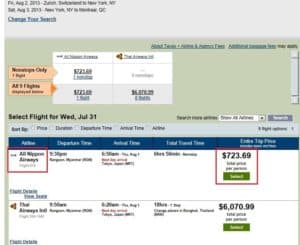 If there is availability for the days you entered, you will immediately see the deeply discounted All Nippon Airways flight. The entire itinerary should be pricing below $800. If it doesn't, you will need to experiment with dates back at the multi-city screen.
If you are seeing a fare in the range of $730, then there is bookable space! Select that low fare to continue booking.
The second leg, from Tokyo to Zurich, will appear bookable in Swiss First Class. Swiss has an incredible first class product, so this represents an astronomical savings over the "sticker price" and a unique opportunity to fly a product that is near impossible to book with miles. Select the lowest fare to continue.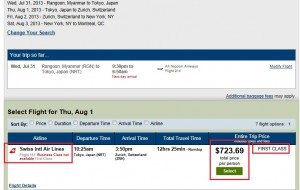 The third leg from Zurich to New York-JFK will present several options. As you can see above, you can choose between Delta Airlines business class or Swiss Airways first class. I would certainly pay the extra $11 and bump up to the Swiss first class seat! Select the flight that works best for you and continue.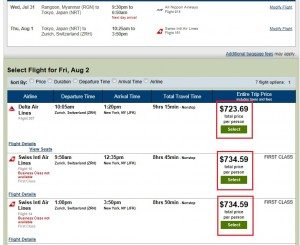 The final leg from New York to Montreal will be on Air Canada and most likely include a connection. Again, choose the schedule that works best for you and continue to the final booking page.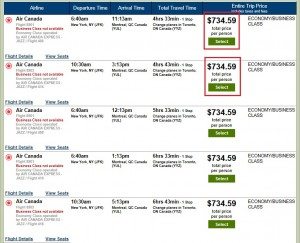 If all went well in the flight selection, you should see a screen similar to the one below.

Again, these fares could be pulled at any moment, so you will need to act fast.  Follow the instructions, and you should have no troubles. The real question, though, is how you are getting to Myanmar to start your incredible trip? Miles, perhaps?
Here's Yangon Airport's wikipedia page, which shows it is served by several major carriers. Getting there with Star Alliance or SkyTeam miles wouldn't be too tough.
And getting home from Montreal should cost you 12,500 miles or fewer if you live in the US.
It is also worth noting that Myanmar requires a visa to travel into the country, so you will need to secure such documentation before starting your business and first class journey.
I don't always mention visa requirements here. Before booking any trips for myself, I head to travel.state.gov and read the country-specific info to learn about visa requirements and any other pertinent info.
United Miles for less than 1.4 cents
For a limited time, the online shopping portal MyPoints is offering 150 points per dollar on all purchases made at the OpenSky website. The promotion is capped at $500 in OpenSky purchases, so with this you can get up to 75,000 MyPoints.
Why are MyPoints so valuable? MyPoints can be exchanged for all sorts of travel rewards, including United Miles. 10,100 MyPoints can be converted into 5,000 United miles. With this promotion, every $68 in OpenSky purchases will net you the MyPoints you need to convert to 5,000 United miles. Essentially, you are purchasing United miles for a little under 1.4 cents/mile.

As you can see on my Mile Value Leaderboard, I value United Miles at 1.81 cents per mile.  Through this promotion, you would be receiving a considerable discount on the miles along with whatever value you place on your OpenSky purchases.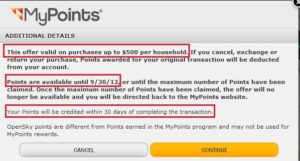 The wording at the bottom of the promotion is a bit odd and makes the deal seem like it is for OpenSky points, not MyPoints. However, those posting over on the thread at Slickdeals seem confident that the promotion awards MyPoints.
As you can see from the highlighted portions of the promo, all purchases at OpenSky must be made through the MyPoints shopping portal. This promotion runs until September 30th, and MyPoints will be credited within 30 days after purchasing items at OpenSky. As mentioned earlier, this offer is also capped at $500 per household.
Keep in mind that getting credit for purchases made through a shopping portal is not always a guarantee. It is best to take screen shots of all your steps and save your order confirmation, so that you will have proof of purchases in case your bonus points do not post properly.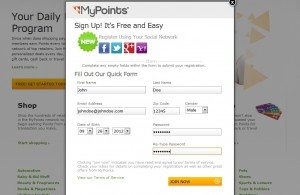 To take advantage of this promotion, you will first need to log onto MyPoints and create a user profile. Once your MyPoints profile is created, you will need to verify your email address and log back into the site. Once there, you should see a large banner promoting the OpenSky deal. Click on it to gain access to the OpenSky web site.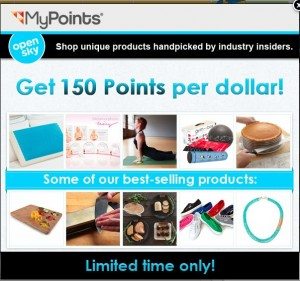 Click on the OpenSky advertisement, and it should take you to the promotional detail page that was featured above. Click "Continue" to access OpenSky's website.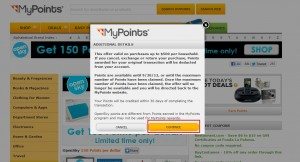 After clicking "Continue," you will be taken to OpenSky's website. You will need to click "Join With Email" and create an OpenSky log-in with a first name, valid email, and password.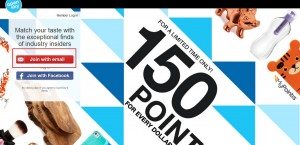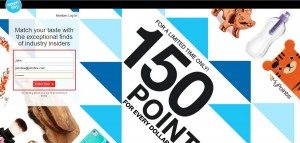 After filling in the form, click "Enter Now" to be taken directly to the OpenSky website.
At this point, you will need to make your OpenSky purchases in order to receive the desired MyPoints bonus points. Again, every $68 in OpenSky purchases equates to 5,000 United Miles. Unfortunately there do not appear to be many inexpensive or useful items.

Once you go through the OpenSky site and make your purchases, be vigilant in checking your MyPoints balance to ensure the points post properly. If not, you'll need your screen shots, order confirmations, and email receipts as evidence.
Recap
Mistake fares like this sub-$800 flight from Myanmar to Montreal, Canada don't come around very often. The fact that you are able to sample first class on Swiss Airways makes it an even sweeter proposition. Play around with dates that work for you and book quickly.
The online shopping portal MyPoints is awarding 150 MyPoints for every dollar spent at OpenSky. You can convert MyPoints into United miles at a rate that makes this promotion the equivalent of buying United miles at 1.38 cents each.
This is a solid deal on such a valuable currency as United miles, especially if you can get any value at all from the things you purchase. Just be sure to take screen shots in case the points don't post properly.