JetBlue Mint Class is a fully enclosed suite between New York and Los Angeles, and New York and San Francisco starting October 26, 2014. JetBlue Mint Class is the nicest Business Class experience on a transcontinental flight in the United States–by far–and it is available for $599 each way or 35,000 TrueBlue points.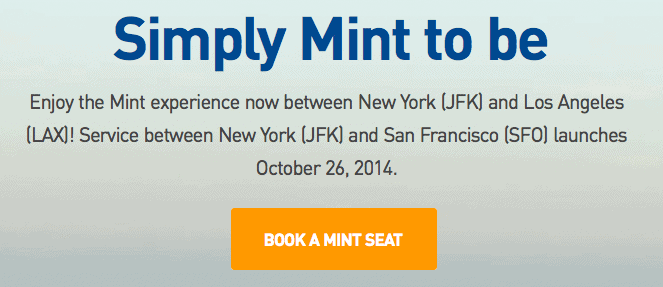 Mint seats extend to fully flat 6'8″ beds, the longest on domestic routes, and four out of the 16 Mint seats are fully enclosed suites, which are currently available for no extra charge.
Mint passengers get everything you'd expect in business class on a premium route:
Priority check in, security, and boarding
Free multi-course meal
Free alcohol
Two free checked bags
Mint passengers also receive some amenities that few or zero airlines match:
Free wifi
Free DirecTV (100 channels)
Amenity Kit
Mint is pricey, but far cheaper than competing business class seats at as little as $599 each way. The seats can also be booked for 35,000 TrueBlue points or 43,750 American Express Membership Rewards each way.
What flights have the special $599 / 35,000 point price?

Can you select an enclosed suite for that price?

How can you get TrueBlue points?

Is this a good deal?