Update: Link to Etihad Press Release about Route
According to USA Today and Will Horton of Centre for Aviation, Etihad Airways will begin service to Los Angeles from its hub in Abu Dhabi beginning on June 1, 2014. This is fantastic news for those with AAdvantage balances, especially those on the West Coast!
The introduction of Etihad's long nonstop from Los Angeles to Abu Dhabi will be a great jumping off point to the Middle East for West Coast flyers. It strengthens the value of an AAdvantage mile and helps avoid (or at least mitigate) some of American's more annoying award routing rules!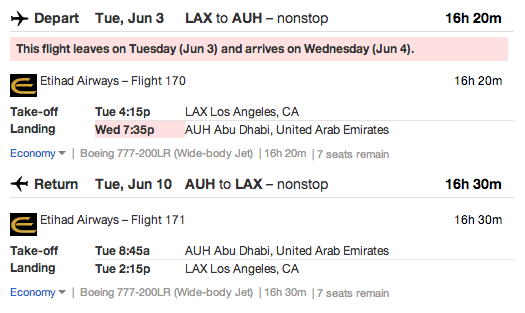 How do I book an Etihad award with AAdvantage miles? What is the award space picture? What kinds of taxes and fees can be expected on an Etihad award? Why is this so great for West Coast flyers? What destinations does this open up?