Reader Joanna emailed me to let me know the results of calling Barclaycard:
"My US Airways® Premier World MasterCard® annual fee was due August 29. I called and got 5,000 miles for $1,000 spend over 90 days and annual fee waived for a year."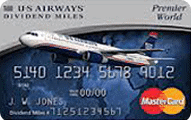 Barclaycard is really going all out to get people to get this card, keep this card, and use this card, and Joanna's email is another example. (Your mileage may vary.)
We know that the US Airways® Premier World MasterCard® will no longer be offered as soon as the US Airways and American Airlines frequent flyer programs integrate, some time in early 2015. That means that the chance to earn 40,000 bonus miles after first purchase will disappear soon. Check out all the places you can go with just the sign up bonus.
We know that Barclaycard offers many cardholders big bonuses for ongoing spending like Drew who was offered 15,000 bonus US Airways miles for spending $500 per month for three consecutive months.
And now we know that Barclaycard will waive the annual fee for some folks who call and ask like Joanne did.
By the way, Joanne asked me about her other carrot, whether she should spend $1,000 in the next 90 days for 5,000 bonus miles. I gave her a resounding "YES!" That means she'll get six miles per dollar on those purchases, 1,000 for the normal purchases and 5,000 bonus miles for $1,000 in spending.
Six miles per dollar is a fantastic deal, especially when we're talking about US Airways miles, which are the highest value miles in the world in my opinion.
Have you had success getting the annual fee waived on the US Airways® Premier World MasterCard®? Share your story in the comments or by sending me an email.
————————————————————————————————————
Never miss a post again! Follow MileValue on Twitter and Facebook. And sign up to receive one free daily email every morning with all of the day's posts!