Per this thread on Flyertalk, Club Carlson is running a very interesting first quarter promotion. The full terms and conditions, as well as registration, can be found here. If you stay three nights at Club Carlson hotels between January 6th and April 13th, you will earn 38,000 bonus points.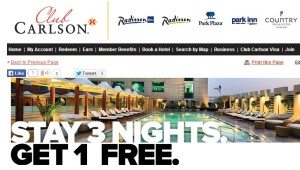 What will 38,000 Club Carlson points get you?
38,000 points is enough for four free nights at a category 1 or one night at a category 4. The full award chart is below. You can see the complete list of category 4 hotels here if interested in splurging for a one night stay.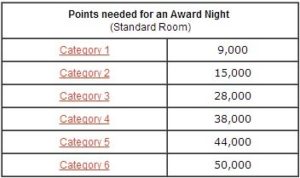 Any category 4 hotels stick out?
I wasn't enthralled by the North American list, which consisted of quite a few airport locations. However, I saw some great properties in Eastern Europe, including the Radisson Blu Sofia which I am interested in staying this summer. The Radisson Blu properties in Krakow and Athens also caught my eye.
There are very few category 4 properties in Asia and the Pacific and nearly all are concentrated in India. If you do have upcoming travel to India, it makes sense to browse the list of hotels.
What if you want to stretch the bonus points farther?
Yes! This offer is a bit more enticing if you can target category 1-3 hotels that you are interested in staying at. For example, the bonus points would stretch to four nights at a category 1 hotel or two nights at a category 2 hotel with some points leftover.
Is this the most lucrative hotel promotion Club Carlson has ever run?
Not even close. Back in 2012, Radisson actually ran a "Buy One Night, Get One Free" promotion that awarded you a stay at any Radisson or Radisson Blu property in the US, Canada, or Carribbean even if you stayed at a dirt cheap Radisson to qualify for the offer. You could then use the points on incredible hotels such as the Radisson Blu Chicago.
Do cash & points rates qualify for this offer?
No. The terms and conditions expressly exclude these rates from the promotion.
What if I already had a Radisson stay and just now registered? Does that night count towards the three required nights?
No. Per the terms, registration must be received before checkout of the first eligible stay to qualify.
Is this promotion mattress run worthy?
Given your upcoming hotel stays, the credit cards you carry in your wallet, and how much you value time…possibly.
The least expensive hotels I could find in my area were $89 a night ($100 after taxes). The breakdown for a regular person is below who made three separate one night stays:
Average Joe
$300 in spend for three one night stays at Club Carlson property
Hotel earn: 5,340 points ($89 base rate * 20 points/$ * 3 nights)
Online booking bonus: 3,000 points (1,000 * 3)
Buy 3 promotion: 38,000 points
Total: 46,340 Club Carlson points
In essence, you would actually earn enough Club Carlson points for a category 5 hotel (45,000 points) with the model above. I didn't factor any credit card points you receive for this either. However, you must also factor in time foregone and gas money spent as well. Unless you found an incredible value, $300+ for a one night hotel stay doesn't look appealing.
What if you have the Club Carlson Premier Rewards Visa Signature?
This promotion gets quite a bit more appealing if you have the Club Carlson Visa. First, the card comes with Club Carlson gold elite status, boosting your earning potential. You get more points for booking stays online and for hotel spend.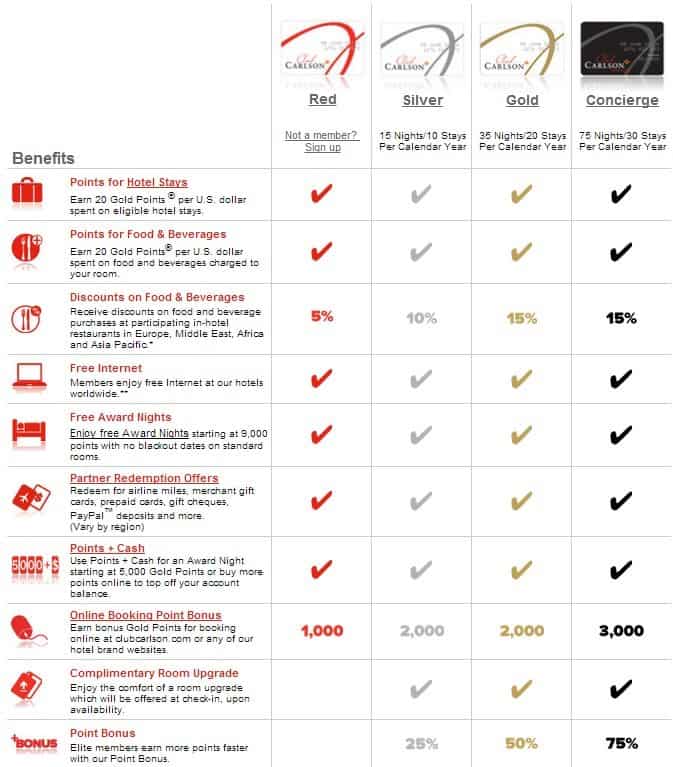 Don't forget the 10 points awarded for each dollar spent at Club Carlson properties when you pay with your credit card! Let's take the same three night hotel stay from above, this time paying with the Club Carlson Visa.
Savvy Mattress Runner with Club Carlson Visa
$300 in spend for three one night stays at Club Carlson property
Hotel earn: 8,010 points ($89 base rate * 30 points/$ [Gold] * 3 nights)
Credit card earn: 3,000 points ($300 * 10 points/$ [Club Carlson Visa])
Online booking bonus: 6,000 points (2,000 [Gold] * 3)
Buy 3 promotion: 38,000 points
Total: 55,010 Club Carlson points
55,000 points is more than enough for a free night award at any Club Carlson property in the world. Still, $300 for one hotel night is a pricey proposition for most travelers. However, Club Carlson's best benefit makes this promotion very intriguing.

The Bonus Night Award is the killer feature of the Club Carlson Visa. In essence, when you redeem Club Carlson points for a two night stay, you only have to pay one night's worth of points. For that reason, it makes sense to split award reservations into multiples of two.
Mattress running the latest promotion would actually give you enough points for two nights at any Club Carlson property, so you are really paying ~$150/night for the best Radissons, a far better deal with the co-branded  card than without.
Or it would be enough for six two-night stays (12 total nights) at Category 1 properties. That is certainly worth $300.
Partial Mattress Run
All of my examples so far have imagined pure mattress runs, where you are checking in and checking out just to get the points while getting no value from the room.
The calculations become even more favorable when you consider partial mattress runs.
A partial mattress run is booking a hotel stay because of the promotion that you would not have booked otherwise, but it's a hotel stay from which you get some value.
For instance, imagine that–not accounting for promotions–you would stay in a Hilton for $150 per night. But because of this promo, you shift that one night stay to a Radisson that costs $200. In that case, the value of the room to you is $150 and the cost of the mattress run is $50.
When calculating whether a mattress run is worth it to you, consider whether it's a pure or partial mattress run, and the exact cost of the partial mattress run.
Recap
Club Carlson announced a first quarter promotion where you receive enough bonus points for one night at a category 4 hotel after spending three nights at any property on an eligible rate.
This is great news if you already had stays planned, but this promotion isn't conducive for a pure mattress run unless you have the Club Carlson Premier Visa.
Having that Visa and paying for the rooms with the card unlocks about 18% more bonus points. The fact that the card comes with a bonus night award feature seals the deal for me. Your points effectively are worth up to twice as much which turns this promotion into a very intriguing deal.
————————————————————————————————————
Never miss a post again! Follow MileValue on Twitter and Facebook. And sign up to receive one free daily email every morning with all of the day's posts!