2012 was an incredible year for many reasons: I finally got to visit Kauai, one of the destinations that I most wanted to visit. Kauai didn't disappoint at all. Though my flights were just standard domestic first class on US Airways, I got to stay at the St. Regis Princeville for four nights. The hotel blew me away and probably spoiled me for life. It was one of the most relaxing place on Earth. I will let these few pictures do the talking.
Here is the view from my room.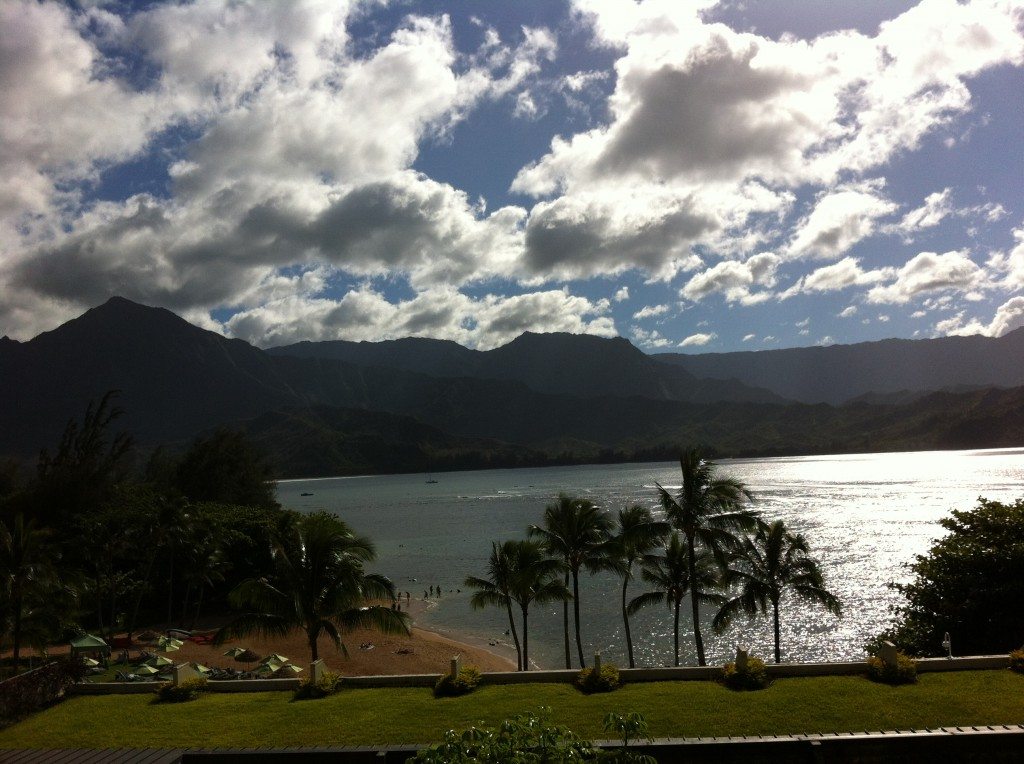 And relaxing on the beach.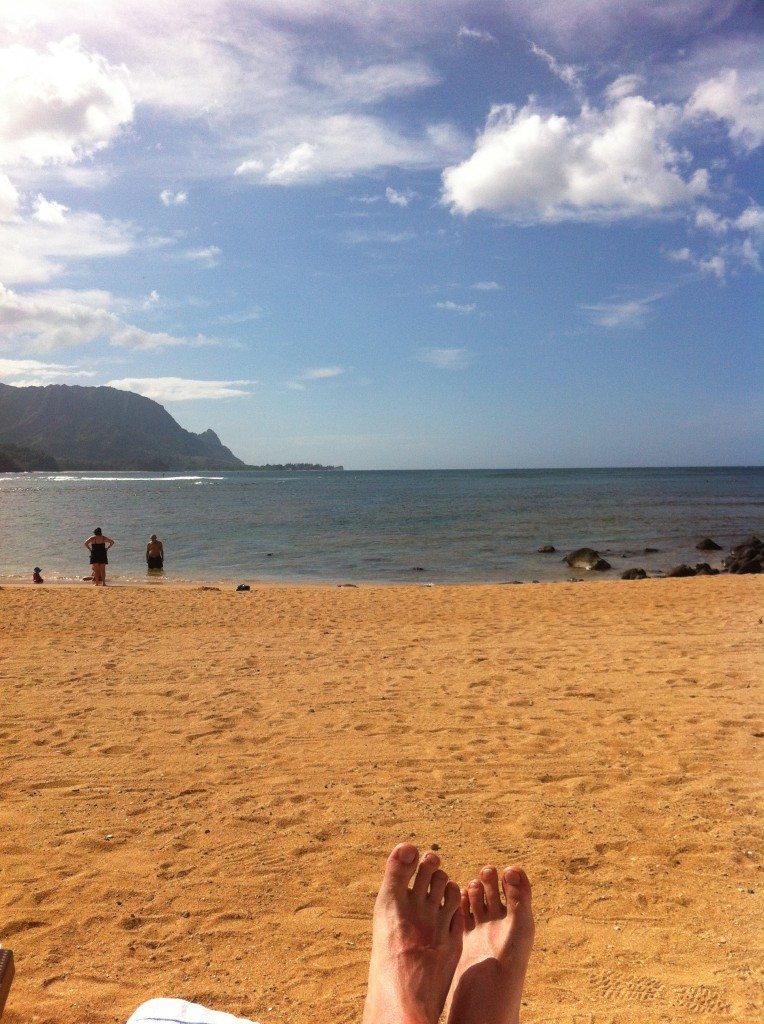 It wasn't just the hotel that made the trip. We hit up some awesome hiking  (the famous Kalalau Trail) and met great people in the quiet town of Hanalei.
View from the trail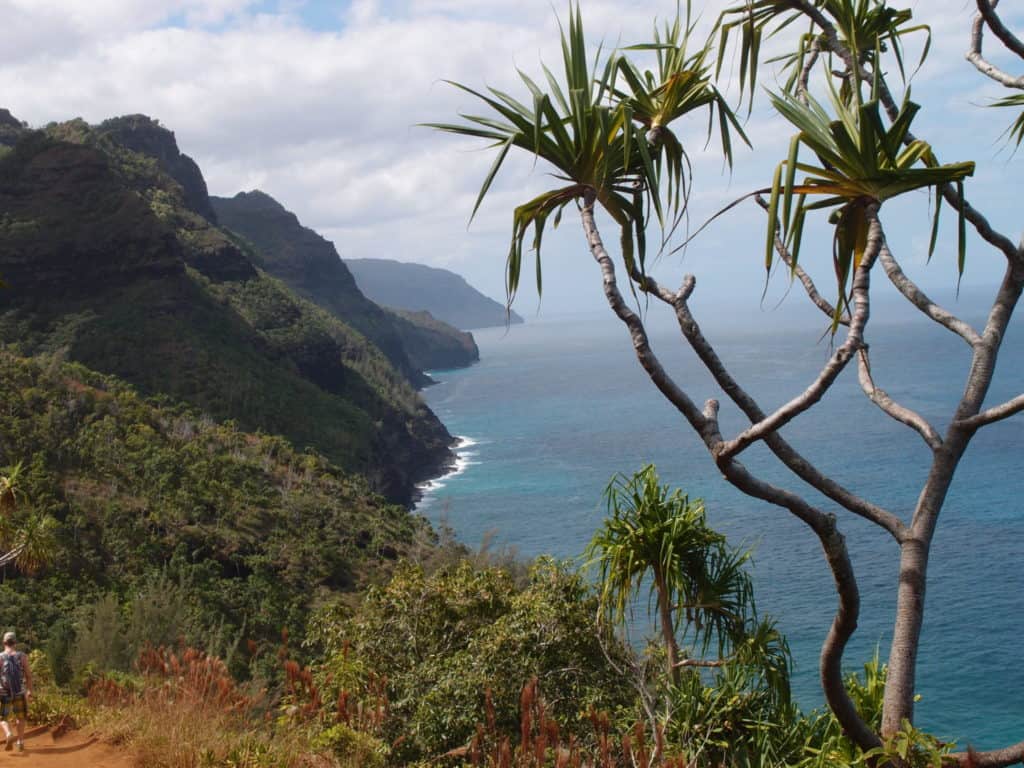 Other than Hawaii and a few quick trips to places like New York City, Chicago, and Sarasota, Florida my travel was dampened this year…but for good reason! The Orioles (my employer) made the playoffs for the first time since 1997, which was an incredibly wild experience itself.
2013 should be a lot more interesting. I'm dedicated to not only earning more miles but burning the stash I've hoarded as well. In no particular order, here are my goals for the 2013 travel year.
Earning
(1) Top Tier Hotel Status
I have mid-tier hotel status with practically every major hotel chain. It certainly makes stays more tolerable. Free internet at the occasional upgrade to a higher floor are always welcome. However, I want to take a few aspirational trips (see: Burning), so I want to make sure to expect a room upgrade. My American Express Hilton HHonors Surpass card gives top-tier Diamond status after $40,000 in spend. I should be able to reach that next year with a focused spending strategy that includes the AMEX Bluebird card.
(2) Leverage Those Lucrative Sign Up Bonuses
With a house settlement on the way, I should be able to jump back into the credit card game in full force. Scott's strategy is the best for earning miles. Always be working towards a sign up bonus goal to truly maximize the points earned on each dollar spent. When I'm "allowed" back in the credit card game, I will make sure to post my strategy and methodology.  I can't wait!
(3) Amass those Hyatt Gold Passport points
I will be traveling through Europe in October (see: Burning), so I'm looking forward to hitting up great hotels like the Park Hyatt Zurich and Park Hyatt Paris-Vendome. Sprinkling those in with some cheap hostel stays should make the trip even more memorable.
Burning
(1) Europe, here we come!
A good family friend will be moving to Bulgaria this summer. That offers a great excuse to travel throughout the continent and visit her as well. I'm looking forward to traveling around the Balkans as my previous trips to Europe have focused only on the Western countries. If you have any tips on Bulgaria, please feel free to share!
(2) Tokyo, or bust
I'm ashamed that I've never been, but I really need to. ANA offers a direct Washington-Dulles <-> Tokyo-Narita flight with (almost) lie-flat business class seats on their 777. For a mere 90K US Airways miles, I have no excuses. This one goes on the 2013 travel checklist.
(3) Don't Think, Just Book
Here at MileValue, we have had a lot of lightning deals and mistake fares that I should have jumped on. We even wrote up the great sub-$800 first class on Swiss originating in Myanmar and Alitalia's coupon code that led to (nearly) free intra-European flights. I had to talk myself out of both of those deals, but really I was just making up excuses for no reason. In the future when similar deals (inevitably) pop up, I will make a concerted effort to convince myself to go, and not immediately try to list all the reasons why the trips wouldn't work.
Mile Value Checklist
(1) Hotel point valuations
Scott has put in a lot of work on his airline mile valuations at the Mile Value Leaderboard. My goal for 2013 is to write up the points for Starwood, Hilton, Marriott, Hyatt, Priority Club, Club Carlson, and a few others. There's even more subjectivity and ambiguity between hotel point valuations, so I'm hoping to clarify with a simple and straight forward methodology. You might not agree with the end result, but at the very least can use the values as a basis. I'm always happy to debate, too.
(2) Meet, meet, meet
Frequent Traveler University (FTU) was a blast, but I'm even more excited to meet more of you guys at the FTU in April in Tysons Corner, Virginia and the Chicago Seminars in October. I had a great time at FTU-Los Angeles, and Scott had a really informative presentation on oneway awards at FTU-LAX.
(3) Practice Makes Perfect
Tashir and Scott are the undisputed best values in award travel bookings. Their award booking service is second to none in knowledge, service, and ease of use. The fact that they are the masters of free oneways adds even more value to their service. I bounce everything off of them before doing my own complicated awards or those for family and friends. I know demand for their time is constant, so hopefully I can learn more from them and contribute where needed.
What are your New Year's travel resolutions? I'm excited to hear from you guys and also read what Scott and Tashir have in store for 2013.