Part I: The Main Award & Finding a Free Oneway
Part II: US to Asia via Europe for 90k Miles in Business
Part III: Adding a Great Sidetrip
This is the third and final installment breaking down my trip to Asia using US Airways miles. The main award is posted below:
Washington-Dulles -> Istanbul (23 hour layover) [Turkish]
Istanbul -> Seoul-Incheon -> Tokyo-Narita [Asiana]
Tokyo-Narita -> Washington-Dulles [All Nippon Airlines]
US Airways is extremely relaxed with their routing rules as you can see above. I am transiting Europe to get to Asia from North America.
But one rule that really must be followed concerns stopovers and open jaws. US Airways only allows one stopover OR open jaw, not both. For further explanations of open jaws, check out Scott's post, What is an Open Jaw? How Can an Itinerary Have Two Open Jaws?
I am traveling from Washington-Dulles to Tokyo-Narita and returning from Tokyo-Narita to Washington-Dulles. My award doesn't have an open jaw. It's a simple roundtrip.
I am also spending 23 hours in Istanbul. That is considered a layover. Anything over 24 hours is considered a stopover. My time in Istanbul will be brief, but I will do my best to have as much fun as Tahsir did when he went.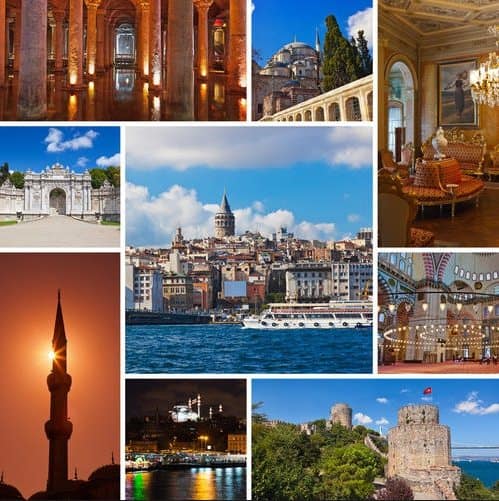 Having only 23 hours in Istanbul is actually great news! If I wanted to, I could still change my ticket to include either a stopover OR an open jaw.
(Thanks to reader Lisa for pointing me to http://www.istanbulinhours.com/. Turkish Airlines offers free city tours and free meals to anyone with a layover of up to 24 hours in Istanbul according the site.)
After sharing the details of my vacation, a few friends pushed me to tack on a side trip to Hong Kong. Who was I to turn down their free advice? I began to plot all of my options.
Option #1: Give the award an open jaw.
I would travel from Washington-Dulles to Tokyo-Narita. However, I would return to Washington-Dulles from Hong Kong. The destination of my outbound trip (Tokyo) doesn't match the origin of my inbound trip to D.C. (Hong Kong). That's considered an open jaw.
Leg #1 IAD-IST-ICN-NRT
Leg #2 HKG-NRT-IAD
To see if giving this trip an open jaw is possible, I logged on to United.com and searched for flights from HKG-IAD in business class. Unfortunately, business space (dates marked in green or blue) was extremely scarce. An open jaw wouldn't be feasible with this award.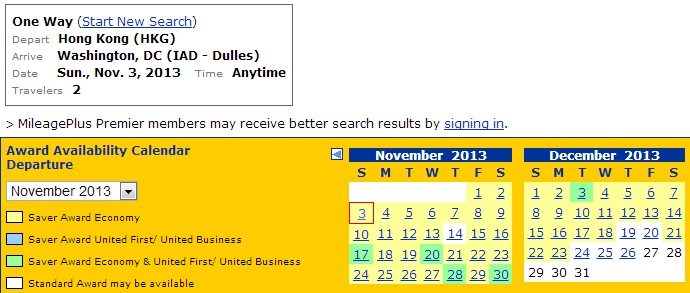 Option #2: Give the award a stopover. I could travel from Washington-Dulles to Tokyo and stop there for four days. This would allow me to enjoy the sites and culture of Japan before heading to Hong Kong. After spending several days in Hong Kong, I would hope on a flight for my journey back to the US. The trip would look something like this:
Leg #1 IAD-IST-ICN-NRT (stopover)-HKG
Leg #2 HKG-NRT-IAD
The award above is legal because it only has one stopover in Tokyo. It doesn't have an open jaw. My arrival point and departure point are both Hong Kong. Unfortunately, there wasn't a single day with business award space from NRT-HKG, and I'd already decided returning HKG to Dulles wasn't feasible.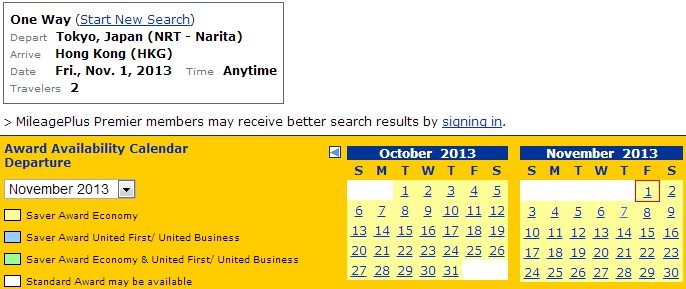 Narita isn't Tokyo's only airport, though. The Haneda airport is much closer to the city and my hotel. I could fly into Narita and out of Haneda. This is allowed on awards because airlines consider the two airports co-terminals. It wouldn't count against me as an open jaw. My trip would look like the following:
Leg #1 IAD-IST-ICN-NRT (stopover)-HND-HKG
Leg #2 HKG-NRT-IAD
Award space was great on the single daily nonstop operated by ANA.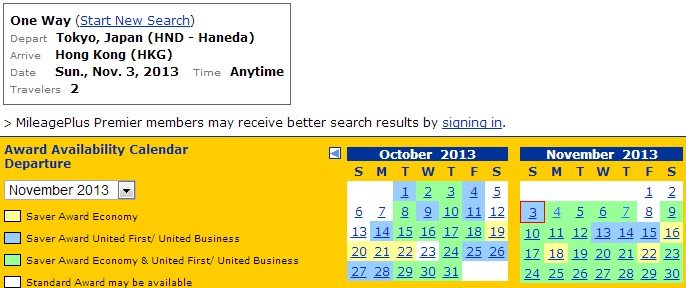 Sadly, the time of ANA's single flight just didn't meet my schedule. I would need to explore booking a second roundtrip award ticket between Tokyo and Hong Kong. It was time to turn to other avenues.
Option #3: Book a separate roundtrip ticket between Tokyo and Hong Kong using cash or miles. This turned out to be the far better option for me. I left my original award intact and didn't have to pay the $150 per ticket change fee. I have wiggled out of those before, though!
The decision to book with cash or miles was ultimately an easy one. Roundtrip fares between Tokyo and Hong Kong were too high for my tastes, going for over $600 in economy. I turned to miles.
US Airways charges 25k/30k roundtrip for economy/business awards in North Asia. Both American Airlines and British Airways charge the same 20k/40k roundtrip for spending their miles to travel on Cathay Pacific. I used British Airways Avios to book the award.
Why did you choose Avios?
The Mile Value Leaderboard prices the two types of miles very closely. The slight edge in value goes to American Airlines, though. I can effectively use AAdvantage miles for premium longhaul trips on Qantas, Cathay Pacific, or JAL. The same can't be said for Avios. Their award chart is too expensive for those types of trips.
British Airways award chart is distance based and has some incredible sweet spot deals and strategic uses including Hawaii, South America, and South Africa. I prefer to use Avios to supplement my longer trips. This ticket is a perfect example.
Finding award space between Tokyo and Hong Kong was surprisingly easy. I used the British Airways improved award search tool and plugged in the dates I needed. Cathay Pacific and JAL offered several good options.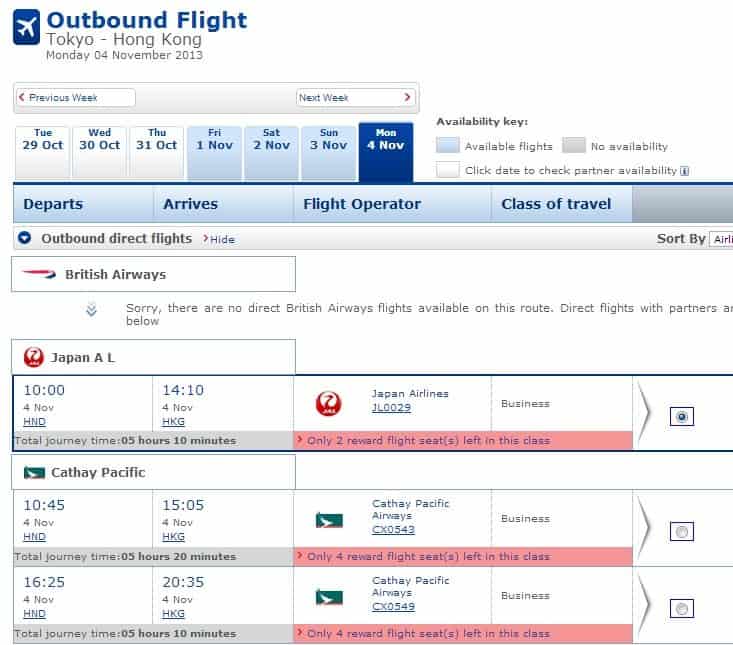 British Airways does impose fuel surcharges on Cathay Pacific on top of the taxes and fees of the award ticket. I paid about $98 + 40,000 Avios for each business class ticket. The complete breakdown for a single seat is below, showing a $59 surcharge.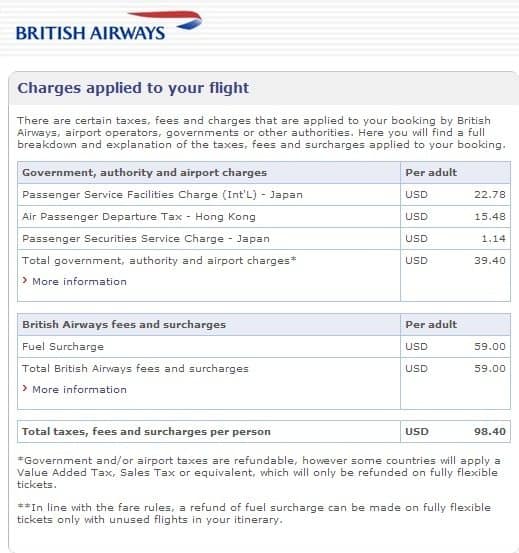 I found the redemption to be well worth it: I preserved my original award ticket, I get to try out four international carriers on the trip, and I save my AAdvantage miles for when I plan another big vacation. My final award is below:
Washington-Dulles -> Istanbul (23 hour layover) [Turkish]
Istanbul -> Seoul-Incheon -> Tokyo-Narita [Asiana]
Tokyo-Haneda -> Hong Kong [Cathay Pacific]
Hong Kong -> Tokyo-Narita [Cathay Pacific]
Tokyo-Narita -> Washington-Dulles [All Nippon Airlines]
Recap
I was initially reluctant to explain this award over three parts, but I wanted to share my methodology and invite feedback. The goal of my trip was to see Tokyo, but I also wanted to test the business class experience on as many international carriers as I could. This trip includes four which more than satisfies me.
US Airways allows an open jaw or stopover on their award tickets. I wasn't able to use either, but I did want to show that it's possible to construct an award several different ways. After all, we want to squeeze the maximum value out of our miles!
British Airways Avios are known for their incredible value on expensive short haul awards. Clocking in at over 5 hours, Tokyo to Hong Kong is hardly a quick trip. It was still a solid use of Avios, in my opinion. I preserved my AAdvantage miles for another dream trip and still got to test out Cathay Pacific's business class product.
Can it be November yet? I really want to fly this award now!